Many of you must have the habit of forgetting your keys or wallet or any other personal belongings. Sometimes these habits turn out to be dangerous or may cost you a lot. Keeping an eye on these things whenever you're carrying something valuable. Well, you can't just simply train your mind in a snap. But, you can try a cool gadget called Tring.
Portronics, a well known portable digital product manufacturer has come up with this cool gadget called Tring. It is nothing but a two-way anti-lost cum tracking device. It offers two-way anti-lost function, a key-finder function, and a Remote-Camera Shutter function. And the set up is really simple. You just need to pair Tring with your Apple iPhone or iPad or with any Android phone using the Tring Track app available on Playstore and Appstore.
How does Tring work?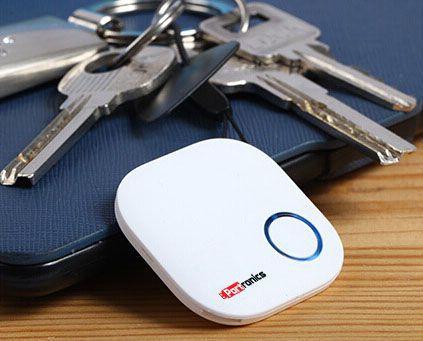 The device has quite a few features. Let's take a look at them.
1. Key Finder Function: After pairing with a smartphone, you just need to attach Tring to any of your valuables like wallet, keychain, or wallet. Now, if you misplace any of these articles, you just need to press a button in "Tring Track" app of your paired smartphone. As you start moving with your phone in suspected area of the lost item, it will start beeping when it comes within 50 feet of the phone. Alternately, if you have misplaced your phone, you just need to press the single button on Tring Tracker, and the phone will start ringing even if the phone is in silent mode.
2. Anti-Lost Function: Also, if your Tring and your smartphone are separated by more than 10 meters, they both will start buzzing, until they are brought in this range. However, you can stop these alerts in user defined "safe zones" – like your home or office and "quiet" times of the day. This will prevent unnecessary buzzing if the distance increases within the safe zone.
3. Fully Dustproof and Waterproof: With IP67 certification, you will never have to worry about using this handy gadget while using it outdoors as it will be safe from dust and water and of course you can use it even when it's raining.
4. Remote Shutter: Tring also works as a remote shutter. No need to carry a selfie stick always. Just place the phone a convenient place and just press the button on Tring to capture a selfie. Well, that's kind of offbeat, but take it as an additional feature.
5. Last Location: Your phone will store the 'last location' record on the map after it is disconnected from the Tring Tracker. It can re-connect with the phone automatically and in the background even if the app has been closed.
6. In build battery: The CR2016 can last over a year, however, the battery is easily available and you can replace it easily.
Compatibility:
iPhone or iPad using iOS 7 or higher:
iPhone: 4s, 5, 5c, 5s, 6, 6 Plus,6s,6sPlus
iPad: 3rd Gen, 4th Gen, Air, Mini or later, iPod Touch5 or later
Android phones running Android 4.4 KitKat or higher
Portronics Tring Tracker is priced at just Rs. 999 & I feel it's worth every penny! So, what's your opinion on this tiny gadget?