The future of music with a private and customized experience, yes we're talking about Top 5 music streaming apps available in India, and they are also pretty handy.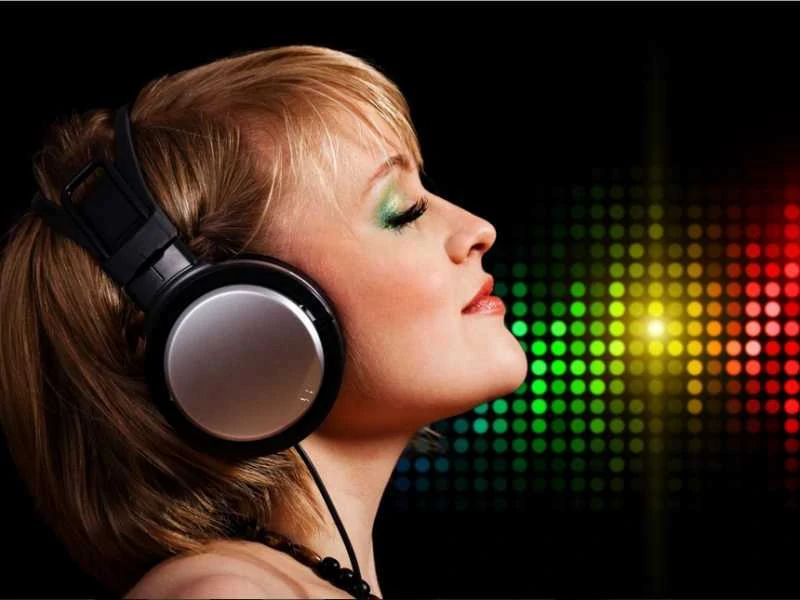 Music lovers can't live a moment without their favorite music. Since Steve Jobs revolutionized the personal music experience and the whole music industry, listening to music has been a private and customized experience. Now, people are even going beyond just storing their favorite music on their iPods or PMPs. Now, people are following the latest trend in the music industry, which is streaming music online and listening to their favorite music whenever they like, whatever they like. Today, we will be introducing the Top 5 music streaming apps which are available in India. Let's get started.
1. Gaana
Gaana is one of the best apps, which is available on all major platforms for listening to Hindi and English music. The app has got a very simple UI and easy to use. You can download songs to play them later, though you'll need to upgrade to the paid version Gaana+ for unlimited downloads. And no matter whether you are on Android or iOS, you will get the same experience. Some songs will let you watch the video or read their lyrics. You can easily add songs to the playlists you create. By default, songs are streamed at 128kbps, though you can opt for higher quality of 320kbps by changing the settings in the app. But that will also use more mobile data, and for that, you need to be in good 3G coverage or high-speed Wi-Fi. The app has a built-in radio and it is just as good as the streaming features. You can choose a radio station based on a song or artist you like. It's 'One touch radio' feature is one of the great features of the app, which will play music according to your listening habits. It has also got very good pricing- Rs. 120 per month for unlimited streaming and downloads. Gaana also offers a discount if you pay upfront (Rs. 300 for 3 months and Rs. 1,100 per year). It is also available on all smartphone platforms.
PROS: Good looking UI; Available on all platforms
CONS: Buggy playlist system; App spams notifications
Get it now, available for Android, iOS, Windows Phone and Blackberry.
Download Gaana for Blackberry
2. Wynk
This is comparatively a new player in the game of music streaming, but the app is pretty promising. The company behind it Bharti Airtel claimed that the app crossed 100K download within 4 days of the launch. There is a lot of Bollywood music, old Hindi songs, hit international songs and classic rock music that is all easily discoverable through Wynk's curated playlists, and the pre-created playlist is great. Another grat thing about his app is the pricing. On iOS, Wynk offers unlimited downloads at Rs. 60 per month which is almost half the price offered by competitors. On Android the pricing is closer to competition, but Rs. 99 per month is still the best price in the market. So, if you compare it with other apps like Saavn it costs very less. However, Wynk is not perfect just yet. Saavn and Gaana offer music streaming and downloads at 320 kbps to premium subscribers, while Wynk has capped this at 128 kbps. Also there is another catch, Airtel has announced that Airtel subscribers who are on Android can pay Rs. 129 per month to download unlimited songs and that data will not be consumed from your regular data plan. But Airtel has a fair usage policy. Users can download a maximum of 5oo songs per month, after that the data will be consumed from your regular 3G quota.
PROS: Good curated songs list; Competitive pricing
CONS: UI needs some tweaking; FUP; Complicated usage policy/ quotas
Get the app from Google Play or Apple App Store now.
3. Saavn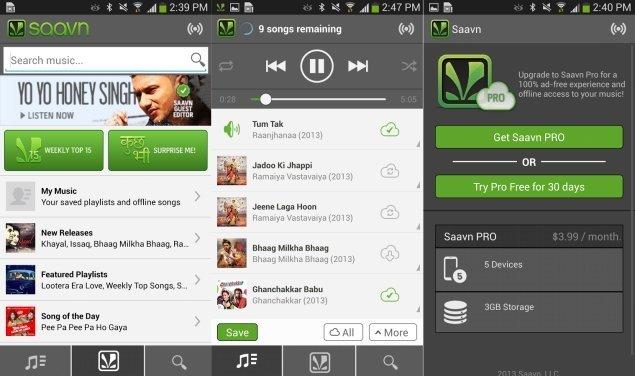 Yes, it is one of the music streaming apps that most Indians are familiar with. It has got a huge number of songs, including Bollywood hits and also, some other great features. Other than Hindi and English, you can listen to songs in Tamil, Punjabi, Marathi, Gujarati and other Indian regional languages. Saavn has also got the feature to play your favorite music offline. Though for that, you will have to upgrade to Saavn Pro, which is a paid feature. But you can give a try for free for 30 days. If you use the app on more than one devices, all your kinds of stuff will be synced between devices. Also, there is a 'Surprise Me' feature, which will contain 50 songs based on your music listening preferences.
PROS: Simple UI; Big library
CONS: Occasional crashes; Expensive pro option
Though the app is great, it has been on only two platforms- iOS and Android. Grab it now.
4. Hungama
It is one of the new apps out there and the app has pretty good features like it automatically download a song for listening offline whenever you stream a song, but this feature is available for only Pro users. Also, there is a different way to find out music. Just select your mood and the app will recommend songs. This feature works pretty well, but something was missing. Yes, the music library is small in Hungama and it consists of only recent songs. Priced at Rs. 120 per month for unlimited downloads, Hungama is competitive with the other options but looks like Hungama should concentrate on expanding the music library and a better UI.
PROS: Automatic downloading; Good song recommendations
CONS: Average UI; Insufficient library
At Rs. 120 per month, it is not a bad deal either. You can get it on iOS, Android, Windows Phone and Blackberry.
5. TuneIn Radio
If your phone doesn't have a built-in radio, you can use this to listen to online radio stations around the globe. There are over fifty genres to choose from including soundtracks, jazz, hip-hop, folk, and country, and TuneIn Radio brings together all the radio stations playing songs of that genre. There are thousands of radio stations and probably millions of music to choose from. So, in case you love the random music on the go, just pick the genre you like and go. The app is available for iOS, Android, Windows Phone, and Blackberry.
Get TuneIn Radio for Blackberry.
And as it is for music lovers, we decided to put one more option for music lovers who like to explore music.
SoundCloud
This is the greatest app for exploring new music. You can listen to new artists and follow them if you wanna get updates whenever they create something new. You can also report the tracks you love. The SoundCloud app for iOS lets you download songs with AudioCopy for offline use. The app may not have the best sound quality, but it deserves to be on our list. This app is available on iOS and Android, get it now.