Losing data on your computer/laptop/HDD/USB/memory cards are one of the common problems we encounter in this digital era. It may be your precious photos, priceless videos, favorite music, important documents or any other files. The thought itself scares many! Fortunately, there is an umpteen number of software to tackle the issue and recover our data.
But wait!
As the market is filled with many software to recover data, some do the job; and most of them are malicious. Which makes it very dangerous and tiresome to look for the ideal data recovery software.
Today, we are reviewing a very reliable and efficient recovery software called "EaseUS Data Recovery Wizard Free 11.9", Developed by EaseUS, which has been making many data utility software since 2004.
EaseUS Data Recovery Wizard Free 11.9 Pros
The EaseUS Data Recovery Wizard Free 11.9 can be installed on both Windows (10, 8, 7, Vista, and XP) and Mac OS
The deleted files can be viewed in a friendly Windows Explorer-like window which can also be sorted by file type and time that the data was deleted
The scans results can be easily backed up making it convenient to recover the files at a later time without having to scan again
Along with quick scan, the tool also has an option for a deep scan which takes a tad bit more time but can check the drive more thoroughly
A search tool is facilitated to search among the results of a scan to find a file by its name or extension
Windows users can recover files from not only Windows file systems but also from drives formatted with the Mac HFS+ file system
Can be used to recover files from PC/Laptop, HDD, SSD, USB Drive, Micro Cards, Camcorders, Digital Camera, Mobile Devices, Music Players, Video Players, and many other storage devices
Allows you to recover not only images, videos, audios, archives but also emails!
Users can also preview files before recovering them
Multiple files can be recovered at the same time
EaseUS Data Recovery Wizard Free 11.9 Cons
It is hard to figure out cons in this fantastic software, but for now, the free version lets you recover only 2GB of data
Installation: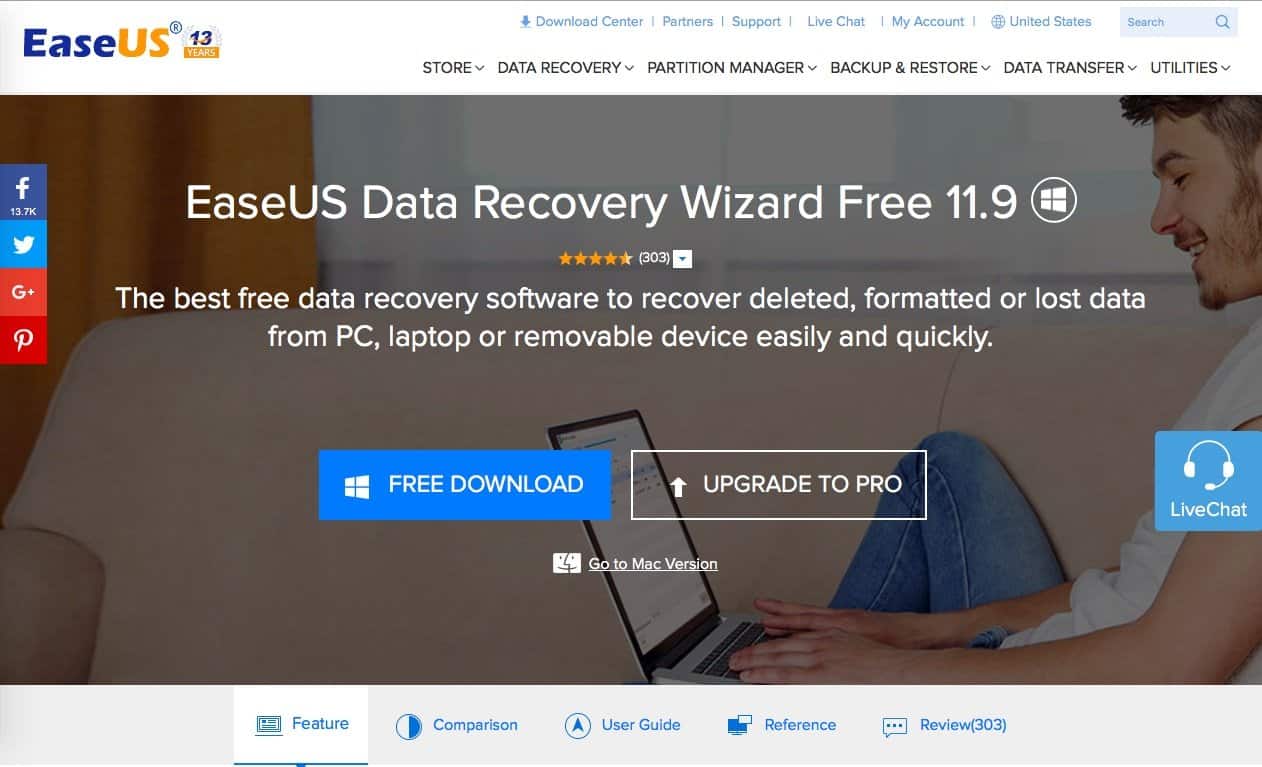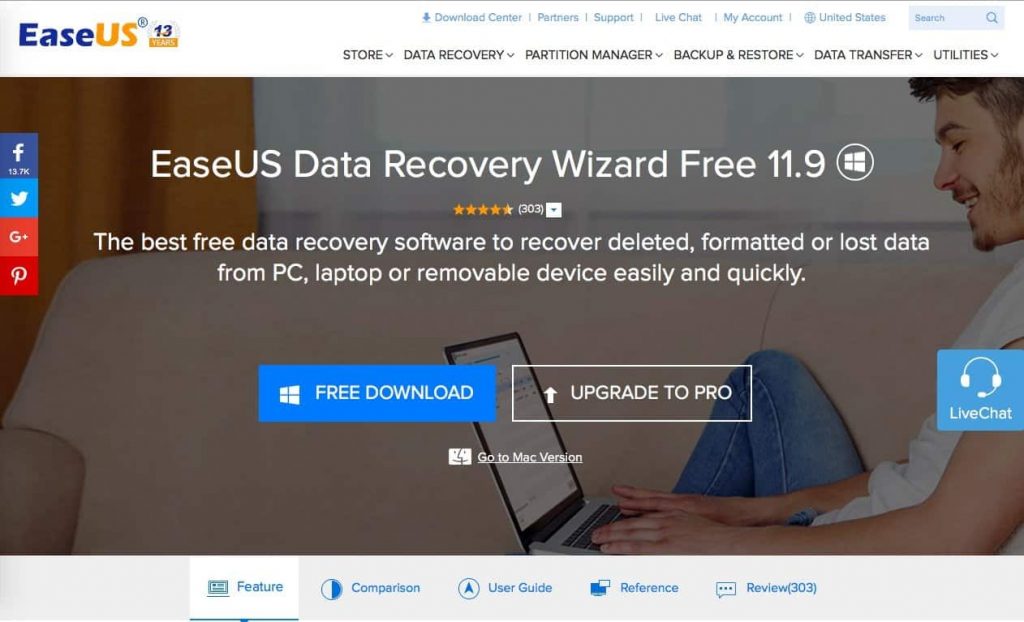 The installation is fairly simple and installs in a few seconds. Once installed you will be welcomed by a very user-friendly interface which asks you to select a drive to scan.
Another interesting feature here is that the tool shows the lost partition straight away to scan and recover!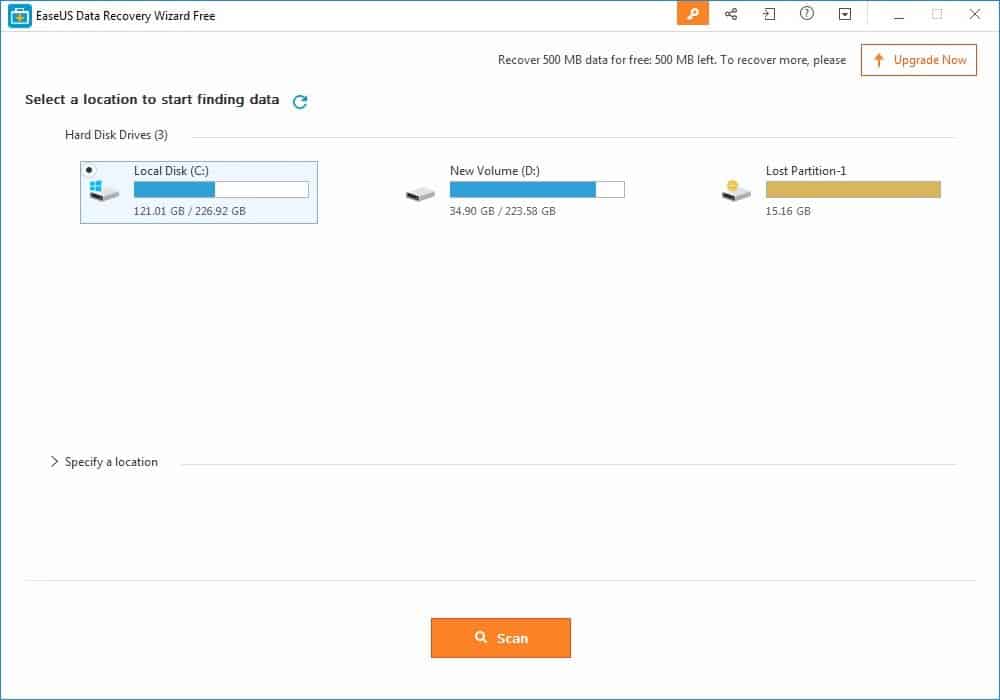 While scanning, the program displays a progress bar at the top of the application, along with a countdown of how much time it remains before completion.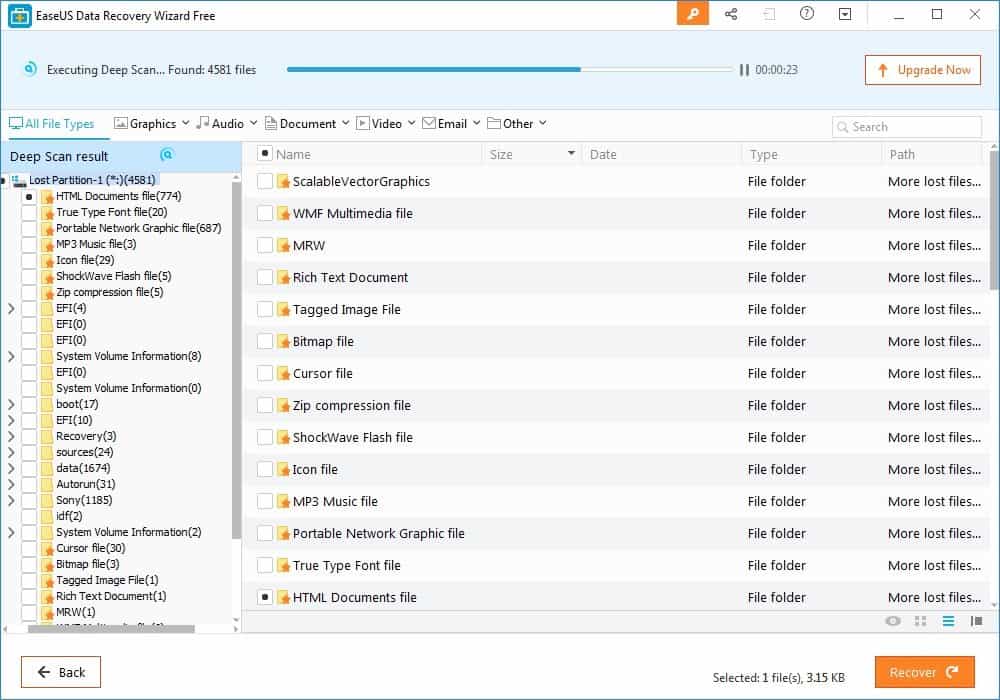 The files can be browsed even before the scan is completed or as it is being recovered. The preview options help a lot when the file names are more generic.
Once the scan is completed, the data can be browsed by file tree and file category options. Here the before mentioned Search option comes very handily if you are looking to recover a specific file by name or by type.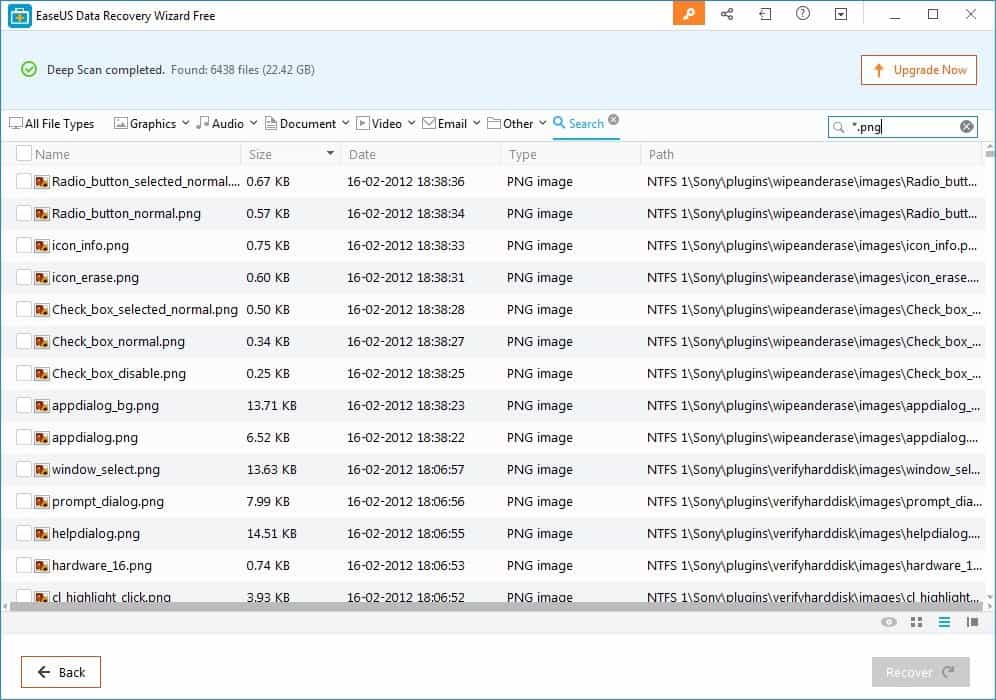 The content removed by programs or lost during a "cut and paste" operation can be found in a special folder called "more lost files (RAW)"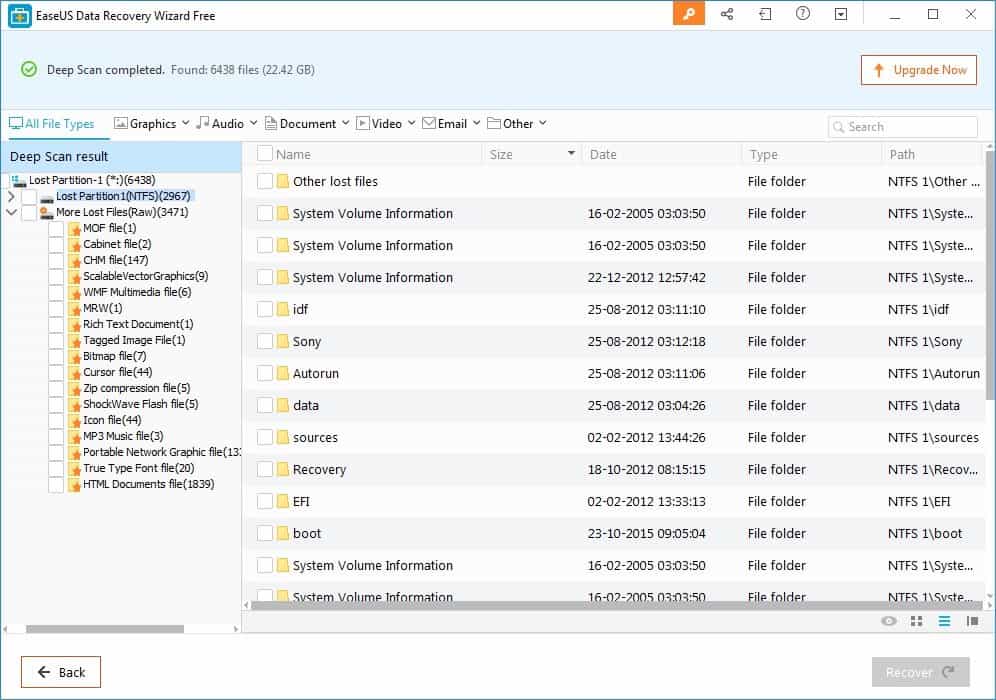 Recovering:
Recovering the data through EaseUS Data Recovery wizard software once the scan is completed is very simple! Just mark the checkbox beside the file name and hit "recover". You will be prompted with a window to choose a folder for the recovered files. Just make sure to select a location on a separate partition drive.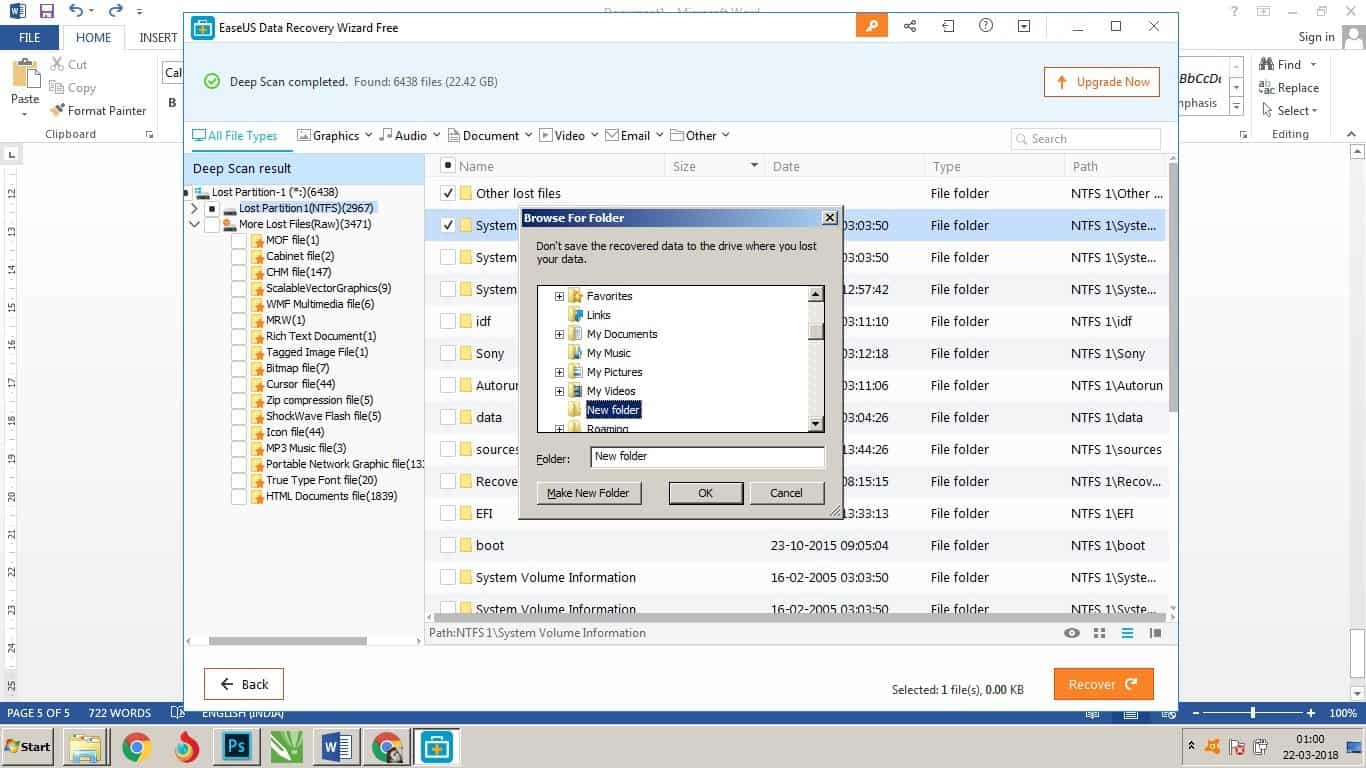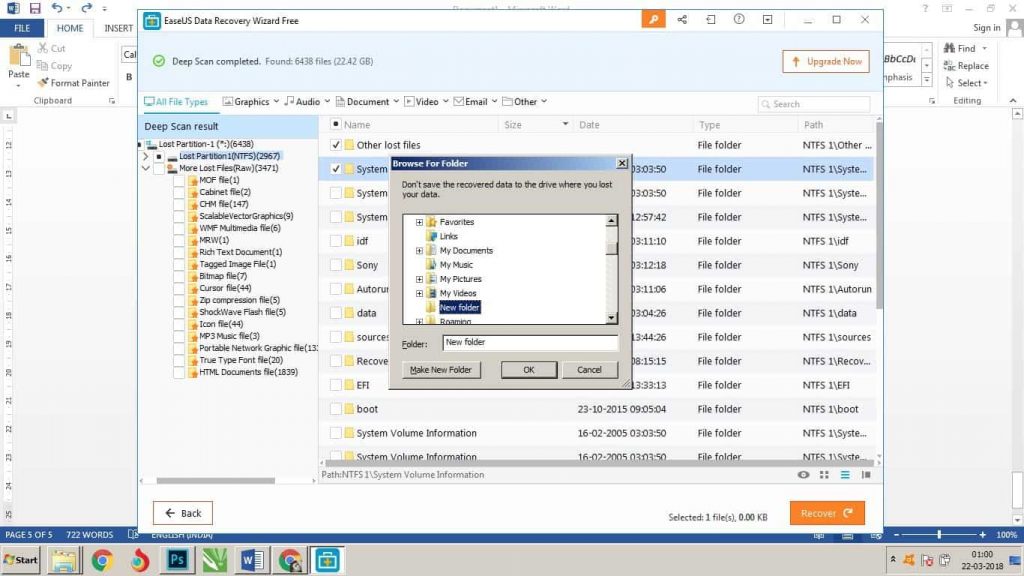 The ability to recover data from HDDs, SSDs, RAID storage, servers, and even optical drives makes it a flexible tool. Complimentary cloning software is also nice, even if it's a separate application.
In fact, the solution is so comprehensive, if you're an IT professional, there's little question in our minds that the EaseUS Data Recovery Wizard Free will make it an invaluable addition to your toolkit.
In addition, the website features a knowledge base that's regularly updated with articles on data recovery and other IT news and trends. There is also a community where you can comment and receive answers from the software's developers.
Conclusion:
EaseUS Data Recovery earns a top position on our list of the best data recovery software thanks to an intuitive interface that nearly any user can understand and use. Its streamlined design saves time and avoids unnecessary steps that could otherwise confuse novice users, making data recovery as easy as clicking a few buttons while delivering excellent results. Its recovery rates were among the highest we tested, and the features that are critical to businesses are all there.