You might already know that if you need a free data recovery software for Windows, you will find plenty of options. However, how good they are? To find out, you should test the most popular of them – Download that, try to recover lost files… hold on a minute! but how do you determine that it's the 'one' data recovery software you should download? Is it just because it's popular? Well, fret not, as here's what you should evaluate in a free data recovery tool –
Your user experience
Recovery efficiency
Speed
File formats with which the tool works
Data volume that the tool is able to recover
The main thing here is to find a perfect tool that will be efficient enough for you. You can also check the list of the best free file recovery tools which could help in beginning the test phase. There is an alternative though. What about saving plenty of time and avoid all those useless efforts? Well, you might save some of your data, as well, because this tool which I used recover just all files, in any formats.
Disk Drill – Free Data Recovery Tool for Windows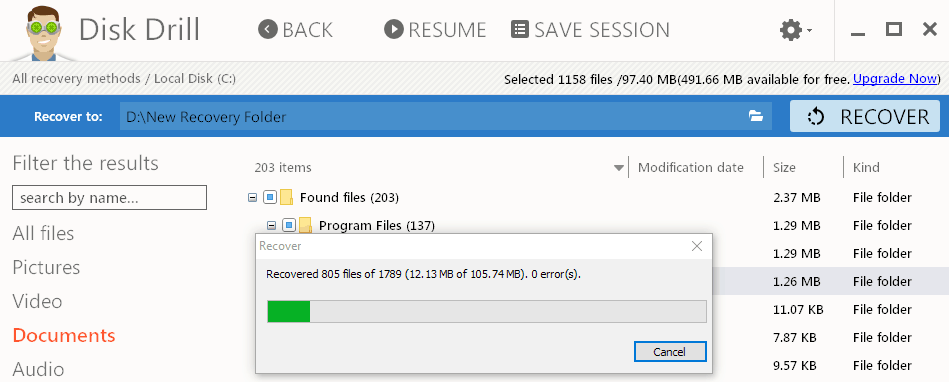 In my testing, Disk Drill turned out to be the best free data recovery software. With this tool, you can recover data from more than 300 file formats.
With Disk Drill, You can recover up to 500MB for free, and further you have to purchase a paid version. why don't you download the free version of Disk Drill for Windows and see if it meets the criteria aforementioned?. If it goes well and there is a necessity, you can always purchase a paid option. In my opinion, if you are an individual user and you're trying to recover the files that were accidentally deleted, a free version of Disk Drill is more than sufficient. But if your work is connected with data and information, or if you are representing a company, paying for a PRO version is a fair option.
The paid version of Disk Drill also offers an amazing option called Recovery Vault. This is a special layer where the tool will be saving important files. Even if you accidentally delete them or they are lost due to system failure or for any other reason, you can always get them back from the backup copy. So, you get the option of data recovery for free, but you should pay if you want more security. So, be wise, and choose the one that suits you. Our intent is to provide the best tool, but you can always try out the free version before you move to pay for pro version.