Apple Inc. has always come up with a variety of feature-rich gadgets and media devices in the form of iPads and iPhones. Moreover, with each new version of iPhone and updated iOS, you get relatively more useful features to use in your devices. In fact, the latest iOS iteration has consistently incorporated excellent sharing features and media management. However, if you have windows operating system and looking for an innovative tool to do media management in a better way, you should definitely go with the robust and ideal media management tool i.e. IOTransfer 3.
IOTransfer 3 Key Features:
IOTransfer 3 let users manage stored and downloaded media on the iOS devices in a hassle-free way, which makes you manage smooth download, conversion, and media transfer between your Windows OS [PC] to iOS [iPhone/iPad]. Here are the other IOTransfer 3 features –
Image Sharing and Management
As an effective iPad and iPhone Manager, IOTransfer 3 lets you capture stunning pictures in different light conditions. Moreover, the tool features an easy photo manager, which lets you manage your photos and transfer them to your latest Windows PCs without any problem.
Innovative Air Transfer Technology
The specialty of the mentioned IOTransfer 3 tool is that it features Air-TRANS technology, according to which, you as a Windows PC user may use the software without any wire or cable. The transfer is made possible via Wi-Fi direct to eliminate the requirement of any USB cable. Hence, what would be better than using the Wi-Fi connection at your home to transfer media/music files from your favorite iPhone device to your Windows PC?
Easy Download and Share of YouTube Videos
IOTransfer 3 tool features YouTube Video Downloader to allow you in sharing, management and conversion of your captured HD quality of videos from your iPhone to your Windows PC with only a few clicks. In fact, you may choose the video quality according to your own choice, which may be anything i.e. 240p, 360p, 480p, and 720p.
Moreover, as the tool supports multiple formats, you may save and download your favorite YouTube videos in various formats, which include 3gp, WebM, FLV, MOV, MKV, AVI and MP4 and so on. With the help of this tool, you may download many live concerts and other rare videos, along with your favorite movies from YouTube. Besides YouTube, IOTransfer 3 lets you download videos from various other popular video-sharing platforms, such as Vine, Vimeo, Facebook, and Instagram.
Music Management
With the help of IOTransfer 3, you, as an iPhone or an iPad user may easily transfer your favorite music file in between your Windows computer and the iOS devices within a short time. Thus, sharing of your favorite music track is simple as 1,2 and 3.
Supports Both Individual and Batch Photo Conversion
Another interesting aspect of IOTransfer 3 is that it comes with easily usable HEIC to JPG Converter that allows drag and drop of HEIC photos and media files, and converting them to JPG. Users may convert the files online itself, as the tool works on almost every type of browser. Along with individual photo files, you may get the benefit of batch photo conversion to convert multiple numbers i.e. maximum 50 HEIC photos into JPG files. The best thing about the feature is that you do not have to install it on your desktop.
Far More than a Simple Media Content Manager
IOTransfer 3 tool is much more than any simple media content manager. This is because; the tool lets you create data backup of your both iPad and iPhone devices. The feature is helpful in case you identify your iPhone's contact list is growing consistently and you want to create a backup of your contacts on your PC.
Aren't the features quite interesting, now let's find out how we can use this tool practically!
How to Use IOTransfer 3?
Let's get started by downloading the tool on to your PC, and installing it. After installation, launch the software package and connect your iOS device to PC. If it prompts, just tap 'trust' on your iOS device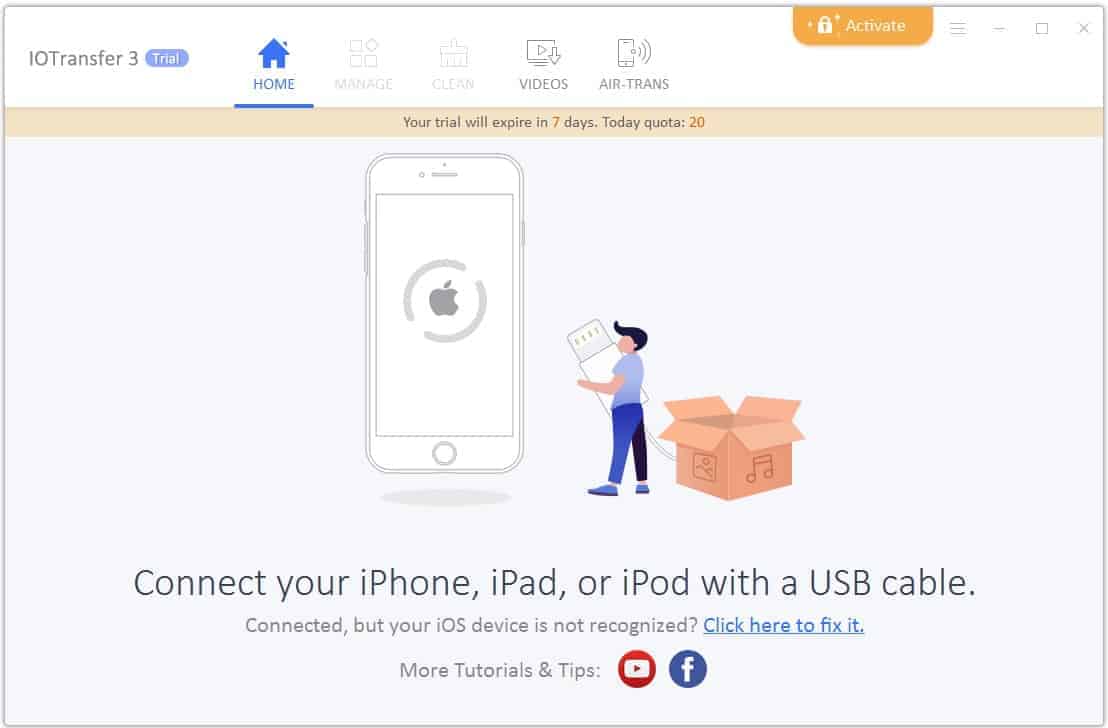 Once the connection established, you can start managing your connected iOS device. As shown in the below image you can check how many photos, music, and other files you've in your connected iOS device. Clicking on each of them will open a window where you can preview everything. If you'd like to transfer them to your PC, it is as simple as copy paste. All you need to do is to click on 'Transfer to PC', and then select the files which you want to create a copy.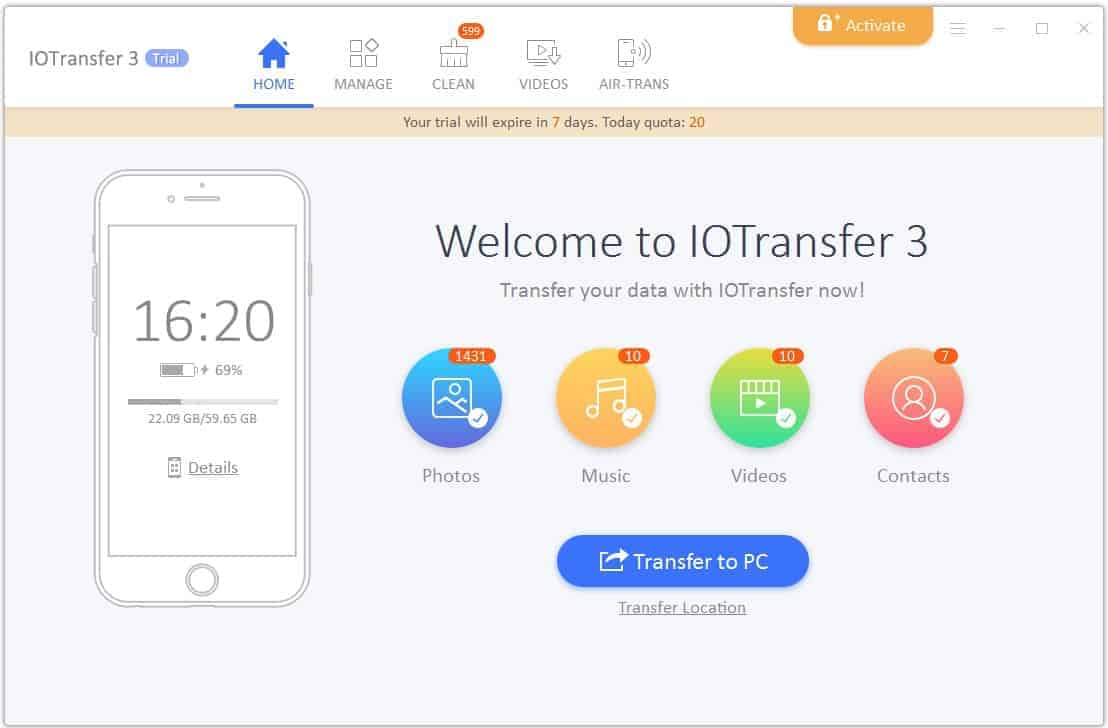 To check the storage details and free space of your connected device, you can click on the 'Details'.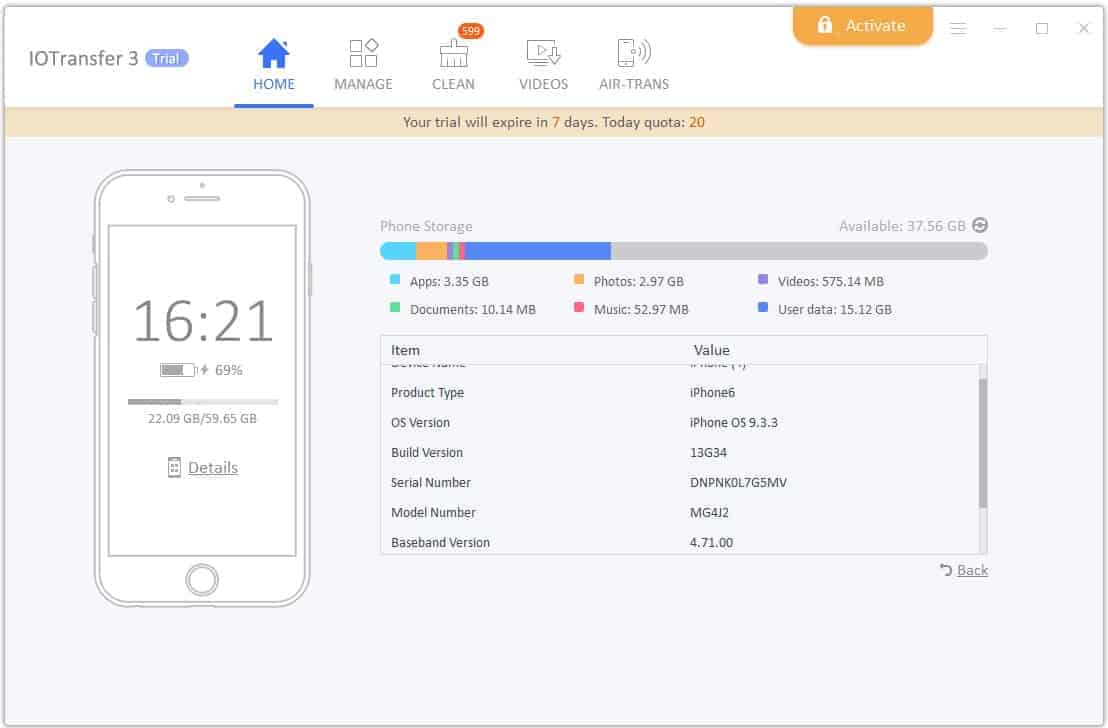 Moving off from the Home tab, the next is the 'Manage'. This is the main tab where you can manage everything on your iPhone. For example, here I opened the Music folder which is showing the list of music files available on my iPhone. Now I can preview it, delete it, or copy it. It's more like what you do in your typical file manager. Just like the Music Manager, you can also manage Videos, iBooks, Contacts, etc.
 The next tab is 'Clean' which lets you clean the junk files as well as cache. I guess I don't have to explain a lot about it. Just click on 'Clean My iPhone', and let it do the magic.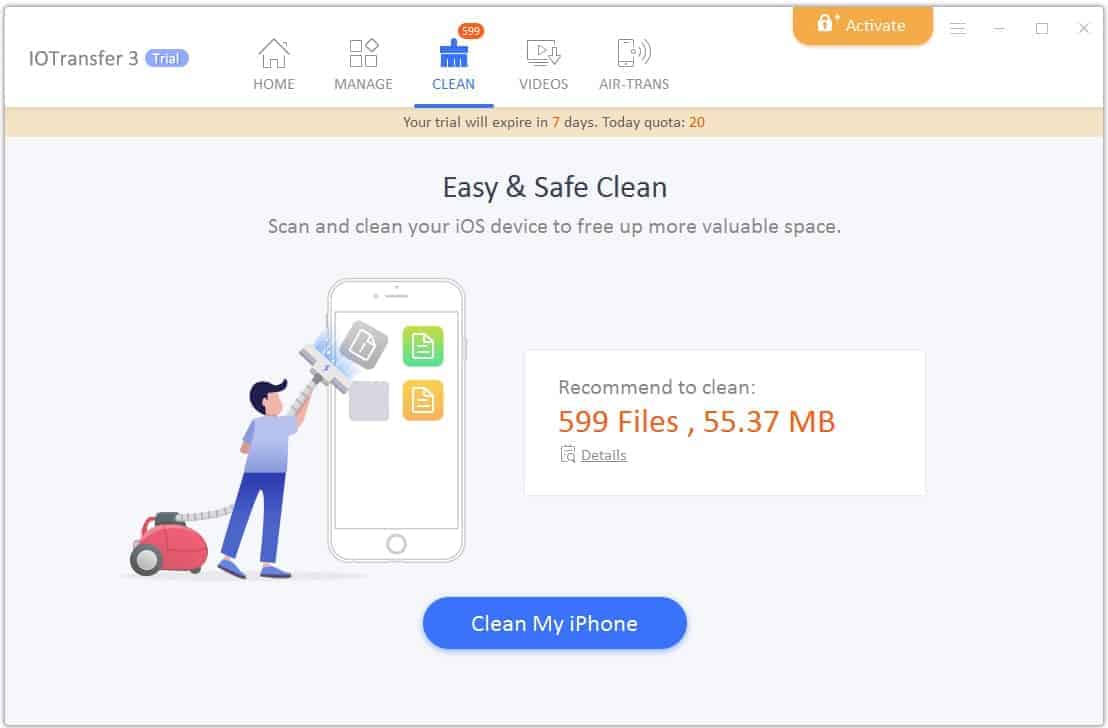 As mentioned in the key features, the IOTransfer 3 allows you to download videos from different social networks like YouTube, Facebook, Vimeo, etc. directly to your PC.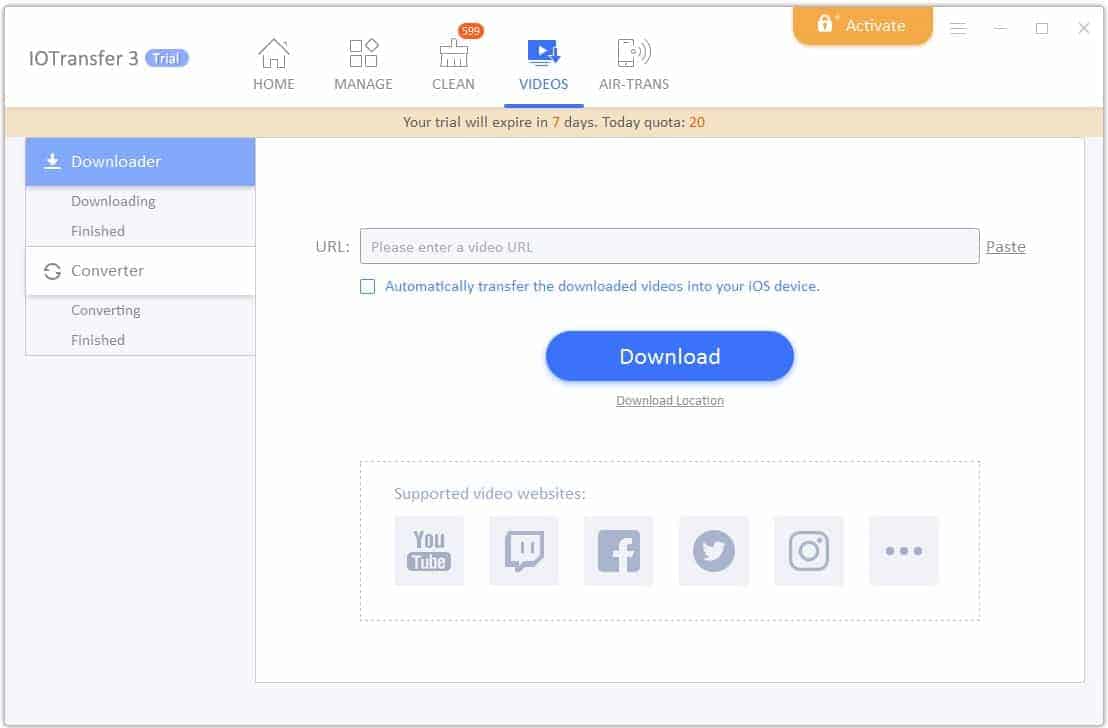 Not just that, you can also convert it to a format that's supported by your iOS device.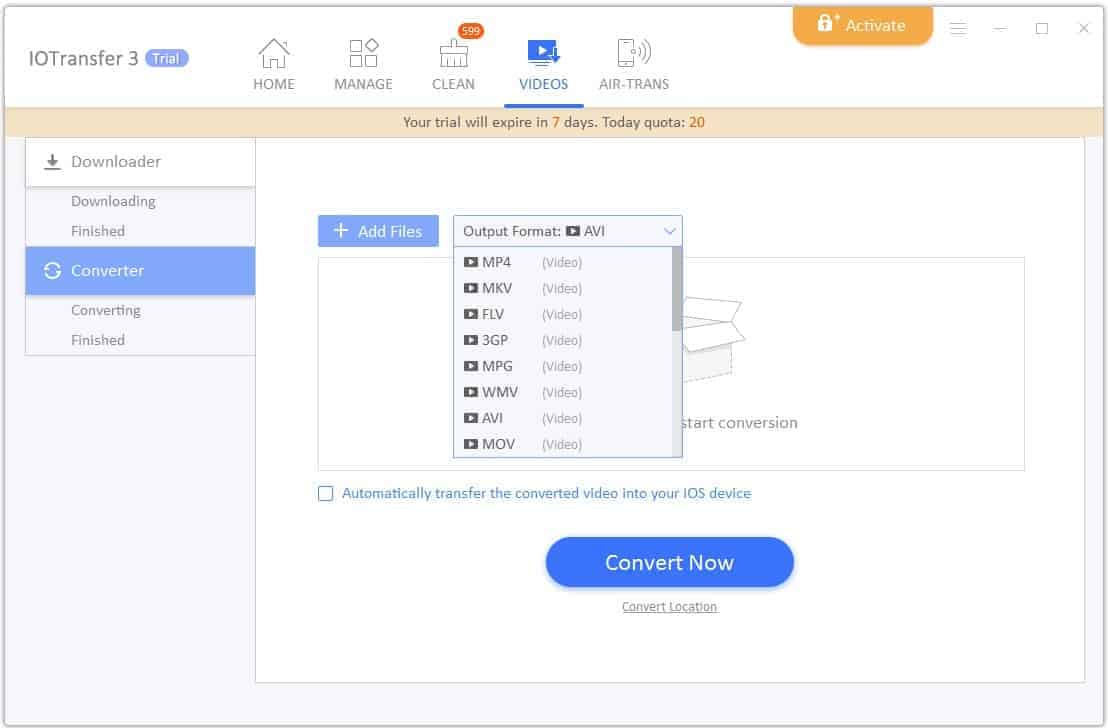 As explained in the key features, you can also use AIR-TRANS to wirelessly transfer the files between your connected devices. This works on the same basis of SHAREit where the files are transferred using  Wi-FI direct. All you need to do is install the same tool on to your iOS device, and click on AIR-TRANS in both devices.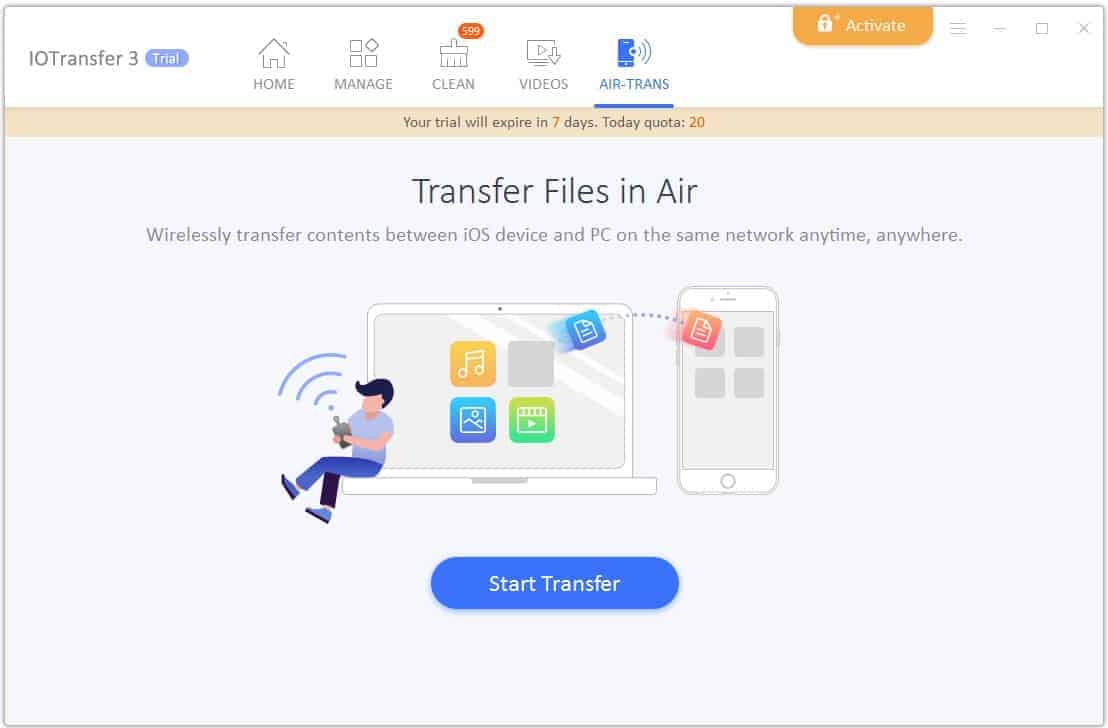 Well, that's how simply you can manage your iOS devices even though you use a Windows PC. For this test, we used a trial version, but you can always upgrade to the PRO version for just $29.95.