Yes, I switched back to an antivirus after years, not because I really wanted one but because Bitdefender contacted us to try and share our thoughts regarding the all-new Bitdefender Total Security 2018. Till now, I had been using Windows Defender which works quite well, but it's sluggish- Whenever I open the app and click 'Virus & Threat Protection', it will take at least a few minutes to load up the information and so I thought of giving the Bitdefender Total Security 2018 a try. Here's how it look like- Quite minimal, not too much information on its home screen and shows only the status, the numbers notifying the kinds of attacks on app or file that were blocked by it.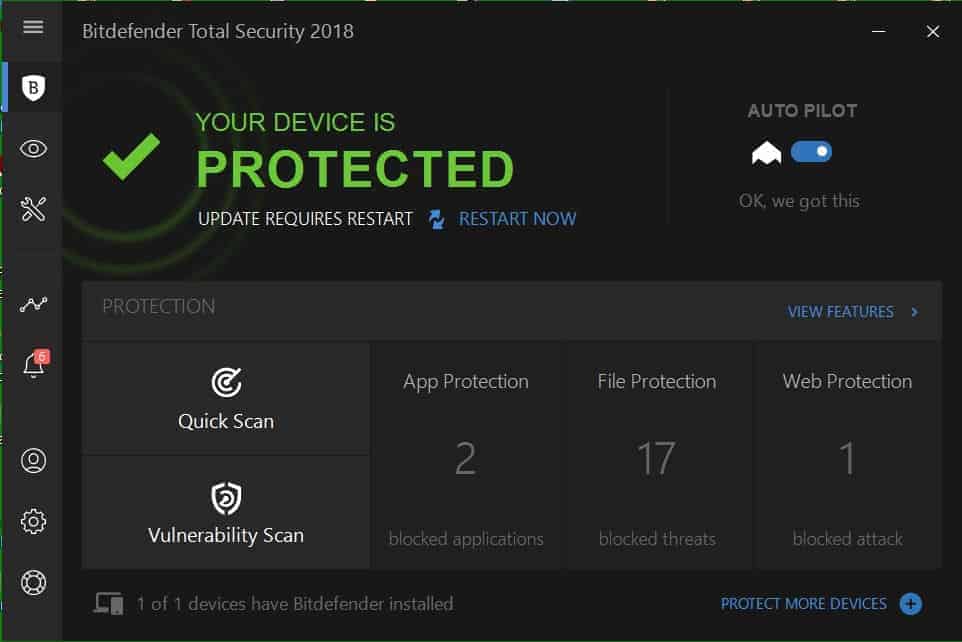 From here itself, I could run a quick scan or a vulnerability scan to check whether everything is fine or not and on the left of the app, there is a column with control options- Privacy, Tools, Activity, Notifications, Account, Settings, Support. So, we will go deeper into each one of these options and will let you know what's inside, but let's keep that aside for now for a bit and talk about the general experience.
Recommended: Bitdefender Family Pack 2018 Review
As soon as I installed it and rebooted my laptop, I saw a couple of threat notifications popping up and Bitdefender taking actions to disinfect the files. However, one of the threats seem to be a false positive- I can say that even without using any other tool to check the files again. That is because as I played Just Cause 3 for a while and closed the app, Bitdefender Total Security 2018 showed that the game is trying to change data in a folder and that was actually the Save Game folder for the game, and as the game is purchased from Steam, both the game and Steam have the controls over the folder and there is no way Just Cause 3 would do that without a purpose, that's how games work.
So, at this point, I was a bit skeptical due to this particular instance of a false positive. But, well I guess it is fine as there are many users who may not be aware of these small changes games and certain apps make in their files, so I wouldn't just go Ga Ga over it.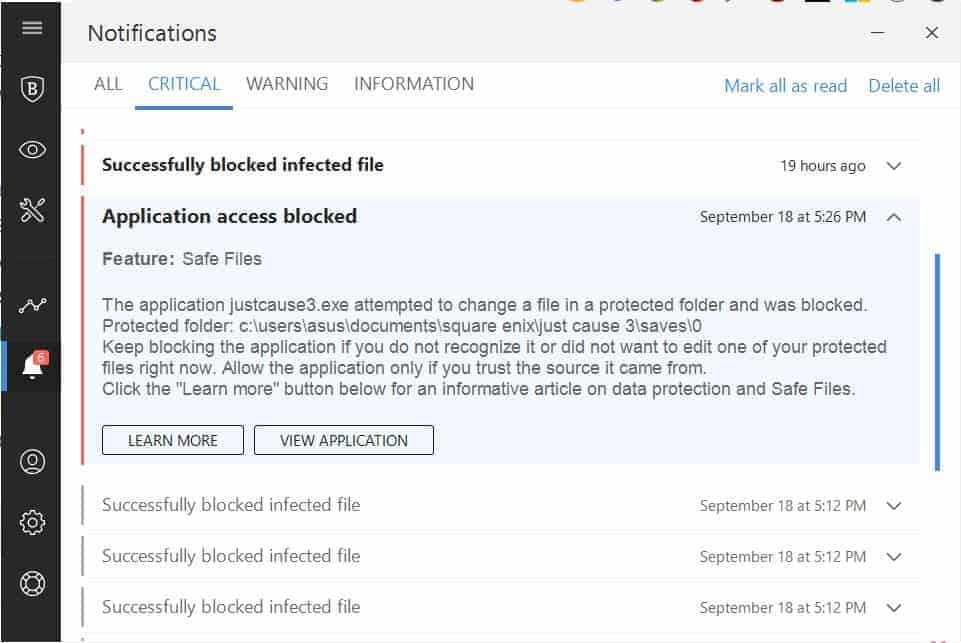 The second option on the left column is regarding privacy, and there are a few options like VPN, Safepay, Wallet and File Vaults. The VPN had two connection modes- Automatic and Manual and during manual connection you are free to choose the location. However, the VPN is a free one and for unlimited traffic and overall protection, it seems I need to pay a bit extra over the subscription of Bitdefender Total Security, which is fine considering that it's like an add-on for the antivirus program.
Now, another option in the privacy rail is SafePay, which is like an isolated browser which blocks all other apps from collecting data, taking screenshots and virtual keyboard. The wallet feature may be useful for many as it can save addresses, phone numbers, credit card information, passwords, everything in one place and store them securely. File Vault is somewhat useful for keeping files private however, there is no option to generate new files within the app like for saving a secure note or some sort of screenshot as evidence or anything like that.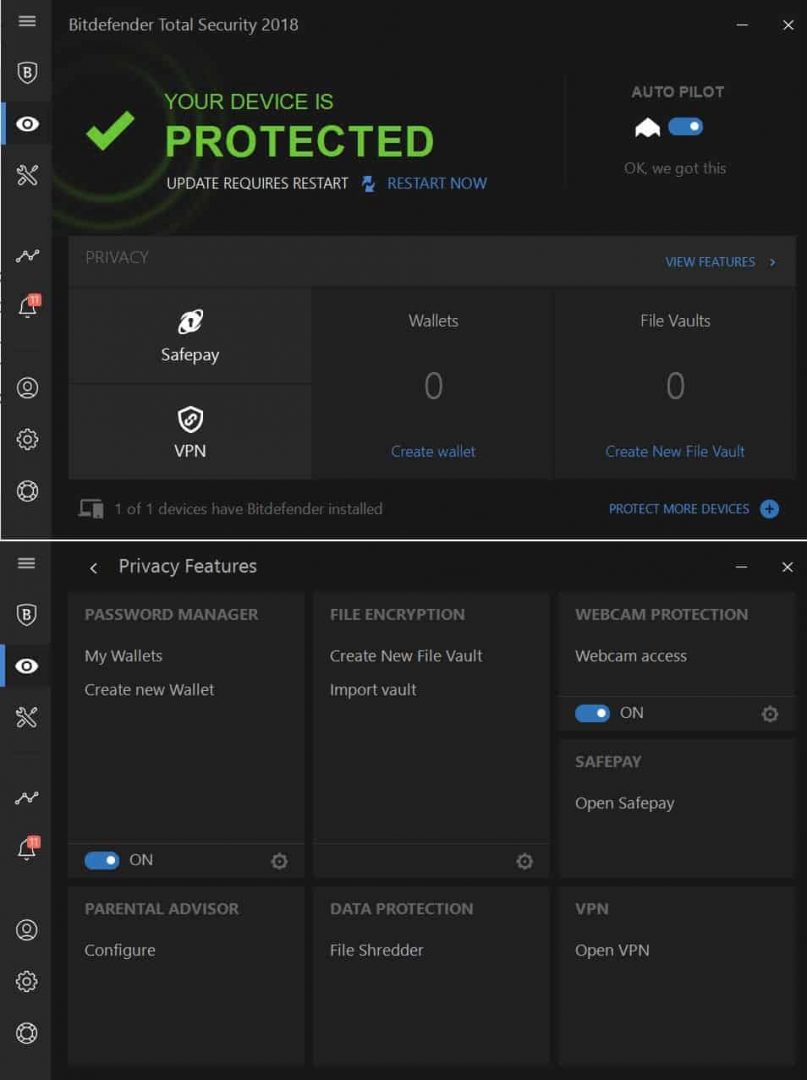 The next option is Tools, where you can find some options to optimize and clean junk. There are numerous options like Startup Optimizer, Disk Cleanup, Anti-Theft, and OneClick Optimizer.
Another thing unique about the Bitdefender Total Security 2018 is that it keeps an eye on your online activity as well. Whenever I Google anything or I just see any link on Twitter or Facebook, I immediately know whether the link is safe or not as Bitdefender somehow has a database of malicious links and all the safe links are marked with a green tick, and malicious ones are marked with a yellow tick.
Nonetheless, that's not the end. To test its limits, I tried opening up some pages that redirect users multiple times to different websites that have either adult content or Ponzi schemes, and in almost all the cases, it blocks that webpage and asks me to start over with a blank tab, apparently by resetting that specific tab only. This is nice and this was beyond my expectation, so thumbs up to Bitdefender for that. Also, on the web protection section in the Dashboard, you can see the list of URLs that have been blocked by Bitdefender Total Security 2018.
Some personal thoughts
It has been quite a long time since I switched to any separate antivirus program apart from Windows Defender. And after finally switching to the Bitdefender Total Security 2018, I would just say that I am quite enjoying the experience. It doesn't seem to slow down the system anyway, neither it has very annoying aggressive notifications, instead, most of the work is done in the background providing great relief, and probably I would continue it until anyone suggests anything better or I try anything better somehow on other systems. I personally liked the way it works, however, the web protection could be a bit better. Also, the extra features that it provides are really helpful in many cases and some people may find it amusing to have these as a part of the package.