Disk management is a Microsoft Management Console extension that allows management of all disk-based hardware that Windows recognizes. People use disk management to manage the drives they install in computers such as internal and external hard disk drives, flash drives and optical disk drives. People use it to format drives, partition drives, and assign patterns. Some people might incorrectly refer to it as Disc management. 
Disk management is available in many versions of Microsoft Windows such as Windows XP, Windows Vista, Windows 7, Windows 8, Windows 10 and even on Windows 2000. Even though Disk Management comes with most operating systems of Windows, each version comes with a few differences. The best way to access the disk management on your computer is through Computer Management utility. You can also start it by executing the diskmgmt.msc through the Command Prompt or the Command-line interface on Windows. 
Using disk management on Windows OS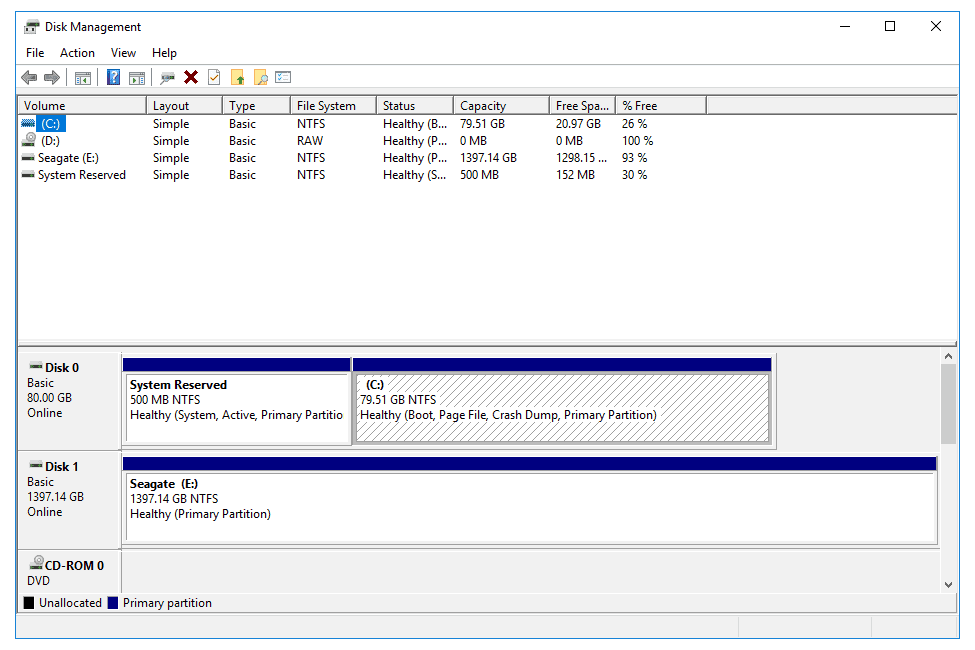 There are two sections of the Disk Management – the bottom and top.
The top section contains the partitions you have formatted and those you have not formatted – the partitions Windows recognizes.
The bottom section contains graphical representations of all the physical drives you have installed on your computer. 
The menus and panes of Disk Management are customizable. You can change your top pane to function as the graphical representation and then disable your bottom pane. Use your View menu to change where you display the changes in Disk Management. Likewise, there are other tools which have better features compared to in-built disk management utility tool on Windows OS. Here are the 5 best alternative software tools for disk management. 
Top 5 best free disk management software tools for Windows
1. EaseUS Partition Master Home Edition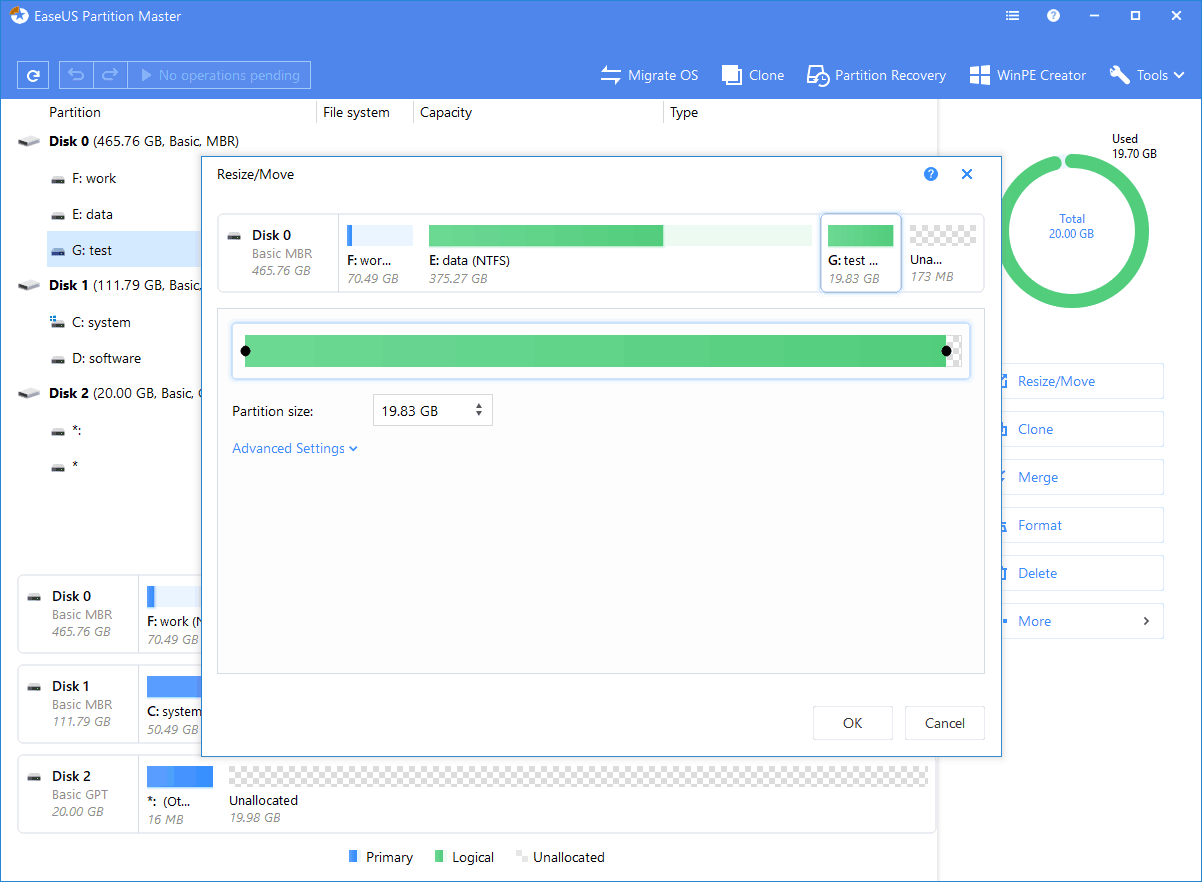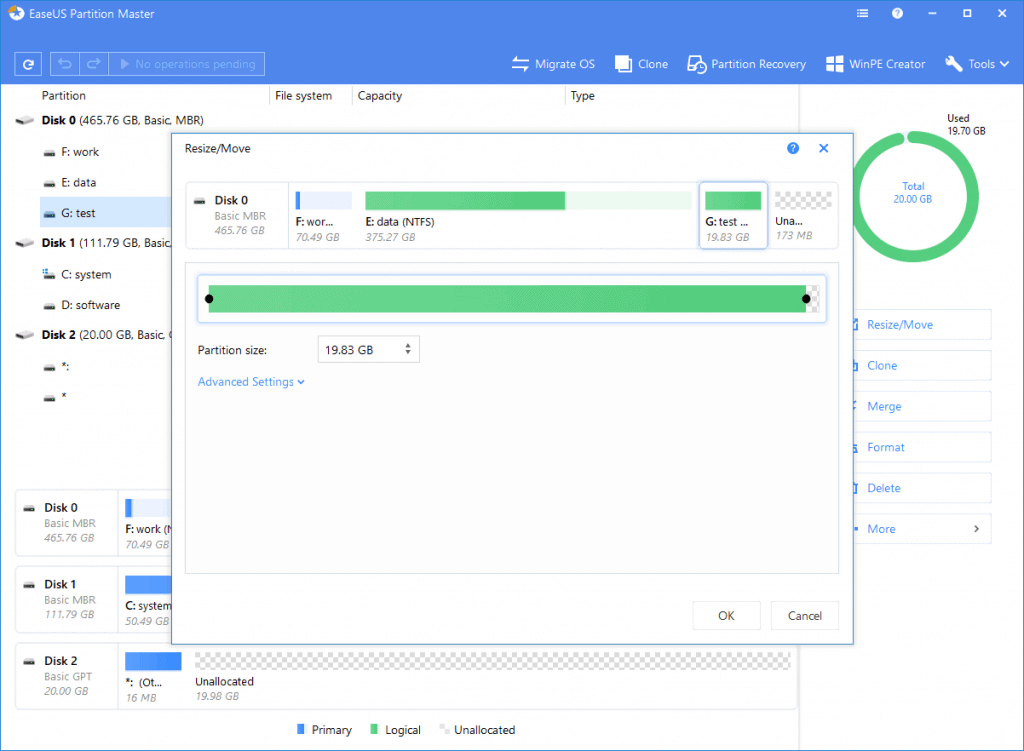 If you have to manage partitions, create boot disks or manage copy partitions, the EaseUS Partition Master Home Edition is a perfect choice. Today, it is among the highly ranked hard drive management software programs offered on most websites because it is more intuitive than the inbuilt Windows Disk Management functions. It offers many additional features and options too. 
It allows you to merge your disk partitions, merge partitions, wipe partitions, check partitions, change the label and resize partitions. When you need a platform to perform some advanced tasks like conversion of partitions or cloning them, you will need to upgrade your version to the paid version. You can always try their free edition for testing.
2. MiniTool Partition Wizard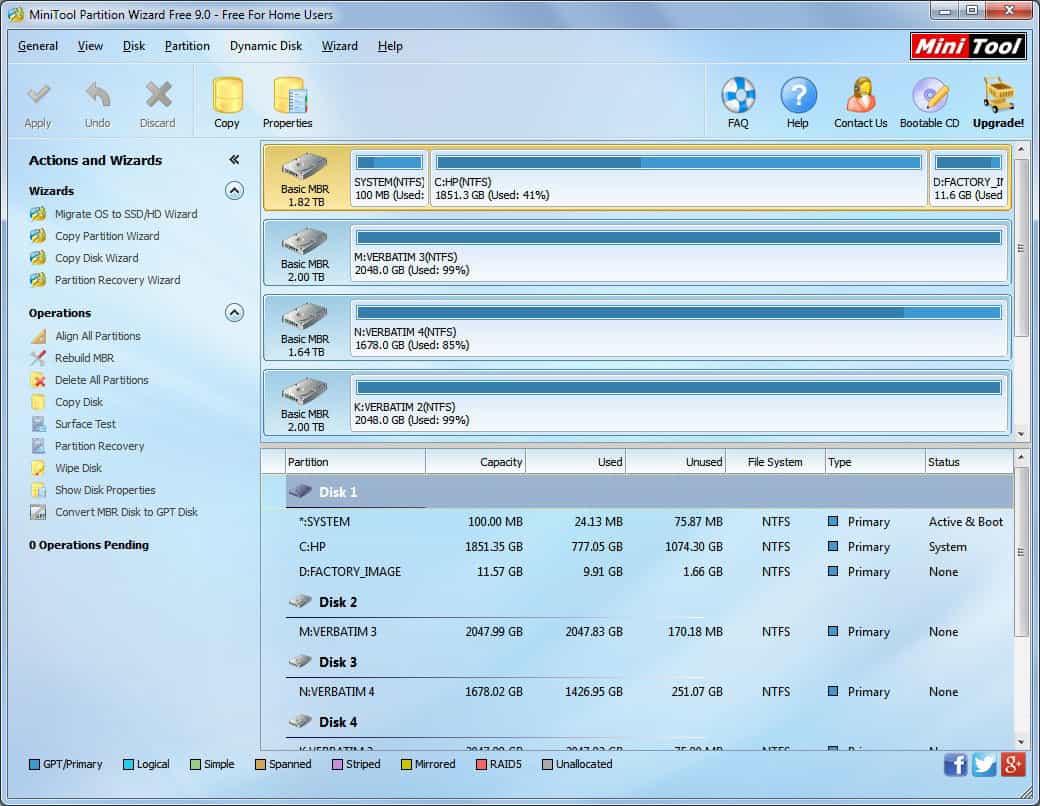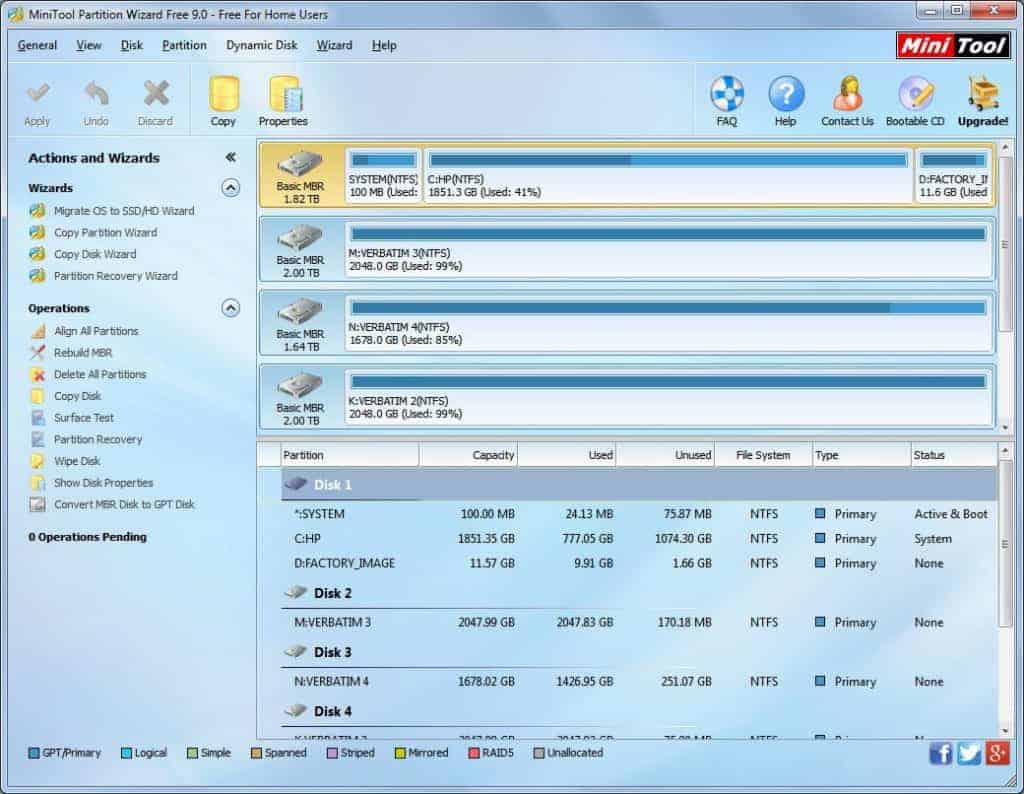 The MiniTool Partition Wizard is a disk formatting and partitioning utility that is not only simple to use but also more effective. It offers a straightforward interface and works efficiently when it comes to changing the complex formatting options to simple ones. 
The MiniTool Partition Wizard supports Windows 10 and almost all file formats like EFI boot, UEFI, GPT disk, MBR, SSDs and RAID storage. The software will help you extend your partitions, convert file systems, migrate the OS from the standard HDDs to SSDs. Try their free edition by downloading it from here.  
3. WinDirStat Portable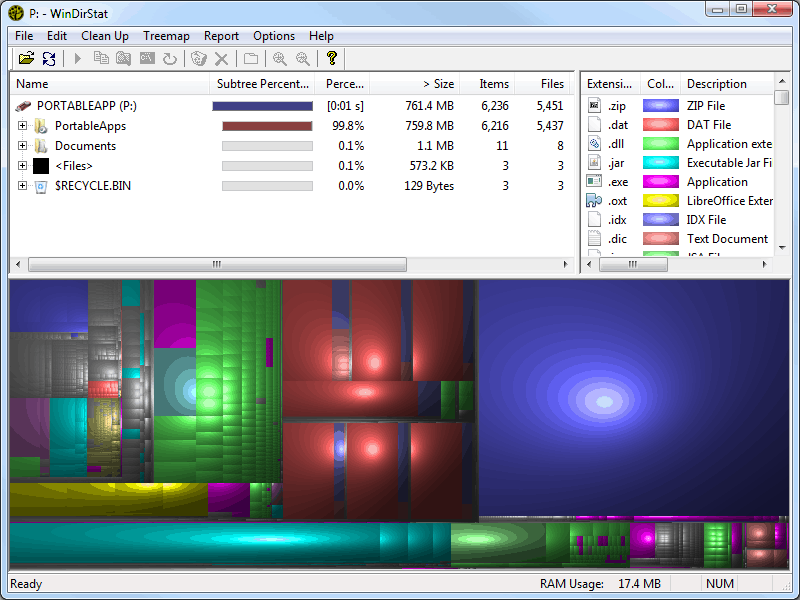 When shopping for a hard drive, you might think that your 250GB hard drive will suffice. However, after a short period of heavy use, you realize that the remaining space is minimal. Filling up your hard drive with unnecessary stuff is very easy but the cleaning part is hard. With many directories and folders, it can be hard to know the things taking up most of your space. 
WinDirStat Portable helps you identify such files easily. The program will scan your hard drives and display a summary of everything that is taking up your disk space in the form of colorful graphics. It will assign each file a color according to the type – ZIP, EXE, MP3, JPEG, etc – in squares that are small or large depending on the space each file is using. After you have pinpointed the storage hogs, WinDirStat will allow permanent deleting of the files in the app. 
4. HP Disk Storage Format Utility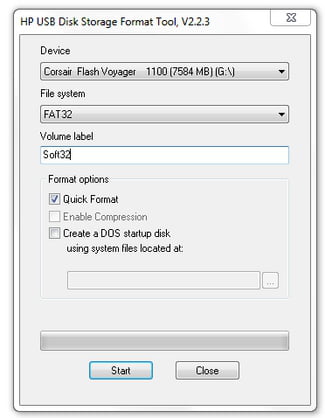 Even though the market offers a wide range of disk management software that focuses solely on the formatting of external hard drives, the HP Disk Storage Format is focused on USB devices like flash drives. The simple formatting utility tool has only a few options, but it is more effective and it has enjoyed many positive reviews. You can download to test it from here.
5. AOMEI Partition Assistant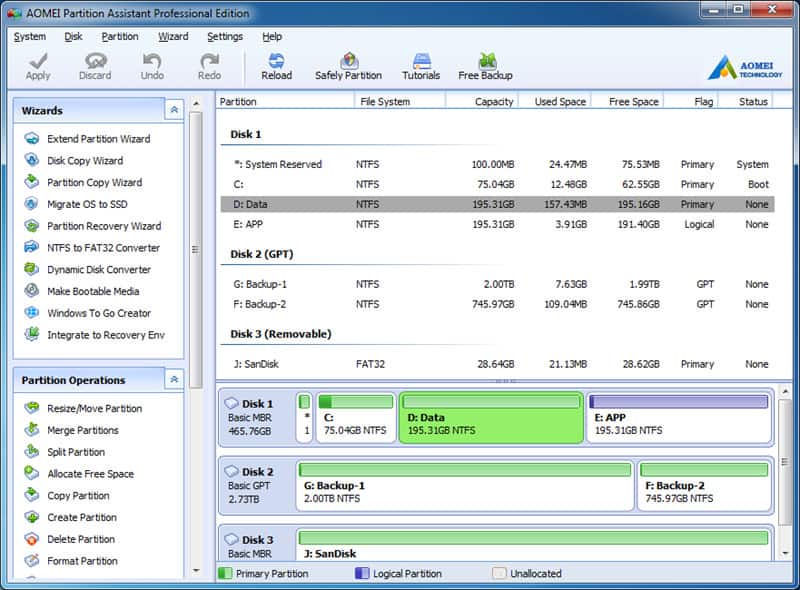 The AOMEI Partition Assistant is another recommendable partition manager. It offers most of the features you expect with the other programs in the list and it comes as a free version. Moreover, it is among the regularly updated. That is true for all the programs we have mentioned in this list. And if your goal is to complete a single task, which the software does not support, try a different one before making a purchase.