iPhone 6 new leak is a bit disappointment for the Apple lovers, like the iPhone 5 and it's predecessor iPhone 5S, the new smartphone (successor of iPhone 5S) will comes with same RAM i.e., 1 GB which is very low when compared to present Android smartphones, Recently Apple's new OS iOS8 is launched, and with it's extra-ordinary looks, developers are trying to build new apps, games for it, so 1 GB of RAM is bit disappointing, but if we go back to earlier iPhones, Apple succesfully optimised everything like apps, games that are compatible with Android can be played with out any lag in iPhone too.
We got this leak from the GeekBar who shared the schematic diagram of iPhone 6 connections in weibo.com, so we are thinking it's a legit leak, let's have a look at RAM's level in iPhones, Apple started with 128MB for it's iPhone 3G and upgraded it year by year in it's successor like 256 MB (iPhone 3GS), 512 MB (iPhone 4 & 4S), 1 GB (iPhone 5 & 5S,5C), so it should be 2 GB in it's next successor, (and most of the earlier leaks of iPhone 6 ) suggested the same, but as per this new leak it's just 1 GB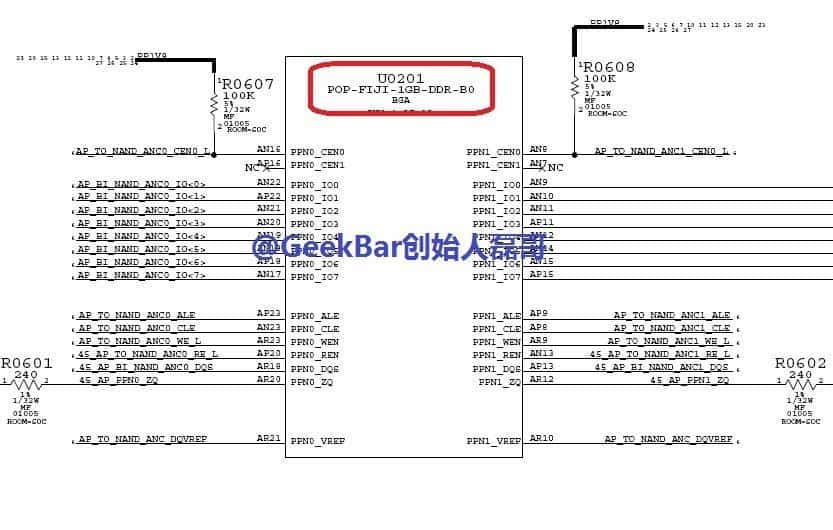 GeekBar is well known for it's leaks on internal parts of iPhone6. so we are thinking this must be a true source for the 1 GB RAM, well it won't be a problem, because Apple going to unveil iPhone 6 on September 9th, so we gonna get some more information regarding true (original) specs of iPhone 6
Reports from other sites conforming that Apple will release it's new smartphone in 2 versions, one with a 4.7′ inch (iPhone 6) and other with 5.5 inches (iPhone 6/6L) and each of them comes with different batteries and different chipsets, but run on same iOS 8
iPhone 6 batteries are also leaked recently (source: AppleDaily), as per our leak on iPhone 6 , 2 smartphones with different sizes (4.7 inch, 5.5 inches) are rumored, so each one comes with their compatible batteries, the 4.7 inch iPhone 6 comes with a battery of 1,810mAh capacity, at present the iPhone 5S has a battery capacity of 1,560mAh
The 5.5 inch iPhone 6 comes with a battery capacity of 2,915mAh and you can clearly observe these from the leaked images, and we got the front panel (purple color) leaked images of iPhone 6L (larger version) too, we are hoping these smartphones will be unveiled soon on September 9th by Apple making a competition for Samsung and Sony as both of them are coming with their successor smartphones Galaxy Note 4 and Xperia Z3 respectively!