Around a few months ago, a brand called xFyro contacted us to try their ANC Pro TWS buds. We had never heard of them, so we were a bit skeptical, but then we agreed to review their xFyro ANC Pro buds. As far as I remember, the package arrived by the end of December, and here's the review of these buds after I used them for more than two months.
Though xFyro has pushed the word AI-powered noise cancellation here and there, which is supposed to isolate you and intelligently adjust the ambient noise, sometimes it can get quite aggressive. Let me take you through the build & design first.
Build Quality and Design
The xFyro ANC Pro looks like nothing special in terms of design. It's pretty generic like most TWS earbuds in the market with a long stem. However, these buds are very lightweight, and there is a mic at the end of the stem for better voice reception, whereas there is an LED at the top.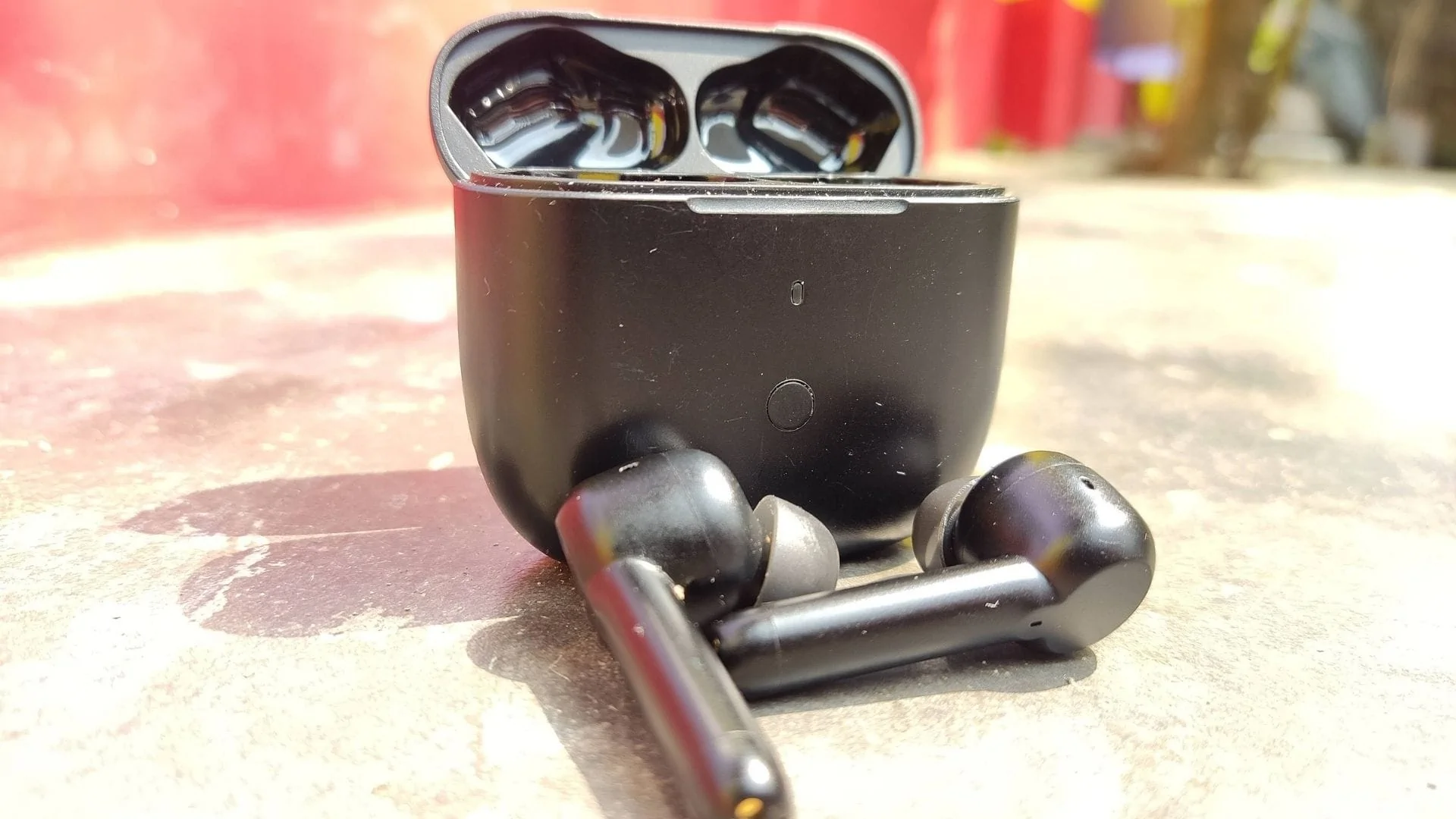 There is a touch-sensitive area on both the buds for easy controls and touch gestures. The Transparency mode can be activated by tapping and holding the right earbud for two seconds, and it's the default mode when you take them out of the case. This could be a bit annoying for some people, but overall the touch controls work just fine. You need to tap twice or thrice on either of the buds to go to the next or previous track while tapping the right and left earbuds once increases and decreases the volume. Tapping four times on the left earbud activates gaming mode. There are easy controls for answering and rejecting calls as well.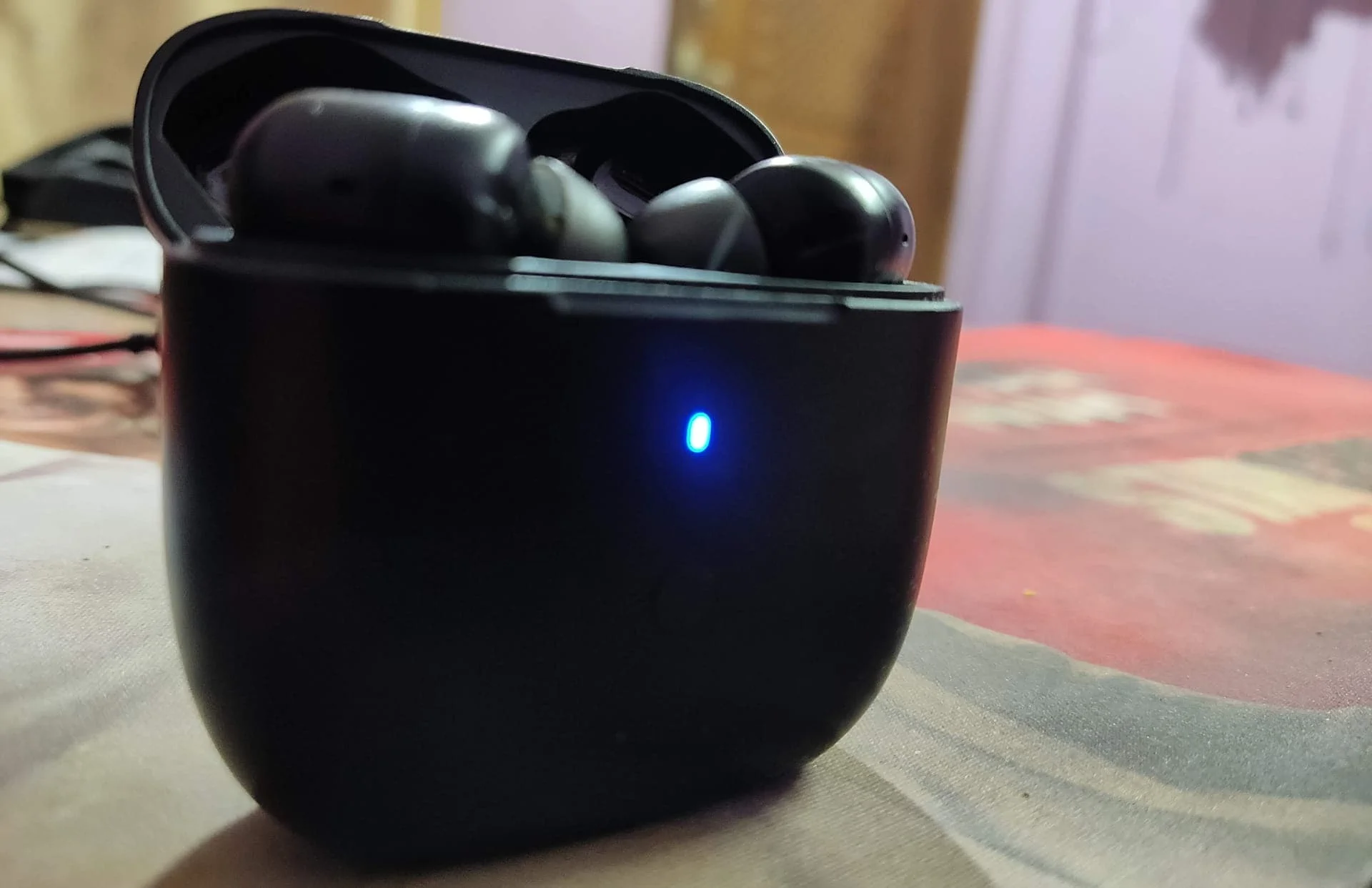 The earbuds are made of plastic, and they have a kind of matte finish, and the same applies to the pebble-shaped compact charging case as well. The charging case has an LED on the front to display the charging status, while at the bottom, there is a USB-C port for charging it via a laptop or power bank. There is a button on the charging case, which you can press and hold for ten seconds to remove pairing with any device.
Fit & Comfort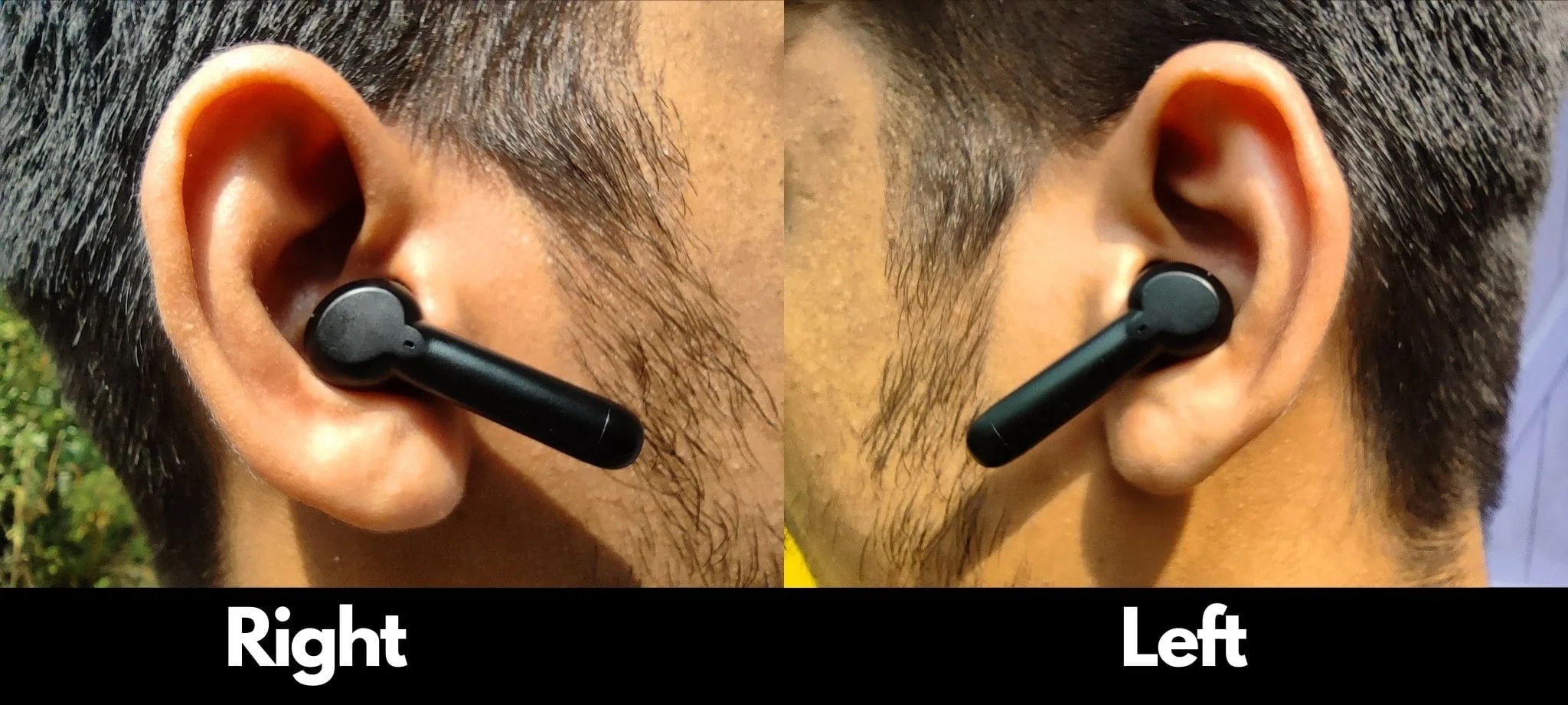 As mentioned earlier, the xFyro ANC Pro buds are very light, and I could barely feel them in my ear. I chose the medium silicone tips bundled with the buds and fit perfectly. However, I didn't try wearing them outdoors pretty often as I always fear losing earbuds and it is kinda tricky to wear a helmet on top of these, but well, they never fell off while eating. So, I can assure you that in terms of fit, there won't be any issues.
Hardware and Connectivity
According to the brand, the xFyro ANC Pro has 7mm graphene drivers, which are pretty significant considering the size of these buds. Theoretically, these buds should produce a higher volume than other buds having the same size but smaller drivers.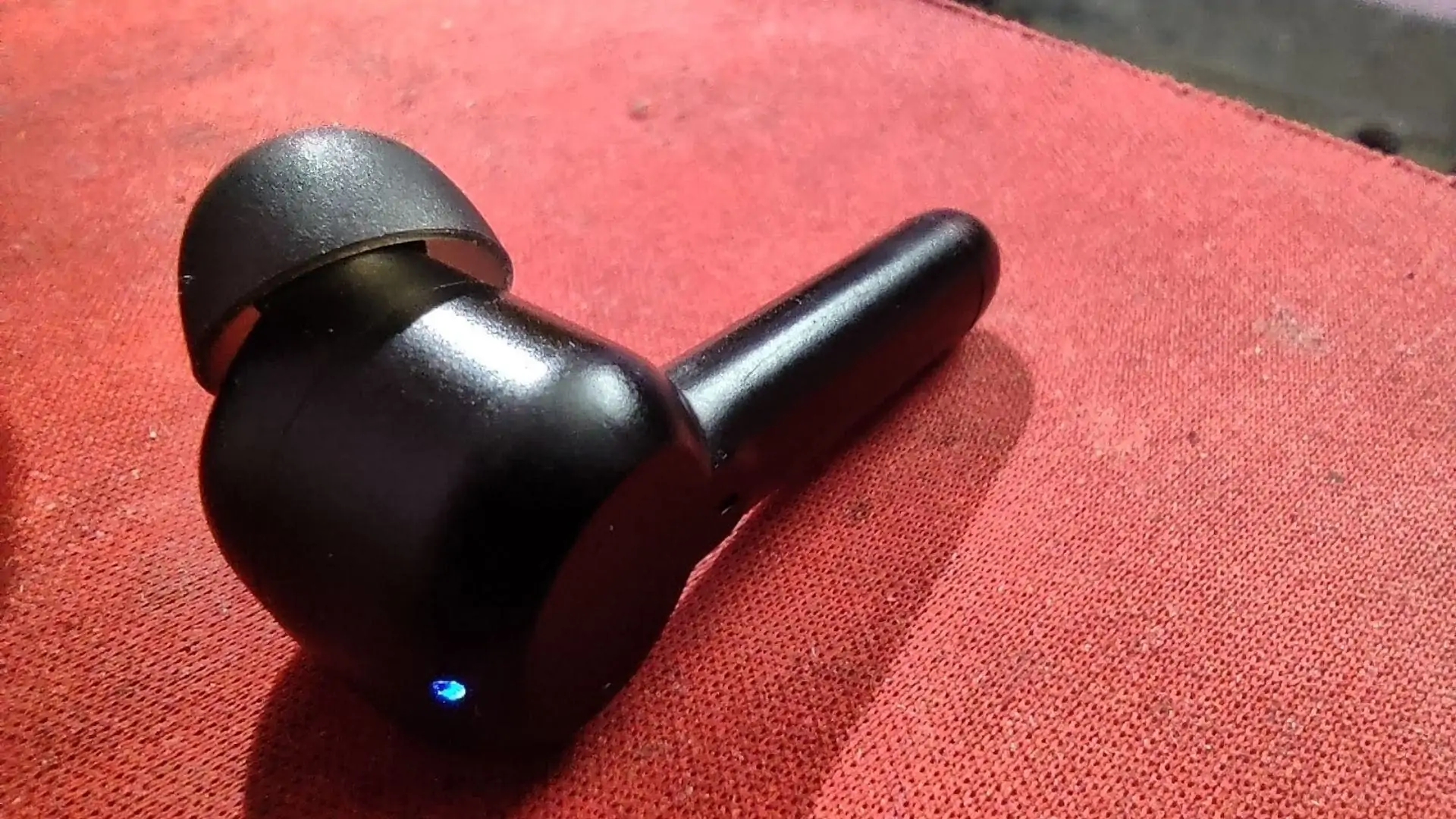 These buds come with Bluetooth 5.0 for wireless connectivity, and these buds connect fine even when my phone is in the adjacent room. However, when you are more than twenty feet away, sometimes you may notice a connection drop, but who needs a higher range, except those who play music from laptops? Pairing the buds with the phone is effortless, and these buds support AAC, though support for aptX could be fantastic.
Sound Quality
The xFyro ANC Pro produced a balanced sound that maintained the highs, mids, and lows pretty well, though the volume levels could be slightly higher, considering the large driver size. I mostly listen to rock, metal, rap, and hip-hop, and among these genres, while playing hip-hop, sometimes I felt that the bass was a bit on the lower side. I mostly enjoyed the music while the ANC was on, and these buds canceled out some of the environmental noise, not all. But considering that these buds use a single mic to cancel out environmental noise, they did a good job. However, there is a lack of depth. So, if you're someone who wants to put these on, get into a quiet cafe and pick up a book to immerse yourself into music and thoughts; these may not be the best choice, but suitable for those who want something that they can wear everywhere.
There is the Transparency mode as well, and it is the default mode when you take the buds out of the case. The transparency mode works fine, indeed up to the mark if we consider the price. However, I bumped onto something quite crazy while turning the transparency mode on and didn't play any music or make phone calls. While I'm wearing them while the laptop is running on my desk, with a cooler underneath, the sounds of fans sometimes kinda feel a bit too amplified. It didn't bother me much, though, and regarding the transparency mode, this is probably one of the cheapest earbuds I have used that work just fine.
The brand talks a lot about implementing AI on these buds to select sounds that the earbuds think are necessary dynamically, but that is sometimes like a hit or miss. While the transparency mode is on, the sound quality is similar to that while the ANC is on. However, occasionally there was this hissing sound. So, my best advice would be to use this mode only when you expect some kind of announcement and all, otherwise keeping the ANC on would be the wise decision.
There is a Gaming Mode, which aims to minimize the latency between the audio from the game and the audio output from the earbuds. I don't play games on smartphones, so I tried it out with PC games, and they just worked fine. Turning the gaming mode on and off didn't seem to alter the results much. However, the gaming mode surely drained the battery faster.
Many TWS buds perform great in music, but many suck in calls. However, the xFyro ANC Pro performed great in calls, and I never had a problem communicating with others via calls using these buds. However, the persons from the other who I asked about the sound quality said that they noticed a slight difference in loudness, that's all. So, overall, these buds performed well in terms of phone calls.
Battery Life
xFyro says that the earbuds can go up to 10 hours of a single charge, but in this case, the words by the brand don't seem to match the performance. With ANC on, the buds lasted for only four hours, and the transparency mode extended the battery life by one extra hour. So in terms of battery life, these buds disappointed me, and that's just my blunt opinion based on what I observed. If they promised six hours of battery life while offering up to five hours, I would have been fine and never complained.
However, I wasn't disappointed in terms of charging speed as I could charge them up pretty quickly from 0% to 100%, maybe within 20 minutes or so. Even the charging case didn't take more than an hour and a half to charge from an empty state fully.
Final Verdict
The xFyro ANC Pro can be considered a decent audio product at $99 only with free shipping worldwide, offering an ideal ANC implementation. While the sound quality is nothing exceptional like what audiophiles expect, they are fine for those who want to listen to music and make many phone calls. Because there are TWS buds like the Nothing ear(1) at the same price range, I think it would be great if these buds could be priced a bit lower, and of course, the pricing in India differs a lot for many such products compared to American and European markets. But, if this brand wants to expand to the fast-growing Indian market, more aggressive pricing is the key. So, if you want to grab these, head over to the official website and grab them at no charges for shipping.
ANC on a budget with good audio quality
ANC on a budget with good audio quality
The xFyro ANC Pro TWS buds are pretty good in terms of sound quality and though the design is minimalist in nature, I liked the way they fit in my ears. However, the battery life could be better and I think the brand can really do well, if they go for aggressive pricing in emerging and fast-moving markets, like in India and Asia.
The xFyro ANC Pro TWS buds are pretty good in terms of sound quality and though the design is minimalist in nature, I liked the way they fit in my ears. However, the battery life could be better and I think the brand can really do well, if they go for aggressive pricing in emerging and fast-moving markets, like in India and Asia.
Fits well and comfortable
Audio quality is great and ANC works fine
Battery backup of the buds is less than impressive
A lower pricetag could be better