A few weeks back, we were approached by a Kickstarter campaign creator, Desklab, with a fantastic product. It's an ultralightweight, portable 4K monitor that you can plug and play. It sounded terrific, and we wanted to give it a try. The brand readily sent us a review unit to test it. Let's get into the detailed review and see if it truly lives up to its name.
Desklab 4K Monitor Review
Before I get into my review, let's quickly scan through their specifications.
15.6″ IPS Display with 4K (UHD) resolution
Width: 0.23″
Weight: 0.7KG
20ms response time
Ports: Type-C / mini HDMI / Micro-USB
That's pretty much it. I'll get straight to the point.
Design & Display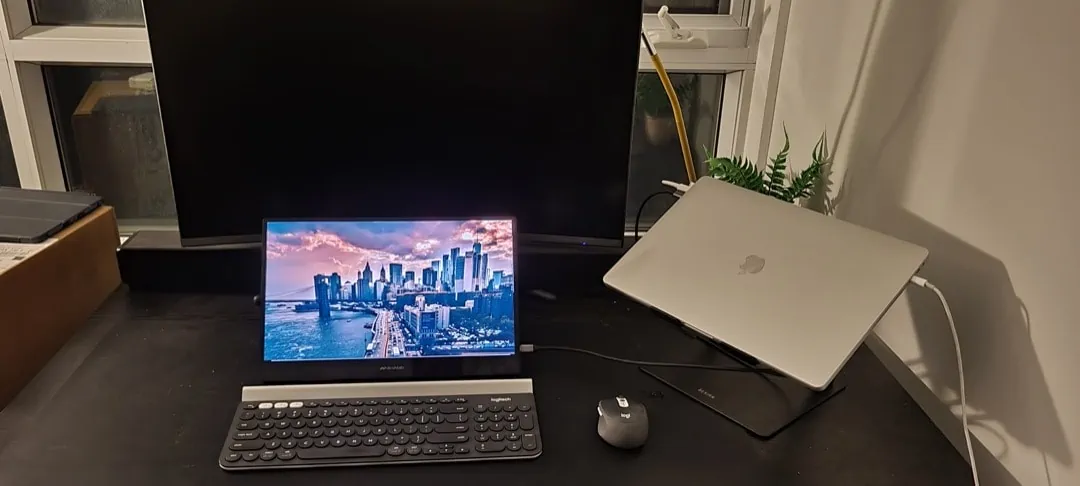 Design-wise, the Desklab monitor looks super thin, and kind of gives a feeling of a Dell XPS laptop's display. It has thinner bezels, has got all the necessary ports on one side, and on top of it, it supports touch. The company claims it's one of the thinnest portable monitors and I couldn't agree more. It doesn't weigh much and is quite easy to carry around. The display is quite vivid and the viewing angle is as same as the other displays I've used.
Now the fun part. Playing around with it. Did I mention that it doesn't have an in-built battery? So, that was a compromise the company has made to make it look sleek and portable. So, it draws the power from the connected devices, and here's where it goes wrong. Even though the brand claims it to be energy efficient, which indeed it is, not many devices can supply enough power for the display to work. So, you'll always notice the flickering.
For the 4K display to work, they've provided an AC power adapter that does help to an extent. And this defeats the purpose of the compromises they made.
Connectivity
Connecting to devices is quite easy, and you do get enough cables to plug and play. I tried connecting to Macbook, and, if your device doesn't have touch-enabled, the touchscreen on the monitor won't work. It's a good thing that the monitor comes with in-built speakers. It was quite convenient to attend meetings as well as work on reports and share the screen. Honestly, I didn't notice any issues while connecting with my phone as well. It was more of a screen mirroring, so I didn't find any issues either.
Applications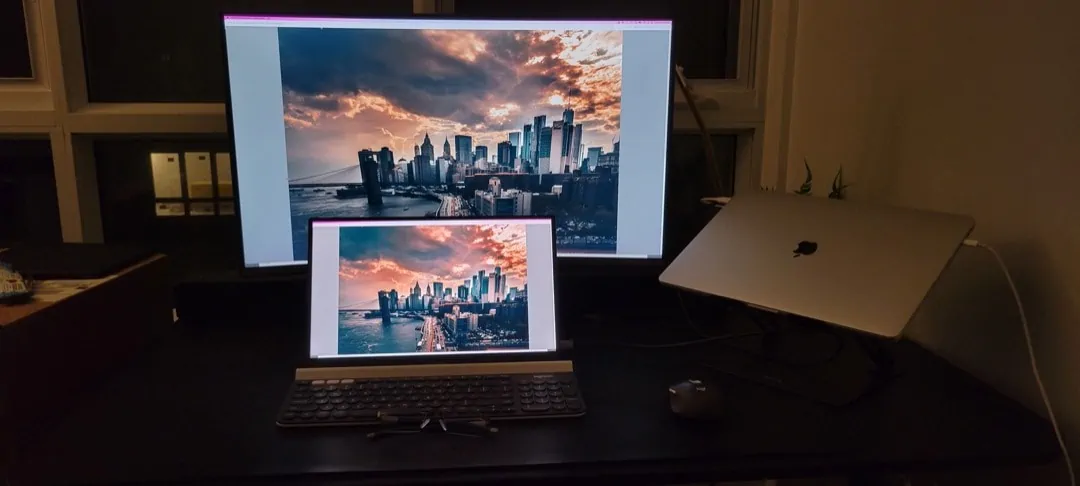 I liked the fact that it's simple connectivity, and does the whole job of an extra monitor. As most of the time, I'll be either extending my screen or mirroring it, I find it very convenient to work with it. But…The monitor doesn't come with any stand and you need to pay an additional $50 and purchase it from their site. Besides, the screen flickering persists. Now and then, you'll notice the screen flickering and it affects your work. Fortunately, at least for now, I didn't notice any lines on the display as mentioned by other users on Trustpilot.
Should You Buy it?
The whole point of a portable monitor is to make your work easy and paying $400 should be worth it. If you are a designer or a developer and you move frequently to present your projects to your clients, then you can consider it.
Verdict:
The product idea sounds cool, and no wonder a lot of people backed it on Kickstarter. But what makes it a good product is if that idea translates well and aids the same applications it promised. This is where I have problems. Paying $400 for a monitor is not just about the convenience. It should work well in real-time. The fuzzy screen flickering, no stand, and a hefty price affect the purchase intent.
Desklab 4k Monitor Review
Desklab Ultralightweight Portable 4K Monitor
The Bad
Portability
Extra Accessories
Value for Money