Since the inception of the ROG gaming phone, Asus has created more demand for gaming phones. With its latest ROG Phone 5, the Taiwanese company has once again set the benchmark so high that rivals need to pull some special moves to match it. Let's dive into the review to know more.
Just like last year, Asus released the next iteration of the ROG Phone, and this time, they made subtle yet much-needed changes compared to the ROG Phone 3. Before we head into more discussion, let's take a look at the specifications real quick.
ROG Phone 5 Key Specifications
6.78-inch [20.4:9] AMOLED Capacitive touch screen
1080p FHD+ display, 144Hz refresh rate, HDR10+
8/12 GB RAM | 128/256GB ROM
Dual SIM standby [5G]
Powered by Qualcomm Snapdragon 888 [5nm]
Adreno 660 GPU
Android v11 with ROG UI
64 MP [wide] + 13 MP [ultra-wide] + 5 MP [macro]
24 MP front-facing camera for selfies
6,000mAh Li-Po battery; 30W fast charging, QC 4.0
ROG Phone 5 Review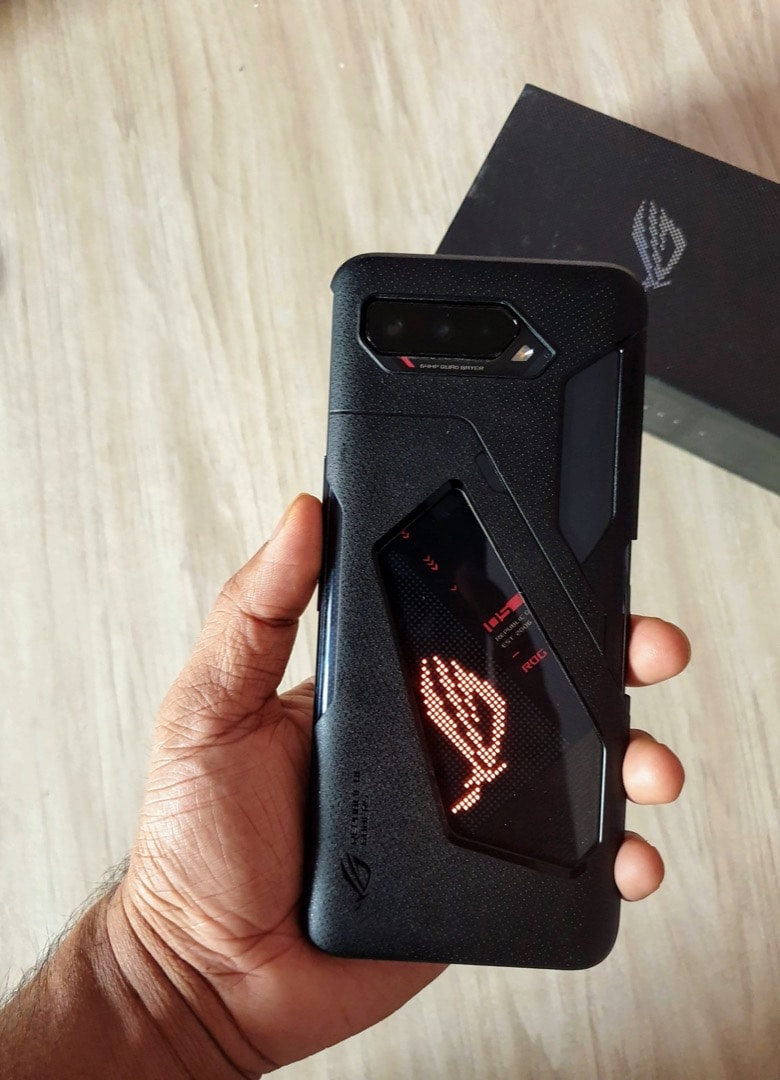 Before you read the ROG Phone 5 review, I recommend you to read ROG Phone 3, ROG Phone 2, and ROG Phone reviews, so you will get an idea about the differences, and how these phones have evolved over the years. Wondering what happened to ROG Phone 4? There isn't one. (spoiler alert: Tetraphobia)
Design & Build
I reviewed the previous iterations, and all I could say about the design is, it's getting much polished, and there aren't too many elements on the rear to distract you.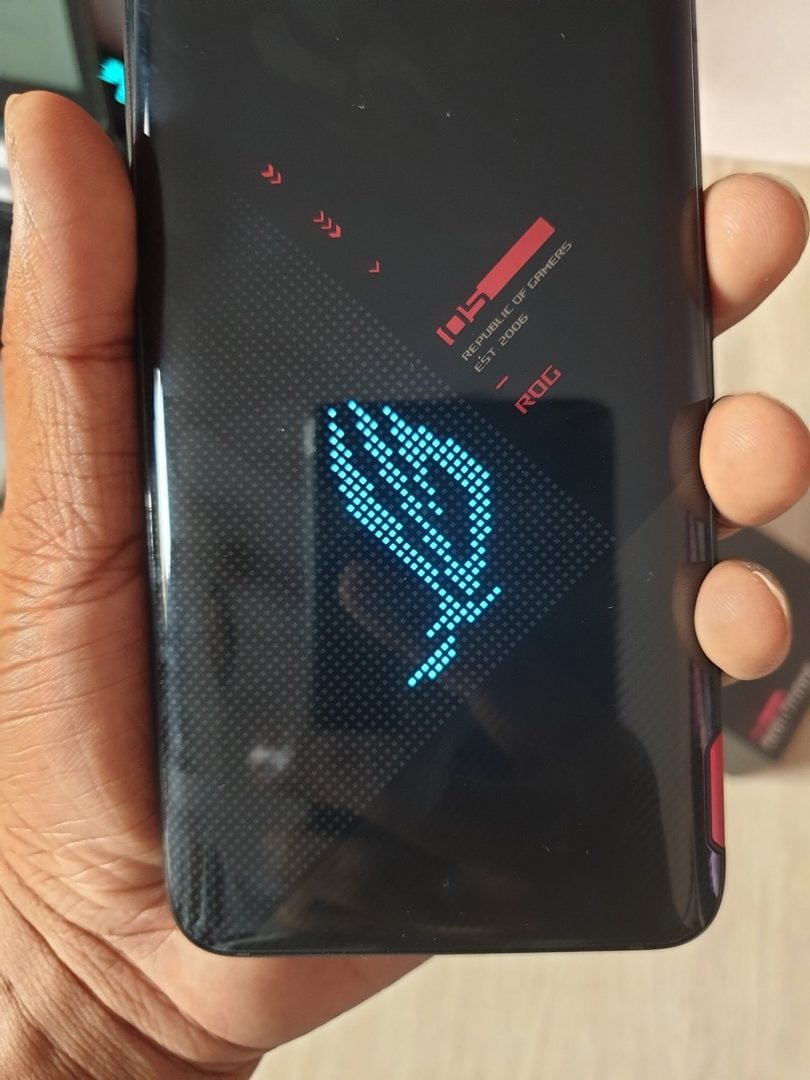 The aura RGB lighting design is a bit different now, but it has got the same old features and is much brighter now. There's a new dotted pattern that accents the lighting. In fact, the phone package has got the same pattern.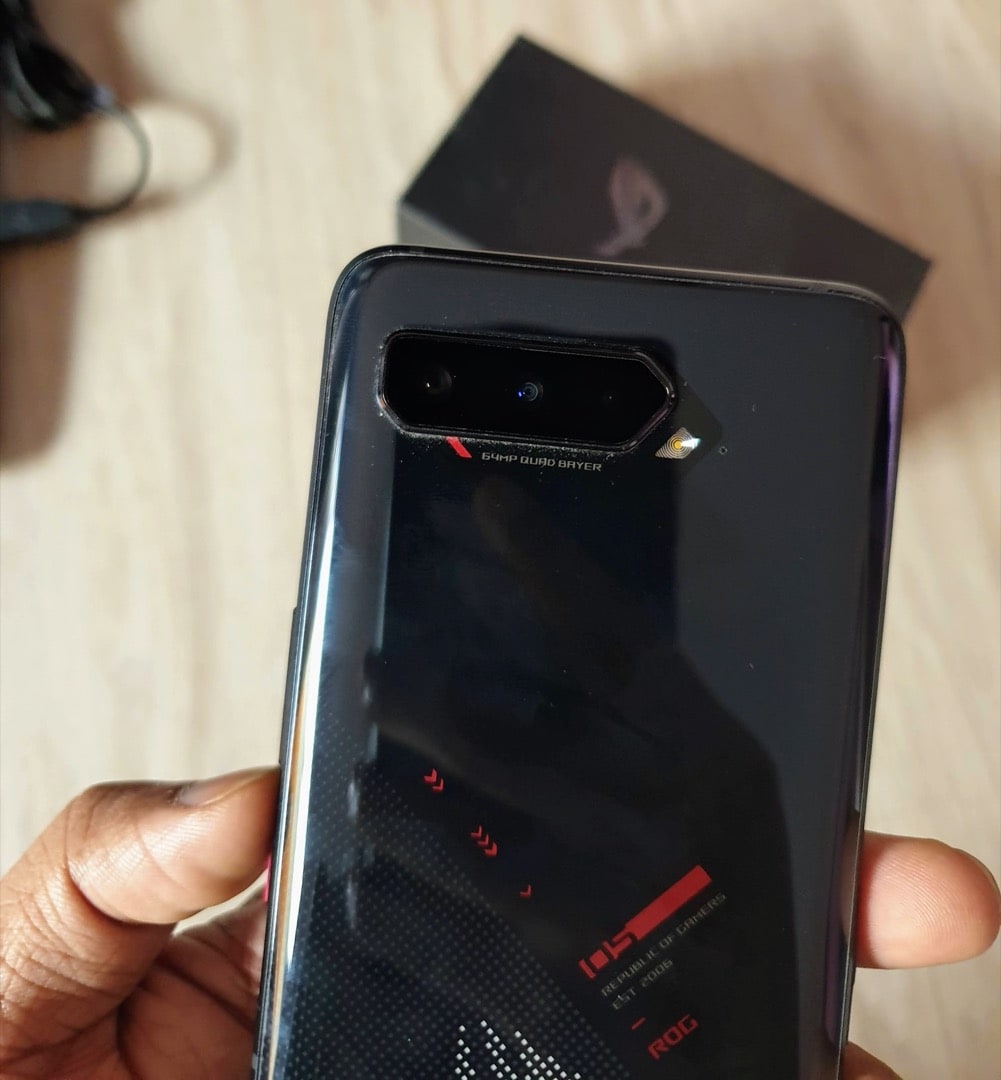 The tri-camera setup on the rear is as same as in the ROG Phone 3. So, the only observable difference I noticed is the way the ROG Phone 5 is embedded on the rear and of course, the new dotted pattern.
The phone is much slimmer even though it hosts a massive battery, and also isn't heavy. Like in the previous iterations, the rear is a glass finish, which means it has a lot of affinity for dust particles. Even getting rid of fingerprint smudges take a lot of time.
Speaking of build quality, the phone's rigid, and it could definitely withstand the drops. But it's prone to scratches as it is covered with glass & Almunium frames. So, I always had the AeroCase on.
Display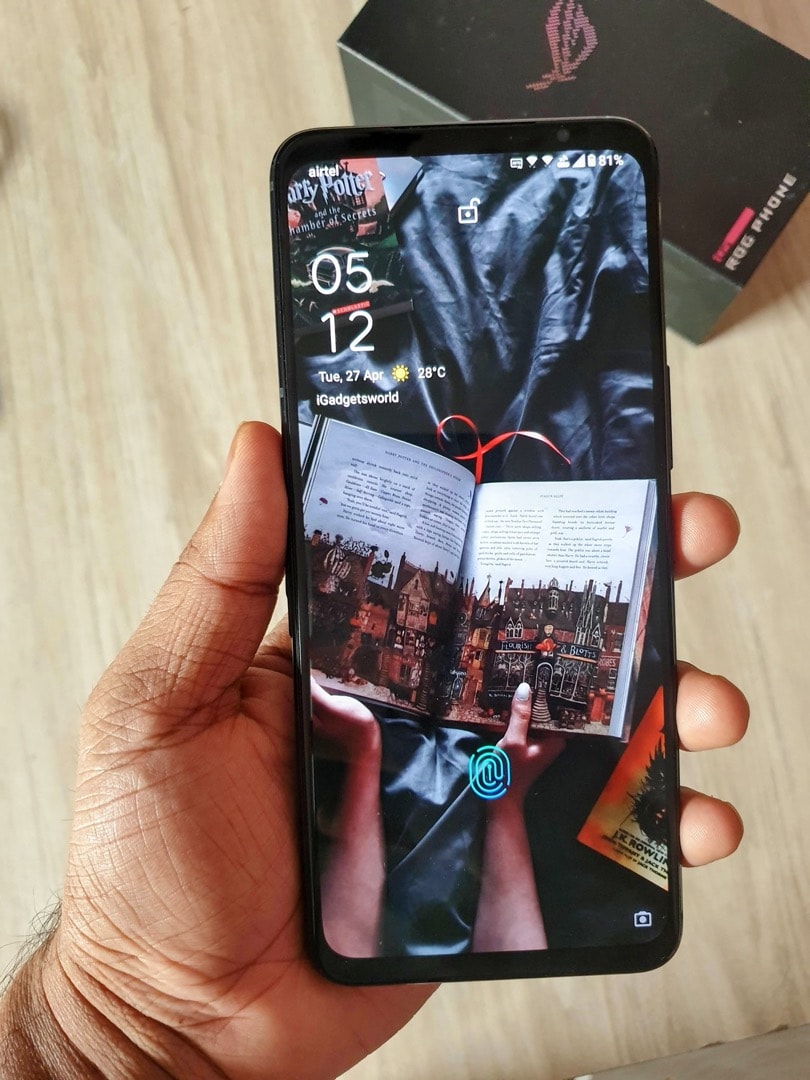 sAMOLED display – Do I have to say more than that? Oh, wait! 144Hz refresh rate, 300Hz touch sampling rate, and 1ms response time. Not satisfied? FHD+ and HDR10 certified. It's not just in the papers, the ROG Phone 5's display is astounding. I always like the Samsung displays and it's one of the reasons why I'm still using Note 9. The other is obviously no notch. Yes, even though the ROG Phone 5 has got a huge screen, it still hasn't got in its way to use a notch. That'd definitely defeat the whole point of calling it a gaming phone. I know that everyone's got used to it, but the notch is still an eye-soar for gamers and content consumers.
I did use the 144Hz refresh rate in ROG Phone 3, and so I know how fast the response is. I'll share more about the gaming experience in the performance part, and here all I can say is how the phone's display made me watch YouTube again. I actually got sick of those cringe videos, but I got back to YouTube to watch music videos and much more. Thanks to the front-firing speakers, the video watching experience is much better than most phones I tried.
Camera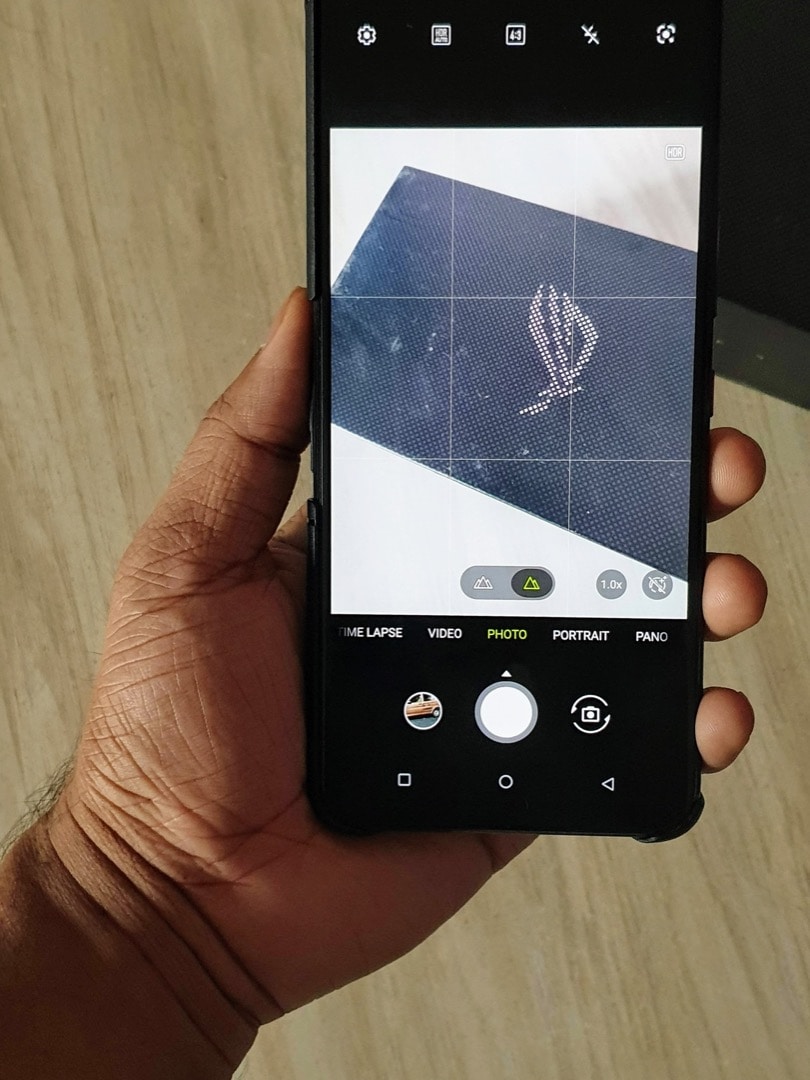 In the camera aspect, the ROG Phone 5 has the same module setup as in the ROG Phone 3. There's a tri-camera setup (Wide, Ultra-wide, and Macro) and a 24MP front-facing camera for selfies. As of lockdown, most of the samples are in-door shot, and just from my lane. I believe those are enough to assess the camera quality.
The rear camera (primary) produces crisp shots, and even on night mode, it captures decent photos. The AI feature of the camera can quickly recognize the scenes and adjust several aspects of lighting to help capture better pictures. The ultra-wide is good to have, but I couldn't really find it as useful yet. The macro lens isn't great either. Anyways, all the latest phones are mostly coming with the same module.
A few major cons I could think of are the 2x mode in night mode which captures more noise, and the portrait mode which doesn't really justify the quality.
The selfie camera is much better compared to the previous one. I could see much better color contrasts and blacks. But again, the portrait mode isn't that effective. Again, a quick fix is to edit the pictures through Google Photos. yes, the app has got a good photo editor now.
Performance
With 12GB RAM & the fastest processor inside, the phone runs much smoother, and aided with the 144Hz refresh rate, the experience goes to a different level. I hadn't faced any lag or even noticed a little sluggishness when switching between apps or opening the games. Yes, the major concern I had is the phone gets heated even on doing routine tasks like listening to music, voice/video calls, etc.
It was a nightmare for me to use it extensively, and when gaming, it's much harder to play as it was getting heated after 30-40 min gameplay. I tried turning on X-mode, but haven't noticed any difference. I also tried switching to the auto-refresh rate and turned on all battery optimization features, but it hardly improved the cooling factor. I know that the company claims to have a sophisticated cooling system inside, but I don't really see an advantage here. It was the same drawback in the previous phones, but it's much worse now.
Besides, I also noticed several hiccups in the phone's UI. There's a huge delay when opening certain settings in the phone.
Fortunately, most of them were quickly fixed by an OTA that I received a couple of days back (while writing this). The phone wasn't heating for most of the routine tasks, but on gameplay, I notice that it's getting heated for the same 40-min gameplay. Now you don't get the aero cooler inside, so if you have the old accessory, you can plug it in, and play a bit longer.
Speaking of gameplay, the improved air triggers have better response time now. I had this added advantage when playing COD, and also in Mortal Kombat.
You may be aware that most games don't support 144Hz yet, and there's a pre-installed app in the phone which lists down the compatible games refresh rate-wise.
Battery Life
The battery life is actually better even though I assumed the heating may affect it. I was getting a SOT of around 5 hours on a full charge and my typical usage involves continuous music play for at least a couple of hours, browsing memes for an hour, calls for less than an hour, gaming (1-2 hours), and video play (<1 hour). All these in 144Hz refresh rate. With auto-refresh, I'm sure that the SOT would be much higher ( >7 hours) With the future OTA updates, the battery life will be much improved as the software gets better optimized, and thereby making the phone more efficient.
One other interesting thing is though the phone got a massive 6,000mAh battery inside, it doesn't take much time to get recharged. In a quick 30 min time, the phone gets charged to 50%, and in another 40-50 minutes, it gets fully charged. I usually charge the phone for 80%, and so mostly after 45-50 minutes, I use the phone again.
I liked
Display and the fastest refresh rate
Sound Quality
Gameplay (coupled with air-triggers)
Battery Life
3.5mm headphone jack (yup, still exists)
in-display fingerprint sensor (finally)
Scope of Improvements in
Phone's cooling capability
software optimization (fixing bugs)
portrait mode in the camera
Final Words – Should you purchase ROG Phone 5?
ROG Phone 5 got all the features that you would need in a 2021 phone. An in-display fingerprint sensor, tri-camera module, fastest chipset, highest refresh rate, brightest display, massive battery, and much more. Within the budget of 50K, I believe there are very few phones that offer similar specifications and features. Even then, the real-world usage would be much different as most phone brands are known to hype the specs. Luckily, Asus ROG phones don't belong to that category. Most of the aspects mentioned in the scope of improvements could be fixed via OTA, and given the robust hardware, I'm sure the phone will last longer. So, if you're looking for a gaming phone that also meets your daily dose of entertainment, then I recommend you to purchase ROG Phone 5.
ROG Phone 5 Review
ROG Phone 5
If you're looking for a gaming phone that also meets your daily dose of entertainment, then I recommend you to purchase ROG Phone 5.