A couple of months back, Asus launched ROG phone, arguably the first gaming smartphone to be available in India, and I had a first-hand experience before it's launched. Well, I've already shared my first impressions, and I feel it's time to look at the complete review of ROG Phone.
Before we get on to the ROG Phone review, there's a serious thing I need to discuss. I mean, seriously, do we really need gaming smartphones? Isn't 2018 the year of flagship smartphones that have already got the top-performing chipsets? umm… for now, hold that thought, or look at our previous article. Let's not waste time here, and head on to the ROG Phone review.
ROG Phone Review
Design & Build Quality: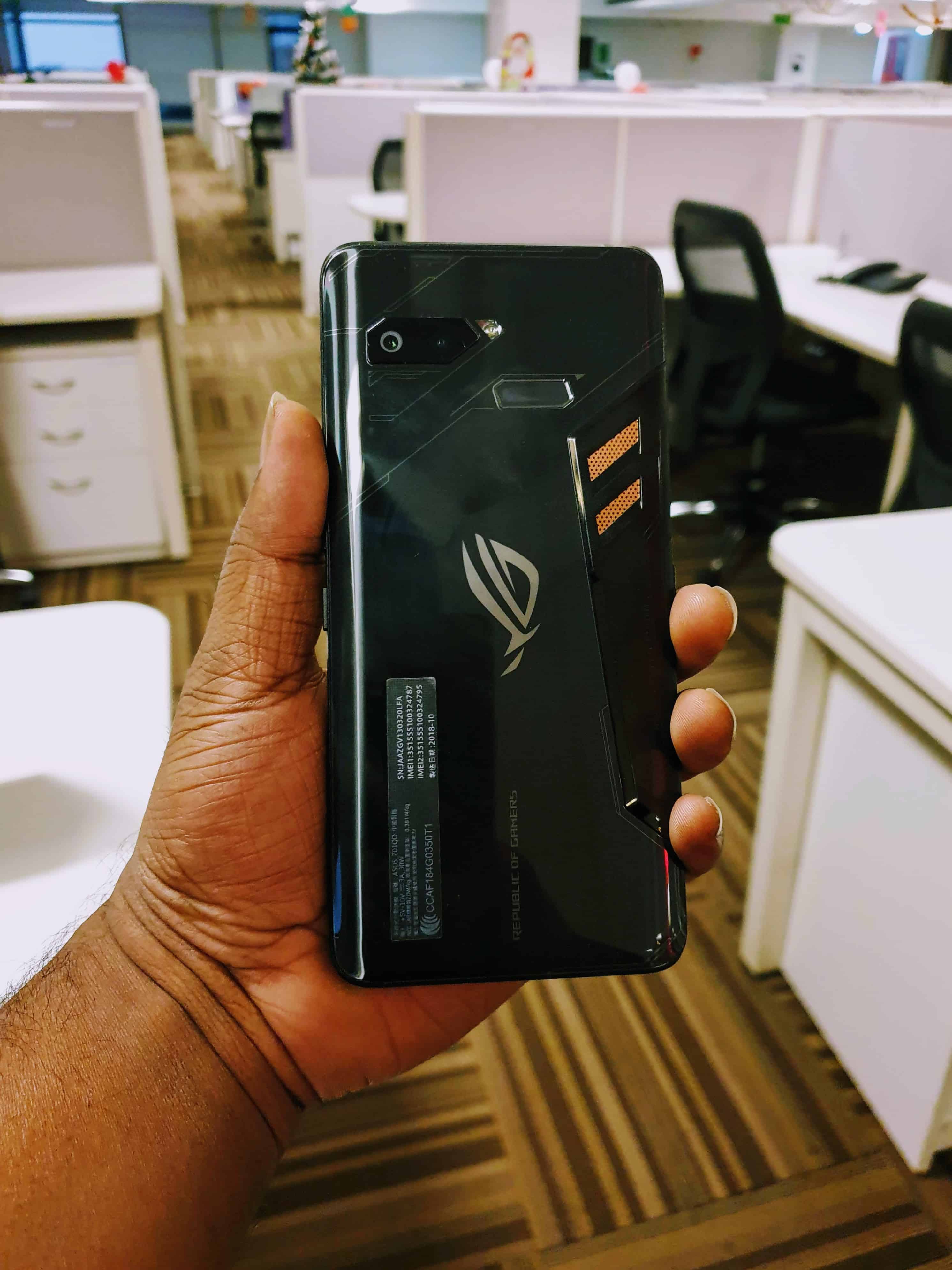 You'd have seen many design changes in 2018 smartphones, but in some way or the other, they all have one major change and it's reducing the bezels by either using the notch or with a slider and to be very particular, the design aesthetics are quite same.
However, in the case of ROG Phone, it's entirely different and you get to experience a brilliantly designed phone.
The glass on the rear side is complimented with abstract lines giving you the futuristic feel. The copper vents are not actually vents [as seen on JerryRigEverything], but they do serve the purpose of enhancing the look and feel. I kinda didn't like the fingerprint sensor shape, but on daily usage, I got used to it.
Anyway, you might not need it, as the ROG phone has got the super-fast face UNLOCK as similar to that of OnePlus 6. Just wanted you to know that it doesn't work in low-light/dark.
Moving further, I couldn't find any scratches even though I kept a couple of keys in my pocket along with the phone. The Corning Gorilla glass 5 and 6 are serving their purpose. Nonetheless, there's a lot of dust on the rear, and the phone is very slippery in my hand. So, I strongly recommend you to use a case on it.
Speaking of build quality, the ROG Phone is quite rigid in my hand, and I'm sure that the device can withstand drops from certain heights, thanks to the curvy edges and Corning Gorilla Glass 5 & 6.
Display: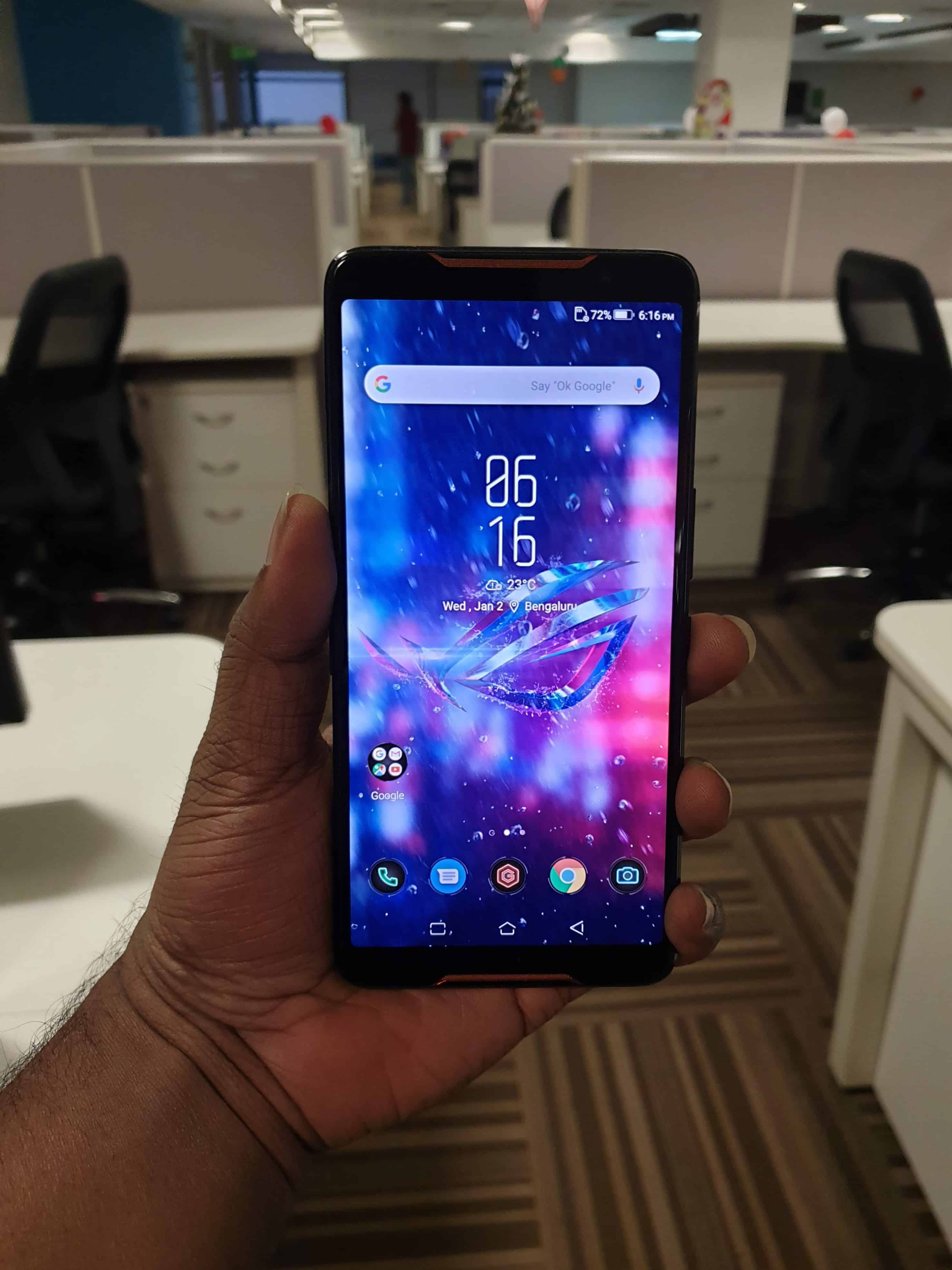 The display is quite sharp, but the color saturation levels are not up to the mark. Turning on the HDR Visuals also has the same color saturation levels as earlier, and I couldn't notice any difference. I agree that the phone has got 90Hz refresh rate, and 1ms response rate in an OLED display but I couldn't stop noticing the low color levels. Nevertheless, it hasn't affected my experience of gaming or watching videos on YouTube/Netflix.
Camera:
Although ROG Phone is dubbed to be a gaming phone, that doesn't stop Asus to give the best camera sensors. The shots taken from the phone are pretty sharp, and thanks to the always ON HDR, the details are more. To give a comparison, the quality of the images are as same as the one I took using the Asus Zenfone AR. The second camera on the rear acts as wide angle, but the quality is not as same as the primary sensor.
Anyway, the below gallery could speak for itself.
ROG Phone - Camera Samples
Prev
1 of 8
Next
The bokeh effect from the rear camera was quite good. The edges are super sharp, and the foreground focus is pretty neat. Overall, the shots taken on the rear camera is up to my expectations.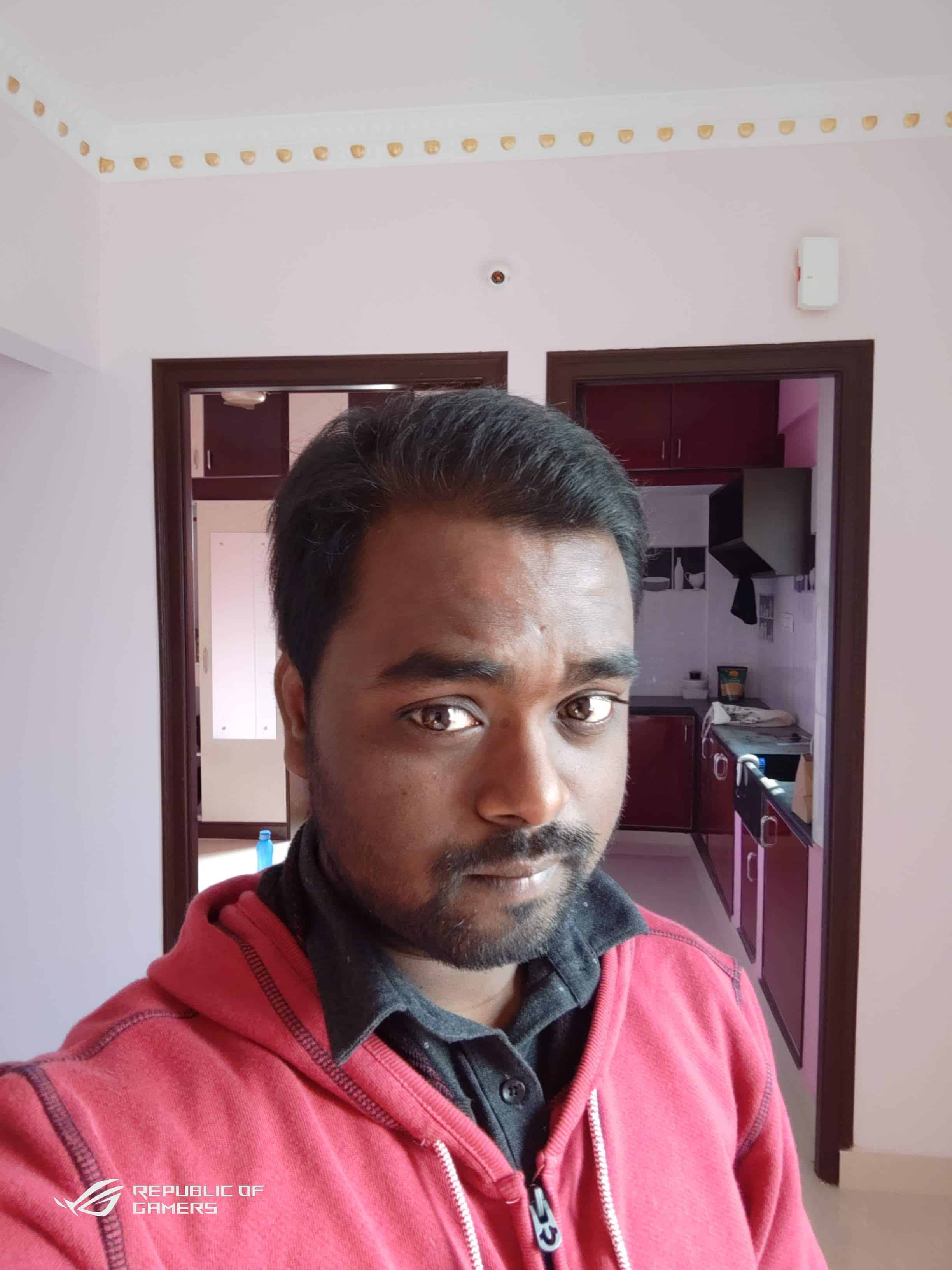 The selfie-camera is also quite decent. However, I didn't like the beauty mode. It's always like this. I never it.
You can find more images & screenshots taken on ROG Phone
here
.
Performance:
Here comes the main part of the ROG Phone review – the performance.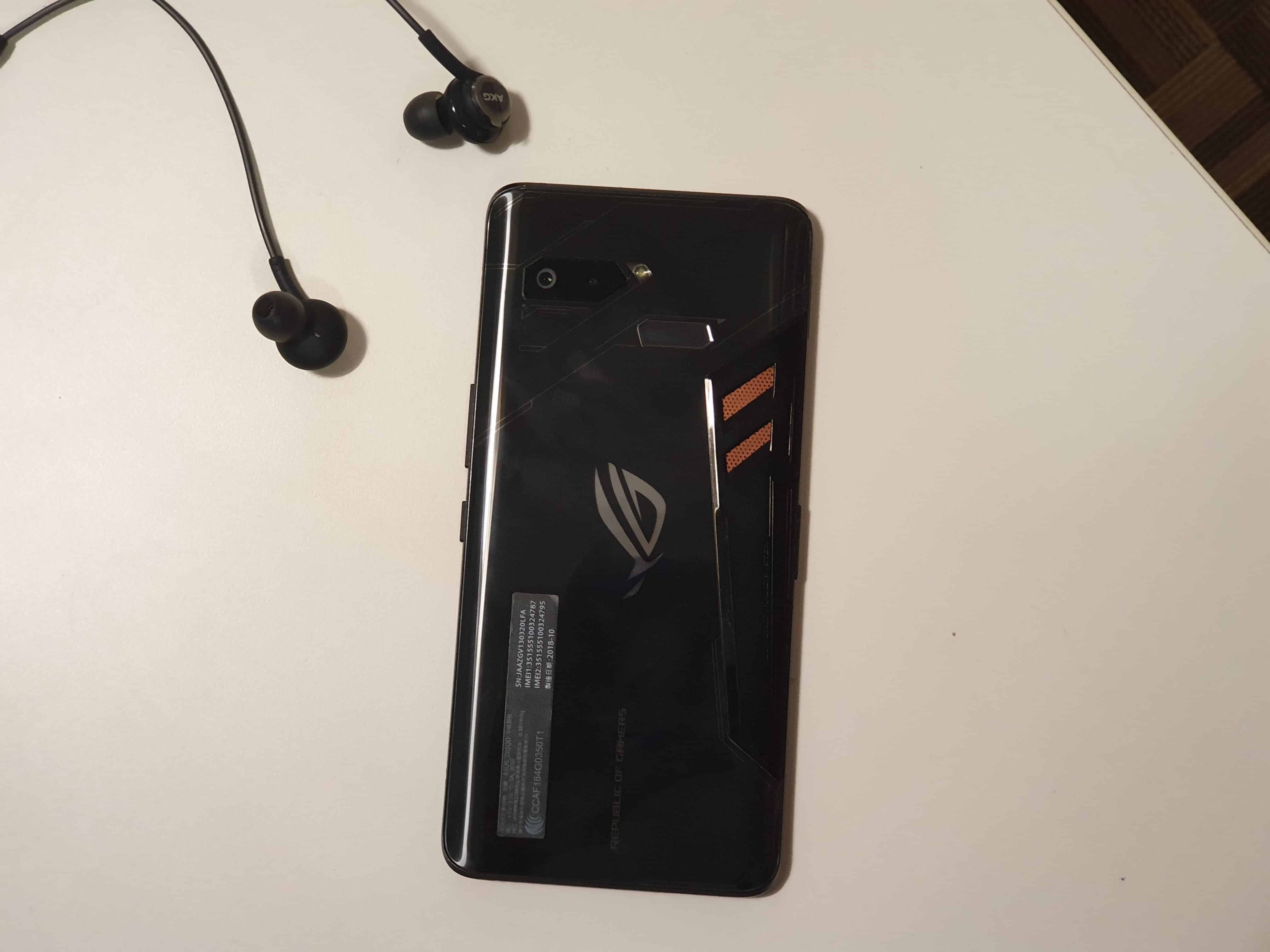 From the specifications, the phone is a beast and there's no doubt in it. The high-end chipset, the new game center, and the air triggers are all going to help for better gaming but there's a catch here. Before we move to that, let's check the benchmark scores.
On AnTuTu benchmark tool, the ROG Phone has scored over 250K in normal mode, and on 'X' mode, it was way beyond 290K meaning it outperformed every major flagship launched in 2018 [almost]. As mentioned previously, the phone was pretty smooth when switching between apps, and even the app load time was very low, meaning they were loading very fast. I did turn on a couple of AI features and they might be aiding for fast load time.
Nonetheless, it's a known-thing that Snapdragon 845 is indeed the powerful chipset, but let's talk about other things, shall we?
Gaming:
For the testing, I've played many high-end games like Fortnite, PUBG, Asphalt 9, etc. and swapped between them, and I swear there was literally no lag. Even the experience was quite stable, but the battery life was average. Maybe because of the new skin which is not optimized properly, or the memory management, the battery life was not as I expected.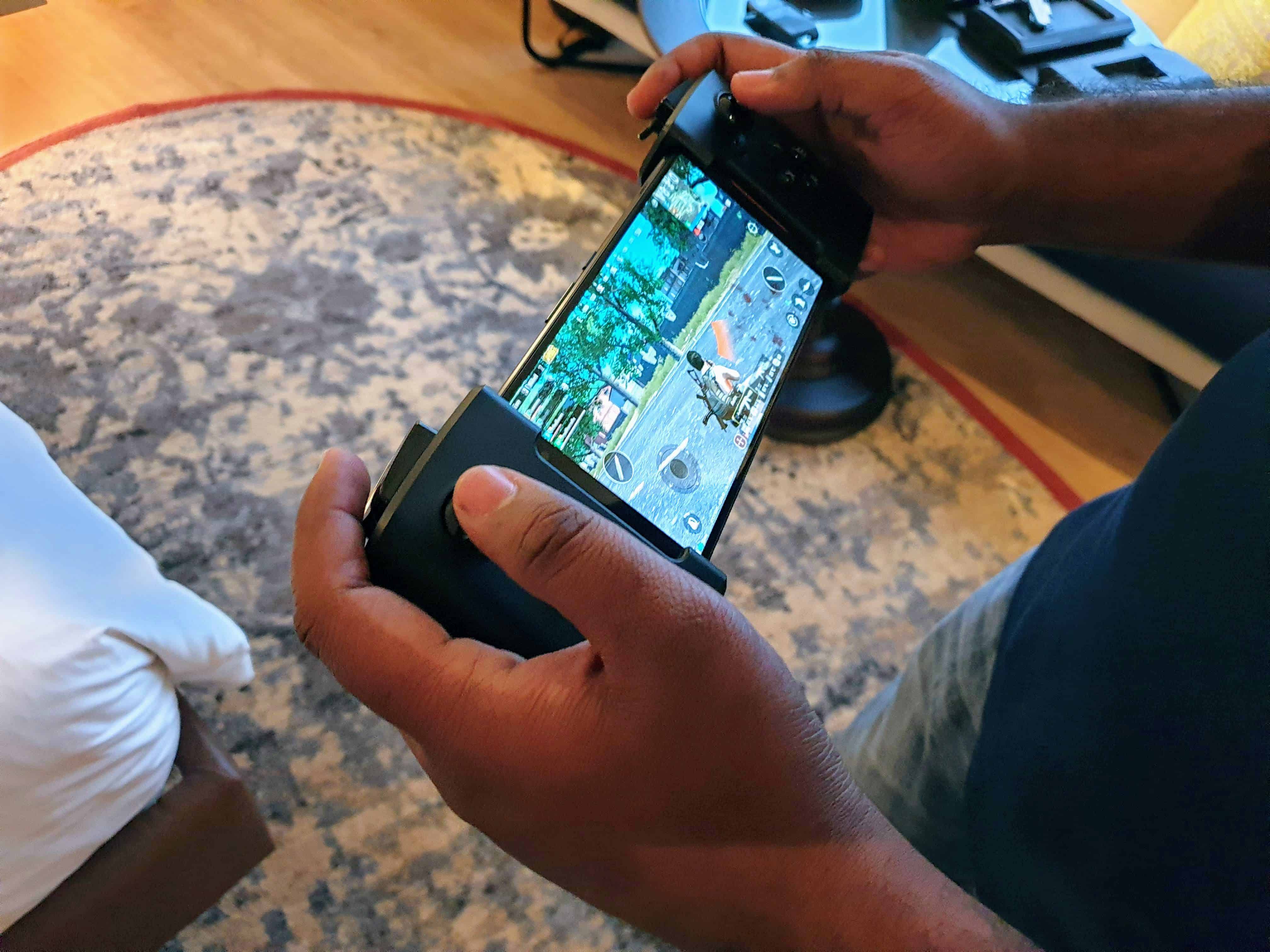 Along with that, the device gets warmer within 30 minutes of gameplay. The temperature goes all the way from 35 to 42-degrees [average value]. It cools down when using the fan accessory, but I was expecting more from the phone itself.
The air triggers concept sounds cool and does make sense when gaming, but remember that your hand posture is very important here. My index fingers hurt a lot now, as I didn't hold the phone properly. Initially, I couldn't hold the phone and use the air triggers at the same time, but once I got used to it, it was like icing on the cake.
Besides air triggers & the 'X' mode, the other major advantage of gaming in ROG Phone is its sound quality. You can literally hear everything, and there's no distortion. It really helped to predict other users' moving in PUBG and Fortnite.
Battery Life:
Although the ROG Phone has got a whopping 4,000mAh, it doesn't last long as expected. As mentioned in the gaming section, the battery drops a lot on continuous gameplay. However, it takes a mere 2 hours for a complete charge but that doesn't mean you should be charging it quite often.
Anyway, In my testing, I've noticed three cases –
Using the phone as a daily driver with minimum gaming, and maximum browsing does offer a good battery life, and almost 7-8hours SOT with the standby for more than 2 days
Playing games continuously or with breaks and not turning on the 'X' mode gives a battery life of almost 5-6 hours of SOT with the standby for more than a day
Playing games either continuously or with breaks in 'X' mode gives almost 4-5 hours of SOT with the standby of some 16 hours
These three basic cases do speak for themselves, but again, gaming on smartphones have not got wider reach yet, and just for playing PUBG doesn't really justify it.
Overall Verdict
What can I say? Asus ROG Phone is indeed a brilliant attempt, and there might be some cons but I'm certain they are out-shaded by its pros. If you are a power user, hates notch, and looking for a beast smartphone that can give you the ultimate gaming experience, then I strongly recommend you go with this.
Pros
Connectivity & Accessories
Build Quality
New Design
Air Triggers
Gaming Experience
Gaming Experience
Sound Quality
Verdict
If you are a power user, hates notch, and looking for a beast smartphone that can give you the ultimate gaming experience, then I strongly recommend you go with this.