Blaupunkt, the Gerrman company that's been in Electronics & appliances business for close to a century, has been on my radar as it's a new entry in the ever-growing Indian TV market. Super Plastronics, the brand behind Thomson and Kodak TVs, had acquired the license to distribute Blaupunkt TVs in India. I had a chance to review the brand's 43-inch 4K UHD Android Smart tv in 2021. Now, the company has launched its QLED Google TV, which is Flipkart exclusive. I had early access to play with the 55-inch, and here's my review of using it.
You might be wondering what's the difference between Google TV & Android Smart TV. So, let me summarize the difference before we head into the review.
Google TV vs Android Smart TV
Both Google TV and Android smart tv run on Android OS. What makes Google TV unique is the content recommendations that are tailored to you. To put it simply, it's a hybrid skin of Android smart tv. As Google TV is relatively new, OEMs haven't adopted it yet. TCL, Sony, and Hisense are the official partners in the global market, and In India, I could only find Toshiba, Thomson, and Blaupunkt. We might see other OEMs adopting and releasing their TVs in the coming quarters.
Blaupunkt QLED Google TV Specifications
55-inch, QLED 4k display (IPS+ panel) with Dolby Vision and HDR10+ support
60W speaker that supports both Dolby Digital Plus and DTS TruSurround technologies
2 GB RAM | 16 GB ROM
Powered by MediaTek

MT9062

Mali-G52 GPU

Google TV
Bluetooth 5.0

Far Field Voice Control with Google Assistant
Blaupunkt QLED Google TV Review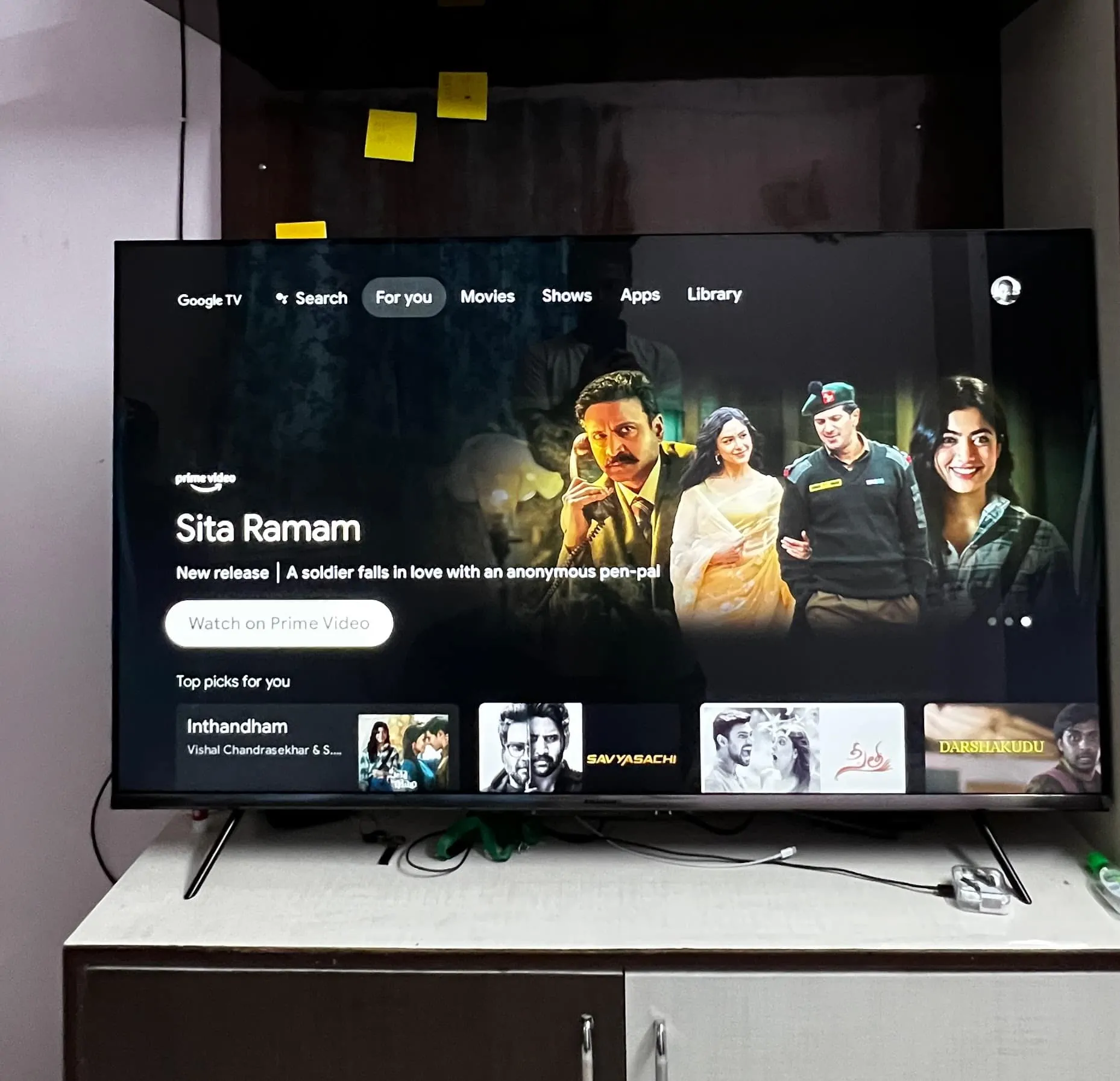 Samsung, the brand behind the name QLED (quantum LED TVs), has been augmenting its LCD TVs with QLED technology since 2017. The smart TVs that were using QLED were a bit costly back then, and until last year, purchasing a good 55-inch+ QLED tv could cost you more than 100K. With the new brands in the TV segment such as Thomson, Motorola, Nokia, TCL, and now Blaupunkt, the cost has relatively come down. The new QLED TV from Blaupunkt starts at 37K, and the 55-inch costs you less than 45K. It did make me think it'd have made the company compromise on certain aspects as it's being offered at such competitive pricing. Well, the only way to find out is to continue reading my review.
Design & Build
My first impression after receiving the tv is to test how good the tabletop or the stand is. I'm not a big fan of wall mounts, and I even use my old TCL tv with the tabletop that it came with. So, this new QLED tv from Blaupunkt is not an exception. The best part is the tabletop is made of alloy and not plastic. It's sturdy and it gives enough space from the sides as well as to the top, to provide better audio output.
Installing the tv isn't as difficult as I thought it'd be because of the size. I was able to do it myself, but I'd not recommend you to do it. If you've purchased a tv, always seek support from authorized technicians from the TV brand to help with the installation.
Moving further, the first thing that caught my attention is its bezel-less design. I think it's been a trend since the launch of the bezel-less phones. It's not the same bezel-less design as in TCL or Samsung, but you'd not find any difference while watching content.
One another thing that caught my attention is the dedicated keys to toggle far-field voice control. Besides, there's also an indication (LED lights) of whether it's ON or OFF. I use a 2-year-old TCL tv, which has the same functionality, but I need to enable it in the settings menu. Again, I'd not know if the setting is ON or OFF until I say 'Hey Google.' So, I find it very convenient to have a dedicated menu and keep a check on whether it's ON/OFF.
In terms of design, the Blaupunkt QLED tv isn't unique and has a design resemblance to several other TVs. But it's not a deal breaker as what matters to me is the performance, display, and sound quality. We'll find out soon.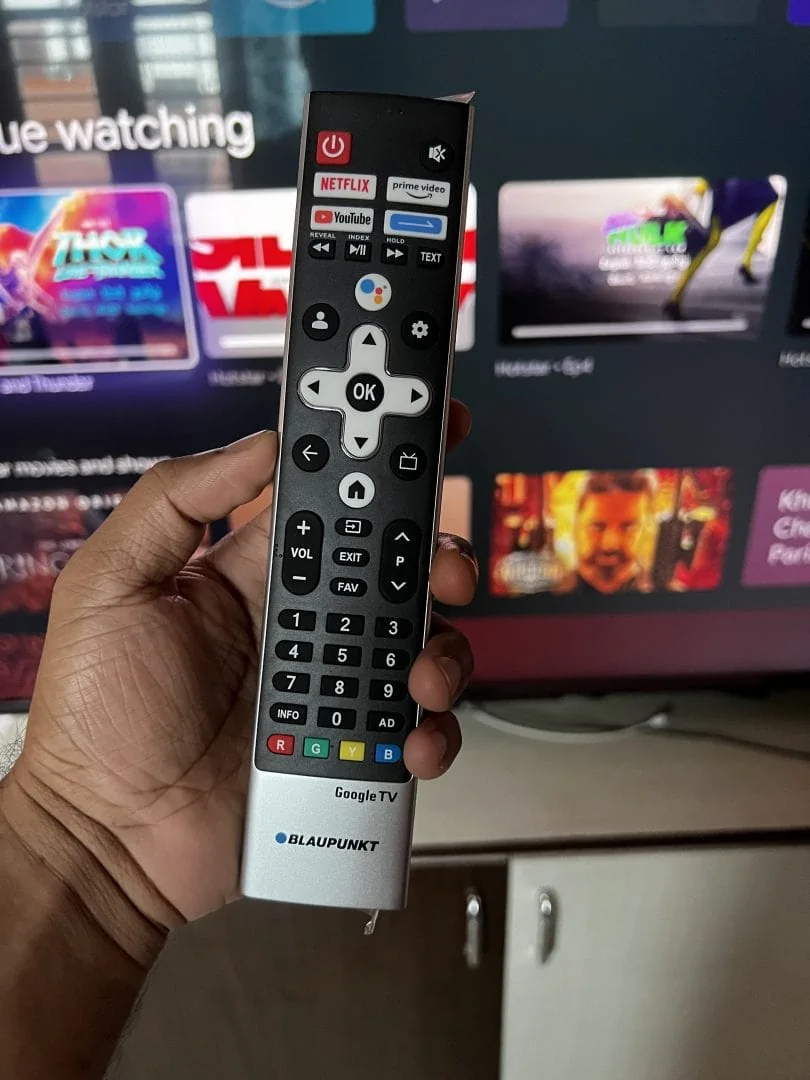 The remote control that came with the TV is huge, plastic-made, and I'm not a big fan of it. Given how easy it's to control the aspects of a TV running on Android OS through mobile phones, I don't see why we need to rely on a big remote with hotkeys. I'm sure some of our family members love having more buttons on the remote control, so, I'm just going to ignore its existence. Anyway, Let's jump to the main part, shall we?
Display
Right after installation, which I did in the evening, I sat in my bean bag to begin to browse and watch my fav shows in 4K. I already own a UHD 4K tv, but I wanted to see how different QLED is.
Before I even started accessing 4K content, I wanted to get familiar with the picture settings. There are a few TVs in the market that claims they use AI to automatically select the right mode while watching a show or a movie. But I feel, it'll never be the same as what the director or a cinematographer has intended. If you're not familiar with it, I recommend watching this piece made by Vox.
Like most TVs, you'll find Standard, Vivid, Movie, Sport, and User modes. One extra picture mode I found it here is the energy-saving mode. But I don't see much difference between energy-saving and standard mode. I usually keep my settings based on my intuition and what makes the viewing brilliant to me. So, I mostly use either the movie mode, while watching certain movies or shows, or the user mode, in which I manually set the picture settings, such as brightness, contrast, saturation, etc.
As the tv supports Dolby Vision and HDR10+, the tv automatically uses it whenever you're playing the supported content. Most of the new shows and movies that are released on Netflix, Prime, and Hotstar support these formats.
I wish there was a setting like a true mode that enables the true colors and saturation and gives the right feel of what the content creator intended.
Anyway, let's talk about sound, which is one of the USPs of the Blaupunkt brand.
Sound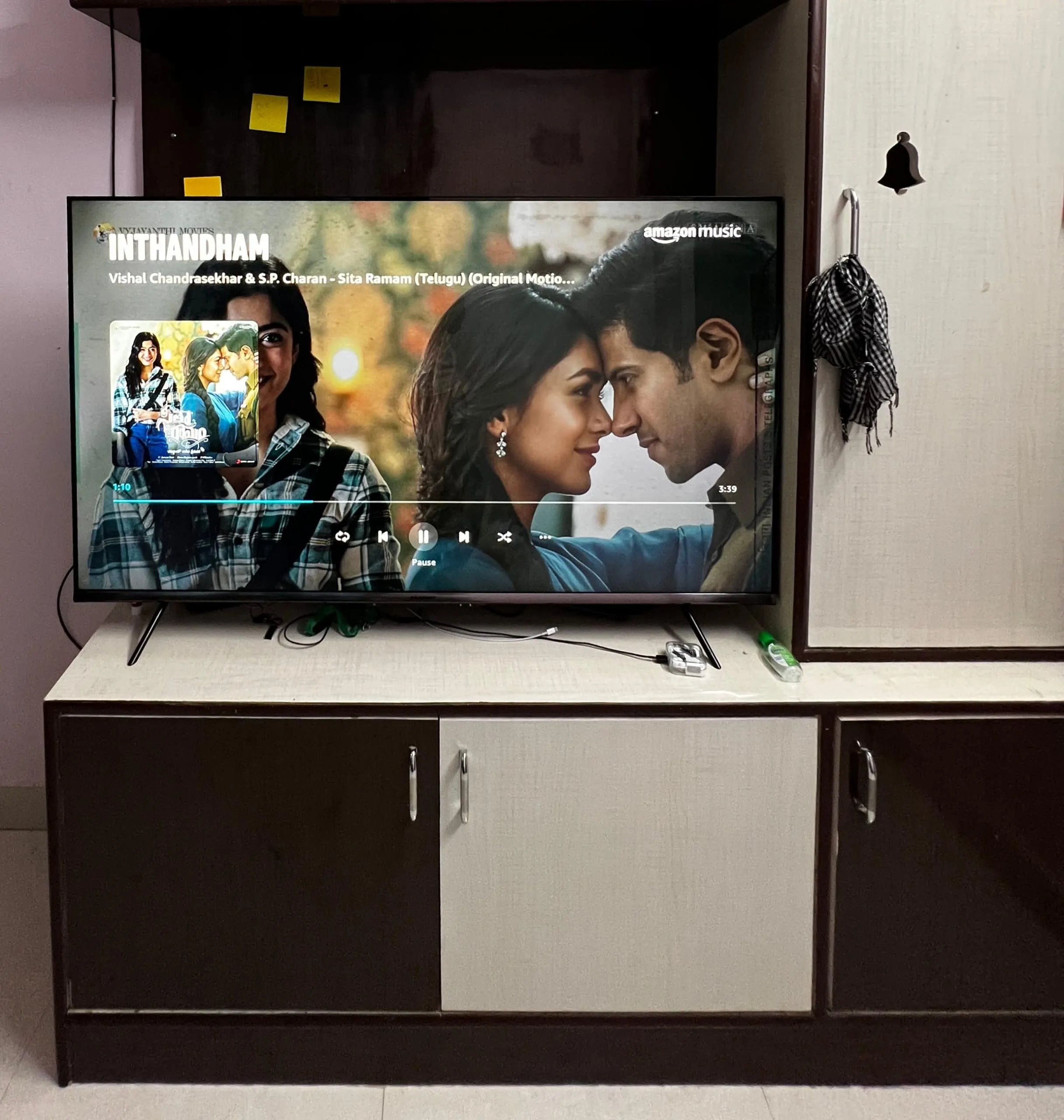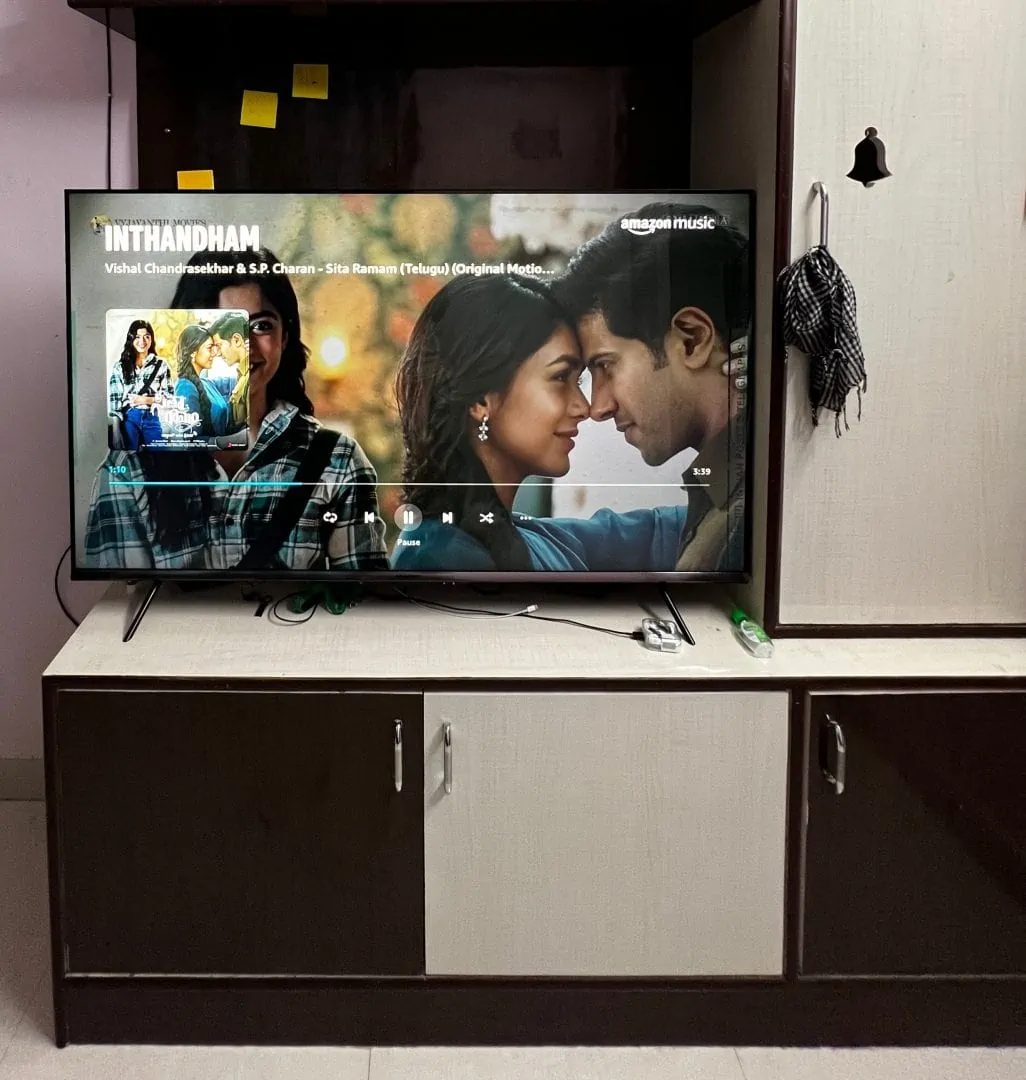 Haven't I already said that Blaupunkt QLED Google TV supports both Dolby Digital Plus and DTS? You can manually switch between the modes depending on the content. Even here, you'll find different modes, but the 'standard' mode has better output. Again, not all the content that you consume on different platforms supports Dolby Atmos and Dolby Digital Plus. In that case, you can switch to DTS or keep it in standard mode. Nevertheless, while playing Doly Atmos supported content, you don't need to switch it (while you're in standard mode)
I've not seen many TVs that are coming with 60W speakers, and I feel, it's an asset. You'd, however, need a home theater system to experience Dolby Atmos surround sound. Nonetheless, the in-built speaker in the tv does live up to its standards.
As I mentioned in the display section, just viewing great colors isn't enough for a good watch experience. You need the same high-quality audio output as well. It's good to see that this tv has a balance of both, and it comes out of the box.
No wonder sound/audio has been one of the key USPs in Blaupunkt TVs, and this new entry exceeded my expectations. I enjoyed listening, and I have no complaints here.
Performance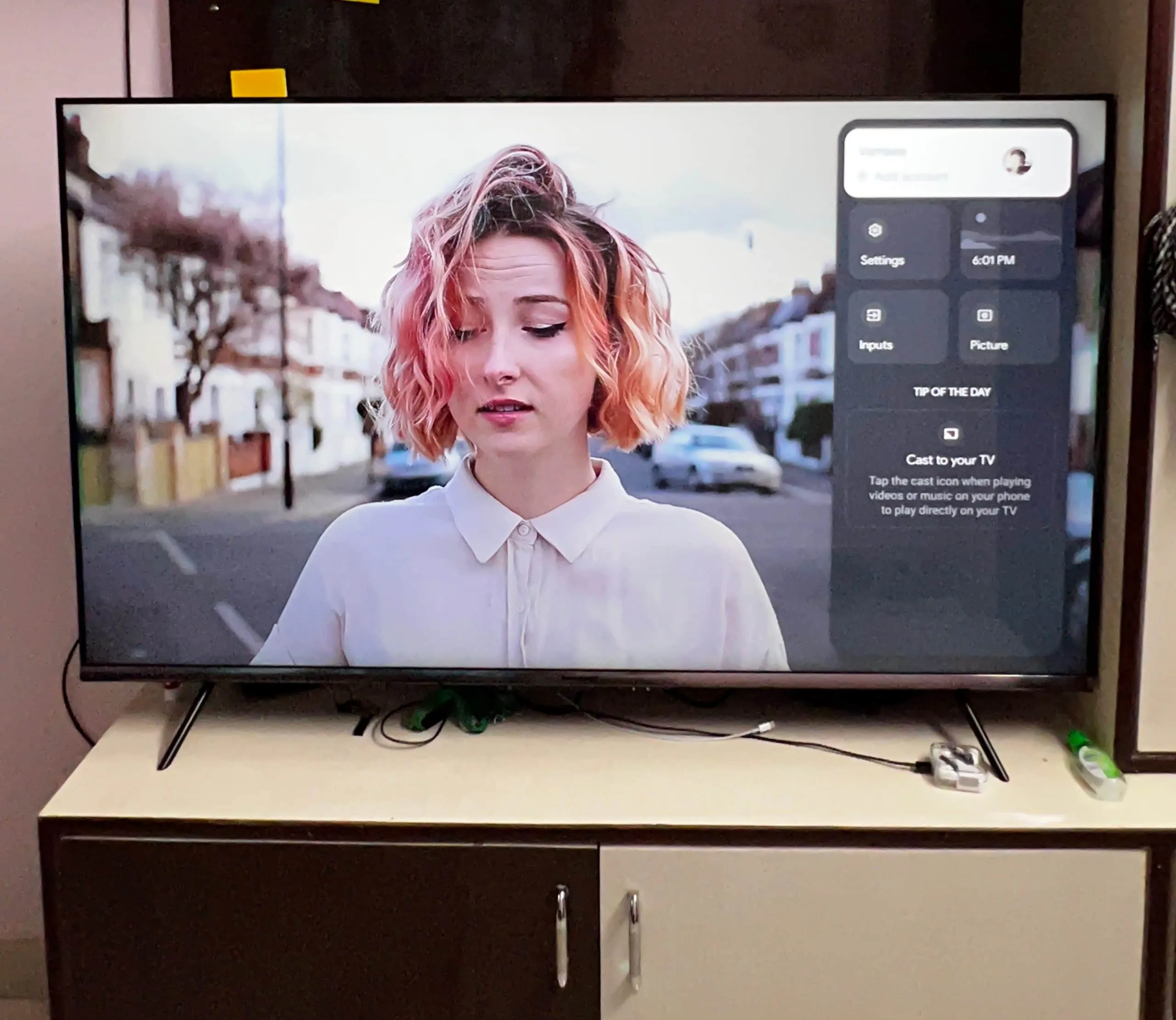 Ah! the performance. Unlike smartphones that run on high-end chipsets, and require huge RAM and ROM, most TVs have a configuration, which we feel is very basic. With 2GB RAM and a Mediatek SoC, the new QLED tv isn't any different from its competition. The difference it makes is in the software as it runs on Google TV. I've already highlighted the difference between Android smart tv and Google Tv, and to summarize, the Google TV is just a hybrid skin that runs on top of Android smart tv.
What I find interesting is the new user interface. It's heavily filled with content recommendations. Even the 'HOME' section gives you a feel of an OTT platform. These recommendations are picked based on the movies and shows you watched on your preferred OTT platforms, and also include the movies or shows you searched. It's too early for me to decide how it'll affect my binge-watching, but I can see that the recommendations are quite on par with my watchlist. You don't need to browse through the entire catalog of Prime Video or Netflix as all the new shows and movies or whichever of them are trending on Google will pop up on your timeline. I wish there was an option to customize the feed, and that's where I have a problem.
The 'Apps' section is integrated with the Play Store, so it always shows the entire catalog, and to view the apps you installed is two clicks away. I don't like this way as I don't need to keep seeing all the app recommendations. Unlike the apps on smartphones, the apps I use on an Android smart tv are very limited.
From the time I started using the tv, I've never encountered an instance where I find it laggy. Overall, my experience has been great, and it's much better than my old TCL tv, which uses the normal Android smart tv skin.
Verdict
When it comes to a personal watch experience, size matters, but that doesn't mean, the bigger is better. As Blaupunkt is relatively new to the market, the likes of having similar specifications or configurations in other competitor brands are very high. But what sets the new QLED tv different is the high-quality audio. As you'd be investing more than 50K on an entertainment system, you'd spent another extra 10-15K for dedicated audio accessories. In the case of this new tv, you don't need a separate audio system as the in-built speakers are enough to give a good watch experience for your entire family. So, if you're one of those people who want to purchase their first QLED tv under budget, and don't want to spend a lot on a home theater system, then you should consider this as one of your options.
Blaupunkt QLED Google TV Review | 55QD7020
Blaupunkt QLED 55-inch Google TV
I got early access to play with Blaupunkt QLED Google TV, and here's my review of using the 55-inch.
I got early access to play with Blaupunkt QLED Google TV, and here's my review of using the 55-inch.
Sound Quality
Performance
What could have been better
Display (black & deep black colors)
Build quality
Minamilist Remote