We have seen a lot of smartphone makers trying to make a phone which would have a great camera, some of them were hit while some were flop due to various reasons. One of the major reason was being heavy and bulky. Asus dedicated a huge amount of time and effort to make a phone which would be lightweight and at the same time will have the features of a camera and the result is the Asus ZenFone Zoom, which packs everything under a small form factor.
The phone boasts of 3x optical zoom, Laser Autofocus, dual tone LED flash and also, you can add a [eafl id=13737 name="LolliFlash-Flipkart" text="Lolliflash"] with the ZenFone Zoom if you need to take some great low light indoor shots, but is it the best camera smartphone? This is what buzzing around from few days! Well, lets check it out.
The Asus ZenFone Zoom was launched in India on 22nd January at Agra, and right at the event I played with the device a bit and have been using it as my primary phone for the last one week or so. So, it's time for the Asus ZenFone Zoom review, where I will discuss about the pros and cons, camera, performance and the overall experience. I guess all these would sum up to give you a clear idea about the phone and let you decide whether you should buy it or not. Asus has claimed that it is capable of taking DSLR camera like shots, but wait, why am I talking about that? You must check the specifications first I guess, here it is.
Asus ZenFone Zoom Key Specifications:
5.5-inch 1920 x 1080 pixels display with Corning Gorilla Glass 4 protection
13MP rear camera with OIS, Laser AF, f/2.7-4.8 aperture, 3X optical zoom, Dual Tone LED flash; 5MP front-facing camera
4GB LPDDR3 RAM
64-bit Quad-core Intel Atom Z3590 2.5GHz processor, PowerVR G6430 GPU
128GB internal storage, expandable up to 128GB via micro SD
Android 5.0 Lollipop (Marshmallow upgrade is expected)
4G LTE / 3G HSPA+, Bluetooth 4.0, WiFi 802.11 a/b/g/n/ac, GPS, NFC
3000mAh battery with ASUS BoostMaster (Charges from 0%-60% in 39 minutes)
As you can see, the specifications are damn high, yes it's a flagship device and such specifications are expected. But specs on the sheet is nothing when compared to user experience and performance. So, let's get started with the Asus ZenFone Review in full detail, just like the pictures it takes.
Asus ZenFone Zoom Review
Design and Build Quality
Starting the Asus ZenFone Zoom with the build quality, which is very important for a flagship device because no matter how good the specs are, build quality matters a lot. Asus has crafted the ZenFone Zoom out of a single block of Aluminium alloy which gives it a metallic look at the edges. The back of the phone has handcrafted leather finish which looks great. The combination of metal and leather gives this phone a very premium look.
The ZenFone Zoom has a 5.5 inch full HD display with Corning Gorilla Glass 4 for protection.In case of hardware button placement, Asus has finally changed a few things which I liked actually. The power button is now on the top right edge of the phone so it's easy to reach it and I liked it a lot over the placement of previous ZenFones. Below the power button, there is the volume rocker which can also be used to zoom in and out just like a camera.
On the bottom right edge of the phone, there is the shutter and video shooting buttons which are a good addition keeping in mind that this phone is meant for photography. At the bottom of the phone there is the microUSB for charging and data transfer and on top, there is a 3.5, headphone jack. On the back, there is a huge camera module which includes the camera, of course, beside it there is dual tone LED and the laser for faster focusing. There is a speaker grill, ASUS logo beside the camera module and the Intel logo at the top edge. Overall, the phone looks really really premium and the leather finish also helps in getting a good grip while holding the phone.
Display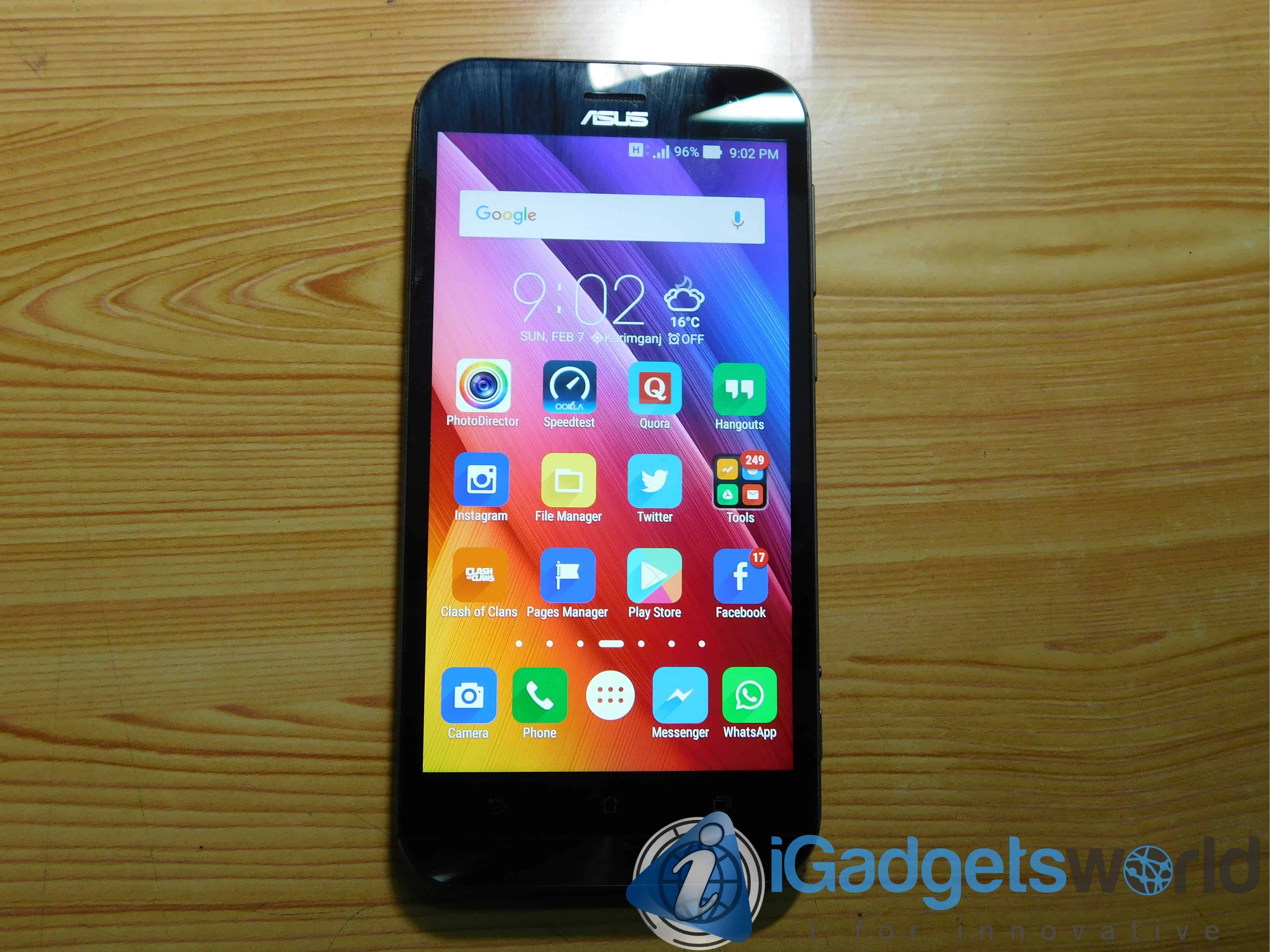 The Asus ZenFone Zoom has a 5.5 inch full HD display (1920×1080) resulting 403ppi, it's protected by Corning Gorilla Glass 4 and the viewing angles are quite good. The contrast and saturation levels are fine, but the brightness seems to be quite low. Sometimes, I found it a bit difficult to use it under sunlight when it's switched to auto mode, so I usually just put it on the highest level for the best possible sunlight readability.
Performance
The Asus ZenFone Zoom is powered by a 64-bit Intel Atom Z3590 quad-core processor clocked at 2.5GHz coupled with 4GB LPDDR3 RAM and also, there is a PowerVR G6430 GPU for handling high graphics games. And if you're thinking about storage, no need to worry about that. The ZenFone Zoom packs a mammoth 128GB of internal storage and also you can add another 128GB microSD card into the slot if you need to carry a mini HDD in your pocket. The performance was smooth and lag free. 4GB of RAM is huge and anytime, when I'm not playing some heavy games or doing a lot of multitasking I can see around 1.5GB of free RAM. Multitasking is great and I didn't notice any lags while switching between apps. While playing heavy games like Asphalt 8 Airborne, NFS Most Wanted, Modern Combat 5 Blackout also, I didn't find the phone lagging.
Later I ran some benchmark tests and the results were pretty good. Below, you can check the results of the benchmark tests on various platforms like Antutu, GeekBench and Quadrant.
The ZenFone Zoom is definitely a very powerful device. While heavy gaming and multitasking, it gets a little warm. However, it's not like you can use it as a 'room heater', you know what I mean!! Now, some people will definitely say I'm trolling some other smartphone from a different brand in the ZenFone Zoom review, but that's a bitter fact.
Camera
It's time for the main part in the ZenFone Zoom review. The camera is the main feature of the ZenFone Zoom and the camera on the ZenFone Zoom is great, I must admit that. The phone sports a 13Mp rear shooter with f/2.7 aperture and HOYA lens. It has got 3X optical zoom and afterwards 9x digital zoom which adds a total of 12x. Also, it has got Optical Image Stabilization, Dual-tone flash and Laser.While the front camera is 5MP with f/2.0 aperture with 88-degree wide-angle lens. That's all as per the specification. But how well does it perform in real life?
Let me tell you one thing first, before I even try to judge the camera. If you're someone who is looking for a high megapixel count, sorry you're probably not eligible for having this phone. This is not the first time I'm reviewing a phone and basically megapixel count is not the only thing that I look for, there are various other factors which will result in better pictures. The ZenFone Zoom has a wider aperture range, Optical Image Stabilization, ultra fast Laser Auto Focus and of course a dual tone LED, so they are also important if you look through a photography perspective. So, forget the megapixel count if you're really looking for a great camera.
The camera on the ZenFone Zoom produces great pictures. The photos are detailed, vibrant with balanced saturation and contrast. The 3x optical zoom is great when you're at some distance from the subject and the optical image stabilization helps a lot when you're taking snaps with a shaky hand. The laser autofocus is fast enough, and the dual tone LED flash does it's job well in low light conditions, however, I'll be probably suggesting using a [eafl id=13736 name="ZenFlash-Flipkart" text="ZenFlash"] along with it if you're planning to shoot some snaps in quite a dark condition and when the subject is at a distance from you. The manual controls on the Zenfone Zoom are actually great, especially when you need to take the best-looking shots. And as you can see below, it has got tons of controls, from manual focus to ISO range settings and white balance as well. Also, it packs some cool modes including HDR, Super Resolution, Low light, GIF, Slowmotion and even Time Lapse.
I'm satisfied with the ZenFone Zoom in terms of camera as it delivers what it promises. The front-facing 5MP shooter is also good and takes very good pictures with different modes within the camera app. Some people may be a little disappointed about the non-existence of a flash on the front, c'mon it's meant for photography, not selfies. If you love taking a lot of selfies, I would rather suggest ZenFone Selfie or Galaxy J7 for that, or else you can use a [eafl id=13737 name="LolliFlash-Flipkart" text="Lolliflash"] with the ZenFone Zoom. So, overall, the ZenFone Zoom is probably the best in its class in terms of the features it provides in the camera and I loved it. Below, I have added some pictures I shot with the ZenFone Zoom, mostly under indoor and low lighting conditions and also a few selfies, in case you need to know about the front facing camera as well.
And also, here's a bonus, no tricks or anything applied. Just a short video which I captured with the Zenfone Zoom. Of course it is shaky as I was holding the phone. Do check it out.
One more reason here
Zenfone Zoom is a champ where it is macro shots, and surely performed well according to my expectation. And one more thing I will add here after I watched a review from Sudipto, and whatever he mentioned actually relates a lot to me. As he had mentioned, sometimes are colors are a little washed out but the photo can be made look great with a little touch-up, yes you don't need to be a pro-editing expert to do that. Even Snapseed or Instagram would work fine in that case. So, here it is, how a photo actually looks and how it looks, after I adjusted contrast, brightness and warmth of the picture, and I have not just added any filter there. Take a look.
Taken with Zenfone Zoom
Now, time for a little touchup!!
https://www.instagram.com/p/BA64Za6GGV6/
Now, I haven't actually ever heard anyone talking about this but thanks to Sudipto, he's kinda pretty experimental in this case. And he often uploads a lot of pics on Instagram and his social media, if you don't know him yet, check his channel out and I have added his Zenfone Zoom Review here, do check it out! :D
https://www.youtube.com/watch?v=RpzdKFjeQqw
Okay, we talked enough about camera and other prossibilities we have with the Zenfone Zoom. Now, let's move to the OS, software and battery, sound and finally the final verdict.
OS and Software
Need to talk about the OS and software a bit in the ZenFone Zoom review, as I can see some major improvements and a few things that I loved and one thing that I disliked. The Asus ZenFone Zoom runs Android 5.0 Lollipop out of the box with Zen UI 2.0 on the top. At the launch event, at first, I thought that the ZenFone Zoom will run Android Marshmallow out of the box, but probably they will roll out the update soon.
At first, I faced some bugs in the camera and music app (while accessing equalizer it force stops), but after I installed the latest update the problem with the camera solved. I'm quite familiar with ZenUI, but if you're new to ZenFones then it would take a few days to get accustomed to it. The UI is smooth and lag free, also thanks to the whopping 4GB of RAM onboard. The Zen UI 2.0 is quite heavy but heavily customizable. There are some bloatware indeed on the phone which came preinstalled, but I liked the provision of uninstalling them, as now I see most of the manufacturers don't provide the option to uninstall these apps and disabling apps just saves RAM, not your storage. So, thumbs up to Asus for that.
Sound
The audio output is fine on the ZenFone Zoom with the speaker on the back. The output is loud and clear. Though, we have just one mono speaker, audio output is loud enough. SonicMaster 2.0 assures clear and sound output providing a great experience while playing games especially. The call quality is fine, clear and loud enough, in quiet environment sometimes I lowered the volume a bit. However, I didn't like the audio output via ZenEar much, as I felt it lacks bass. Overall, the ZenFone Zoom provides a good audio output and for music, I would prefer using my [eafl id=13735 name="Skullcandy JIB S2DUDZ-003-Amazon" text="Skullcandy JIB S2DUDZ-003″], cheap and good alternative for music on the move.
Battery
The Asus ZenFone Zoom packs a 3000mAh lithium-polymer non-removable battery. And at this point, the phone disappoints me a bit as it can hardly handle one full day of heavy usage. However, I can't blame Asus for that as it's almost impossible to fit a larger battery in the ZenFone Zoom as the camera module itself takes half of the area on the back. And Asus did a great job by providing Asus boostMaster and the fast charger can charge the ZenFone Zoom from 0% to 60% in just 39 minutes. So, it's handy to have the charger with me always in case the phone runs out of juice.
So, this is almost the end of Asus ZenFone Zoom Review, so let's take a look atthe pros and cons of this device.
Pros and Cons
Pros:
Great Build and design
Camera
Awesome performance
Cons:
ZenEar sounds very average, not upto the mark as I expected
With 128GB of memory on board, I think ASUS could have provided a hybrid slot instead of microSD so that users can use a microSD or a secondary SIM card
Overpriced, at least for an emerging market like India
Final verdict
The Asus ZenFone Zoom is a great phone for photographers who like to take shots anywhere without the hassle of carrying bulky DSLRs. However, the optical zoom is limited to 3x. Also, those who are having a great budget and looking for a phone with kickass camera, great performance and a giant storage can easily grab the ZenFone Zoom. You will find many other phones in the market at this price who perform great, but in terms of camera, ZenFone Zoom can beat almost all of them.
So, if you're looking for a great camera smartphone right now, go for it, though it's a bit overpriced I think if we neglect the camera part. You can check the product on [eafl id=13602 name="Zenfone Zoom Banner-Flipkart" text="Flipkart"] or can grab the ZenFone Zoom from Flipkart for Rs. 37,999.

If you liked our ZenFone Zoom review and found it useful, do share it with your friends via Facebook, Twitter and Google+.