Gaming and streaming have now been put together on the web, on almost every platform like YouTube, Twitch and even on Facebook. This drastic rise is due to the revenue generated and also for the sake of entertainment, streamers are going crazy stuff, live! With the rising popularity of streaming, game capture boxes have been a part of gamers' lives.
My home broadband sucks, literally! I say that because I can't play and stream at the same time. But I used to record some of my gameplays back from the days of Counter-Strike 1.6 Lately, I have not been doing the same as I no longer use a PC that I can upgrade every year to match with the latest games. So, recording gameplays using any software is a painful event! When AverMedia contacted me, I was a bit skeptical, but well they asked me to have a look at the features and one thing was quite interesting and I was ready to try it. What is it? How good the AverMedia Live Gamer Portable 2 Plus is? Is it worth spending on it? Wait for these questions to be answered in my review of AverMedia Live Gamer Portable 2 Plus.
The AverMedia Live Gamer Portable 2 Plus looks like a pyramidal block, almost half a feet long and has a red and black color scheme. There is a huge button on the front at the middle, illuminated by an indicator light. The light changes colors based on ongoing tasks like when it is ready to roll the light is blue, it changes to red and provides a breathing effect when it is recording and while streaming, it is blue. The button simply starts and stops recording while connected in PC free mode and while it is connected in PC mode, pressing the button opens up the RECentral software, to record or stream gameplay.
A three-way sliding switch, a volume rocker, and two 3.5mm audio ports sit on the front edge of the AverMedia Live Gamer Portable 2 Plus. The sliding switch is used to set the modes- PC, PC-Free, or USB Storage mode. The PC and PC-Free modes enable video capture with or without a PC, and the USB Storage mode lets it work as a USB drive to store captured footage when plugged into a PC.  There is a 3.5mm jack as well for audio output and it lets you capture your voice in game or team chat.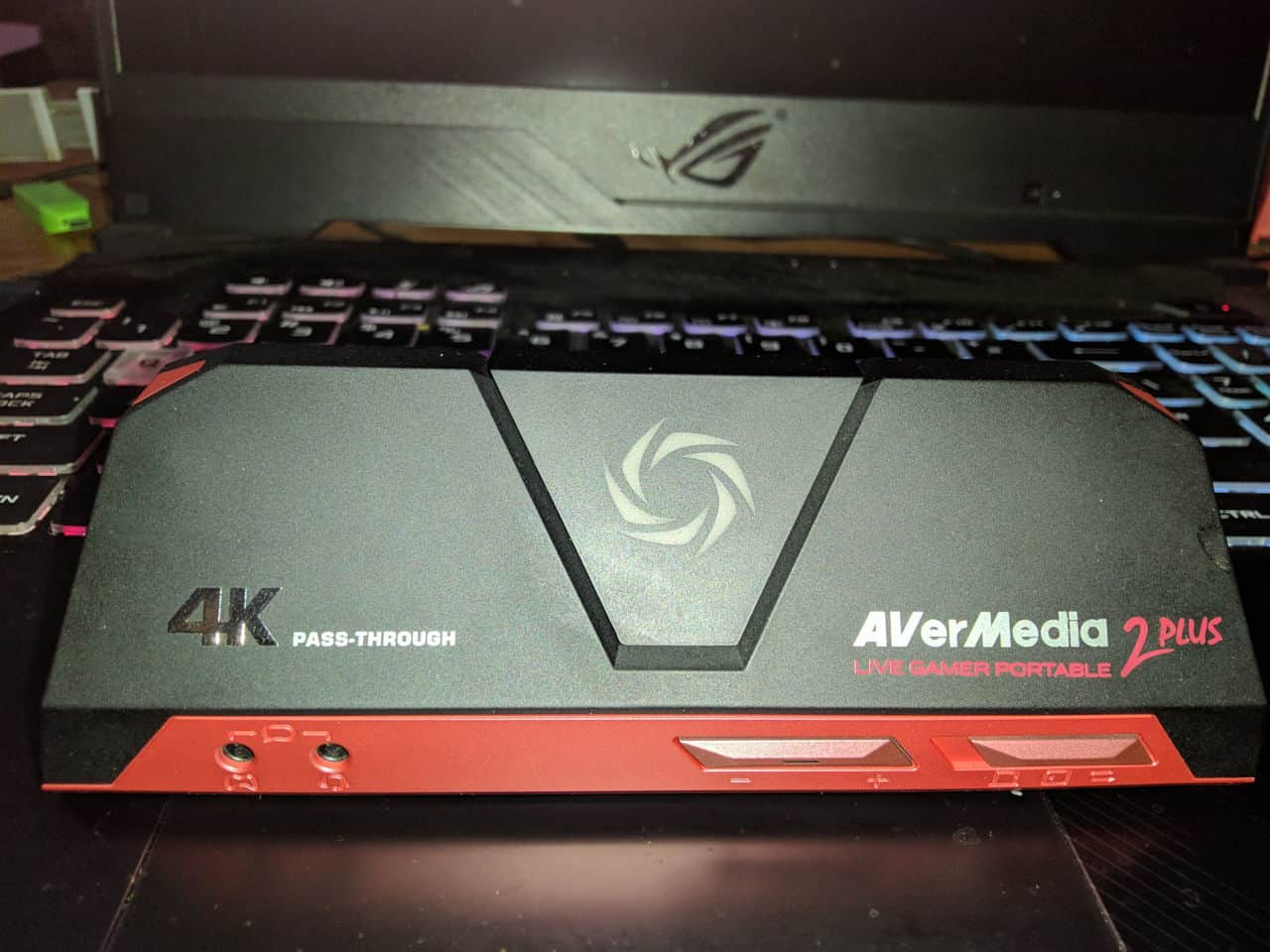 At the back, there is an HDMI input for connecting to a PC or Console whereas there is also an HDMI output port for connecting the device to a TV. There is also a micro USB port, which is mainly for power supply, though in the PC free mode this doubles as the preferred mode for data transfer. There is also a microSD card slot where you can pop a class 10 microSD card for data transfer.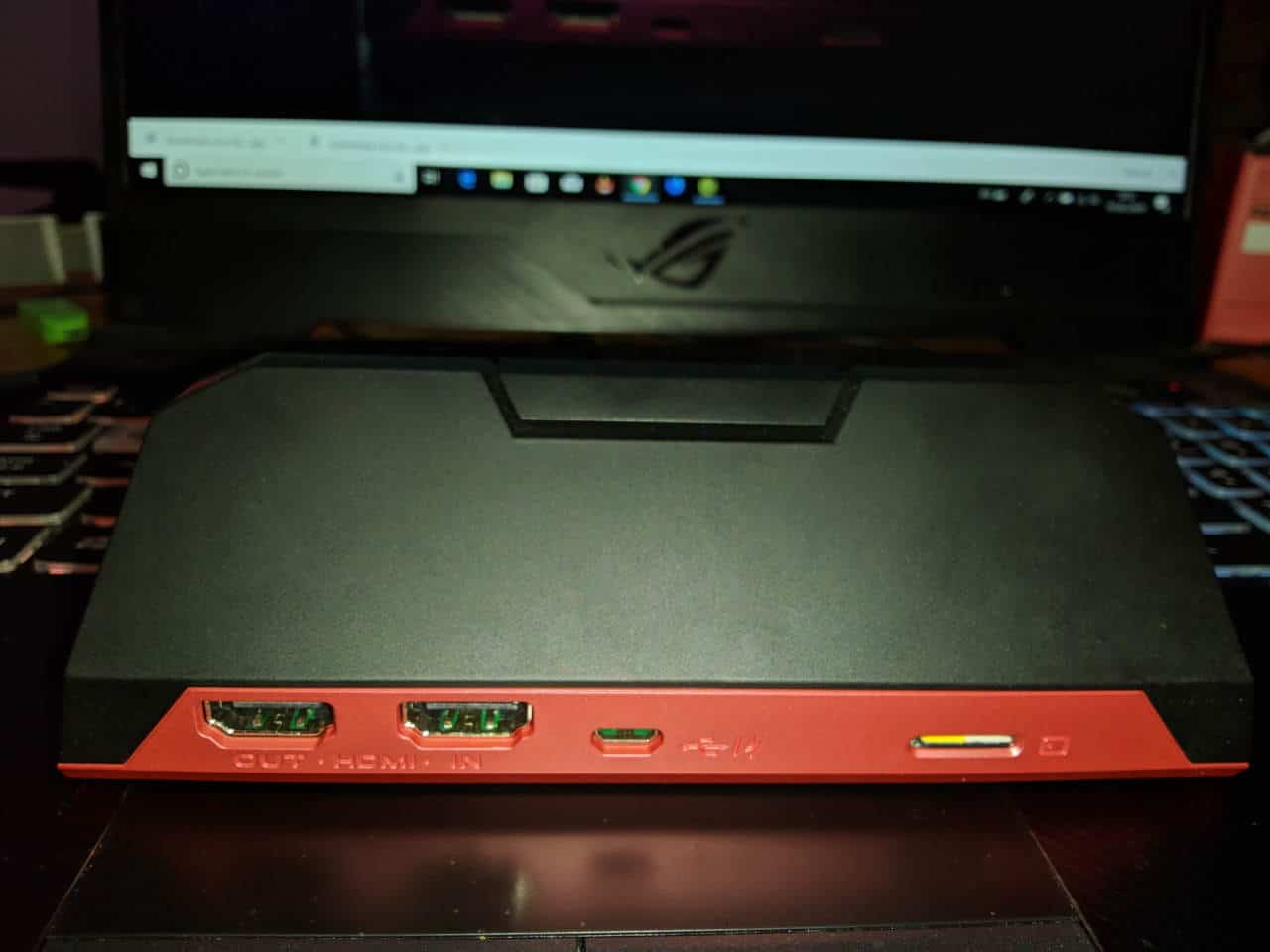 Enough talks about design and all these things one can already know, let's talk about how the device actually works.
First, I connected the AverMedia Live Gamer Portable 2 Plus and tried PC mode. The PC mode is quite similar to how you would usually record video using OBS or any other screen capture device. AVerMedia provides RECentral software, though you can use anything else like OBS or something else that supports recording via a capture card. The RECentral software is quite minimal and lightweight, and though it is not as powerful as many other alternatives out there, it gets the job done well.
I recorded a few clips using it on my PC and I will be adding them in the post for you to judge the quality. In my opinion, the footage seems good and the FPS drop isn't that huge that the actual gameplay suffers. The RECentral application also lets you stream to the popular game streaming platform like Twitch, along with YouTube and Facebook. This is good for those who are just entering into the streaming world as the process is quite simple.
Also, the AverMedia Live Gamer Portable 2 Plus also lets you connect a microphone for live commentary which is useful and a must for every streamer. I tried only the single mode configuration, though there is a provision for a multimode configuration where you can set up different video sources and effects. Streamers who are constantly streaming on YouTube or Twitch can take full advantage of it. One more thing- AverMedia Live Gamer Portable 2 Plus works with most of the complex software you may like to use, apart from RECentral.
Though I think I'm not the best person to judge that, so I'm mostly sticking to it for capturing gameplay footage only and uploading some clips to YouTube. The PC Mode is mostly recommended because you get better control over the output, you can tweak different settings and do many things, but the PC Free Mode is also very interesting. But before we talk about that, he's a video sample of the PC Mode.
The PC Free Mode lets you connect and capture footage from a console, without using a PC. You just need to connect it to the console and as long as it is getting power supply via the USB, it will stay connected and the light will glow blue. And at the press of the button, it will start recording. While connected to a PC, you can also record footage directly onto a microSD card, at the press of the button. However, this method is mostly for people like me who just need to record and store some gameplay footage, without any tweaks.
AverMedia Live Gamer Portable 2 Plus has 4K pass-through support, which means that though it can capture 1080p video at 60fps, it can let a 4K video signal pass through from the source to the TV.  This is one of the most notable features and for gamers who play games on consoles, it is extremely helpful. I mostly played on PC and used the PC Mode to see how the recording session goes on and here are a few clips for you.
My Thoughts
The AverMedia Live Gamer Portable 2 Plus is a very useful and compact capture device for gamers. It is one of the gadgets in my bucket list for now as I plan to record and upload some funny clips from Counter Strike Global Offensive. The provision for capturing footage without much hassle directly onto a microSD card is something that I always like because I can just pop the card into a card reader, connect it to PC and then I can just edit the footage and upload it on YouTube.
Though it shows some lags here and there while connected in PC Mode, the recording just works fine and for a better preview experience, a separate PC monitor is always recommended. Now, the AverMedia Live Gamer Portable 2 Plus costs Rs. 22,990, which may seem to be quite a hefty price to most consumers, but for the small consumer base towards which the product is targetted, it could be a good choice. Though there are similar products from AverMedia as well like the AVerMedia C875 and that is priced around Rs. 15,000. So, if you are someone who plays gamers only on PC and wants to clip, capture and edit videos and later upload them on YouTube, you can consider the AVerMedia C875, but if you are someone who is into console gaming, the AverMedia Live Gamer Portable 2 Plus is the one you should pick!