Like everyone, my new year goal was to get fit, so I searched for my old 2nd-gen Mi band. But unfortunately, the fitness band has worn out as the main piece has to be removed entirely to charge it. There you go, my whole fitness plan has turned into ashes. Well, I didn't stop and who wants a fitness tracker when your smartphone could track your steps. Fast forwarding 4 months, and I'm still not able to reach the goal of 10,000 steps per day. I rarely check the Google Fit app to see the metrics, but I wanted to make it a habit.
So, my hunt was on to buy a cheap fitness band under Rs. 5,000 which has also a heart rate sensor, and to my surprise, there are many! It became hard to decide which fitness tracker to buy, as there were many options. Out of nowhere, I received a special package from Banggood, a leading e-commerce store in China. To my surprise, it's a smart wristband named Bakeey Q8S which has a color display and has a heart rate sensor. I had used it for more than a week, and I'm in love with it.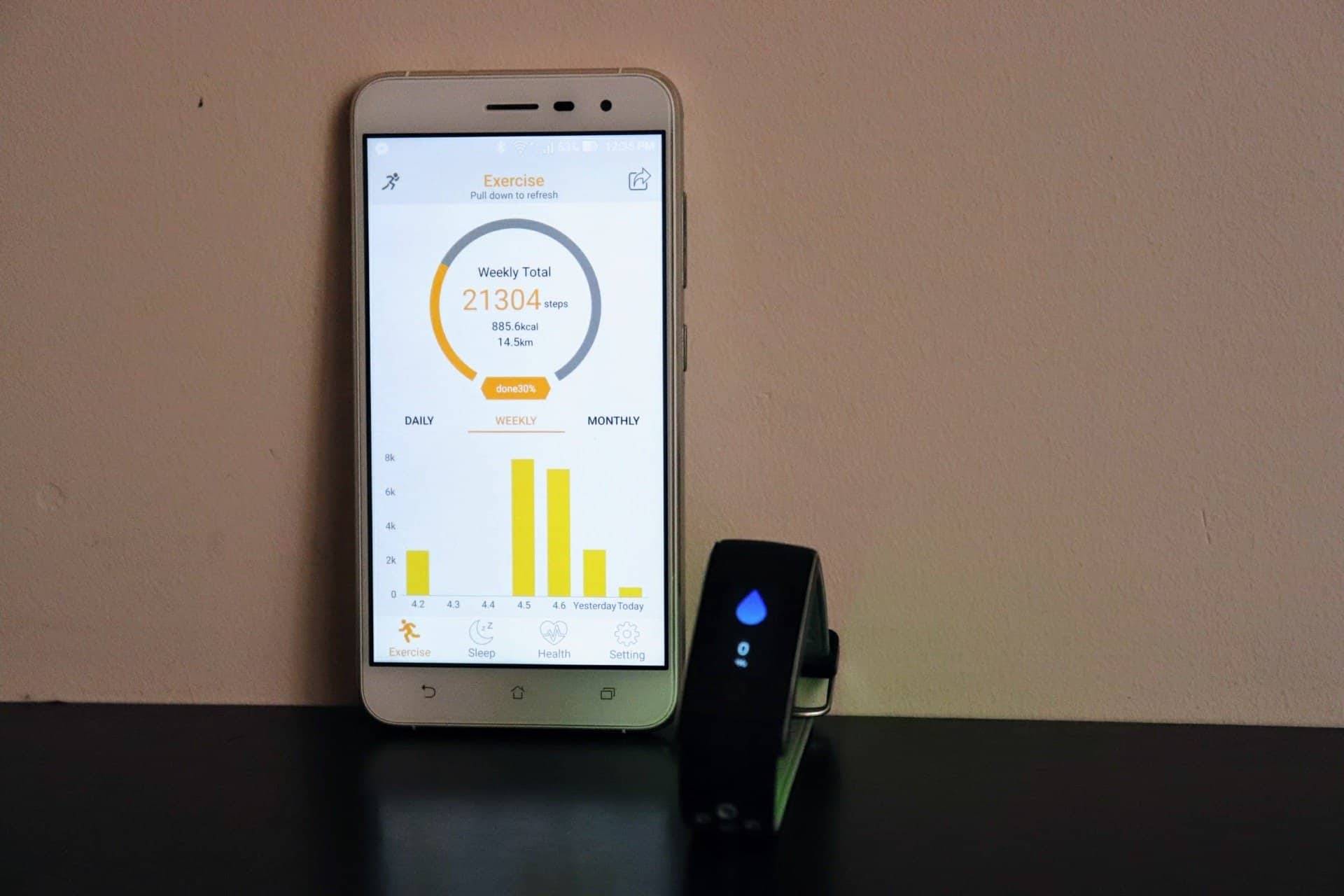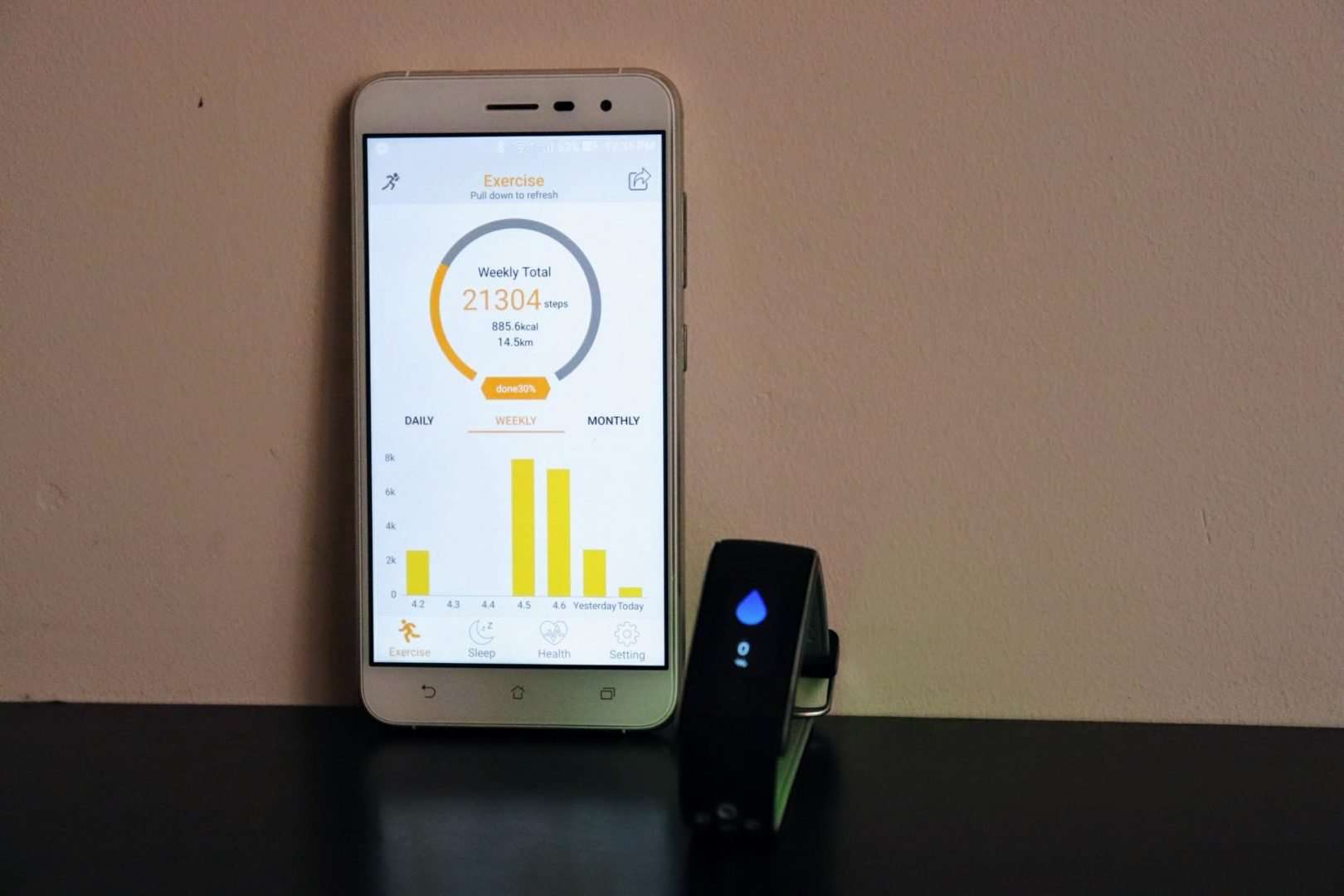 I know that we've never heard of this brand, but I can say this – it's not yet another Chinese brand which works for a while, and stops working after that. Also, the best part about it is its pricing. Why not I share the specifications and some key features to tempt you?
Bakeey Q8S Key Specifications:
0.96′ IPS color display
90mAh battery capacity
Dual-lamp heart rate sensor
Aluminum alloy body with silicone strap
10 days standby time
1-1.5 hours charging time
Bakeey Q8S Key Features:
One button [touch] to control everything
IP68 certified [waterproof]
Dynamic heart rate monitoring
Blood Pressure, and blood oxygen monitoring
Fatigue and sleep monitoring
Pedometer – Calculates how many calories you burnt, and the distance you traveled
Call reminder – Possible to cancel the call or silence the ring
Message Push – Able to read messages from different IMs
Alarm Clock and many other features
If this doesn't entice you, let me share the price of Bakeey Q8S… Not now :p
Before that, let me finish my review and show you, how I used it to add colors to my fitness routine.
Bakeey Q8S Smart Wristband Review
As usual, let's begin with the build quality, form factor and head over to the USP.
Design & Display:
The first thing I liked in Bakeey Q8S smart wristband is its display. The display is colorful, vivid and perfectly viewable even on a bright sunny day, thanks to its IPS display. There are not many colors in the display, but I can say that it reminds me of the old color mobiles.
The design of Q8S resembles several other competitors', but none of them come with a color display like Bakeey Q8S, so it's fine to call it as an inspiration. After all, we want a fitness tracker which can also emphasize the style quotient.
As far as I tested, the build quality is superb! The strap is of rubber material and doesn't leave any marks unless you wore it tightly. I wasn't allergic to the strap material nor had any rashes while wearing it. Also, it wasn't brittle like in a few of the competitors' fitness bands. I did handle very roughly while taking out, and wearing it, and there wasn't any trace of breaking-out. I can say that Bakeey took a lot of care while manufacturing the Q8S model. Now, it's time to find out the main USP – 'The Fitness Part.'
Connecting to 'FitCloud' App:
Like a few of the competitors' fitness bands, Bakeey Q8S also works as a stand-alone fitness tracker and can sync to your phone once it establishes a connection. For that, you've to download their mobile app which shows all your fitness routine metrics with a minimalist UI.
Connecting the 'FitCloud' app and Bakeey Q8S is quite simple. After turning it ON and opening the app, you have to keep the smart wristband near to your phone. It will prompt you to turn on Bluetooth and follow the on-screen guidelines to establish a connection. Once the band connects to your phone, it'll be shown under paired devices. So, the next time you turn-on Bluetooth, Q8S will be auto-connected and starts synching your fitness routine.
Alright, that's enough of connection procedure, let me head to the main part of fitness monitoring.
Fitness Monitoring:
Heartrate Monitor:
I've already mentioned in the key features that this smart wristband has a new dual-lamp heart rate sensor. This makes it possible for a dynamic heart rate monitoring. So, whenever it senses an increase in heartbeat, it alerts by showing the bpm in the display. Not only that, it keeps a track of this data in the application, which gives deep insights on at which instant your heart rate raised, or to find anomalies in the heart rate.
Oxygen-Level in Blood Monitoring [SpO2]:
Whenever you try to measure your heart rate, the wristband automatically measures the blood oxygen saturation too. You can read more about the ideal oxygen saturation level here. I'd say, you shouldn't neglect this metric as low oxygen in the blood causes Hypoxia.
Blood Pressure Monitoring:
Not many fitness bands come with this feature, and the Bakeey Q8S is an exception here. The readings are not accurate, but it does provide an approximation. Just like the heart rate and blood oxygen saturation, even blood pressure monitoring is dynamic. It means, it keeps on monitoring these changes and synchs the reading to the application.
With these three metrics, you'd know whether you're healthy or not. To measure these, you can directly use the wristband, or you can use the respective feature tab in the 'FitCloud' application.
Pedometer:
By far, I've seen the most accurate algorithm for calculating the steps. I've tried cheating it like waving the hand, but it's not considering it as steps. That's what I call it as the main USP as none of the competitors' fitness bands are as accurate as Q8S. Along with the steps I took, it also notifies me of how many calories I burned, and the distance I traveled.
Like every other fitness band, you can set up the goals, and I did keep it as 10,000 steps [my Newyear resolution]. I hope I'll reach it very soon.
Sleep Monitoring:
I believe this is by far the most useful feature. The Bakeey Q8S does provide accurate data but only when you do this one thing. I've personally tested Mi Band 2nd gen which monitors the sleep quality, but the data is sometimes inaccurate. This can be avoided in Q8S, and to get accurate data, there's an option in the app which will stop the monitoring and calculates your sleep quality.
I hope you got the point – Other fitness bands can't distinguish between the times you wake up and the actual time you usually wake up. So to avoid that, and to get the accurate data, you can click on stop monitoring your sleep whenever you wake up.
Other Features:
It's not a smartwatch but does have a brilliant display. Whenever I get a message, it's being pushed from phone to wristband's display. Like other smart wristbands, the messages don't get truncated and displays everything. Also, whenever someone calls up, It shows the contact name, or the number [if new]. This literally made me use my phone less and responds to important messages.
The other feature I liked is the sedentary and water alert. This we can customize the application to alert us at different time intervals. I usually keep the water alerts every hour, and the sedentary every two hours.
Well, you might have this question on what happens when I sleep? Would it still remind me to drink water? Not exactly! There's one more special schedule which defines your active period. This could your usual work/active time, and beyond that, it won't alert you. Also, the display won't lit even when you lift your hand during this period. You've to manually touch the button to wake up the screen.
Battery Life: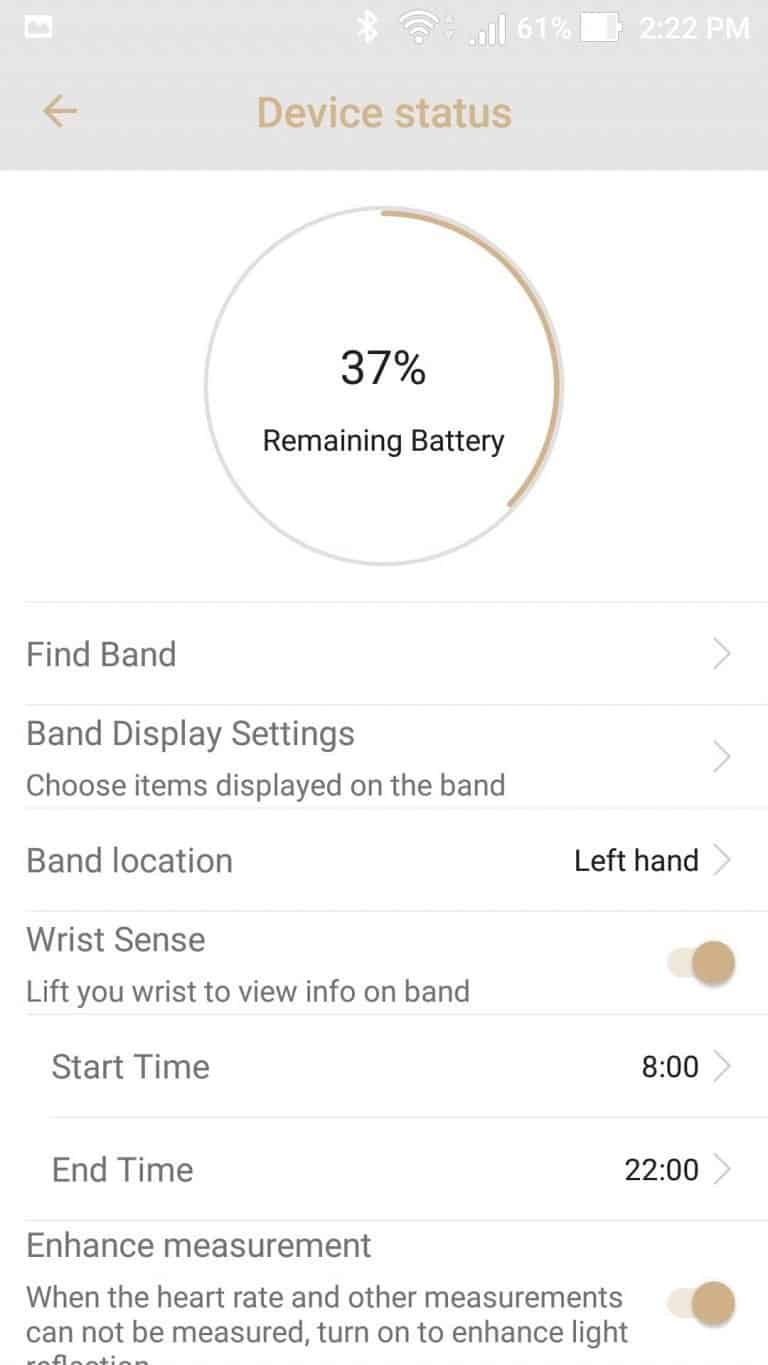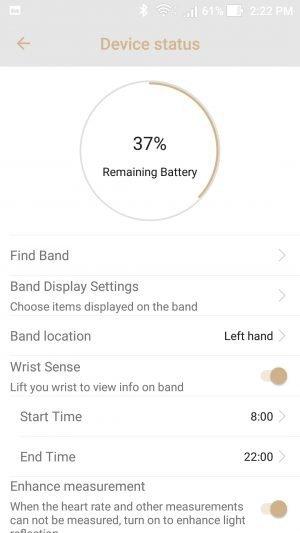 Bakeey Q8S comes with a 90mAh battery capacity, and as per the instruction manual, it provides a standby time of 10 days. But when I personally tested it, it hardly lived for 3 days. I believe the reason for this is it constantly monitors the heart rate, blood pressure, etc. So it might consume the battery capacity. Well, you've to charge it every 3-4 days and the charge time is around 90 minutes. You can know the battery level on the mobile app.
Pros & Cons –
Pros:
Brilliant color display
Accurate heart rate monitoring
Pedometer algorithm
Sleep monitoring
Different health alerts
Reading messages
Pricing
Cons:
Strap quality
Blood Pressure
Battery Life
Heart rate monitoring
Did I miss something? [pssst…Pricing]
Yup! the main pricing part which many of us would consider it as the main USP. Okay, here's a recap of key features one more time – It has a heart rate sensor which measures heart rate, blood pressure and the oxygen level in blood. Also, it alerts you to drink water, take a walk, and you can also directly read messages from the wristband itself.
Constituting all these features, I'd say the price should be beyond 5K. Also, did I miss saying that it has a color display with minimalist icons? So, what exactly the price of Bakeey Q8S smart wristband? Well, It's just $32.99 [ Rs. 2,176]. That's pretty aggressive pricing for the features it's offering.
Where to Buy Bakeey Q8S Smart Wristband?
I'd say the best place to buy it is from Banggood as they offer special discounts for all new members. I highly recommend you to install their application as some of the deals are app-only. For all, I advise choosing the Chinese [CN] warehouse as they ship quickly without any fee. Once again, I want to emphasize its pricing and it's just $32.99.
Conclusion:
What can I say, I've used and tested different fitness bands, but none of them offered these many features under the pricing of $50. I highly recommend purchasing the Bakeey Q8S if you're on a hunt to gift yourself a cheap fitness band that has many features under the sleeve.