GearBest 2nd Anniversary sale is here featuring March Markdown Madness! This time the Chinese eCommerce site has partnered with Intel & PayPal to bring pretty slick deals on all the newest gadgets. Last year was just a beginning, this year the deals are all over the categories.
From smartphones to smartwatches and from smart bulbs to action cameras, everything is under the roof of Offers with huge discounts ranging anywhere from 25% to 75%. The most interesting categories covered in the sale are Phone & Mobile Accessories, Tablets PC, Computer & Networking, Consumer Electronics and Automotive Gear. Buyers can avail Extra 3% off using PayPal as the payment method.

Along with Flash Sales, there will be special deals on Intel products, lucky draws, etc. There is also a Cake Picking game where winners can earn GearBest points, which can be used to redeem additional discount up to 30% or Xiaomi Redmi Note 3 smartphone.
This time, they are giving away 5 big treats to the customers. It's better to show you the treats, than explaining.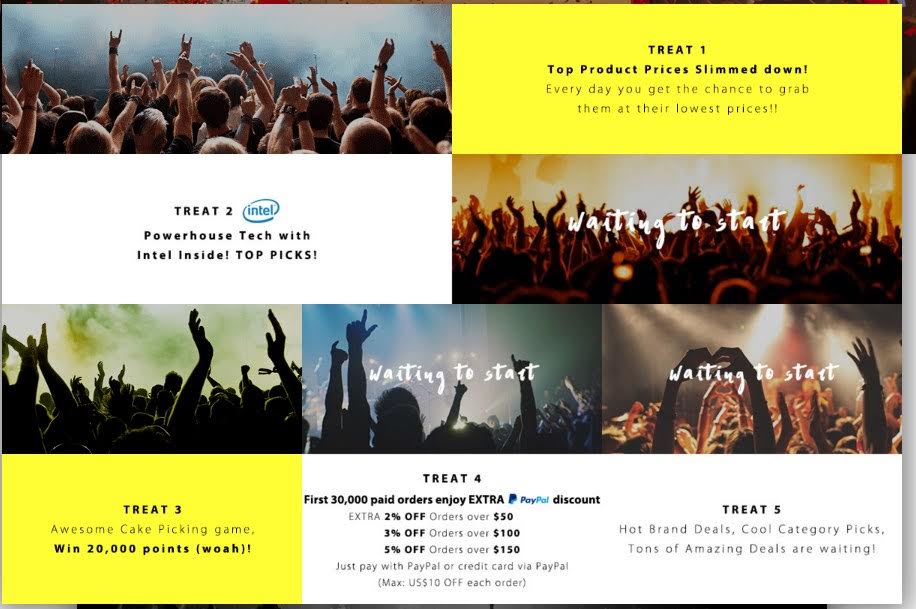 For more explanation, check out the March Markdown Deals page at GearBest.
Anyhow, for our fans all over the world, we are sharing few eye-catching deals for the ease of finding the product page:
Ulefone Paris 4G Smartphone – Regular Price: $317.39 | Deal Price: $69.99
Bluboo Xfire 2 3G Smartphone – Regular Price: $99.36 | Deal Price: $69.99
FIREFLY 6S 4K WiFi HD DV Action Camera – Regular Price: $147.30 | Deal Price: $39.99
Magic Blue UU E27 Bluetooth Bulb – Regular Price: $13.96 | Deal Price: $4.99
Other hot brands featuring in the sale which might interest you are Xiaomi, ZTE, Lenovo, Ulefone, SJCAM, JRC and Beelink.
This 2nd-anniversary sale aka March Markdown Madness starts at 1:00 am of Beijing time 22nd March '16 (10.30 PM IST 21st March '16) and will end at 1:00 pm of Beijing time on 25th March '16 (10.30 AM IST 25th March '16).
Just like the last time, make sure to participate in the contests, flash sales & get yourself a gadget at a very best price.