When is Black Friday this year? I don't think this will be a question to anyone as we're already on black Friday week. As usual, Black Friday will hit on Nov 27th which is a day before the Thanks Giving day which falls on Thursday – Nov 26th.
What's so special about the Black Friday? Well, most of the online/eCommerce sites offers huge discounts on the products. It can be on clothes, electronics, groceries etc. As you already know Black Friday is closely associated with Cyber Monday too. This year, Cyber Monday falls on Nov 30th which is the last working day & the last Monday on November.

As we've been posting deals & offers on Thanksgiving, black Friday & Cyber Monday, now it is time for us to prove that we collect the best deals around the tech town. This article is especially for our favourite site – Gearbest which has been providing crazy deals even before the black Friday & I guess everyone knows this. If not take a look at our previous articles on deals we posted few days back.
Coming to the article, we collected the best deals from the Gearbest & going to explain to the strategy to get the best from the deals. To make it easy we're dividing the article into articles where one is especially for the coupons/offers while the others are for deals. In between there's a giveaway campaign too, do check it out.
Pre-Black Friday Deals – Mega discounts using Coupon code:
The most useful thing with the Black Friday is the celebration of deals start even before the main day kicks off. Gearbest.com isn't an exception to this list as the store already posted a mega discount code coupon giveaway campaign. All you need to do is share the product in the Facebook to reveal the coupon code. Let me give the detailed information on this.
Pre-sale for Black Friday:
Get into this page where you can see the list of products with a Facebook share button. Check the below image for more information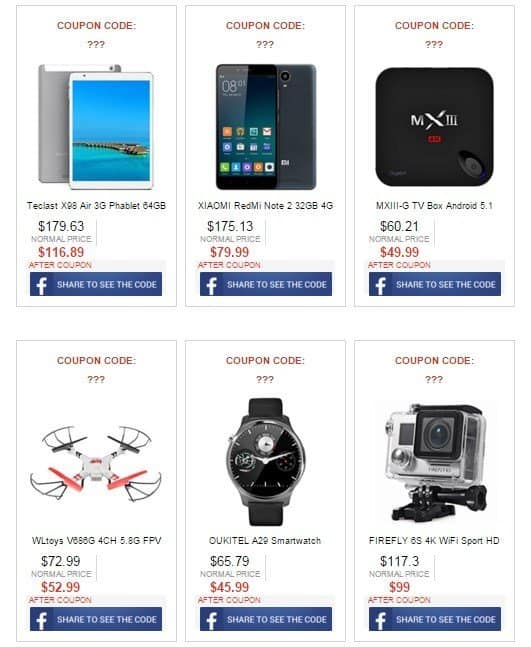 As shown in the above picture you can normal price & the coupon price & a Facebook share button to view the code.
Select the product which you want to buy, share it on Facebook to reveal the code & make a note of it.
All the pre-sale deals will go live exactly on Black Friday i.e., on Nov 27th, 2015 at 5.00PM UT (10.30PM IST).
Make sure to use the coupon code before the stock goes out. Only 20 users can avail the mega discount offer. Be sure to use it on time.
Pre-sale for Cyber Monday:
As we already told about the pre-sale, Gearbest is also offering Cyber Monday deals even before the official day. you can follow the same procedure for this, just like you did for pre-black Friday sale deals. Here are some of the deals.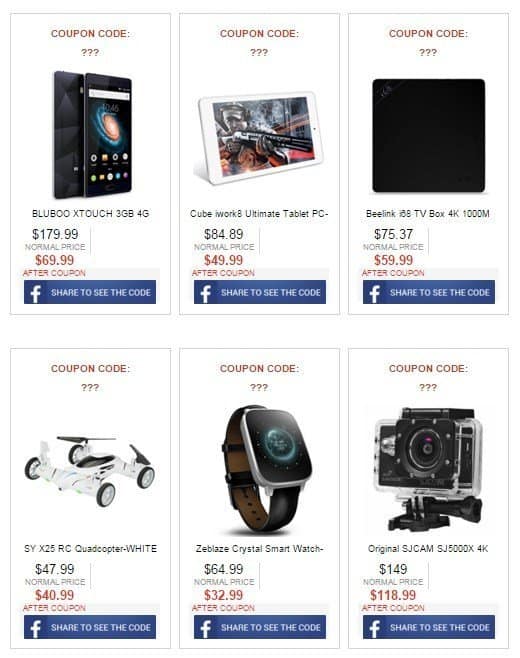 You can avail the coupon code even now too, but they will become active only on the official day i.e., on Nov 30th, 2015 at 5.00PM UT(10.30PM IST). Make sure to use it asap! because only 20 users can avail it.
Mega Coupon Code giveaway:
You can be a lucky winner to get the branded smartphone/phablet or a smartwatch or even a tablet for just $0.10. Yes, I am serious! You can buy gadgets for just 10 cents. Here's what you need to do.
You need to buy any gadget or anything worth $50+ on Gearbest in between Nov 23-30th.
You'll be given 3 tries to test your luck in the lucky draw.
Just enter your paid order id & click on "Have a Try", wait for it! wait for it & voila you've won a coupon.
You can avail all the 3 tries instantly.
Not to worry if you've not won anything, you can always get few more chances by purchasing few more products worth $50+
Here's how the giveaway coupon machine looks like –  Liked it? Don't go away from this article, the best part is yet to come :)
The above offers are just the pre-Black Friday deals & here's the main part – Black Friday Deals.
Top deals on Electronic Gadgets:

Though there're many categories ranging from smartphones, watches to clothing, we're only concentrating on top deals from Electronic Gadgets category & you know the reason right (Gadgets World). Anyhow, you can find more deals on every category by visiting the deals pages. Click on view more to see the full list of deals on the products.
Most of the deals are of limited stock – 200 units, so you need to hurry to avail the max discount on the products. so when this will start? Obviously, the deals will go live in 20 hours from now i.e., from tomorrow & lives up to Nov 27th – the Official day. We've collected some top deals on our favourite categories. Kindly have a look at them
Jaw-dropping deals right? OnePlus 2, Xiaomi Redmi Note 2 hmm! sounds interesting. Take me over to the deals page. Yup! Head over to this page to see more deals.
Let us know in the comments, if you've found any new deals :) We will add it here!