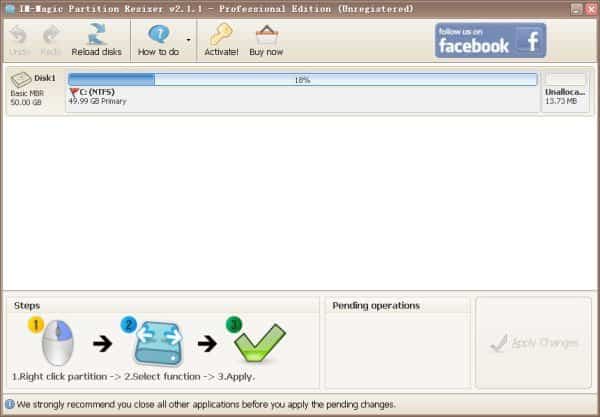 Hello fans, we are back with another such giveaway where everyone wins. Yes, you read that right. We brought the IM-Magic Partition Resizer Pro Giveaway to every single fan we have.
Sometimes, we need to resize the disk partitions we have. Just because we need lesser space somewhere and more space in the C drive or sometimes, we just don't want a small partition, which just accidentally got created. Going to disk manager and fixing all things may be tricky for some people. But wait, here's a great solution- The IM-Magic Partition Resizer Pro. Now, the product costs USD $29.99 and with free upgrade it costs USD $49.99. But we're giving it away for free. Before we move to the giveaway, let's take a look at the features of IM-Magic Partition Resizer Pro.
IM-Magic Partition Resizer Pro Features-
Can resize any partition without data loss
Supports FAT & NTFS file system
Supports shrink and extension  partition
Supports reallocated disk partition
Supports All levels of hardware figured RAID volumes
Can create, format and delete partition
Can copy partition to unallocated free space
Disk defragmentation
So, you get a lot of features in one single tool. Here's how to get it for free. Note that this giveaway will be open for just 3 days i.e. from 16th October to 18th October, 2016. So, we advise you also invite your friends so that they can grab it for free. Here are the steps to participate and win.
Go to the official website and download the IM- Magic Partition Resizer Pro.
After you have downloaded just install it and launch the program.
Enter this serial key.
The program will get activated immediately and will be valid for lifetime.
38E1440D6DE97BC39C84A996ED4AEE52E47FAE79E65AE67BCA90


Hope you have enjoyed this giveaway, check this page again on 19th October for another upcoming giveaway. Enjoy your free copy of IM- Magic Partition Resizer Pro.