XperiaGuide a well-known site for Sony Lovers, now it's GizmoBolt.com with a tag line Exposing Technology | Social Media and Web which is founded by a Sony Enthusiast who wanted to make Sony lovers  aware of all the Sony Gadgets, Smartphones etc and a vivid writer with a lot of tech skills, he is Mr. Anurag Kumar, today we had an interview with him and it went from Sony to IFA2014, have a look at our interesting questions and in-depth answers given by him
Interview with Anurag Kumar, Founder of Gizmo Bolt – Exposing Technology | Social Media and Web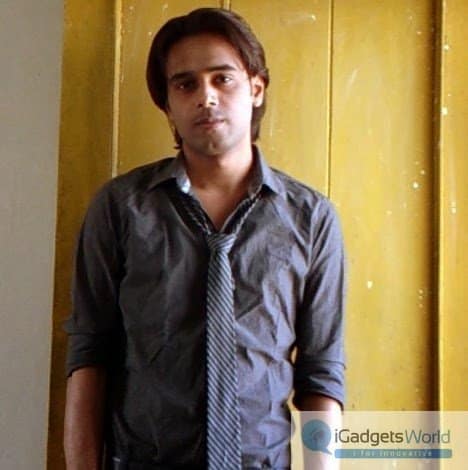 1. Hi Anurag Kumar, we heard a lot about GizmoBolt (formerly Xperia Guide), can you introduce to our readers ?
Hello to iGadgetsWorld Team and their worthy readers. This is Anurag Kumar, founder of Gizmo Bolt (formerly Xperia Guide), a blog cum community mainly associated with Sony Xperia devices. I am an engineer by college degree, blogger by choice and finally after quitting full time job currently preparing for Indian Civil Services exam.
2.We are all Sony lovers too, Can you please clarify us about the Xperia Guide issue?
We started our journey with "Xperia Guide" in 2013 to let world know more about Sony Xperia products and to help Xperia users. After the first anniversary of our blog Xperia Guide in May 2014, Sony raised an issue of using their trademark "Xperia" in our domain name in bad faith which we never did.
So we decided to change the domain name to "Gizmo Bolt" to avoid any further legal disputes, that's all I can speak on this issue for the time being as I am not allowed to disclose anything more in public.
3. It's a simple question to every techie ? what gadgets you own now ?
I love to have new gadgets but only worthy one ( money/time wasted once can never be earned back ).
Laptop : Asus Notebook
Mobile : Xperia Z1, Moto G, Lumia 625.
Tablet : Nexus 7 2013 LTE edition.
Wearable Devices: Sony SmartBand SWR10 and Sony SmartWatch 2.
4. Few days back in iFA 2014, Sony launched 3 smartphones, what's your opinion on the event regarding Sony ?
Sony launched 3 smartphones Xperia Z3, Xperia Z3 Compact, Xperia E3 and 1 tablet Xperia Z3 Tablet Compact along with 2 new android wearable i.e. Sony SmartBand Talk with 1.4" curved e-ink display and Sony SmartWatch 3.
Sony's strategy of launching a flagship device in every 6 month cycle is failing sure for now. Xperia Z1 was a worthy upgrade over previous flagship Xperia Z but Xperia Z2 and Xperia Z3 are just released for the sake of releasing a flagship after every 6 month period with some minor hardware upgrade and design tweaks. So in my personal opinion Xperia Z3 doesn't fall in the category of a flagship device.
On the other hand if you are looking for a compact android phone then Sony has done exceptionally well by launching Xperia Z1 Compact and with the new Xperia Z3 Compact, it is the 'real compact flagship killer device'.
Xperia E3 is another budget smartphone from Sony this year after Xperia M2 and Xperia M2 Aqua but it is yet to be seen how much it will be priced to remain in budget smartphone category.
Xperia Z2 Tablet was a worthy upgrade over Xperia Tablet Z but the launch of new 8" Xperia Z3 Tablet Compact with similar configurations like Xperia Z3, is really a smart move from Sony as now a smaller display tablet from Sony is there to compete with popular Apple iPad Mini.
5. Is Sony Xperia Z3 reached it's expectations ? what's the difference between Z2 and Z3 ?
No, Xperia Z3 disappointed me just like Xperia Z2 did (only my personal opinion, not to be taken as an offence).
Sony has made some changes in Xperia Z3 overall if design part is taken up, you can see more smooth round edges and sides of the phone for proper handling.
Xperia Z3 is packed in a 7.3 mm thin aluminum frame, weighing 152 grams is a huge improvement over Xperia Z2 which is 8.3 mm thick and weighs 163 grams.
Sony has imparted new waterproof and dust resistance rating (IP65/68) in Xperia Z3 while Xperia Z2 has (IP55/58) ratings.
As far as Snapdragon Chipset is concerned both device features Snapdragon 801 quad-core processor, the only difference is Xperia Z3 CPU is clocked at 2.5 GHz and Xperia Z2 CPU is clocked at 2.3 GHz which hardly makes any difference. In terms of GPU, RAM, Internal Storage, Screen Display size, MP resolution of rear and front cam everything is same.
6. Why doesn't Sony not showing innovation like it used to show earlier ? (we have seen lot of things from Sony regarding display, headphones etc)
I think a saturation has come now in mobile phone industry in terms of specifications for the time being as every company is now launching a new flagship device with some minor hardware upgrades over the previous flagship. So it's not particular for Sony, I would say it is valid for other companies also.
7. Sony smartwatch 3 , (running on Android) will it be a better competition for other smartwatches ?
Personally I don't think so. People are showing their liking towards round dial android smartwatches more as far as I have spotted.
8. We have been getting a lot of questions regarding the difference between Xperia Z3 and Xperia Z3 compact ? can you clarify the readers ?
Xperia Z3 Compact is a compact version of Xperia Z3, packed in a 8.6mm thick aluminum frame with a 4.6" 720p HD display, 2 GB RAM and 2600 mAh battery power rest other specifications are similar to Xperia Z3.
In short if you are not a fan of bigger 5.2" screen ( 5" screen standard size now for every company's flagship device ) and you need high-end specifications of a flagship device in your smartphone, then you can go for a compact device i.e. Xperia Z3 Compact. There is no other compact android phone which beats Xperia Z3 Compact as Sony has not compromised in terms of specifications on their compact version of device while other companies have done so.
9. One final Question , Which gadget you want to own this year ? and What will be the Gadget of this year (as per your point of view )
I will be buying Moto 360 SmartWatch as soon as it hits Indian market.
As far as gadget of this year is concerned in terms of android mobile, I will vote equally for HTC One M8 and LG G3
I thank iGadgetsWorld Team for giving me this opportunity to express my views on their wonderful platform.
Hit me up with a query if it falls under Sony Xperia niche, drop a message here – Twitter@ImAnurag27 or Facebook.com/IamAnurag