LG,being a top-notch phone maker, marketing them however isn't an easy thing in an economy like India where you have cheaper phones at as low a price as a tenth of what you're selling your phones at. The LG G4 launched on June 20 with the aim of doubling the current market share in India from the current 4-5% to around 10%.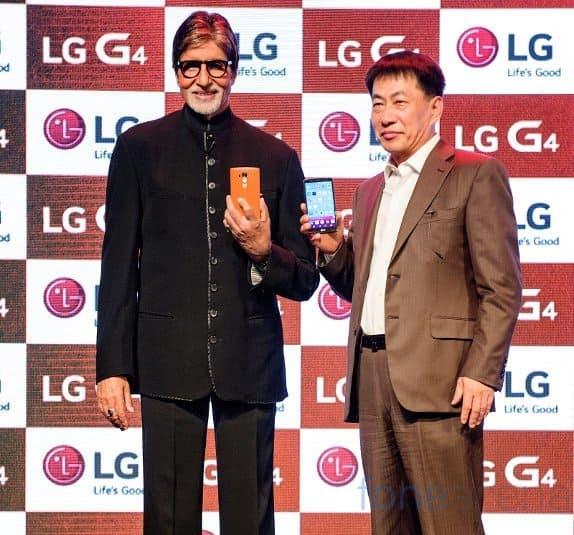 Read More: LG G4 up for sale even before its official Launch
Priced at Rs. 51,000; the phone has a leather back panel and Digital Single Lens Reflex (DSLR) camera feature, and was unveiled by LG India's brand ambassador Bollywood superstar Amitabh Bachchan on Friday in Mumbai, India.
[quote_box_center]
"The LG G4 is by far the most ambitious phone from LG", said Soon Kwon, Managing Director, LG India.Currently, we have 5 per cent market share in the overall smartphone market in India and with the newly introduced LG G4 and leveraging on this we expect to double our market share to 10 per cent.[/quote_box_center]
He also said that the phone has received tremendous response since the phone was launched in April and was confident they'd have a similar success story in India.
Reading through the lines, LG's major market share comes from top-notch phones like the G3, G4, etc. given either their misaligned priorities in the Indian market, or the stiff competition at lower price ranges which is making LG vouch for just their flagships, hoping this'd pay off in the long run. If you have a close look, you'd find LG spending close to nothing on marketing; which could indeed be a smart strategy given their target audience being flagship buyers, and flagships are advertised primarily through the social media and word-of-mouth.
Among its other ventures, is the LG G Watch. With the rise in the wearables market, LG brought out the LG G watch at the right time, to get a strong foothold in the market.
Read More: LG launches G Watch in India
[quote_left]"LG India is expecting to sell a 100,000 units"[/quote_left] LG India's business head (mobile communications) Deepak Jasrotia told PTI. A majority of LG India's revenues come from products that the company manufactures in the country, he pointed out. The Korean electronic manufacturer also sells TVs, washing machines and refrigerators among other consumer durable in India. Though there are two manufacturing units of LG in India, one is at Pune and other is at Noida, LG doesn't manufacture mobile devices here. However, he said it would not be the case if the 10% threshold was crossed.
If the company crosses the threshold of 10 percent market share in handsets, it (LG India) will consider manufacturing mobile phones in the country.
So, do you think LG is up for it? Or do they need to rethink their strategies for it to happen? Let us know in the comments below!