It's been a while since I reviewed something other than laptops. I recently contacted by Mixcder marketing team to test & review the all-new Mixcder E10 Active noise-cancelling headphones, and couldn't resist myself to try it out.
I did review a couple of headphones in the past, but none of them has ANC; our team members have written on the ones with ANC. Anyhow, getting back to the review part, before I share my opinion, let's have a quick look at the specifications.
Mixcder E10 Key Specifications
40mm Neodymium Iron Boron Speaker Unit with Only 34-millisecond Super Low Latency.
Connectivity: Bluetooth v5.0
Range: up to 10 meters
Professional ANC technology
Advanced Apt-X Low Latency Technology
Play Time: 30 Hours
Battery Capacity: 500mAh
Charging Time: >1 Hour [Quick Charge Support]
Impedance: 32 Ohms
The specs are quite impressive. Now, let me share my review, so you can make a better decision on whether to purchase it or not.
Mixcder E10 Review- E for 'Elite'
Mixcder isn't a new brand and has been around for a few years now. We had reviewed several of their products, and I remember testing a few. The primary thing that I want in a wireless headphone is the portability. It is where Mixcder succeeds.
Design & Build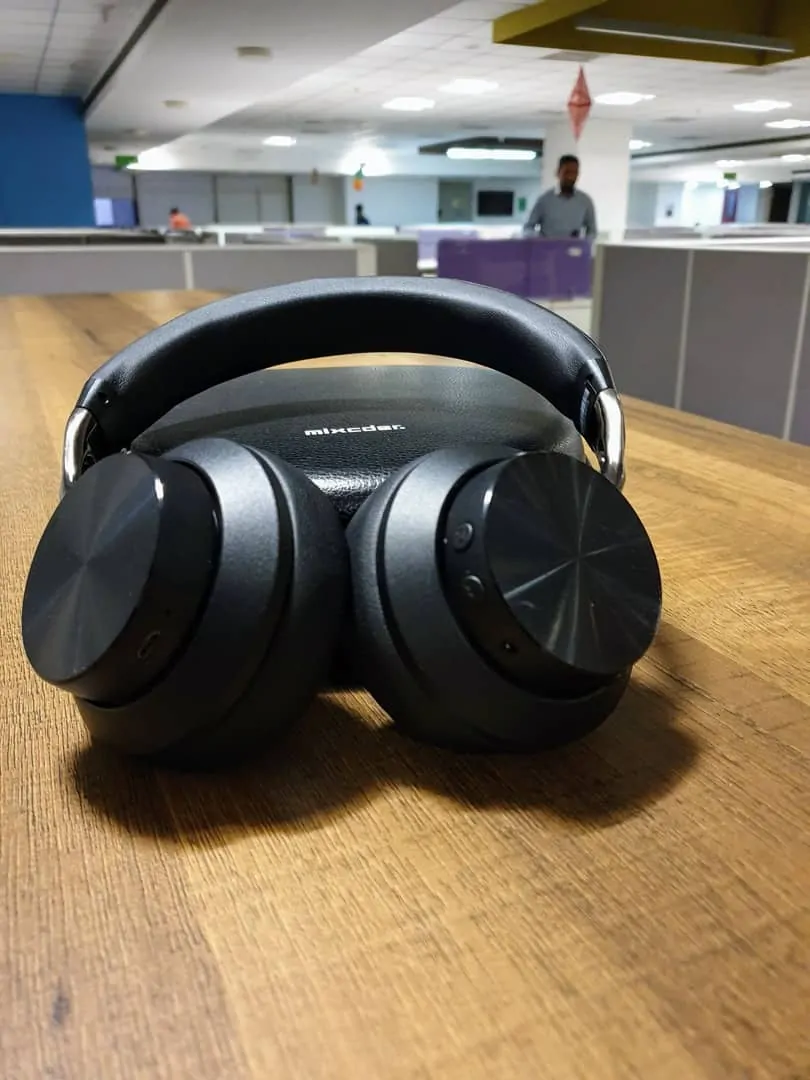 The design of Mixcder E10 is quite compact. The folding mechanism of earpads makes it convenient to carry around. The case that comes within the box has the premium feel and holds the headphones safely. The earpads are quite comfy, and I didn't feel any pressure or pain wearing them. The controls are on the right earpad, and they're quite reachable. However, I didn't like the placement of ANC. I don't know why it'sat an odd location.
The volume controls and the power button are of good quality; there's also a 3.5mm headphone jack, which turns the headphones to wired.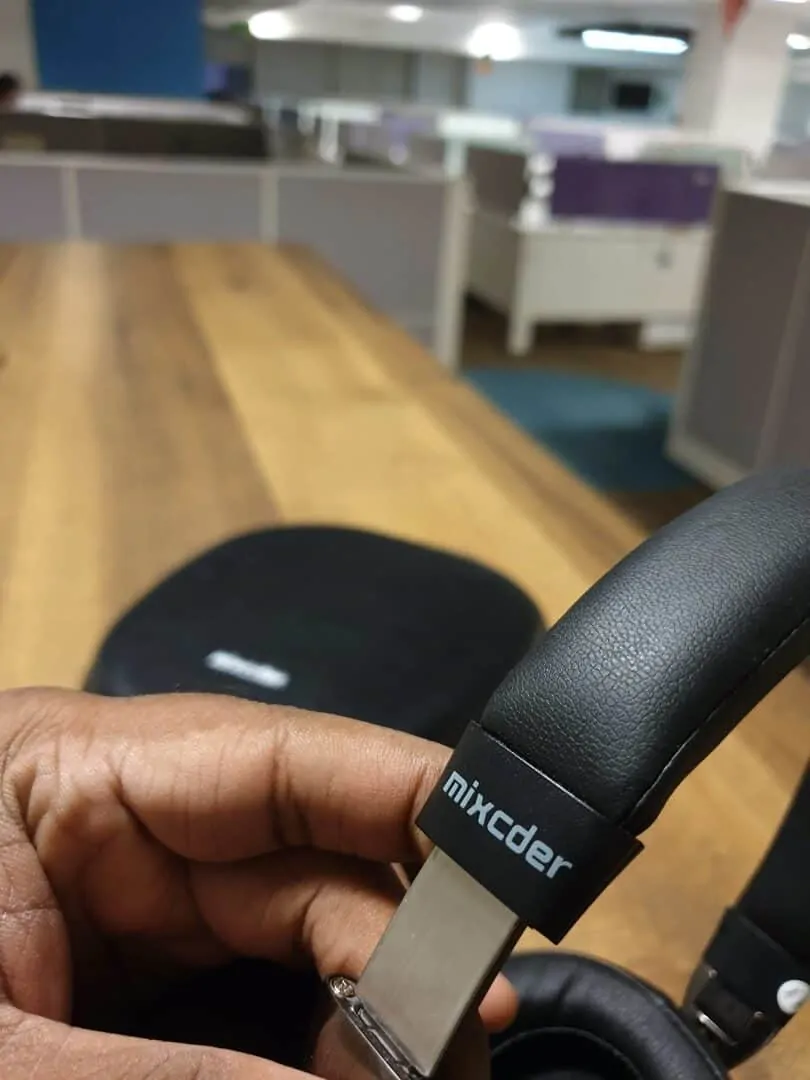 Even though it's portable, the question that bothered me is the build quality. It's nice to see an adjustable head strap that has a good quality, but as it's a moving part, I doubt that it would last long. The foam on earpads are quite soft, but the problem is they don't look durable to me. They don't have the premium finish that I noticed in other competitor wireless headphones. The outer texture of the headphones has the plastic feel, so I doubt its durability. Further, it's not graded for waterproof too. To sum up, I'd say it may withstand for certain drops and might live longer without adjusting the head strap extensively.
Connectivity & Controls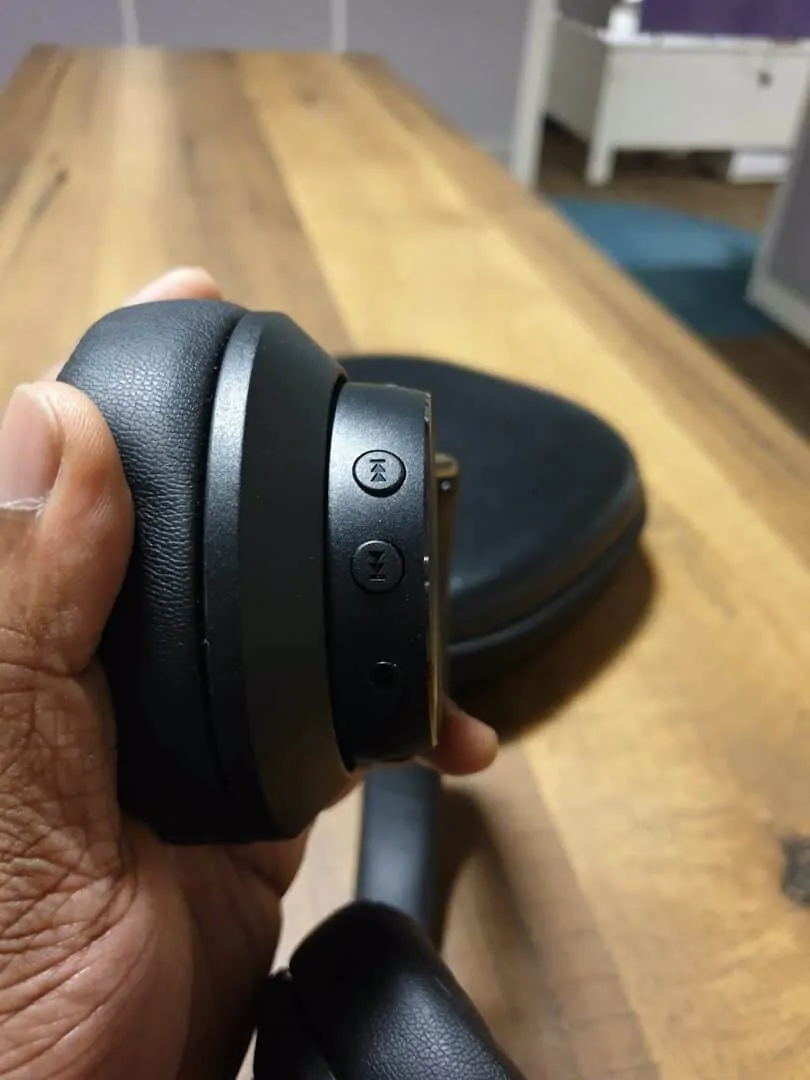 Connecting the Mixcder E10 is quite easy, and it's as same as the other devices that get connected through Bluetooth. Thanks to the Bluetooth v5, the latency is quite low. I will explain more about it in the sound performance section. To pair it to a compatible device, all you need to do is power up the device. To do that, press & hold the power button until you hear a voice prompt. Now get on the compatible device and look for the device 'Mixcder E10' and tap on it to pair. Once it's paired, you'll hear a voice prompt that says the same. You can press & hold the power button to turn off.
Controlling the music through Mixcder E10 is also easy. The forward & backward buttons have multi-functionality. Pressing them once will either increase/decrease the volume and pressing & holding them will change the track to next/previous. ANC has a dedicated button, and also has an LED indicator, so you can know if it's turned ON.
Sound Quality & Performance
When it comes to wireless, the transmission technology matters a lot as it determines the latency. With Bluetooth v5 along with an advanced Apt-X, Mixcder E10 makes sure the latency is quite minimum. I haven't noticed any delay in the voice while watching movies.
The sound quality is quite brilliant, and I hadn't expected that from Mixcder. I could hear the highs as well as lows. If I have to comment on the sound quality, then I can say that bass could be a little better. I wasn't able to hear all the low frequencies. I know that ANC gives an added advantage of less noise and more sound, but I couldn't notice a significant difference. When it's turned ON, I observed a slight change in the tone [of music], and when it's off, I could hear the sound in excellent clarity. In both cases, the ambient noise was on the same level. I mean, I didn't notice a significant change in the reduction of ambient noise, but it was quite low.
Battery Life
In terms of battery life, the Mixcder E10 wireless headphones impressed me a lot. Even though the company claims that Mixcder E10 offers a whopping 30 hours of playtime, but it was nowhere near to that. I was getting around 12+ hours, which is the decent battery life for wireless headphones. Also, the other advantage is that it supports fast charging. I was able to juice it up in almost 1 hour, 20 minutes, and it continued to power for a week to me [my usage cycle is different].
Enabling ANC reduces life by at least 25%, so I hardly used it. The only thing that bothered me is there's no indication on the battery life. Unless it's connected to a smartphone, I couldn't find any other way to check the battery life.
Pricing & Availability
Mixcder E10 is priced at $89.99 on Amazon [for the U.S.], and you can use the promo code MIXCDER10 to get 10% off. The headphones are also available on Aliexpress [for non-US], which priced in the same range.
Pros & Cons
Pros
Compact Design
Sound Quality & Clarity
Battery Life
Cons
Bass could be better
Battery Level Indication
Not the finest ANC
Verdict
When it comes to choosing a wireless headphone that supports low latency and is comfortable to carry around, the pricing is a significant factor. The majority of these features come in headphones that are a bit costly. It is where Mixcder shines. Their newest addition Mixcder E10 has some flaws, but that doesn't make it a wrong choice. It has got fantastic sound quality and the best battery life I've seen in a headphone that comes under budget. So, should you buy it? Yes, and without hesitation.
P.S.: Don't fall for ANC. If ANC is your primary requirement, then you should look at other alternatives.