Quantum Hi-Tech, the brand known for delivering the quality consumer electronics has been around the market since the '90s. The company has recently launched a Li-Ion powerbank with 12500 mAh capacity. I got a chance to test it and here's my opinion of using it. But before we proceed, let's take a look at the key specifications first.
Quantum QHM 12500 mAh Powerbank Key Specifications:
Powerbank Capacity: 12500 mAh
Input Power: DC 5V/2A (MAX)
Output Power: DC 5V/2A (MAX)
Ports: 3 [+1]
Life Cycle: > 500 times
Battery Type: Li-Ion A Grade
Quantum QHM 12500 mAh Powerbank Review
Design & Build Quality: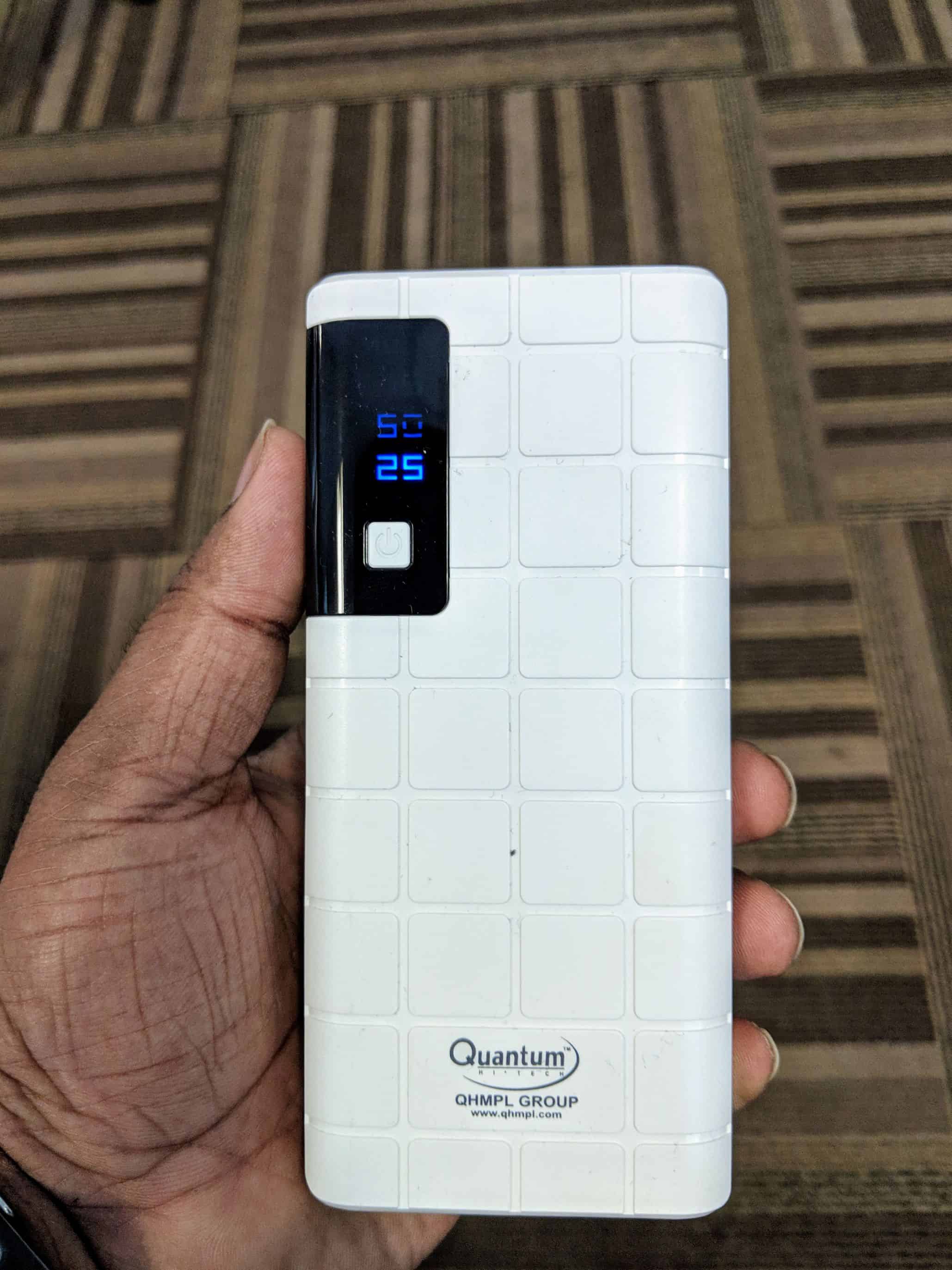 In terms of design, the Quantum QHM 12500 mAh is a hard-plastic build with a tiles design all over. The LED display [blue] is at the top-extreme left, which acts as a battery indicator. There's a button right below it which has multiple functionalities. On pressing it once, it turns-ON the powerbank as well as lits the indicator, and on twice, it does the opposite. Holding the button continuously will turn on the torch, and to turn it off, well, just hold it again a little longer.
There are not two, but 3 output ports and all of them support fast charging [upto 10W each]. Along with that, even the power input port which sits at the top also supports fast charging [5V/2A].
In terms of build quality, the powerbank is quite rigid, bulky and definitely won't break even after hitting the ground from a certain height.
Protection
As it is Li-Ion packed, there's a RISC Micro-Processor controller which protects the IC from different anomalies. The same controller also enhances power efficiency and enables the fast charging by protecting both powerbank and connected device from the surge currents.
Performance & Efficiency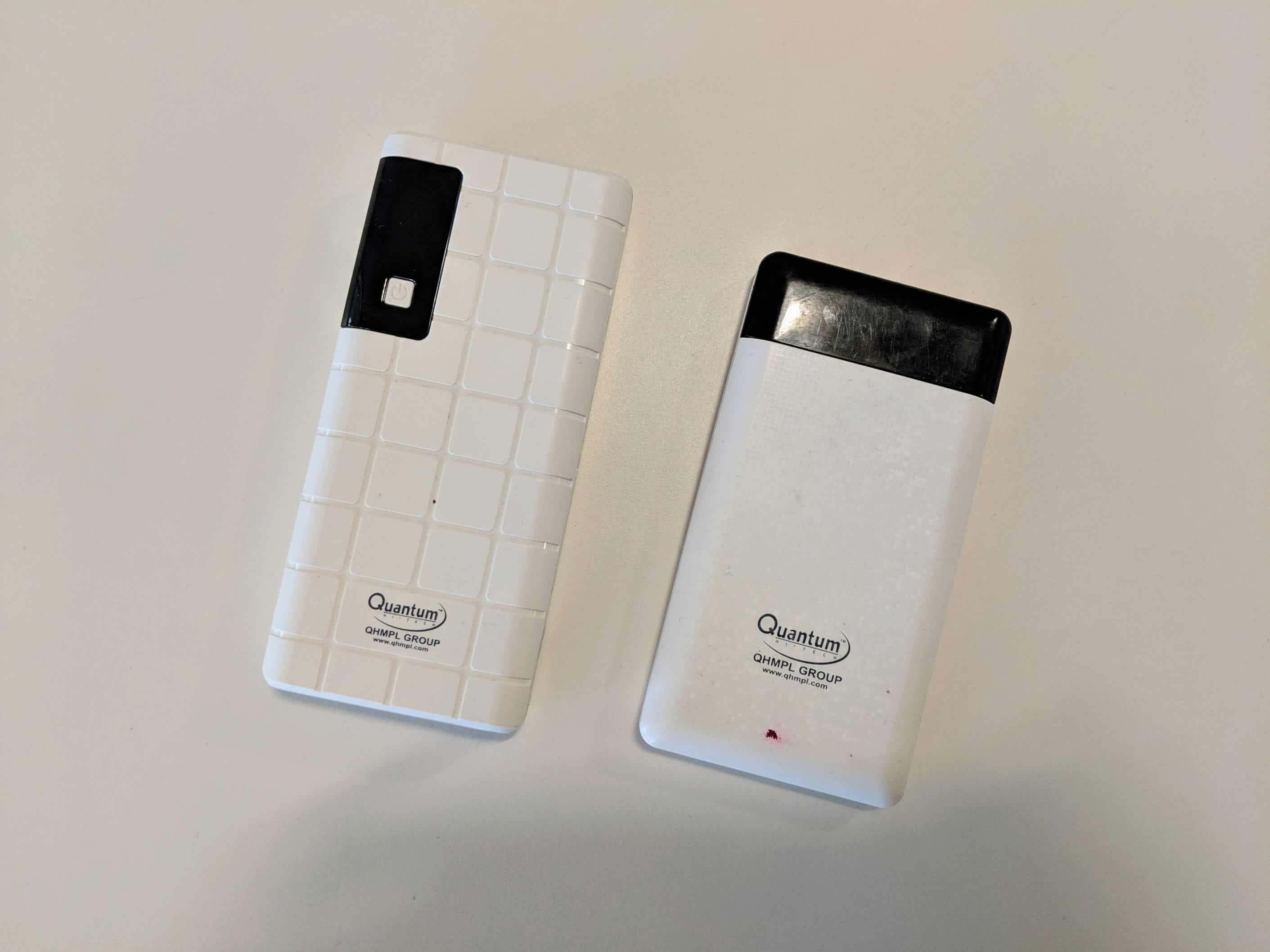 Previously, I was using Quantum's QHM 10K mAh powerbank which is light-weight and supports fast charging as well. When it comes to the new powerbank i.e., QHM 12.5K mAh, it's bulky and requires more space in the backpack. Well, it's quite obvious why it's heavy as it's Li-Ion packed, and the previous one was Li-Po. In my earlier review, I've clearly given the differences between Li-Ion and Li-Po and would highly recommend you go through it once. Though each one has its own pros and cons, there's a great difference in terms of conversion efficiency.
It's quite a big advantage to have a higher capacity, more ports but the weight becomes a clear differentiator for the mobility. The more the weight, the less likely you'd be carrying it, but again, isn't all the Li-Ion powerbanks are bulky?
Moving further, I charged the powerbank using a 5 V/2A adapter overnight i.e., almost 8 hours to make it fully charge-up. For testing the conversion efficiency, I used my daily driver – Pixel 2XL and tried charging it in various instances like –
The capacity of powerbank was at 100% and the phone was in 10%
The capacity of powerbank was at 50% and the phone was at 50% etc.
Out of all the tests, the powerbank used to juice up my device faster, but a little bit slower than the traditional adapter. But again, the adapter was 18W.
A fully charged powerbank could power up my device thrice, and I've repeated the same test again, and again, to determine the efficiency and it's always '3'. This concludes that there's a loss of almost 15% and makes the conversion efficiency as 85%.
I'd say that's quite not bad for a Li-Ion powerbank. Besides charging up the devices, there's a torch which doesn't work as promised. The light intensity is quite low, and I don't think it comes handy in an emergency.
Well, that's my brief review of the new Quantum Hi-Tech's QHM 12500 mAh battery, and you can purchase it from here. Do drop your questions in the comment section if you've any!