The latest stuff in the Android world is the new lineup of smartphones called Android One, let's take a look at what it offers and why anyone should go for it.
Yesterday was a big day for both Google and three smartphone manufacturers who partnered with Google to participate in the Android One program for bringing new Android One smartphone in the market, which have good features, looks really good and the most importantly, affordable. I faced many types of questions from people regarding Android One. People have some doubt regarding the new line up, so I thought of clarifying their doubts. Here, we will be providing a general FAQ and discuss a few more things related to Android One. Let's start with the FAQ.
1. What is Android One?
Ans: Many people are in doubt what it exactly is. Let me clear that doubt. It is not any new version of Android nor any new kind of handsets. It is a program initiated by Google so that Android handsets can be more affordable, and it can have all the essential features a smartphone has. Last year in the Google I/O Senior Vice President Sundar Pichai announced Android One and he also shared some of his personal experiences, like he took India and stated that when he visits home i.e. Chennai he sees that majority of the population does not have access to smartphones.
2. What will be the price range of Android One smartphones?
Ans: In the Google I/O Sundai Pichai stated that the Android One smartphones will cost very less and they will be priced as low as $ 100, here we can see a little changes in the price. But don't worry, Google almost fulfilled its promise. The first three of the Android One smartphones cost less than Rs 6500. The Micromax Canvas A1 costs Rs 6499, while Karbonn Sparkle V and Spice Dream Uno cost lesser, at Rs. 6399 and Rs 6299 respectively. But in case of features vs price, I loved the Spice Dream Uno.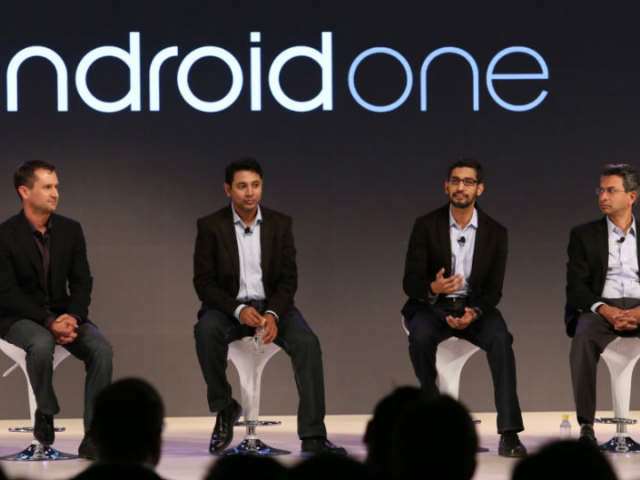 3. What will Android One smartphones offer?
Ans: In all the Android One smartphones, you will get the stock Android ROM which is smooth and fluid enough. And that is similar to Moto E, so Moto E may get some tough competition from the Android One smartphones because there are a few reason which may attract consumers, first is the front camera which is absent in Moto E, next is the updates from Google and in India, people love everything they get for free and with Android One they are getting 200 MB 3G data per month for Google Play downloads and will also be able to download OTA updates without spending a single penny on data plans. Also, if you buy one of them, the first thing you will get is the latest Android Kitkat 4.4 out of the box, and as Sundar Pichai said, the phones will be the first to get the Android L upgrade, which I think is great for most people. In case of hardware, the phones have 5 MP snapper along with a 2 MP front camera, 1.3 GHz quad-core processor and 1 GB RAM. For storage, there is 4 GB of ROM, in which you can use 2 GB for apps and media (will vary across devices).
4. What is special in case of built and design?
Ans: Till now, we have seen just three of them and all of these look great. And Cesar Sengupta, VP, Product Management, stated that the brands will come up with more designs in the upcoming months.
5. Which brands will be making Android One smartphones?
Ans: This is the start up, and till now three well know Indian brands collaborated with Google to participate in this project. For now, you will get Android One smartphones from Micromax, Karbonn and Spice only. But in future, brands like Asus, HTC, Acer, Xolo, Panasonic, Lava, Intex, Alcatel and Lenovo will join the alliance. That means, more and more Google certified devices will be introduced in the future.
So, these are the Top 5 FAQs on Android One, many people have some doubt about the quality ad success of this new line up. "Have you ever bought a Micromax smartphone?" Then what's the problem with Android One smartphones? They are from those companies which you are familiar with for a coupe of years and you have been trusting them. Moreover, Micromax has now beaten Nokia to be the number one manufacturer in India, and the above FAQ clearly shows what are the advantages of buying an Android One smartphone. So guess it is not a bad step if you are planning to buy an Android One smartphone.
Check out: Micromax Canvas A1 and Spice Dream Uno Android One smartphone