Apple's next big thing is the Apple Watch, but is it really gonna be a hit or a flop? Just like it failed with the Apple II in its earliest days? Well, Business Insider points out a fact that may be hard to digest for most of the Apple fans, but the fact is that people are more interested in other iconic Apple products like iPod, iPad and the iPhone.
May be, Apple watch got some hype at the time it was launched but common people are losing interest fast and Google Trends has proved that well. Here is the data which was obtained from Google, which shows the comparison graph between searches related to Apple Watch and other Apple products like iPod, iPhone and iPad.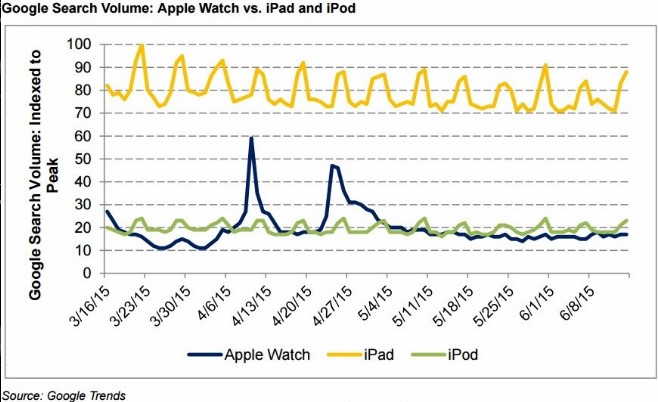 Even during the launch period, Apple Watch didn't even come close to iPod or iPhone, which has kind of repplaced the iPhone as a digital music player as well. And iPad is domination the search trends with a high graph. apple haa big plans for the future, and Apple hopes that it will be able to sell 24 million Apple Watches by 2016, but is it really possible? As we can clearly see that people don't have interest in this particular Apple product.
Even in a developing country like India, where people are now far more conscious about tech do not seem to care about the Apple Watch. But people are of course after other Apple products including the iPod and iPhone, particularly.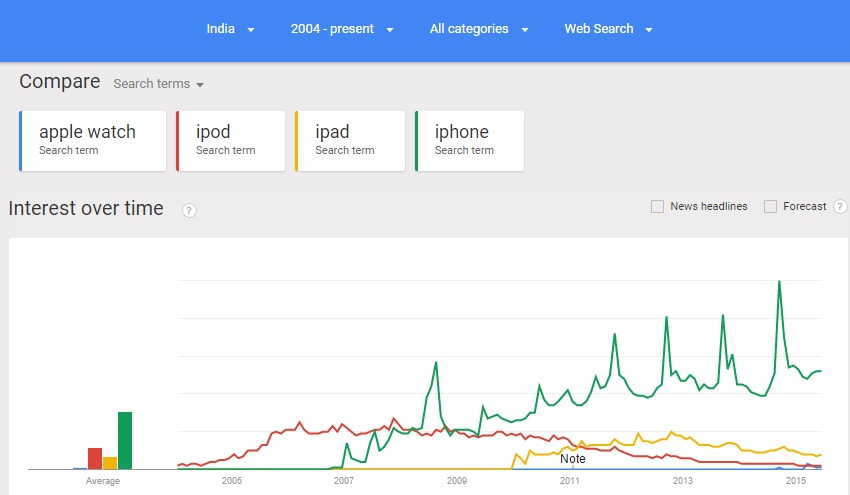 In the above graph, you can see the Google trends for the keywords Apple Watch, iPad, iPhone and ipod in India, which also is not a good news for Apple, if Apple wants to grab market in the developing countries like India, the only way is to may be setting up an assembly centre in India which will eventually cut down the cost of most Apple devices.