For the past 6 years, we've been writing insightful stories on iGadgetsworld but we never had a chance to actually try out making videos due to various factors. The new Content creators have actually shown ways on how they could produce content with basic equipment, and it's quite astonishing. Nonetheless, I believe that the harmony between video and audio is what makes content great.
Now that we have got the ground-breaking tech for video-recording in smartphones, we can produce cinematic videos, but audio recording is always a problem. There'll be too much noise, and disturbance and it had to be removed in the post-production. However, using an external MIC, you could solve the issue. But choosing the right one is again a big task. Not every smartphone supports external MIC, and you'll always need a third-party connector to actually record the audio from it. You could always go with voice-over/dub in the post-production, but that doesn't help if you want to go live.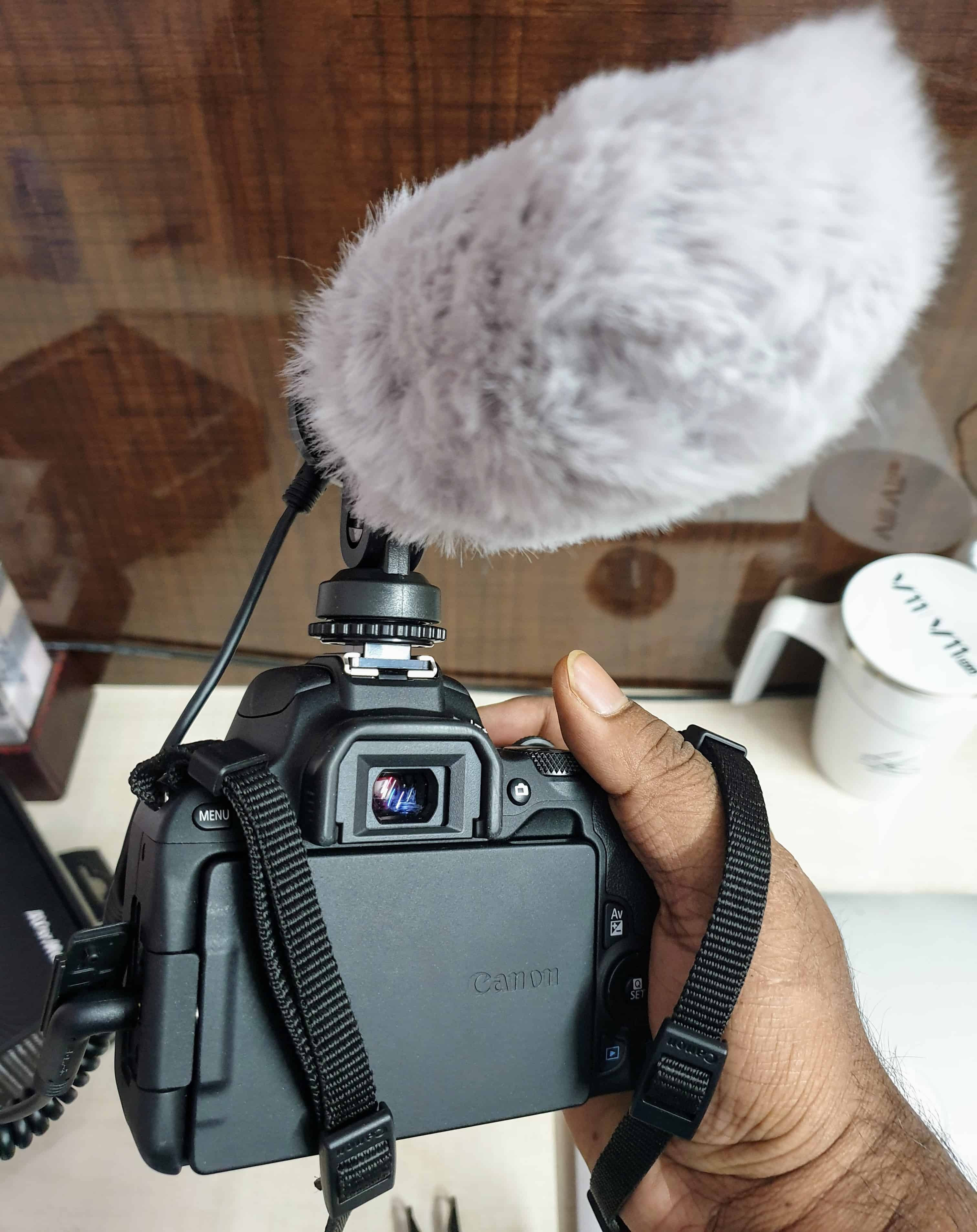 When AVerMedia contacted us to review their Live Streamer MIC 133, I was very much interested to try it out…because you know, I'm also the kind of the guy that would do the voiceover/dub in the post-production, but not the live audio recording. Although I'm familiar with that, I never really got a chance to test it out. So, that's it, I readily accepted, and a few weeks back, I finally got my hands-on AM 133 MIC. Here's my brief experience using it.
AVerMedia Live Streamer MIC 133 Review
Before I share my opinion on AM 133 MIC, let's take a look at the key specifications.
Type: Uni-directional condenser microphone
Polar pattern: Cardioid
Output: 3.5 mm Jack
Sensitivity: -37 dB ±3 dB at 1 kHz, (0 dB = 1 V/Pa)
Impedance: 1.5 K Ω
S/N Ratio: 60dB
Frequency response: 20Hz ~ 16kHz
Maximum SPL: 110 dB
Design & Connectivity of AM 133 MIC
The AM 133 MIC is a uni-directional MIC with cardioid pattern. It's quite compact and super lightweight. It only got one input port at the end where you'd be connecting the 3-Pole audio connector which goes to either your smartphone via 4-Pole or to your DSLR/Camcorder/laptop via 3-Pole.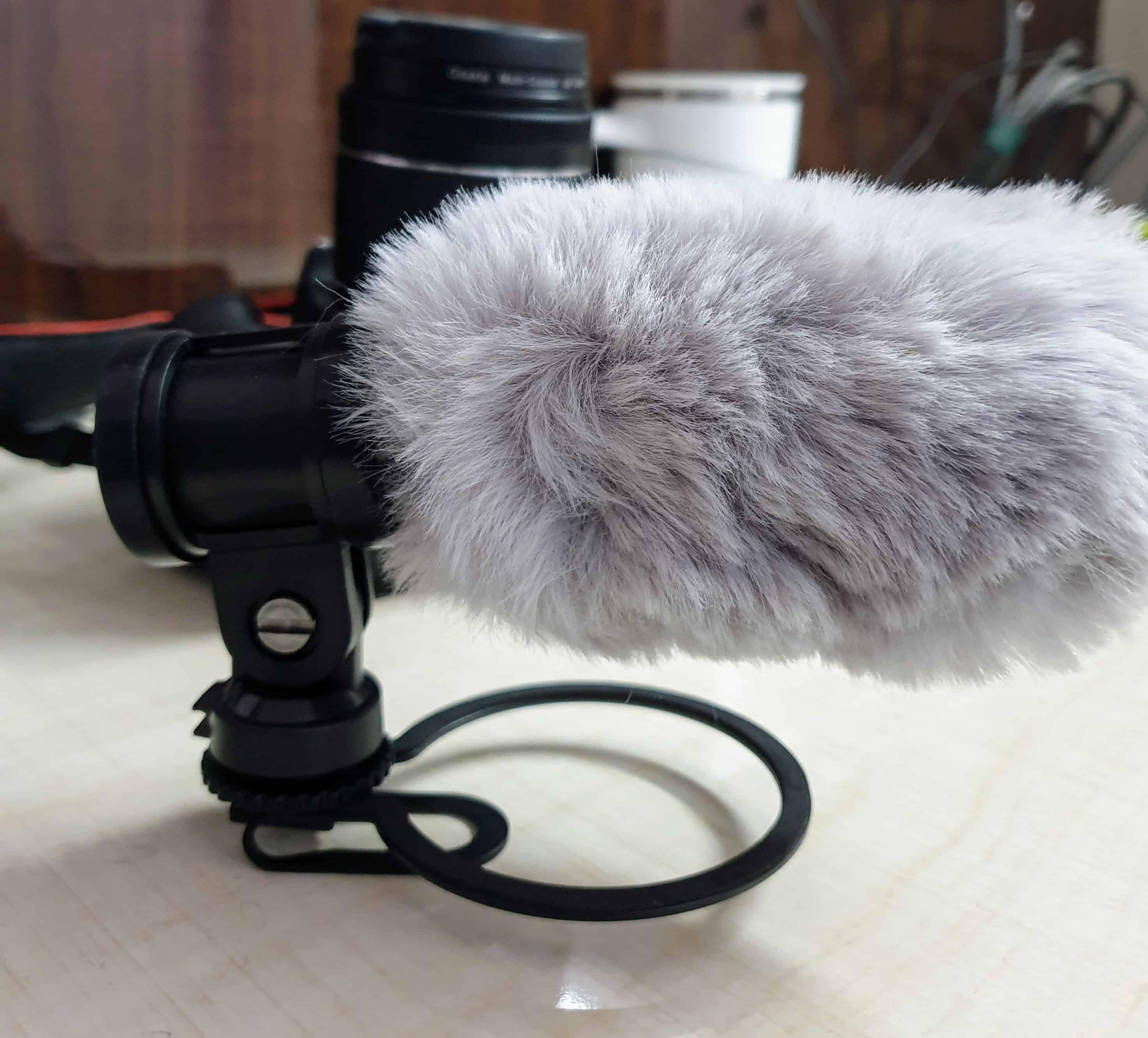 There isn't much to talk about design as AVerMedia kept it as minimalistic as possible. Browny points for that. Along with the AM 133 MIC, you'll get a hot shoe mount which is required to mount the MIC on the DLSR. There's a metal stand in the box, which helps to keep AM 133 MIC stable when connected to Laptop/MacBook. As AM 133 MIC can be connected to all devices [literally], you'd be getting a 3-pole to 3-pole 3.5mm cable and a 4-pole to 3-pole 3.5mm audio adapter cable. If your smartphone/iPhone doesn't have a headphone jack [where are my manners], you need to get a USB-C/lightning cable to 3.5mm adapter separately.
Recording & Sound Quality of AM 133 MIC
I'm using Samsung Galaxy Note 9 as my daily driver which has a headphone jack [releived], Canon 200D for video recording, and of course, a MacBook Air. To test the AM 133 MIC, I used all the aforementioned devices and it was quite easy to connect it as everything came out of the box.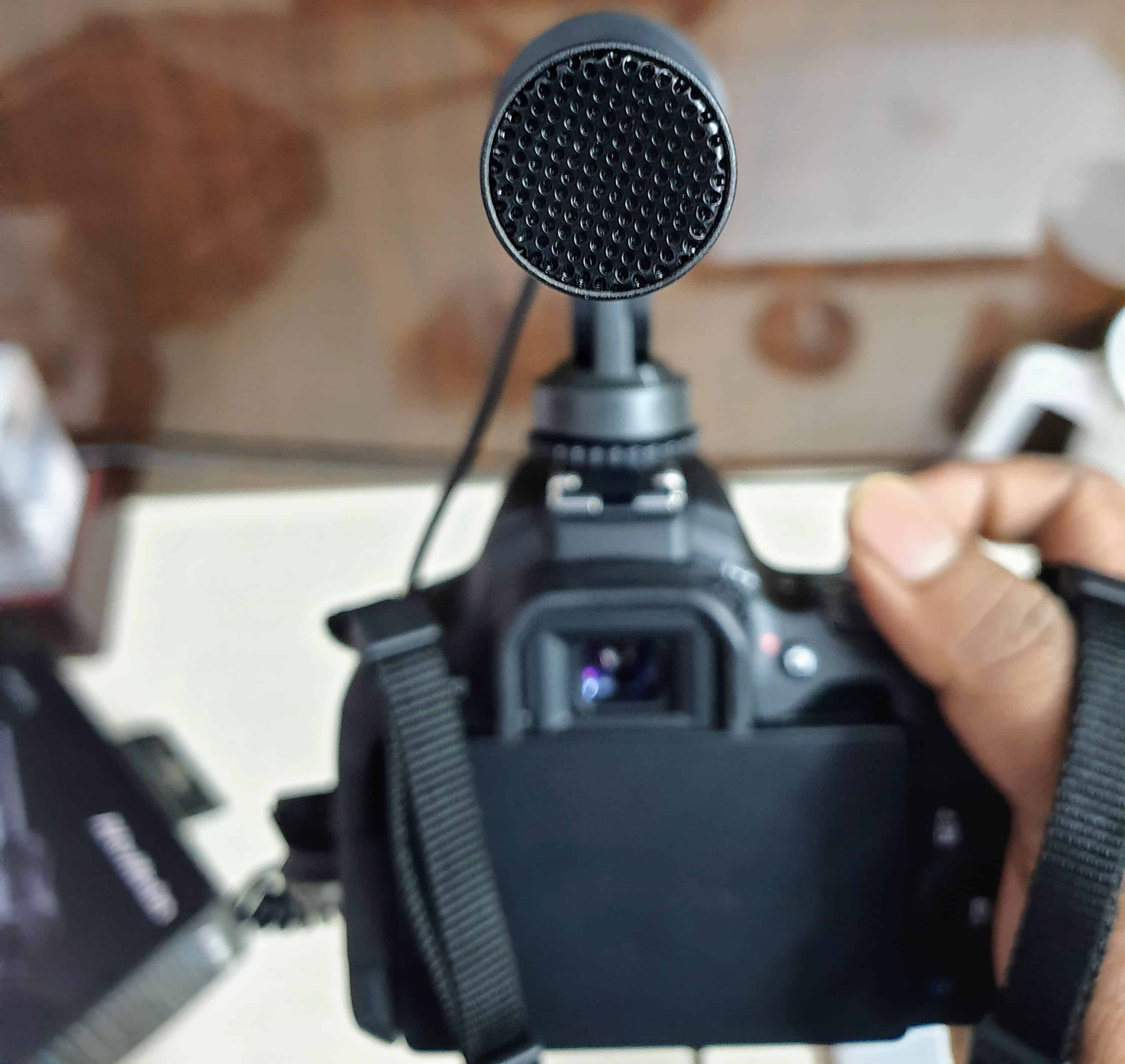 Maybe it's just me as there was a bit problem installing in the mount as I felt I'm going to break it. Anyway, the connectivity is hassle-free. I Just connected the 3-pole to 3-pole 3.5mm jack, and it's done. I've also tried connecting the MIC to MacBook Air and again faced some issue with the metal stand. Although the weight of the AM 133 MIC is very light, the metal stand isn't that stable. You've to adjust it properly to make it stand.
I've also used the windscreen that came along, and I had to be very careful inserting it as it gave an impression of tearing very easily.
After a couple of try-outs, I fully managed to do all these at-ease. As mentioned before, it could be just me, and you might not face such issues.
Let's talk about the main part – the audio quality of AM 133 MIC
I've actually tried recording a montage, but it didn't come out well. Although my main job is to test the audio quality, so I didn't want to reshoot. The scenes were to depict the busy life of Bangalore streets which are filled with loud horns, sellers' calling out people to purchase their items, people talking, a bit of music coming out from the barber shops & Taxis, etc.
I know that I should be using an omnidirectional MIC to record in such an environment but my major objective is to record my voice in such an environment. I'd say, it didn't come out well as expected, but the quality of my audio is quite good.
I went back to my flat and tried out in-door recording. For that, I've connected it to MacBook Air and used Audacity to record the audio. The place where I live is always filled with vehicle noises, and I have a habit of open at least one window in the hall, so I always listen to everything that's happening around, but it won't be that loud. This shouldn't be a challenge when recording using a unidirectional MIC and that too with a cardioid pattern as it only records the sound coming from one direction.
I've tried both the cases of with & without the windscreens and noticed a subtle difference in the quality.
Without the windscreen, there's a little noise which is obviously the outdoor sounds, but with the windscreen, it was stopped completely. For the comparison, I've also tried recording with the in-built MIC of MacBook Air, and it hasn't got the sound quality as same as the one with the AM 133 MIC.
Why don't you listen to some of the samples of AM 133 MIC for yourself?
I know the content doesn't sound interesting at all, but listen to the sound quality. You can clearly observe the difference in vocals in all 3 cases. My understanding is that the windscreen came within the box is good, but recording without it is proven to be the best for indoors.
Final Verdict of AM 133 MIC
Should you buy it? Well, if you're a wannabe content creator or a social media celebrity, or a new vlogger, and wants to take your content quality to the next level, then I'd totally recommend you to purchase this. It comes with everything that you need, and it's as simple as plug and play! For the price range, you can also purchase the Rode MIC, or just get started with a lavalier one, but it all comes down to one thing – for great content, it's better to go with something that records as natural as it is!