Welcome to the futuristic world.Gone are the days we used our phones just to make or receive calls. It's not just the content or retail industry, health care is here to stay. When it comes to health, there are apps to keep you fit, to keep count of your calories, and even to remind you when you need to drink your next glass of water! Here's an app that keeps you connected to your doctor – your hospital.


Credi Health Pvt Ltd brings you a health app that helps guide you to both search and provide detailed profiles of doctors in hospitals across the country. Now, choose from several online clinics and request a call back for more information on any hospital in India.
Credihealth mobile app provides consumers with a simple interface to find answers to their medical questions and has the following features:
Search Doctor, Hospital and Diagnostic Tests
Book Appointment instantly
Detailed profiles of Doctors and Hospitals – Allows the user to make the decision on the basis of number of years of experience, education and other details
Online Clinics – Categorized information as per medical Specialty
Emergency – Contact details of emergency department of near-by Hospitals and one-touch call feature
Request A Call – If the user is confused about selecting a doctor or needs guidance, he can request a call from Credihealth
The main reason why this app is more than vital for everyone to download is because it gives its users access to emergency contact numbers of hospitals. At your time of need – this is the one app to be on. Credihealth is an online healthcare marketplace focused on giving detailed info about tertiary care medical problems such as an oncologist or orthopedic to patients- all for free.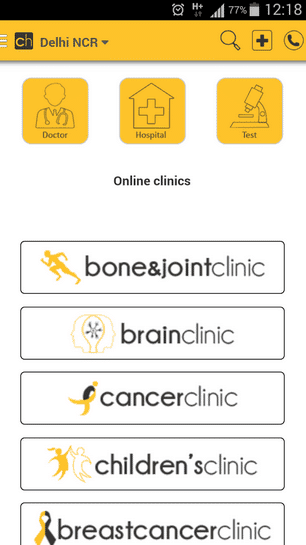 Credihealth is different from the other players in the market as it does not charge any money from its patients. The founders of this Gurgaon-based startup came together with a common agenda – to start the right cost movement in India. The company motto is to ensure that people take informed healthcare decisions. The app went live soon after the website was launched early late 2013. Although majority of traffic is received on the website, the app is slowly getting noticed in the healthcare industry.
Stay one step ahead of everyone – download the Credihealth mobile app today and join us to help re-shape the Indian healthcare system. Let's bring change – one person at a time.