This year have been a pretty amazing for the gadget and smartphone world, but also it has been a year full cold wars between the gadget makers and e-commerce kings in India. This year, big brands like Toshiba and Lenovo warned customers not to buy their products from Indian e-commerce sites like Flipkart, Amazon India and Snapdeal as they mentioned the reason that they are not their authorized retailers. Recently Gionee released such advisory asking the customers not to buy products from online retailers. So, the people who are aware of this advisory are now confused, whether they should buy from a retail shop or they should buy from e-commerce sites where they can gte the same product at a sufficiently lesser price and attractive offers. Here's the statement from Mr. Sudhin Mathur, Director, Smartphones, Lenovo India:
"What we have noticed in the past few months is that some of these sites, and largely due to a marketplace kind of a set up, there are a lot of resellers that have cropped up, which are selling at very low predatory prices. These we believe may or may not be an authorised or genuine products." 
And here's the official advisory on Lenovo's  official website.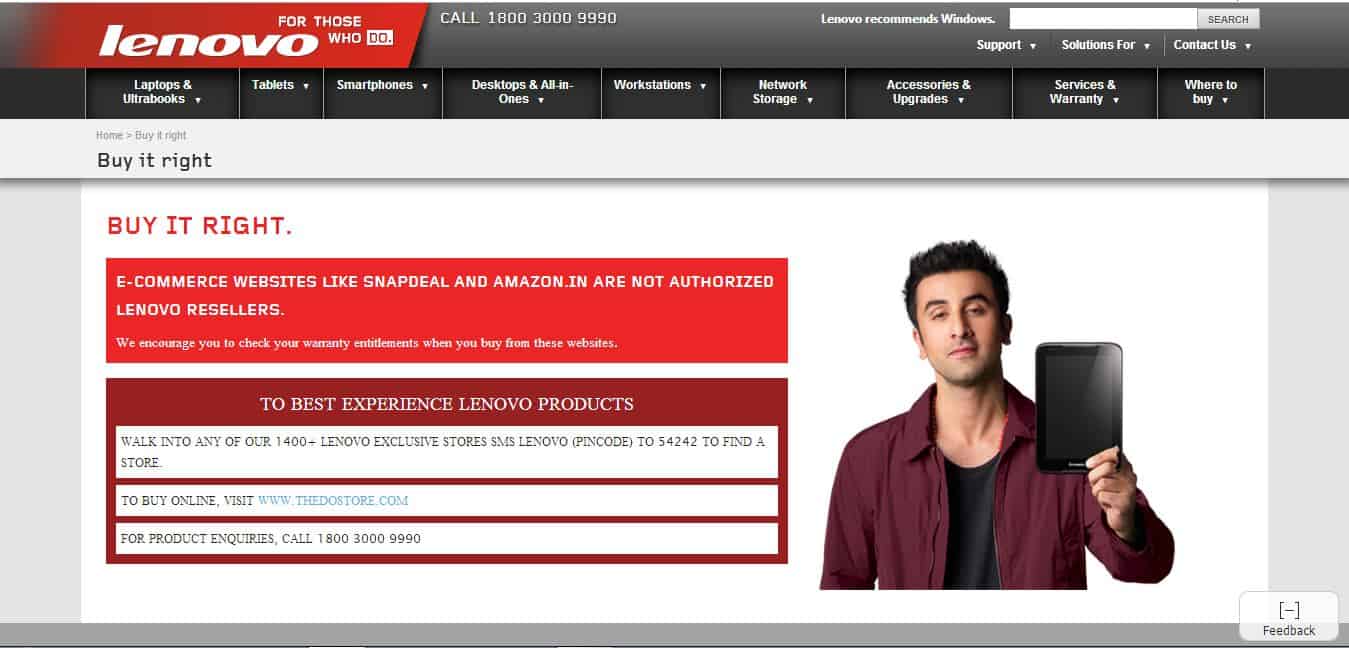 "Toshiba India does not have any direct arrangement with e-commerce websites, and they are not authorized to represent about the quality or fitness of any Toshiba-branded product,"  that's what Toshiba had to say in a statement in The Hindu, but the main point if we look into is that one third of the e-commerce purchases made in India are only electronics and gadgets, and this is the only factor I think that has boomed the e-commerce in India to such a huge extent. Earlier, one of the best camera brands Nikon also published an advisory: 
"Please note that e-commerce websites like Flipkart (Flipkart Internet Private Limited) and Snapdeal (Jasper Infotech Private Limited ) are not our authorized partner/dealer in India, we advise you to check the warranty entitlements while buying from online portals."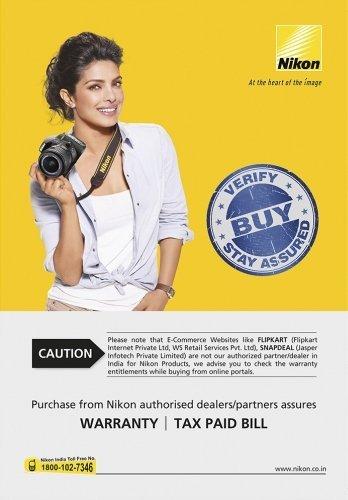 Following Toshiba, Lenovo and Nikon computer and laptop maker Dell also issue a public advisory which stated the following:
Snapdeal.com is not a Dell authorized reseller and Snapdeal.com is not authorized to make any representation for and on behalf of Dell products, benefits and entitlements.
Dell products purchased from / on Snapdeal.com shall be entirely at your own risk, cost and consequences.
Dell may not honor any representations, benefits, entitlements made on Dell products by /or Snapdeal.com.
Instead, Dell has suggested that customers purchases good from Compuindia, which is their authorized online retailer in India.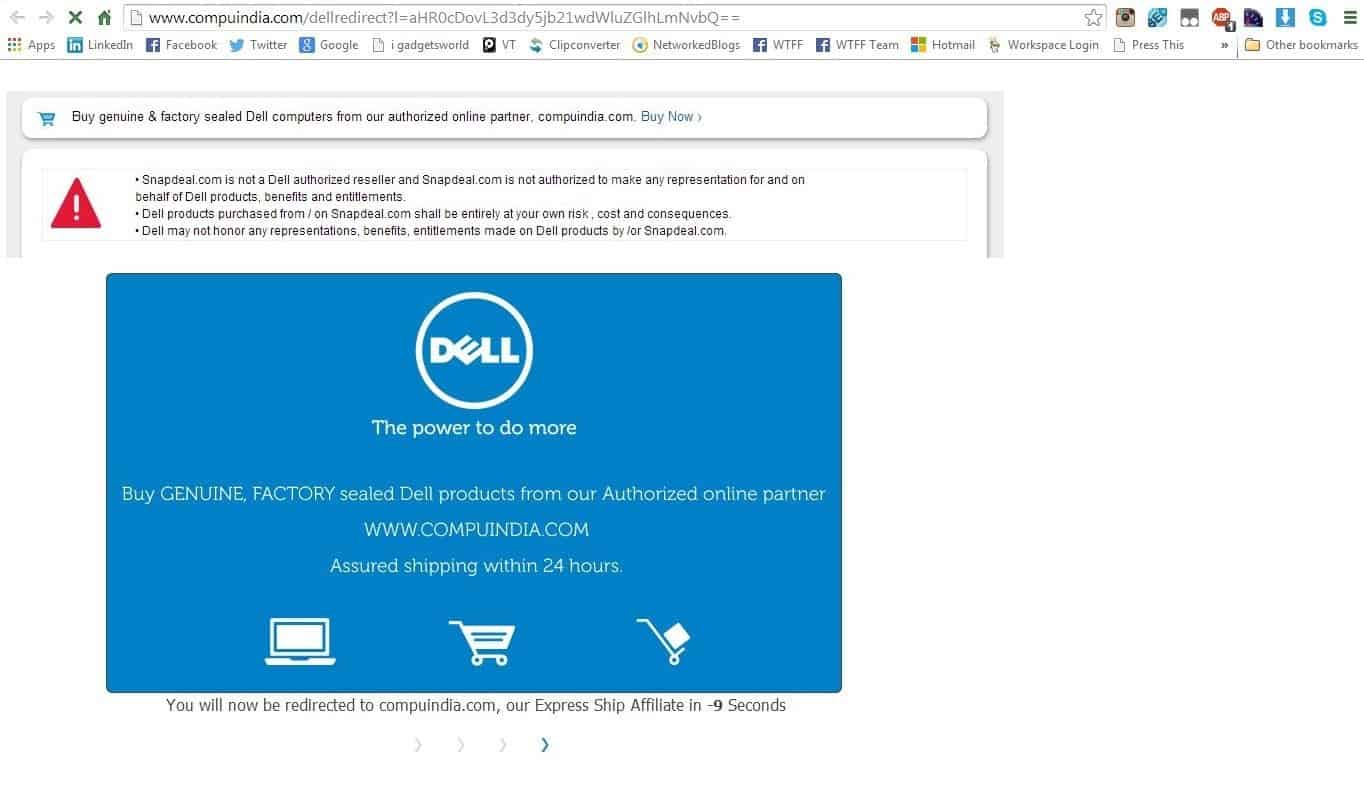 Scared about all these things? Well, now let's have a look to what e-commerce spokesmen said to Tech2:
"We can assure our customers buying Lenovo products on Flipkart.com that they are genuine. Customers will continue to enjoy the warranty and services extended to all original Lenovo products as always."- Flipkart
"Snapdeal.com is an online marketplace where authorized sellers list their products on the platform. We take utmost care to list products only by those sellers who have the necessary authorization to sell these products. Customers can rest assured that all the products including Lenovo and Toshiba products which are available on Snapdeal.com are genuine and eligible for warranty."- Snapdeal
On The Hindu a Amazon spokesman said, "Sellers are contractually obligated to list genuine products with manufacturer warranty. This applies to all brands."
So, what you should do? Go for a physical retailer or you should rely on the online retailers, who also provide you the same product at a cheaper price and have promised to provide warranty? If we look at some of the products exclusively launched online like the Moto G or Moto E, they are not available in any retail store. And it was Motorola who admitted that faulty Moto G's were sold out of Flipkart and offered replacement. In this case, Flipkart has nothing to do with the warranty or after sales services, Motorola has taken up all the responsibilities and having the warranty from Flipkart assures that you are a certified buyer. But, now as some brands are against the e-commerce sites, it is possible that next time you want into their service center they may fail to provide you after sales services. As we should always look after the gadget buying people, and always be in their favor we will recommend to do some research before buying a product and when you view the product be sure to check whether it is mentioned that the company will provide warranty or there will be just a seller warranty, if you see a seller warranty, better you forget about online shopping and go to a retail shop. Until, there is some kind of official tie up and a final solution to this online-offline battle, nothing much can be said. Just few minutes ago, somebody pinged me saying that Bangalore Police has also warned people through SMS against buying electronics from online retailers as they have anticipated that people may be victims of cyber fraud or economic fraud.