Gaming headset market is quite vast and is crowded with many top brands like Logitech, SteelSeries, HyperX, etc. Lately, some smaller brands are slowly expanding and EasySMX is one such brand. They delivered a few items to me but I was quite skeptical in the beginning. The package contained an EasySMX Cool 2000 Gaming Headset, which is a budget gaming headset and a gaming mouse.
I didn't have many expectations from the products, and it has been almost 2 weeks since I started using the EasySMX Cool 2000 Gaming Headset. I must admit that even the budget gaming headsets are worth spending the money on! Anyway, here's the EasySMX Cool 2000 Review. This time, I will just break the review into two parts – First I will talk about the things I like about this gaming headset and then I will talk about the not so great aspects of the headset.
EasySMX Cool 2000 Review – What I Like?
First of all, despite being a gaming headset dedicated to gamers only, it is flexible enough with connectivity options like USB, analog microphone and headphone jacks. Also, there is a splitter so that I can connect it to the laptop using the solo 3.5 mm jack. So, it is way more convenient than those gaming headsets which have just a headphone jack. Now, let's talk about the headset itself.
Design & Build Quality
It definitely feels good in the hand, a tad heavy, with large padding for the earcups and a flexible design, which will help most people wear the headset without doing any adjustments. There is a flexible mic that I can always adjust (And I need to- For some weird reason I tend to adjust it every now and then) and the best part is that it has got some funky LEDs.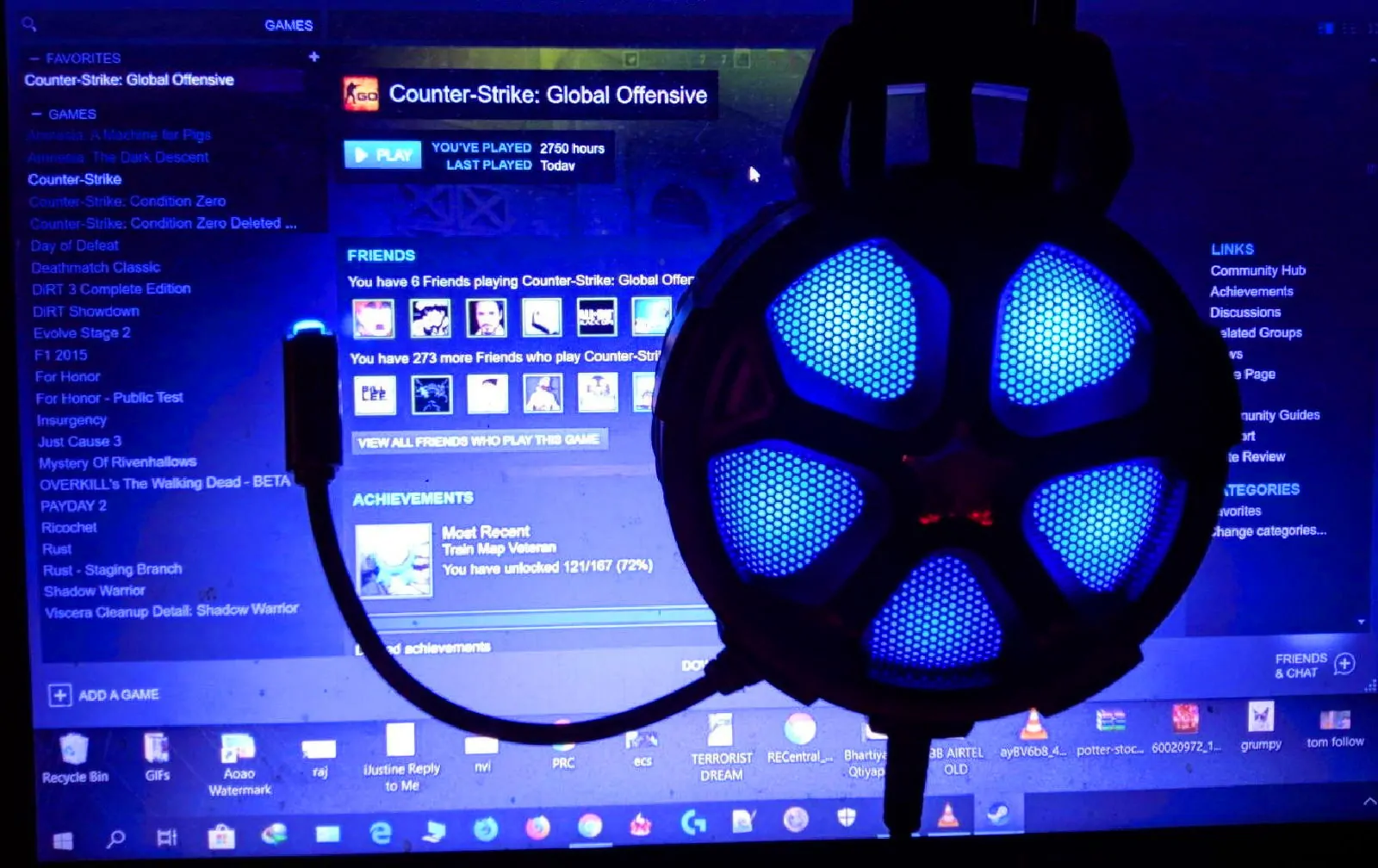 On the left earcup, there are two buttons- a button, that you can press to adjust the LED lighting and another microphone ON/OFF switch to turn the microphone on or off. Apart from these two, there is an inbuilt volume control wheel, which is very handy sometimes; the microphone emerges from the bottom of the left earcup and that is all we have.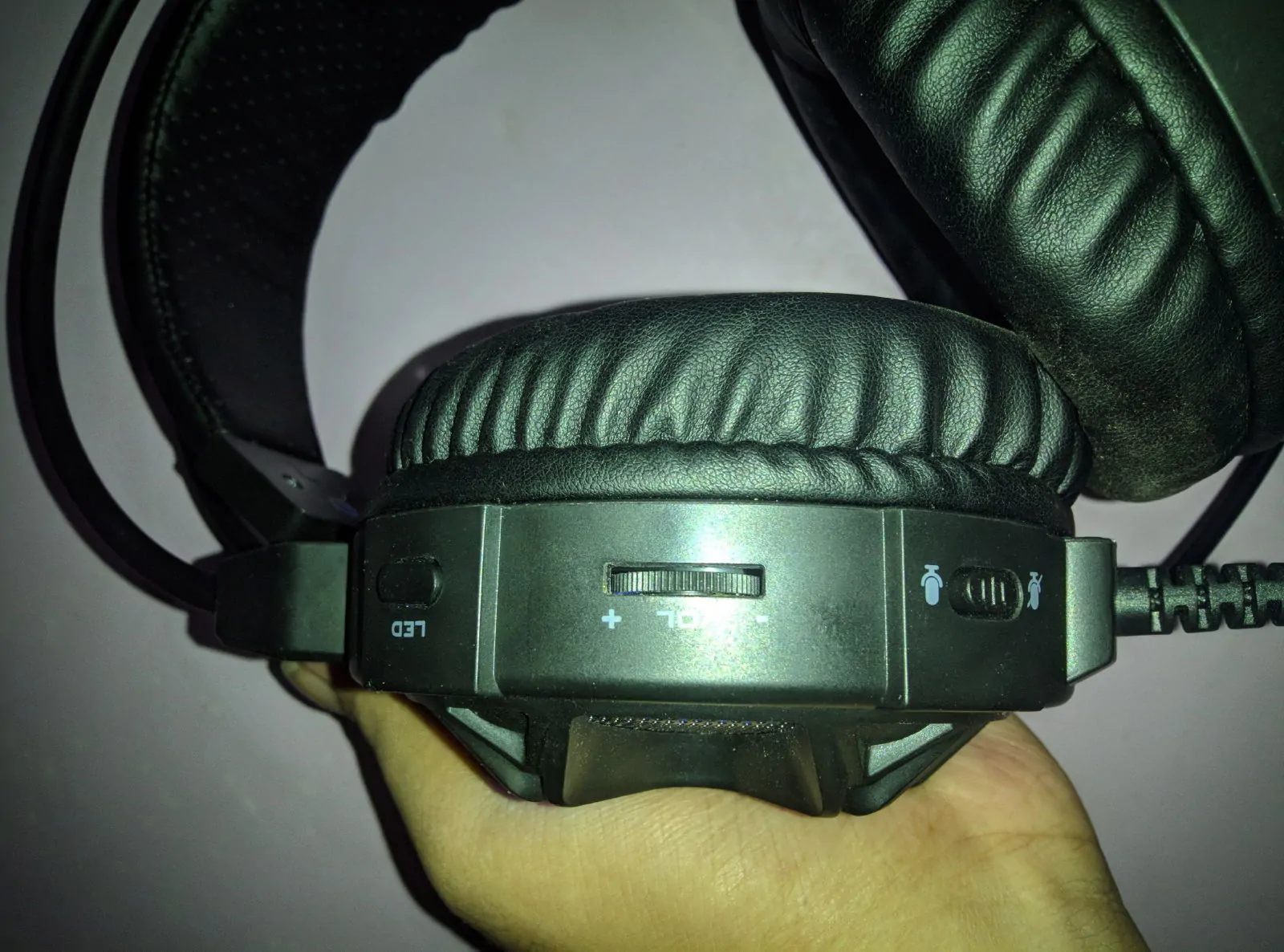 The right earcup is free from buttons or anything else. As far as I've tested, both the cups are connected by some sort of tubes along with a flexible metal like strip below the tubes, that is padded for safe and comfortable use.
Audio Quality
Now let's talk about the most important thing- Audio. I really didn't have many expectations from it given that they have spent on making it look shiny a bit, but oh boy, I was wrong!
The Cool 2000 by EasySMX has a sound output better than almost every gaming headset in this price segment. The sound output has a rich bass and the clarity is something that I quite enjoyed while playing Counter-Strike Global Offensive. In the game, the footsteps were loud and clear and even while someone was reloading standing at the opposite side of a wall or door, I could easily hear the sounds and that clarity is something that is often missed by the most budget gaming headsets.
Also, in games like Call of Duty Infinite Warfare, the action-packed cinematics with all the graphical excellence met with the rich sound output of the gaming headset ensuring good gameplay! The microphone is decent on this, but not the best I would say. It surely does pick up the sounds but the output gain is on the lower side. Nonetheless, I didn't have any issues in communicating with the teammates, despite the fact that the environment was kinda noisy due to the fan running all day! Still, do check out this audio sample recorded by it.
EasySMX Cool 2000 Review – What I Dislike?
The EasySMX Cool 2000 is surely a good pick, especially for the price you're paying. But there are a few disadvantages.
First of all, this is a gaming headset that is supposedly made for gaming only. Unlike many other gaming headsets that perform really well for music, this one actually feels not that great for listening to music. I tried every scenario, and I would like to say that while it is definitely a good gear for gaming, it is not for audiophiles. I even watched Detective Conan (Detective Manga Series) and Chernobyl (TV Series) and I didn't feel like I need to switch to a different headset.
Another issue that I faced was that while gaming for an hour or so at a stretch, say after one competitive match in Counter-Strike Global Offensive, I felt like I need to get rid of it for a while as it seemed that the earcups were pushing against my ear quite tight and made me uncomfortable. This is completely a case that could happen to only me or a handful of people I believe.
EasySMX Cool 2000 Review – Should You Buy?
Yes, you should, because at this price, there are almost no alternatives that I can suggest which will produce the same sound quality. Surely, there may have been some cuts made with the build, but with unexpectedly good sound quality and the funky LEDs, I can't complain much about minor issues it has with music and the fitting. So, if you're someone who is looking for a nice gaming headset at such an affordable price of $25, I think you can go for it.