Recently, we tried quite a few gaming accessories and a cheap gaming headset was among them. While I quite liked the product, in terms of the practical usage vs. value for money, I had two complaints against the product. So, EasySMX, the brand behind it again asked me if I'm interested to try out something else, and they sent the EasySMX VIP002D Gaming Headset. The name kinda feels awkward a bit but the headset is kinda delivering what I expect from every gaming headset. But well, this one's priced a bit higher at $42 on their website and otherwise, the price may go even higher!
I have been using the headset for the last two weeks or so, and I'm quite impressed with it. This time, it feels like I can use it for both gaming and for entertainment. Just like the previous one, I would divide the whole review into different sections so that you can easily find out your reasons for going for it. It is another headset that offers quite a nice value for money, compared to what it offers overall.
EasySMX VIP002D Review –
One of the biggest improvements here is the RGB lighting, which looks cool and well, most people prefer one because they can set the color as per their taste and choice. Also, instead of a tiny knob and mic button, there's a huge dial on the left earcup using which the volume can be adjusted easily. Also, the mic ON/OFF button is bigger and placed conveniently just under the volume dial. Sound quality is quite impressive and let's talk about everything in detail.
Design & Build
The headset is very very flexible and is designed for comfort. Many headsets kinda press onto ears and during long gaming sessions, it might be an issue for many. But this one has got soft and big earcups which perfectly fits, without hurting ears. I have already talked about the volume dial and mic button.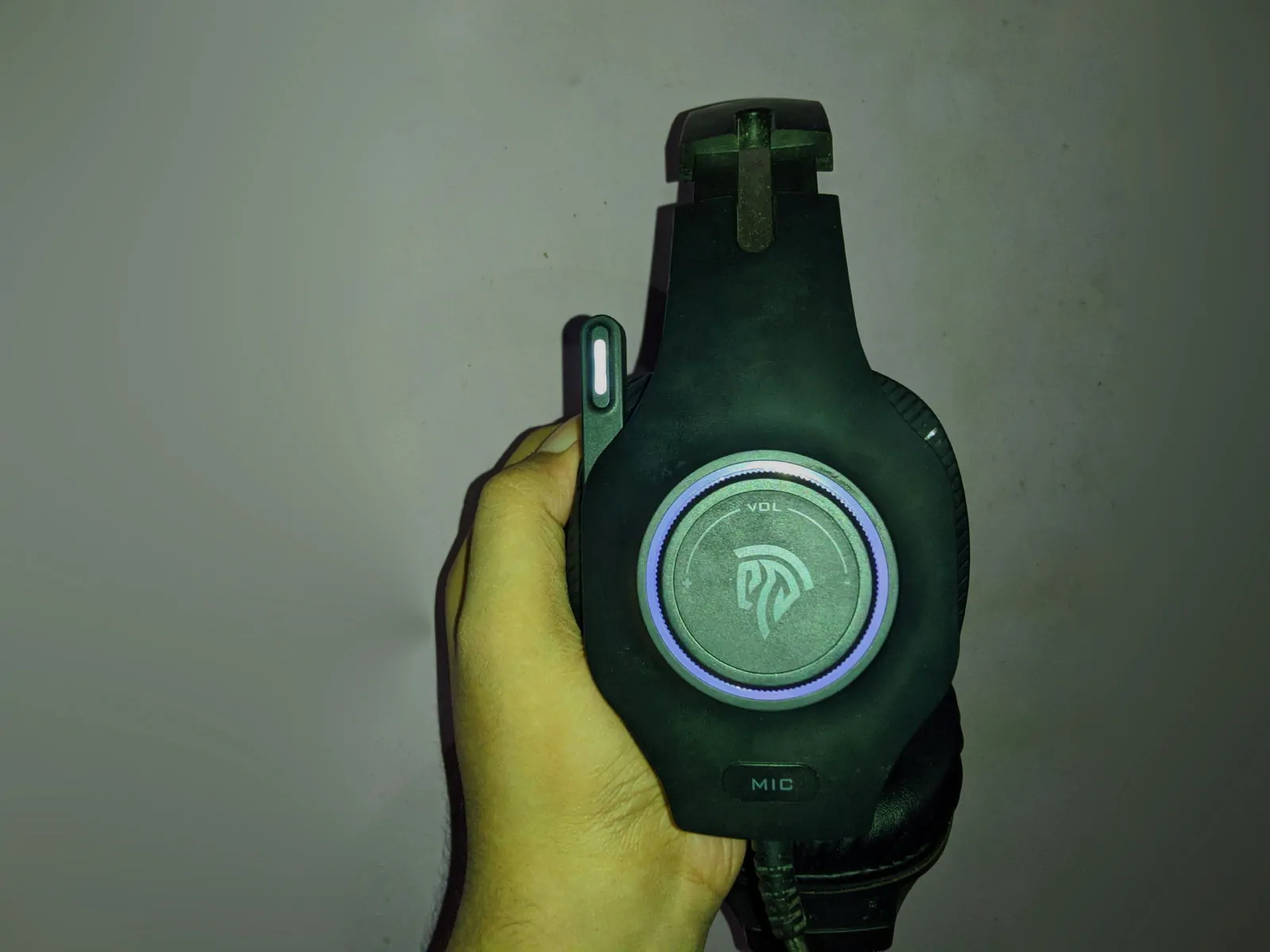 On the right earcup, however, there is another dial. This one is for controlling the RGB lighting. When you rotate it backward, it shifts the colors and the lighting is static, but when you rotate it forward completely, it switches the lighting to breathing RGB.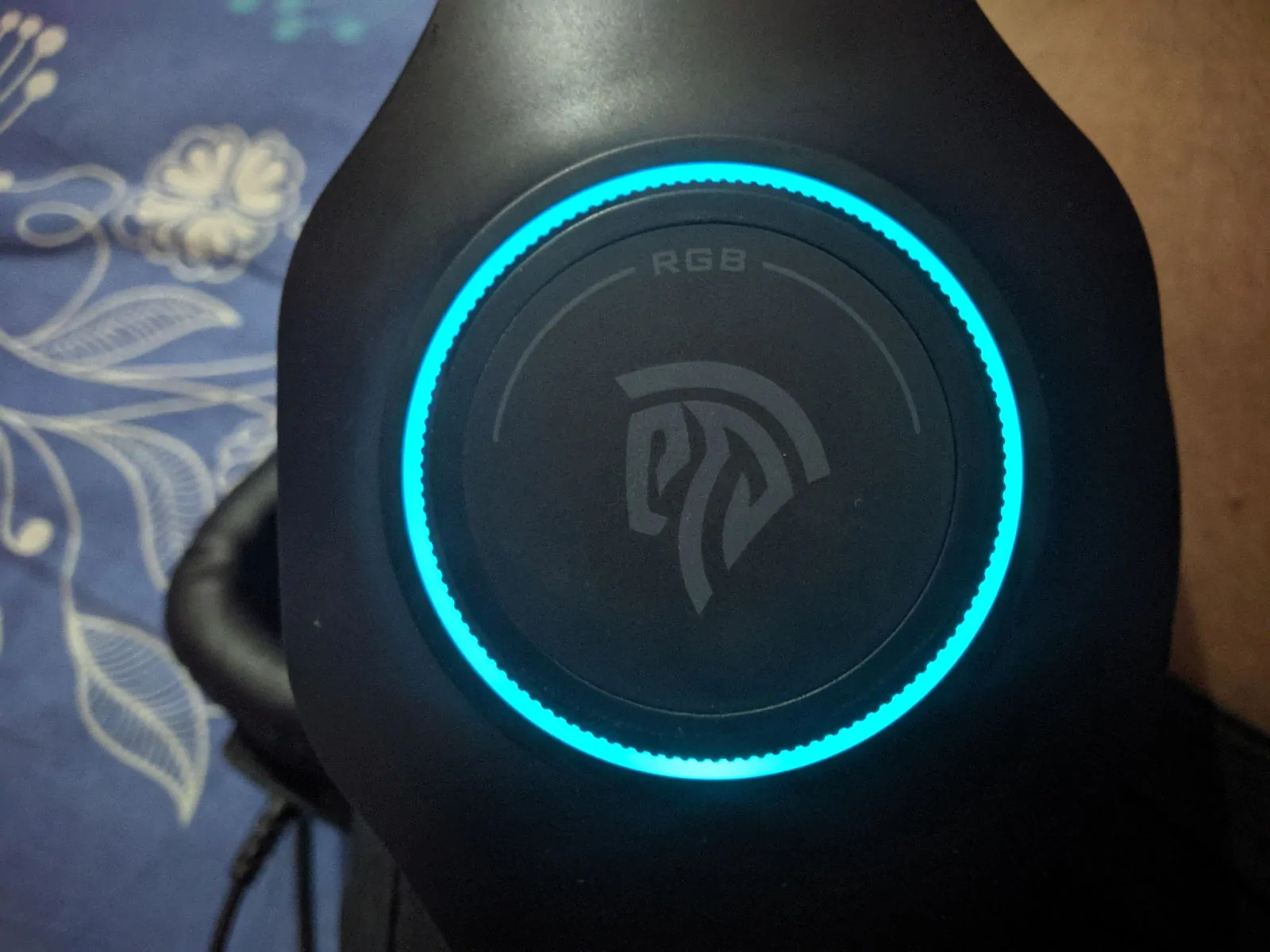 On the left side, there is the microphone, with a swivel mechanism and there is a small white LED light which lights up when the mic is on.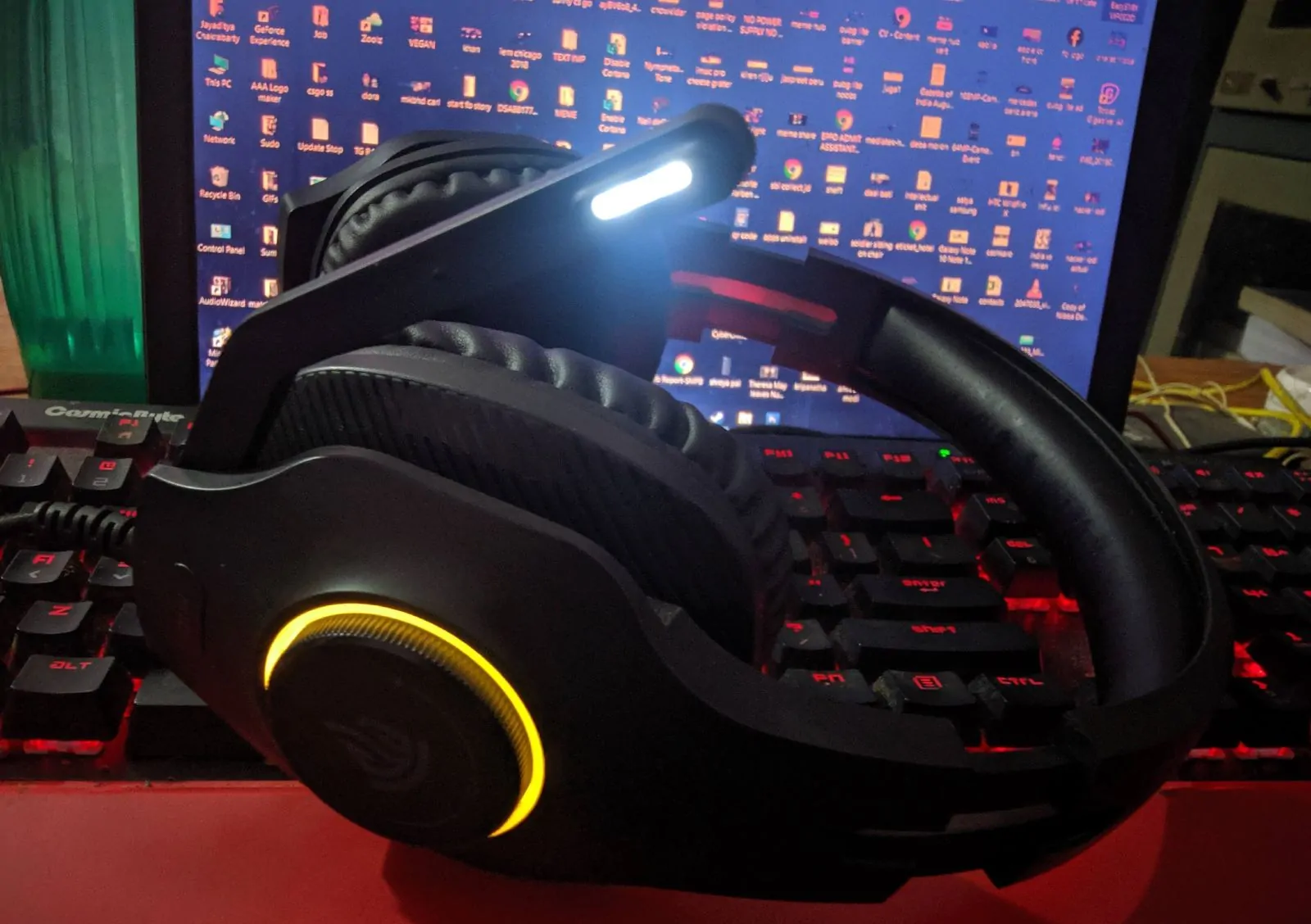 The headband is padded heavily and has a smooth finish so that it's easy to clean and adds comfort.
Audio Quality
The EasySMX VIP002D is another great gaming headset in terms of sound quality, I would say. At a price tag of $35, I didn't have many expectations, but the audio is loud. It's so loud that I always keep the system volume at fifty. Now, some of you might wonder how it may sound when the volume is full. Well, at the highest level of volume as well the sound out is good- No crazy distortions, no cracking noise, nothing. This one also has quite a good amount of bass, which is ideal when I want to listen to songs. In terms of clarity, this headphone is great. Be in CS GO or PUBG, whatever game I play, I can trust on this headset due to the clarity and accuracy of direction of the sound, which lets me know about enemy positions.
Audio via Mic
The mic on this headphone is good enough. It picks up the sounds well. The audio via the mic is good and these days, I am kinda obsessed with Discord when I play PUBG because random dumbass people keep screaming on the mic in the game! The noise cancellation works very well as I play in an environment where there is a lot of noise, but in the server, others don't seem to find noise in my audio.
Final Thoughts
The EasySMX VIP002D should be one of the options if you are planning to buy a gaming headset. There aren't any shortcomings to the best of my knowledge till now since I got the headset. It has been almost two months since I got it and well, I haven't encountered any issues with it so far. At first, it took some time to understand how the companion software works, but apart from that, everything is fine.
At $42, this seems to be a good deal, however, for some reasons, it looks like EasySMX has listed it on Amazon at $69. So, I would advise that if you are going to buy it, grab it from their official website where you can get it for just $42, half the price you pay on Amazon. With free shipping, you won't have to spend an extra penny and if you like, you may pay for Expedited Shipping, which will cost $8 extra! Overall, it's a nice complete gaming headset at a low budget and if you are having a strict budget of around $40-50, you should go for it.