Look at the first world in the title, 'Ello', heard about it? Getting confused how is it ad free? How to get into it? We have the answers.
Till now you may have come across the word 'Ello' in your Facebook or Twitter feed a couple of times and probably you have also done some research on it. You know know at least two things about it- Ello is ad free and you can join only if someone invites you as it is an 'invite only' site. There are a couple of other things that you might want to know. So this is something that you should read, to know more about the new 'Facebook mafia'.
Ello is founded by a small group of designers who have the thought that social networking should be for connecting with people, not for watching ads and it's your profile, not a billboard. This is the main concept behind this new social networking site. And the site seems quite promising, at the first look. I got the invite from Akshat Mittal, a blogger and developer who is currently famous for leaking the image of the Moto G 2nd Gen. I joined Ello and immediately I realized that things are pretty different here, clean, simple, easy to use UI and also, a limited social networking site. Actually, the invite only sites or products are better than others, because you won't invite any unknown person and this will ultimately result in less spams, fake accounts and a safer experience. I invited three of my friends, all are bloggers and developers.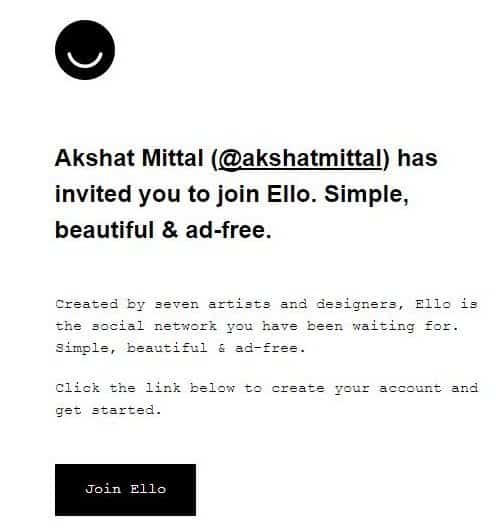 Need an invite to Ello? We have a few invites left. Go here and do the following:
Like our page on Facebook.
Follow us on Twitter @iGadgets_world
Share this on your timeline.
Comment your email id on the picture we shared and wait.
We will inform you on Facebook or Twitter if you get a confirmed invitation.
Okay, so if you're lucky enough you're likely to get an invitation from us, now moving on we will talk about Ello and everything you need to know about it.
Ello is ad free and won't use your data:
Ello is completely ad free. Yes, you will see right at your first visit. There are absolutely zero ads. Now, coming to the point of data mining, what you share on your social networks, especially Facebook? Your interests, links to various products, offers and discounts and much more, right? What does Facebook do with your information? They customize ads according to your choice and activity and use them to display ads. for example, you got a discount of flight fare from an airliner, let it be Indigo and you shared the offer link on your timeline. So, many of your friends may have some interest to see it. Now, Facebook knows that you like to travel on discounted fare, so next time when some other airliner put ads for some kind of offer, it is obvious that Facebook may show you the ad over and over again, no matter you like to travel on that airliner or not, or whether you ave time for a holiday or not. Ello doesn't use any of your data like this, because it is ad free. Most of the social networking sites started ad free at first, Facebook is a live example. And even Mark Zucherberg also wanted it to be ad free, but for generating revenue they needed ads, and that turned Facebook to a online billboard, that you will visit every morning or throughout the day. Ello said that if they ever change their ad policy they may start losing the majority of members in the community.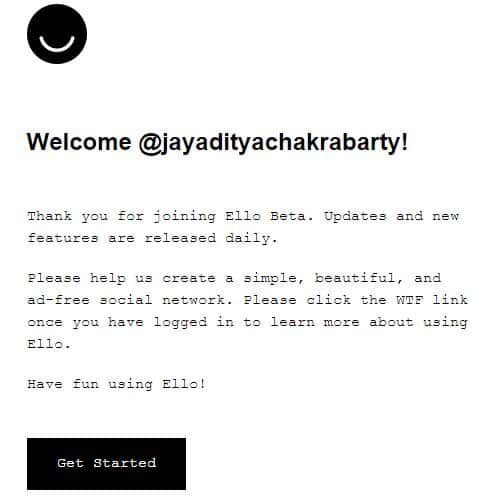 If Ello is ad free, how will they make money to function and offer free usage?
This is the biggest question for most people. We all know that every website needs to make some revenue to function, even we do need to make some money if we want to work like this in future. But Ello is now ad free, though there is a slight indication that it may offer special features which will be paid ones, which users can buy and thus they will make money. But the site will be still ad free. This will be something like LinkedIn, you pay and you get some special features.
You can update your status, post photos. You can directly reply to your friend, you can comment something your friend shared, can edit a status update if you have missed something. Unlike Facebook it supports GIF and the best part, you can check out how many people have viewed your status update or photo. There is a 'Noise' section in which you can view contents shared by people you may know. The biggest thing about it is a clean timeline, though I feel like I'm using the Twitter in its early days. Still it is in beta and it will take some more time to get enriched with other important features.
That's a kind of a very simple and tough question at the same time. If you are comfortable with all the complications of Facebook and all other social giants, you can use them. But till now, Facebook has revamped the default privacy of users to 'public' a couple of times without any notice and also, Facebook is now too complicated with both groups and pages. You are added to some bullshit group which doesn't mean anything to you, you get invitations to like your friends' pages among which very few make any sense to you. And at the last and the biggest, ads: You always see a bunch of ads on your news feed (instead of updates from friends) and the most irritating thing is apps and games requests, which are useless and doesn't improve any kind of social interactions. So, if you are comfortable with all these things, you can continue with Facebook, but if you want just a few friends who really mean something to you and stay connected to them and get updates from one another without the hassle of ads, you should definitely stick to it and keep using it.
May be, may not be. This is like gambling. You build a website so that people can get connected online and share everything they like, everything they do. But the thing is that features are not the only thing that attracts people. Back in the 2007, we had Orkut as a social giant, which had lots of cool features, and Facebook came into existence, with a clean, simple and features that relate lives of people. But now, it is quite complicated, so Ello may have a chance to hit the market. Already it has gone viral. In the past few years, we have seen so many social networking sites like Zorpia, Zurker and etc. They just made a buzz for a few days, many people joined and now went inactive. So, the same can happen to Ello. But with the promise of an ad free social networking site, there are better chances for Ello to be a hit and become the next big giant in the social networking world. Till now, Google has tried a lot to smash the dominance of Facebook, also Twitter tried to eat up some shares, but till now the 'Like' thing has been the most popular. So, you can now just wait for an invitation and see what happens next.