Facebook  launched it's new app called Internet.org which is going to offer free access to  basic sites like "Facebook", Google etc in Zambia, In many parts of the world, there is a cellular coverage but people can't not afford internet data plans. According to Mark Zucherberg, affordability and awareness is the key to internet adoption and that'w why here comes something new from Facebook. A new initiative, by Facebook is aiming to provide feature phone and smartphone users to provide the basic internet services  which include Facebook, Messenger, Wikipedia, and Google Search along with local health, employment, weather, and women's rights resources.
Internet.org's app is launching in Zambia before coming to other developing countries eventually, and is a partnership with Airtel who provides the free access hoping that Zambians will understand the value of internet and buy pre-paid data through the app to explore the rest of the world wide web. The Facebook zero is the stripped down version of the app, available since 2010 and this new Internet.org app other services will be available as a compact, standalone Android app, converted into into the Facebook for Android app, or freely available as a mobile website that the feature phones carried by the vast majority of Zambians can access. Now only 15% of the total population of Zambia has the access to the internet and Facebook is partnering up with major telecom companies and carriers across developing nations to spread the internet awareness and to make people understand the power of it.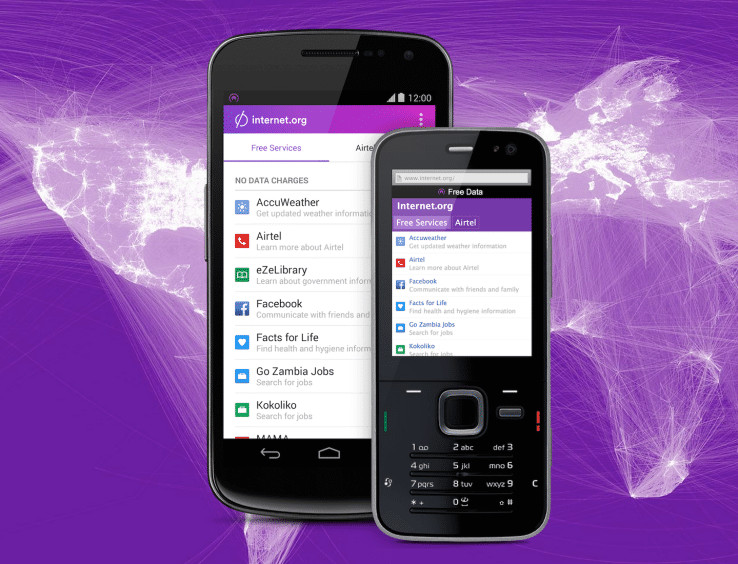 Currently 4.25 billion people are not on the internet but they may fall for it once they come to know about its usage and benefits. Several campaigns are being carried out for spreading the news and Airtel is also notifying its customers about this. The users can just visit internet.org from their browser equipped feature-phone and download the app which is pretty light weight at just 800 KB, though the Android users will find it in a separate tab under the official Facebook app.
Now, let's take a look at what people will get from this app:
Facebook – for staying in touch with friends
Facebook Messenger – for direct contact with loved ones
Google Search – to find information, though clicking through to results will require a data plan
Wikipedia – to learn about anything, and all internal Wikipedia links are free to access
AccuWeather – to get updated weather information that's critical for farmers
Airtel – to learn more about the carrier and buy data plans
eZeLibrary – to learn about Zambian government information
Facts for Life (by UNICEF) – to find heath and hygiene info including advice on pregnancy, childbirth, childhood illnesses, child development, parenting, protection, and child care
Go Zambia Jobs – to search for jobs
Kokoliko – search for jobs
MAMA (Mobile Alliance for Maternal Action) – Info on maternal health for impoverished mothers
WRAPP (Women's Rights App) – learn about women's rights and what to do if rights have been violated
Zambia uReport (by UNICEF) – To find HIV and AIDS health info