While almost all the tech bloggers were shouting out regarding the Freedom251 I was watching everything silently as I had some doubts regarding the brand itself and also, was wondering how would they handle that much. Later, on the day, the bookings were to start and it failed, I wrote down about it for the first time. Overhyped phone!!
For the last few days, #Freedom251 is the new height of craziness and made everyone wonder about how anyone can make a smartphone with 8 gigs of storage, 1GB RAM, 1.3GHz octa-core processor and all for just under $4, which is actually Rs. 251. While the smartphone lovers are going crazy as MWC is just a step away, Freedom251 made headlines in India and across the world, including some very reputed sites like Android Authority, XDA Developers and also on some entertainment sites including 9Gag. When brands like Lava came up with a phone last year with 256MB of RAM and priced it at Rs. 2919 I was shocked. Who makes a phone nowadays with just 256MB of RAM? So obviously, this was like a heart attack.
The Freedom251 is made by Ringing Bells, a company based in Noida, India. The phone sports a 4-inch qHD IPS Display having a resolution of 960 x 540. The phone is powered by a MediaTek 1.3 GHz Quad-Core MT6582 processor coupled with 1GB of RAM and 8GB of internal storage, which can be further expanded up to 32GB via microSD card. There's also a 3.2 MP rear camera with autofocus, a VGA front camera. It comes with Android Lollipop out of the box, which is also a nice thing. The device is juiced by a 1450mAh battery and it also has dual-SIM 3G support. Enough, more than enough, it's crazy- the thoughts that came up in my mind when going through the specs sheet and the price is crazy, Rs. 251. However, it will be Rs. 291 including delivery charges.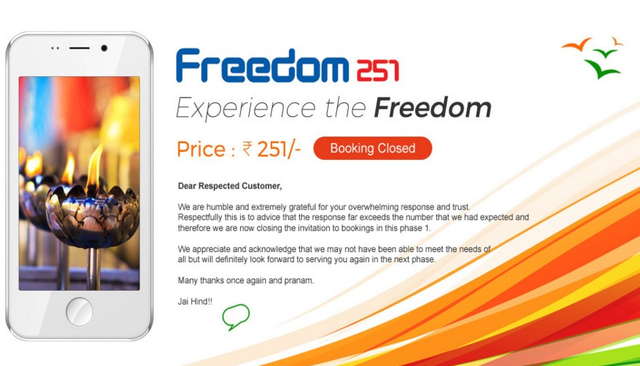 Now, that seemed like a great deal and people were eagerly waiting for the bookings to start. But then the disaster strikes, the website went down due to excess traffic and it disturbed a lot of people. But the drama continues, for which I will blame the brand itself. If you're selling a phone having specs of a phone costing Rs. 3000 at Rs. 251, you know people will try there to grab it and you must have arrangements for that.
Now, let's move away from the phone a bit. In India, the internet is not very stable everywhere, but yes, we have got a lot of Facebook and WhatsApp users. You must be wondering why I'm saying this. This is because a lot of people, actually it will be at least 50 guys, asked me for booking one unit or some asked for more than units for them. I can assume that many of them may not have a 3G data plan for high-speed internet, but when you are sure you're buying a product for a kickass cheap price why can't you just buy a small 3G pack costing between Rs. 50-150? Is that too much? I even know some people who have got 3G data plans, but they use their phone only for Facebook and WhatsApp, fine I'm no one to interfere in their personal,  financial or social life, but they are the same bunch of people who won't do a job themselves and will message someone else to book a phone. I'm not some guy who has got 48hours on his schedule every day, and they're not the ones who have got around 4-5 hours for sleep like Prime Minister as he's busy travelling, doing his job, meeting people. So, I guess people would understand that fact, everyone's enquiring about availability or anything related to it, even after they knew that I would have provided an update on Facebook if I had known about the product well.
How Freedom251 costs less than $4?
There are many possibilities that were projected by many people, some said that it has been highly subsidized by the government while some others said that it's a scam. They will take the money, the collected money will be kept in the bank for four months (the deadline for delivery) and will refund the Rs. 251 to each customer. Some people also said that it may be an idea for collecting data and digital marketing via the phone using ads. But, the idea of subsidy got rejected pretty soon. As we talk about scams, Ringing Bells President Ashok Chadha and Managing Director Mohit Goel appeared on NDTV and cleared the doubts saying that 50lacs phones will be produced, among them 50% will be sold online and remaining via retail stores. They have also promised the deliver the phone by June 2016. That eased up the mind of many people who suspected them to be fraud. Ringing Belks Presiden Ashok Chadha also added,
"By making in India, this price goes down by Rs 400. Then we will sell online only. So, this pulls down the price by Rs 400 further. We are sure that this smartphone will be in a lot of demand. We are assuming to save around Rs 500 from this economy of scale. At last, we wait for our platform to grow, so that we can make money from other services"
Controversies over Freedom251
Rebranded phone? Usage of whitener to hide original logo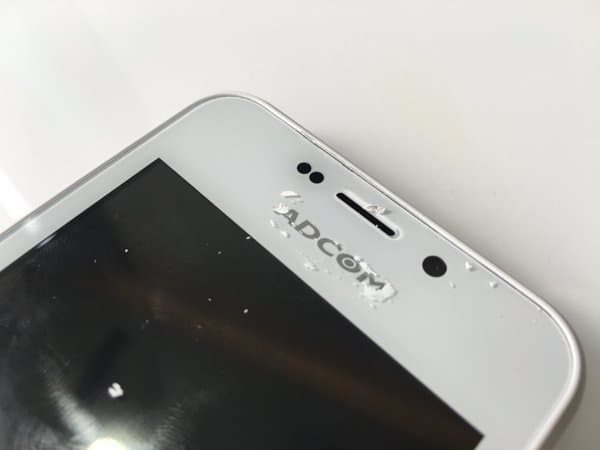 First controversy hovering over the Freedom251 was that it's a rebranded Chinese phone and has no connection to Make In India. Well, at the launch event the brand offered phones to journalists out there and it seemed to be a phone fro,m Adcom which is priced at around Rs. 4000, with a little higher specs. Also, on their website, the image of the phone changed, which sparked controversy. However, the brand denied using any rebranded phone for their promotion. And the hilarious part was that Ringing Bells covered up the Adcom logo with whitener which can be spotted easily and the Adcom logo was revealed right there and the Ringing Bells got busted.
Copyright Violation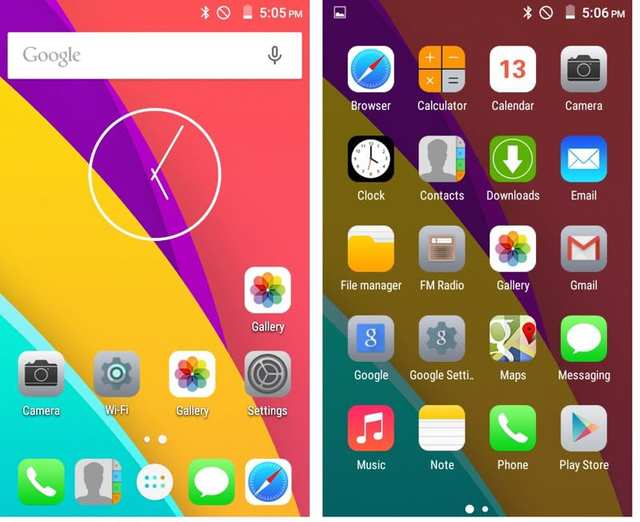 It's good that Ringing Bells is not Samsung or else they would have got a legal notice very fast. As it was spotted that Freedom251 has got app icons which have been directly copied from iPhone. Just take a look at the home screen and app drawer. Especially that Safari logo is hilarious, they would have just used a globe look alike icon for the browser at least. Also, the design of the phone is pretty similar to iPhone with a round home button.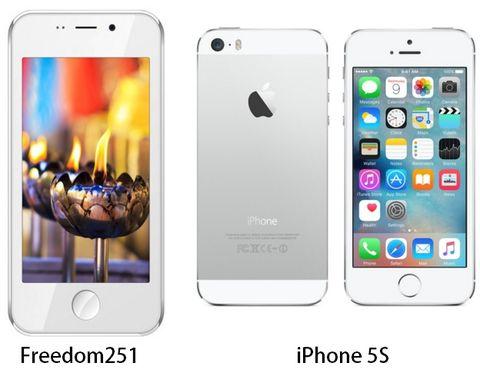 Make in India or Fraud in India?
As already mentioned, the phones provided were just phones  which come from a brand called Adcom, so Make in India doesn't apply here.
Troll
Somebody even made a troll site www.freedom651.com, cool. A total copy of the main site and it circulated via Facebook a lot, sweet! The site will troll anyone who visits it, just hilarious.
Spam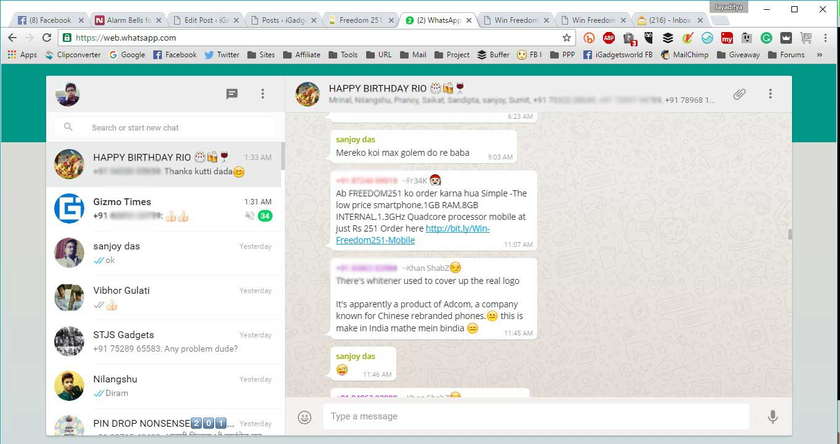 Every time, Narendra Modi launches something most of the people get lots of spammy messages on Facebook and WhatsApp. And this time, it's Freedom251 which is being a hot topic is as rock solid target for spammers. Even my Clash of Clans WhatsApp groups seems to be flooded with Freedom251 spam links. Just take a look.This is just the trailer, the full spamming movies are damn irritating. And I don't know what's wrong with people, most of the people know the website well and even after that they are sharing all this bullshit on WhatsApp thinking that they will get the phone really.
Another question, logistics
Pradeep Kumar, a professional blogger from Chennai raised a very valid question regarding the logistics. This phone was meant for common man, that starts from farmers to middle-class people, and in some villages, there is no electricity and forget about courier service. Now, I have seen this stupid thing with some courier services like Blue Dart and DTDC, they don't ship goods everywhere. Even in my town, I don't get couriers via Blue Dart which eventually leads to adding up more cost to the product as I need to order fro Flipkart, get it shipped to my friend's address in Guwahati and then he will send via DTDC or ASTC (Assam State Transport Corporation). In the case of valuable items, the state transport corporation denies to ship them as they don't have an insurance policy and DTDC charged Rs. 1000 for shipping a phone to my hometown (Distance- 350kilometers) in which they said that the charges for shipping are Rs. 200 and remaining for insurance, okay fine I paid. Then they shipped the product after one week, so that's the situation of courier services like DTDC, whereas in this case of ASTC I get my items shipped within 24 hours at max (i.e. if booked before 5 PM, they will surely deliver via bus by next morning). So, now my question is who is gonna handle this? Freedom251 needs to be reached to rural areas rather than big cities and which logistics service will do that? The irony is that DTDC takes a week to deliver items from a city which is just 350 kilometers away and I get products delivered from EU or US via FedEx or DHL within 3-5 days, so I guess they will have to found a new service soon, as FedEx and DHL won't deliver items for Rs. 40 and other services? The Freedom251 might get delivered next year!!