Google launched its new messenger- Google Messenger into the Play Store today and this new messenger has lot's of features that we definitely need to talk about!
As we know Android 5.0 Lollipop is launched officially and there are a lot of misconceptions on getting this update to Nexus 5 and later devices, but one thing we witnessed from past few weeks is updates in the Google apps, we have seen, Inbox, Calendar, Maps and so on. Every app from Google is getting update based on the new Android 5.0 Lollipop
The updated apps will have the best materialistic design ( we have never seen like this before ) and visually stunning graphics with advanced features, every update is quickly adapting based on the latest android version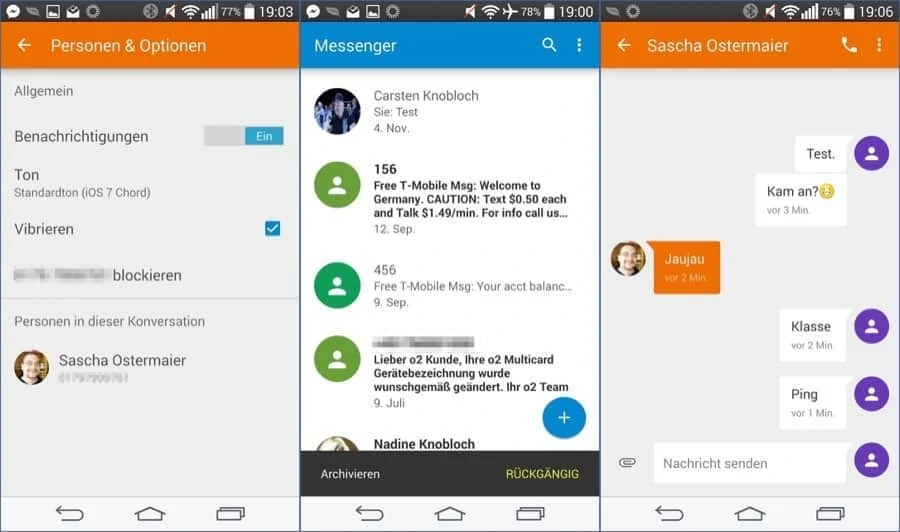 Right now we are seeing a new messenger from Google which is seen in Nexus 6 during its launch ( as it has Android 5.0 ) it is Google Messenger which is a stand alone texting app ( not like the Hangouts app from Google ) so it's a good-bye to Hangouts app as of the newly launched Messenger will get rid of the problems we face using hangouts, we should definitely need to talk about the features of this new messenger, as from the official Play Store the features of Google Messenger are as follows :
• Faster sharing: Select or take pictures and videos directly from the app and share easily. You can even send audio messages to your contacts.
• Easy search: Search through contacts and conversation threads to find exactly what you are looking for.
• Purposeful design: New, fluid, material design that is intuitive and delightful.
• More control: Ability to block SMS senders. No interruptions when you don't want them!
• More features: audio messages, emoji support . colored text threads, message archiving and more.
As of now we can't confirm that Google may remove the Hangouts app, but right now the Messenger app in the newly coming Android 5.0 devices, it is made as default app for messages
This messenger supports Android™ 4.1, Jelly Bean +