Google has released an update for its Play Store. This updates makes the current version of Play Store to 4.8.19. Looking at the latest update we can say that there have been some imminent changes in the Play Store. Some of the changes have been listed as below:
1. PayPal support – Google has finally added PayPal payment support for purchasing apps thus bringing smile on thousand of faces. PayPal integration was something many Android users wanted and have been complaining for the same since a long time. Though it must be noted that only select countries have this feature enabled(excludes India for now).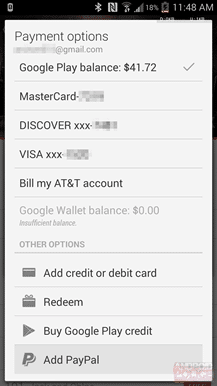 Improved buttons – The Play store buttons are now are tad bigger than the previous versions. It is now easier to hit them without making extra efforts!

Improved Permission list – The permissions are now grouped in categories instead of one single list. This is much better than the previous versions where user had to scroll down till the end to check all the permissions that the application needs.


New Additional Information section – There is a new section added to the application page where you can latest app version, installed size, content rating, and has a link for permissions.

The link  for the APK of the new Play Store has been posted below so if you cant wait till the Play Store updates on its own, you can download the APK and install it over the current Play Store.
[button color="white" size="medium" link="http://www.mediafire.com/download/lei9ehhv4ej3az6/com.android.vending-4.8.19.apk" target="blank" ]Download[/button]
Image source: AndroidPolice