Remix OS has been creating a lot of buzz for the last few days, the OS which brings the power of Android to any PC. Yes, literally you can install it on any PC until you have got a USB flash drive and enjoy the power of Android. Many people have been asking me about the Remix OS, but I was a little busy so couldn't provide a guide. Here it is, the complete guide on how to install Remix OS on your PC.
How to Install Remix OS on PC
This is a detailed guide so please read it carefully and make sure that you don't miss anything.
Requirements-
USB flash drive: You can use a USB flash drive or also an external HDD (in case you have one- but keep that in mind that the drive must be formatted). The developer, Jide recommeds a pendrive with 20MB/s write speed. However, I use Snadisk Ultra USB 3.0 and it works good, the faster the speed the better expereince you get as it runs directly from the flash drive.
You can buy Sandisk Ultra 3.0 pendrives from [eafl id=13480 name="Sandisk USB 3.0 Pendrive Flipkart" text="Flipkart"] or [eafl id=13479 name="Sandisk USB 3.0 pendrive-Amazon" text="Amazon"].
2. A computer based on x86: As RemixOS is an x86 variant of Android it will run only on PCs having Intel and AMD processors. ARM-based computers like Chromebooks some Macs won't be able to run it. Also, for creating the bootable flash drive you need a PC running Windows.
3. Remix OS package: you can download the package via Torrent Client, magnet link has been added here.
Installation Process-
First of all, format the USB flash drive. Remember to use the default FAT32 format.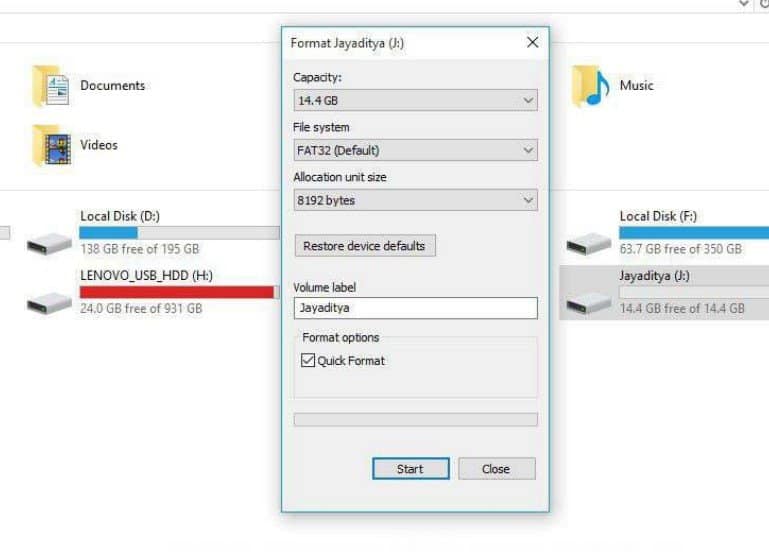 2. After it has been formatted, open the downloaded folder and run the USB Tool as administrator.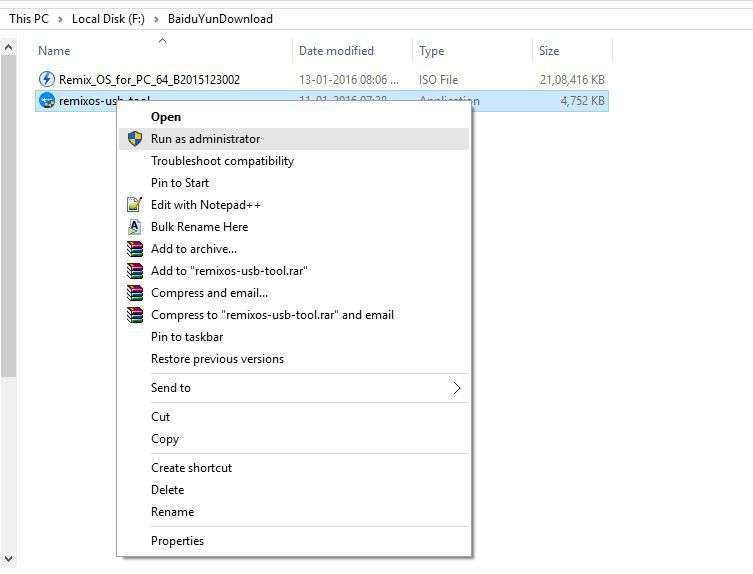 In the tool, select the ISO file from the same location ie where the package has been downloaded and click OK.
You can see the progess of the installation while it install the Remix OS on the flash dive.5. After it has been installed, it will show the option reboot.6. Don't reboot unless you're sure that USB is selected as primary legacy device.

Go to your BIOS setup, in case of Lenovo laptops you must press the key beside the power port (you can use a pin or toothpic to do that) and for others it will be F2/F8/F10 (commonly).

Now select the USB as your primary boot device.

Now save and exit the BIOS.

Insert your USB disk, the setup wuill start automatically.

You can choose guest mode if you don't want to save all data after each session or else select resident mode to save all data. Select any one of the two options and hit Enter.

After the installation is over, the Remix OS will boot.

Select your preferred language and click 'Next'14. In the next step you may connect to Wi-Fi. Connect to your Wi-Fi network and click 'Finish' and boom!! You have succesfully installed the Remix OS.15. Now you can enjoy all your favorite Android apps and the feel of Android on your desktop. As you can see, I'm ejoying YouTube on it. :PIt has also go other features, like a built in file manager and oter stuffs. However, the best thing I that I can use multiple apps on one display, I can resize the apps and do much more. So, enjoy the Remix OS on your desktop or laptop.
If you like this tutorial on how to isntall Remix OS on your PC, please share it via Facebook and Twitter. Also, stay tuned for more updates. Don't forget to join us on Facebook for all the updates on tech, smartphones, gadgets and IT on the move. If you are facing any problems feel free to ask in the copmmensts ection below or message us on Facebook, we will try to respond as fast as we can. Peace, out.