We hardly backup the data of our computer drives, believing that it is going nowhere! A report conducted by National Computer Security Association reveals that a major chunk of users (85%) are highly concerned about the data loss issues, but only 1 out of 4 users, care to back up their files regularly. Alas! the average failure rate of the tape and disk drive is 100%, which means all drives will eventually fail upon the attack.
If you have been using Outlook as your emailing communication platform, then you would be aware that your Personal Storage folders (email messages, and contacts) are stored on the hard drives or on the removable storage devices of the user's workstation.
And as discussed earlier, hardly anyone bothers to back up the drives of the host's machine, eventually it is one of the key reasons for data loss.
Also, PST file format is notorious for its frequent corruption issues, like its growing size of the data file (2GB limitations) that may blow up someday in corruption. Although modern versions of Outlook data files are less prone to corruption due to storage issues, but the things can still get awkward.
There are still more than 400 million users addicted to MS Outlook.com, and will still be. However, Microsoft's Inbox Repair Tool can diagnose and repair corrupt PST files, but when you look at the bigger picture, then it often fails to produce the desired results.
Protecting your data files using a reliable recovery tool is the foolproof solution to get rid of the corruption issues permanently. Upon evaluating several recovery programs it is found that Kernel for Outlook PST Repair tool is a fully-secured and user-friendly data recovery program to retrieve lost/permanently deleted email-messages from inaccessible Outlook PST files. It seems to have various extraordinary features, including inbuilt splitting option to trim large PST files, powerful search for scanning PST files, multiple file recovery option, live preview facility and many more.
5 TOP-NOTCH FEATURES of KERNEL FOR OUTLOOK PST REPAIR
The program facilitates user-friendly working environment even for non-techie users, through its intuitively-designed Graphical User Interface (GUI). It offers step-by-step procedure to carry out swift and hassle-free mailbox data recovery without falling in any fuss. Upon launching the software, it lands on the welcome screen, requesting you to submit source file location, as show in the image below.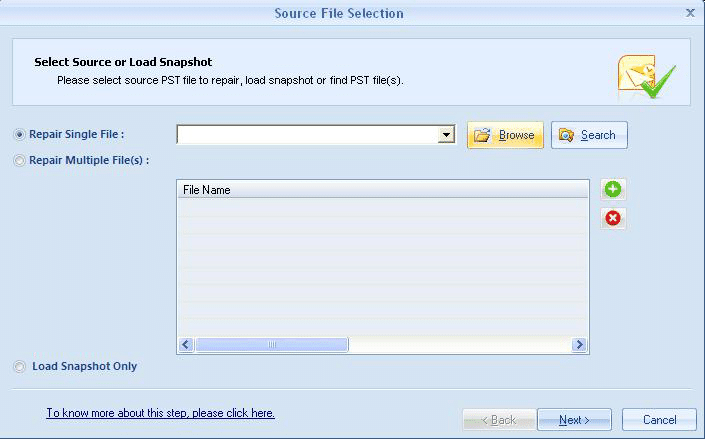 Flexible Recovery Options:

Repair single or as many file(s) as you want in a single cycle, using this tool. To repair a single file, simply choose 'Repair Single File' option and to add multiple files, select 'Repair Multiple File(s)' option. Also, there is an additional option 'Load Snapshot Only' to create snapshots during the repairing process.
Automatic File Scanning:

At times, we forget the exact destination of the file or folder. But using the intelligent 'Search' feature, users no longer has to perform manual search. You can smoothly provide the path of folder/drive to scan and enlist all the PST files (both healthy as well as corrupt) available in the selected volume.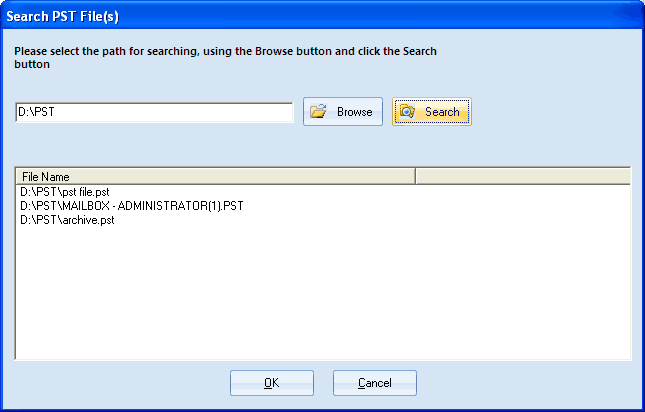 Live Preview Of Emails & Attachments:

In Kernel for Outlook PST Repair tool, once you have selected the required files for recovery, the tool first displays the total mailbox items contained in the files (including the deleted or encrypted emails), before you proceed towards saving option. There is free access to view and read file items like emails, attachments, sent items, contacts, calendars etc. without using Outlook application.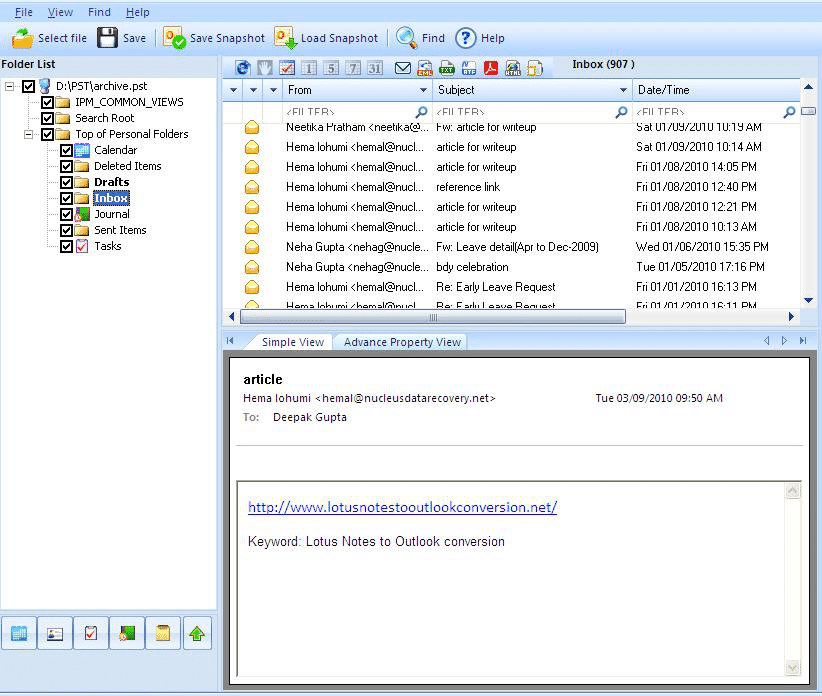 Email Filters & Splitting Options:

The inbuilt filter fields are of great help. The filters provide the freedom to save what you want through various email filters (From, To, Subject, Item Type, Folder Name and Date Range).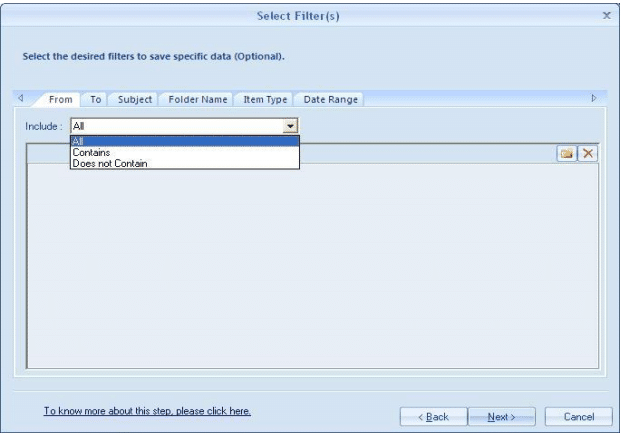 There is an additional option to trim large-size PST file upon crossing the specified limit using Split Option.

Restore PST To Different Platforms:

It even offers various options to restore the recovered PST files, such as to DBX, MBOX, TXT, RTF, MSG, EML, HTML, and MHTML. Also, you can export the Outlook data files directly to the cloud-based Office 365 mailbox or to Gmail, Yahoo, MS Exchange Server and more.
Apart from software features, it is also essential to know the basic system requirements before using the program.
Prerequisites:
Kernel for Outlook PST Repair can be installed on all versions of Windows Platform, including Windows (10, 8.1, 8, 7, Vista, XP, 2000, 98, NT and 95) and Windows Server (2012, 2008 R2, 2008, 2003 R2, 2003). It can repair all versions of Outlook PST files including Outlook 2016. Checkout Kernel For Outlook PST Repair here.
The tool is available in three different variants besides the free demo version. Though it is recommended to first try & use free demo version (embedded with an option to restore first 25 items from each folder of PST file), before purchasing the full-fledged version.
Conclusion:
The program perfectly works as it claims to provide 100% error-free recovery solution without altering the actual properties of your data files. There is also the facility for 30-day money back guarantee, in case the user is dissatisfied with the results of software product.