Right after Google unveiled the new Nexus 5X and the Nexus 6P with Android 6.0 Marshmallow out of the box, we could clearly sense that now the major flagships including previous Nexus editions will be getting the Android 6.0 Marshmallow update very soon. Along with them, other manufacturers are also working on rolling out the update to their devices. However, the marshmallow update will start rolling out to Nexus, Android One and Motorola before any other devices as we have been looking at this trend from the last year. Just day before yesterday, I just learned that Android One devices have started getting the Android 6.0 Marshmallow OTA update and I spotted Karbonn Sparkle V getting the OTA update, though pretty compact in size.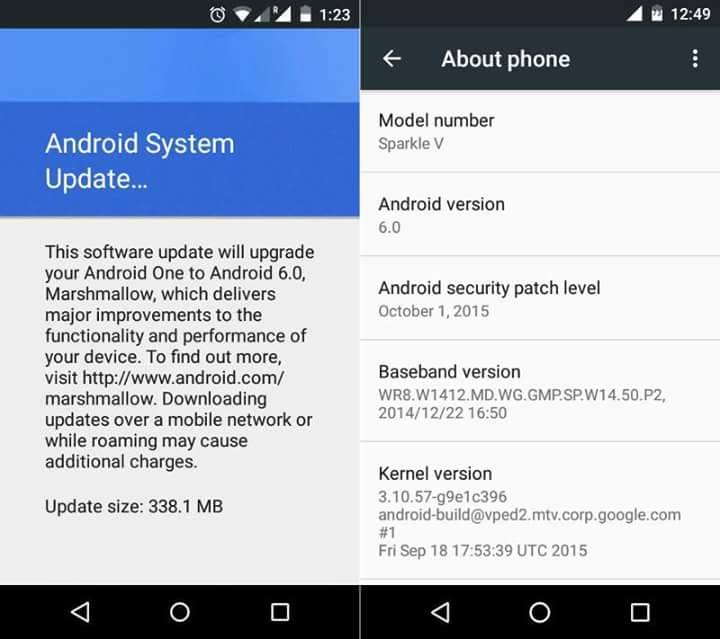 Apparently, it's a good news. So, for you here's the complete list of devices that will get the Android 6.0 Marshmallow update. The list includes all the phones that have been confirmed by the manufacturers to get the update and includes brands like Samsung, Motorola, LG, HTC, Sony, Xiaomi and Asus. If we get further notifications about newer devices that will get the update we will add them in the list. Check it out to see whether your phone will get the update or not.
Samsung
Galaxy Note 5
Galaxy S6
Galaxy S6 Edge and Edge+
Galaxy S5
Galaxy Note 4
Galaxy Alpha
Galaxy A7, A8 (A3, A5 and Galaxy E series to receive it later on)
Motorola
Moto X Pure Edition
Moto X Style
Moto X Play
Moto (2nd Gen)
Moto G (3rd Gen)
Moto Turbo
Droid Turbo
Moto Maxx
LG
LG V10
LG Class
G3, G4
Flex 2
G2
G2 Pro
G Flex
HTC
HTC One M9
HTC One M8
HTC One M9+
HTC One E9
HTC One E9+
HTC One ME
HTC One E8
HTC One M8 EYE
HTC Butterfly 3
HTC Desire 826
HTC Desire 820
HTC Desire 816
HTC stated that their devices will get Android Marshmallow by the end of this year.
Sony
Sony Xperia Z5 series
Xperia M5
Xperia C5 Ultra
Xperia Z3+
Xperia Z3 series
Xperia Z2
Xperia Z Ultra GPE
Xperia Z1
Xperia Z5
Xperia Z5 Compact
Xperia Z5 Premium
Xperia Z4 Tablet
Xperia Z2 Tablet
Xperia M4 Aqua
Xperia C5 Ultra
Xperia C4
Xiaomi
Mi 4
Mi 4i
Mi Note
Mi Note Pro
Redmi Note 2
Redmi 2 Prime
Redmi 2
Redmi Note (2014)
Redmi 1S
Asus
ZenFone 2 series
ZenFone Laser
ZenFone Deluxe
ZenFone Selfie
ZenFone 6
ZenFone 5
ZenFone 4
The list if not that small. In fact, I think for the first time Lg has been really quick in delivering the update and it's good to see that Samsung is also working to provide update to their mid range A-Series smartphones. However, in budget handsets we see just two manufacturers delivering the update- Xiaomi and Asus. Starting from very basic phones to flagships they will be providing the update, quite good to see that. However, I expect that more and more phones will get getting the update soon and I wil try to update the list in regu;ar basis so that it helps our readers to find out whether they will get the update or not. Also, do join us on Facebook for all updates on the go, you can like the page here.