Beware social media freaks!! Probably you're expecting a threat or something about malware but it's not that serious. A new prank has surfaced on the web called as 'CrashSafari'. It's nothing but a simple website, well don't Google it now and click. This is what will happen to your phone or browser.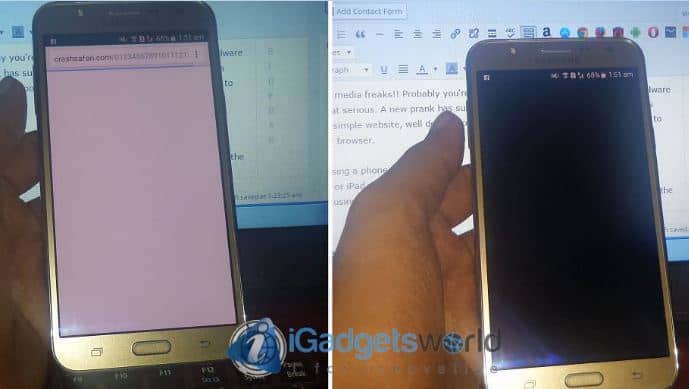 If you're using a phone and open the site your device will slow down
On iPhone or iPad, it will cause the device reboot within a few seconds
If you are using a desktop browser apart from Safari it will start lagging and slow down the system
On Safari, it will cause the browser force close
In my case, Chrome closed within a few seconds of opening the link on my phone.The mechanism of CrashSafri is that it uses a javascript to recall an HTML5 continuously in an infinite loop and this causes the device to run out of memory pretty fast and eventually either the browser or your device will suffer. However, this CrashSafari won't cause any damage to your device so it's harmless. Though, people found CrashSafari quite amusing and they are using link shorteners to spread this over the web and prank their friends.
And I think probably you'll see some posts which claim unbelievable offers and deals, or viral stuff with just a shortened link with no previews of the content.
Anyhow, this 4 lines of code (for loop) is making the browser crash!
Precautions that you must take for a few days-
Don't click on any non-branded URLs which does not specifically reveal where it's taking you to like goo.gl, bit.ly etc.
If you spot a short URL with branding like we always use igw.link or Amazon uses amazon.to or in the case of facebook it's fb.me you're safe
Use a URL expansion service
Don't click on any link immediately even if it's very appealingStay away from offers and promotional stuff people send on WhatsApp groups
You can use CheckShortUrl if you're on PC before clicking on any such shortened link, however on the smartphone, there are very limited options. But if you're an Android user, there's an app for that. You can download LinkBuster and check the URLs before you visit.