Who wouldn't love traveling? Even, I, being an introvert like traveling to places [but alone], and as a tech journalist, sometimes, I'll have to travel to different cities for covering the events. Although it sounds quite easy, there's a lot of planning involved. Well, let's leave it aside, and talk about your personal/business travel trips. You and your friends' have been planning for a Goa trip, and the day has finally arrived. So, what are you going to pack in your bag? Everything, or something that's required. Tell me, how are you going to carry your gadgets like powerbanks, laptop, cameras, etc.?
The obvious answer will be a travel backpack and there're a lot of branded ones' available now, and my colleague Jay has tried out one recently. The Chinese brand Xiaomi has also launched one in India which is selling like hot cakes. But my point is not that, you might have to compromise in something or the other.
Until last year, I was using an American Tourister bag for my 1-2 days travel which doesn't have so many compartments. Although the quality of the bag is quite good, I wasn't satisfied with it. I've also seen many people carrying two or 3 bags where one of them is specifically for their laptops [laptop case], the other is for their camera and other related equipment, and the final one was to carry their clothes, and simple accessories like power banks, adapters, etc.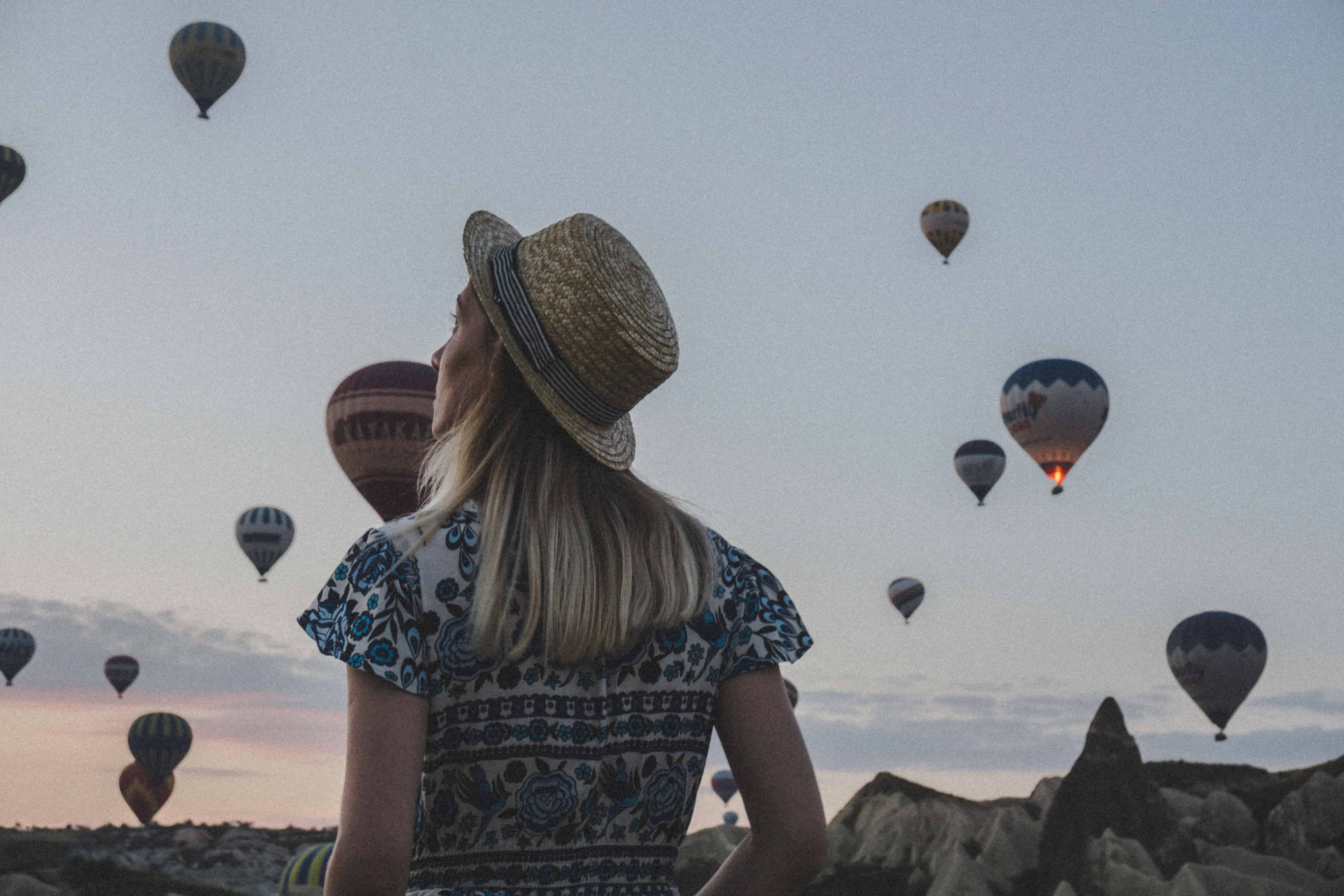 Doesn't that kill the very purpose of your travel? Isn't that supposed to be a short trip where you'd like to explore without carrying much? In that case, you might have to compromise. As mentioned before, there are many travel backpacks available which can ease the pain of carrying, but they all have their own pros & cons. Last year, I stumbled upon a campaign on IndieGoGo – Neweex backpack, an all-in-one travel backpack designed for urban travelers.
I was very keen to try it out for my short trips, so I approached them, but as it's a crowdfunding one, and the campaign was in the initial stage, I went one step ahead and backed it. A couple of weeks back, it finally arrived, and I took it to my recent trip of Vivo's event in New Delhi. So, here's my experience of using Neweex backpack for my travel.
Neweex Backpack Review – My Travel Story!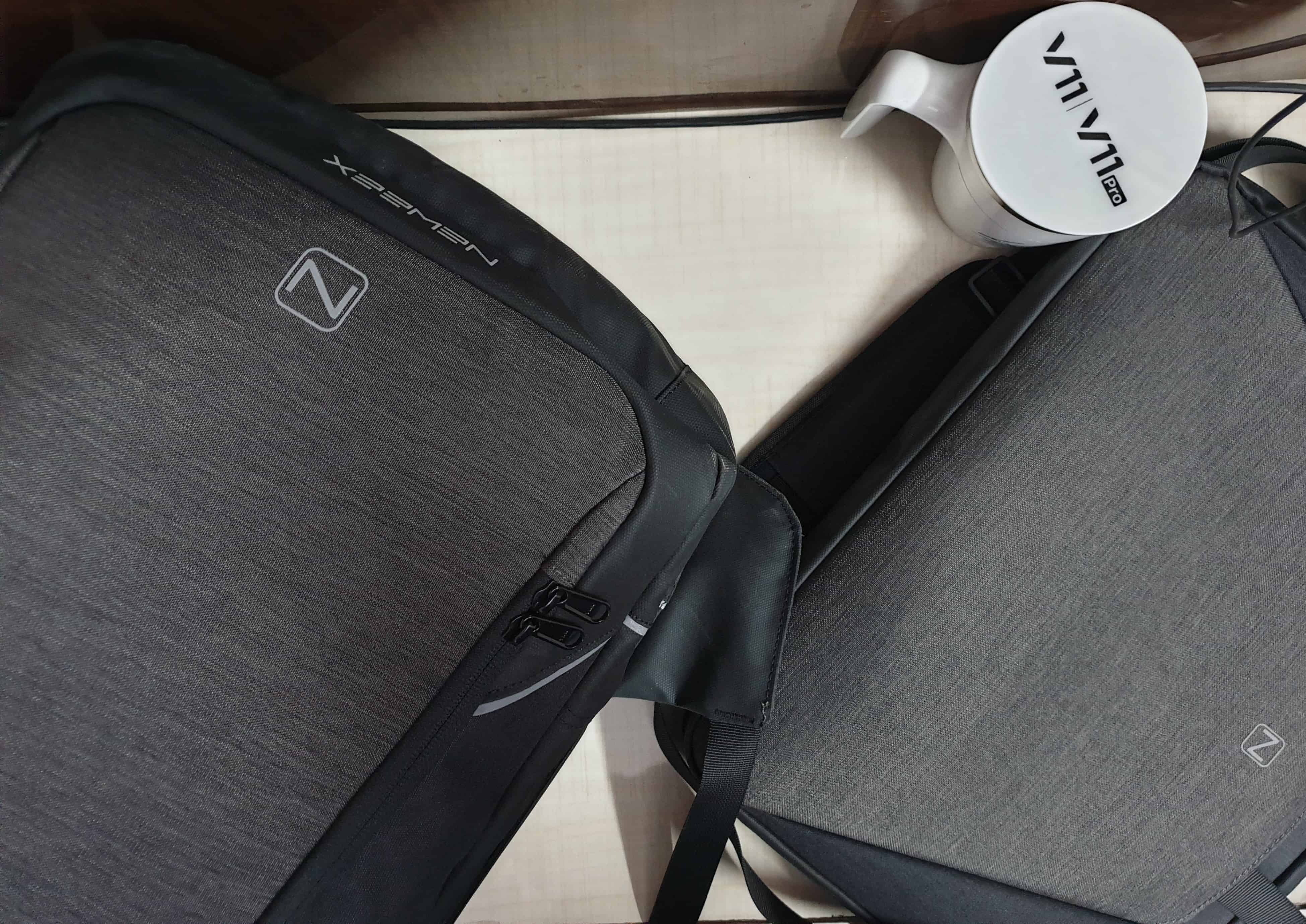 I don't want to kill your mood by explaining what it has got, but if you really want to check its features, head over to my article on it. Here, I'll be explaining whether the Neweex travel backpack has reduced the strain or increased it during my trip. I'll also be sharing the laptop case story in short, so why late, let's begin the journey!
Getting Started with Packing
As it was a 2-day trip, I didn't have to carry much, so there are only two pair of dresses, a book with a pen, some chocolates, MacBook Air, powerbank, adapter, and a water bottle. I wanted to carry my DSLR also, but there wasn't a major requirement. So, how did I arranged everything? Well, as mentioned in the press article, the Neweex backpack has more than 20 compartments.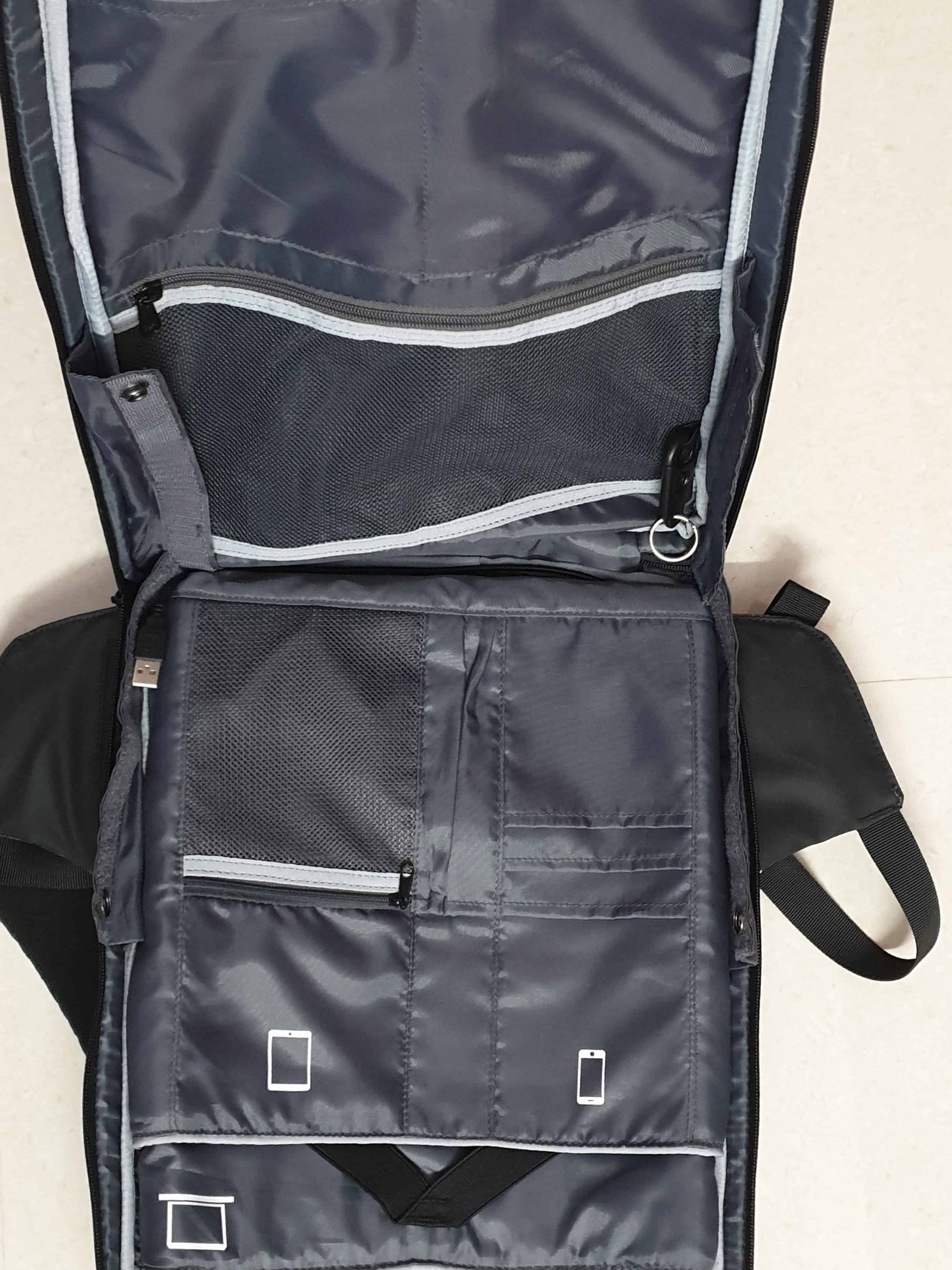 The bottom one which can be opened 180-degrees, helped me pack the laptop, and my trousers easily. I also kept the powerbank, body-lotion, body spray within the covers. Although there's more space left at the bottom, I used the top compartment to keep my remaining clothes, the adapter, and the notebook. I used the bottom pocket near to the strap to keep the flight tickets which is quite easily reachable during the check-in.
I kept my chocolates at the extreme top pocket which is supposed to keep the sensitive things like glasses, well, I don't want to take any chances of squashing them. What else left? huh, the water bottle! Despite there was enough space on the side, there isn't a special pocket to keep it.  so I just kept it at the bottom compartment itself. It was a 1-liter one and fitted perfectly.
Traveling with Neweex Backpack
I have a wallet and my phone is huge [Note 9], so I've not used the pockets and suction holder on the straps, but I kept my apartment keys in the strap's pocket. I headed down to catch the 'taxi' wearing the backpack, and to be honest, it was quite comfortable than what I expected. The 'S-shaped straps', the cushions at the rear side does make it ease carrying it.
During the security check, we have to take out the electronic equipment, wallets, keys from the bag and keep it in a separate container that goes in the bagger scanner [which uses X-Rays] for scanning. Here comes the trouble of stacking them properly. Well, I've not faced any issue. I kept whatever I need to take at the bottom, so it became very easy to take them, and after the scanning, I kept it inside in some seconds.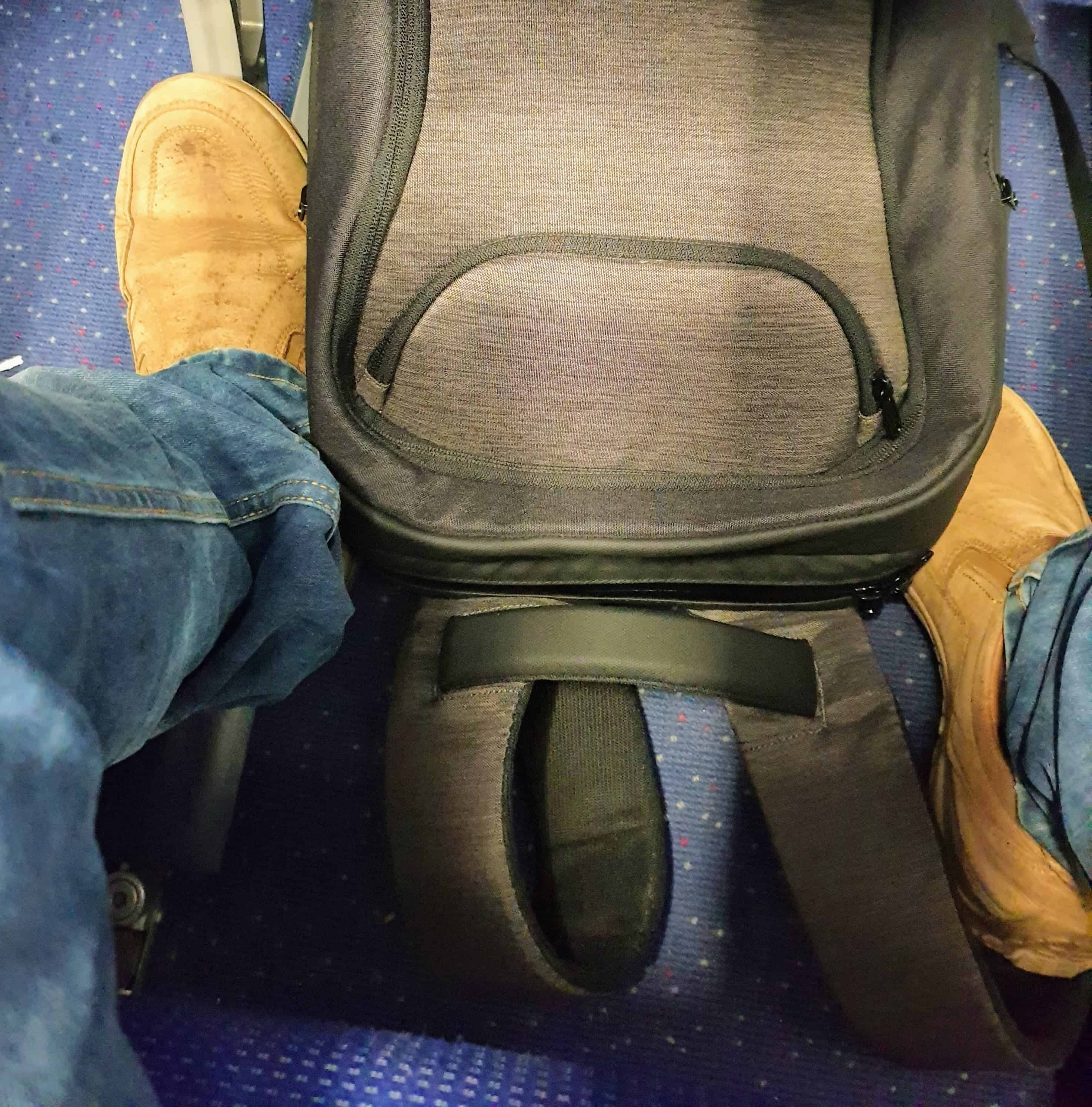 Actually, there wasn't much luggage, but still, the backpack has to withstand the extreme difficulties like keeping it in below the airplane's passenger seat and not on the cabin's top compartment, cause you know the space, and of course, the competition from others'. I wasn't reluctant when the air-hostess insisted me to keep it under the seat, but I was traveling in an economy class where the leg-distance is quite small. Well, I didn't hesitate and pushed the Neweex backpack under the seat, and to my surprise, it fitted perfectly.
I had trouble keeping my legs, so accidentally crushed it many times. I was in an impression that it could have damaged the backpack, and things inside, but not have happened such. It looks squashed, but leaving it for some time made its return into the normal state. I even had a chance to take out the chocolates from the top pocket.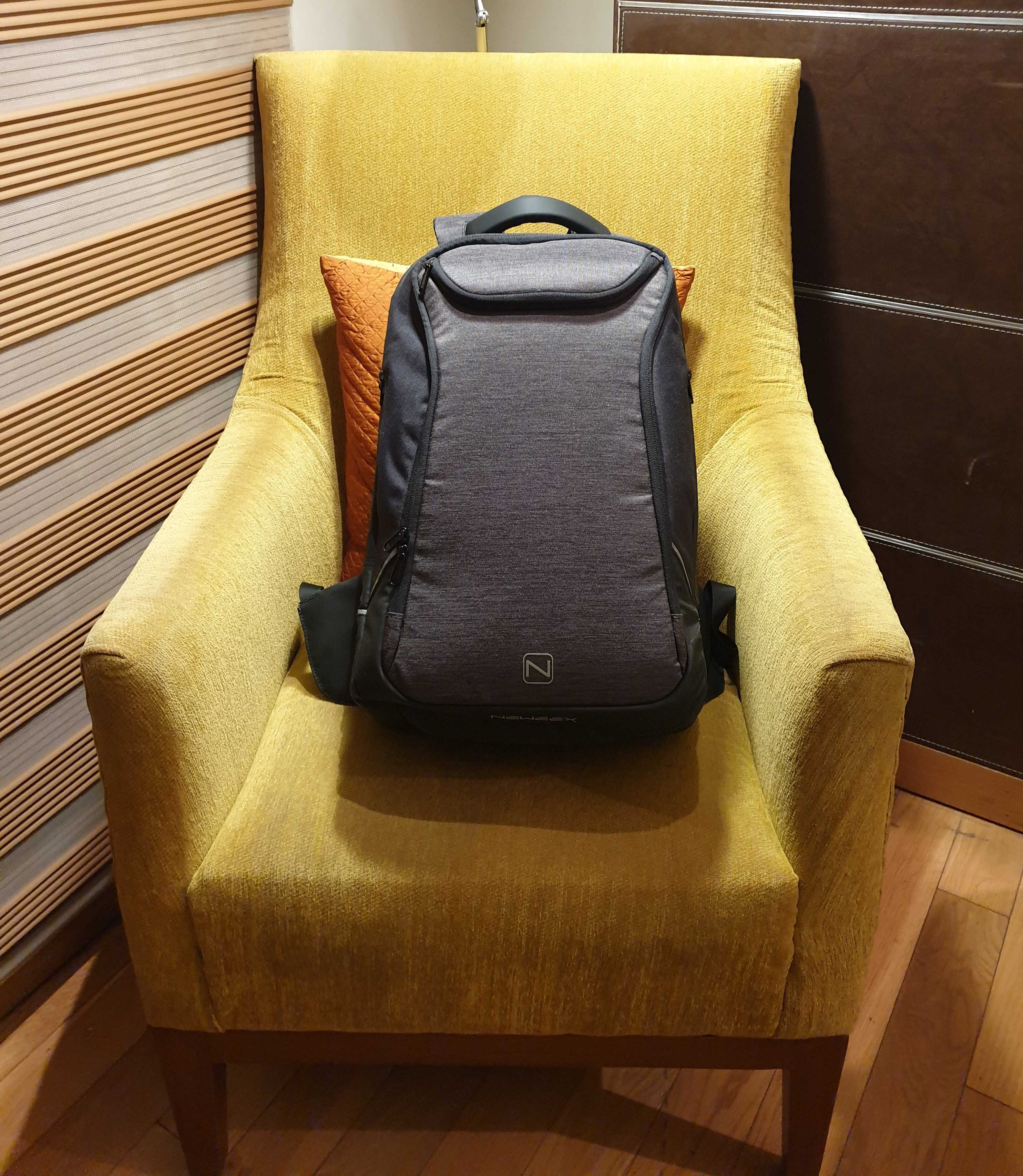 As soon as I landed, it was drizzling in New Delhi, but I was confident of Zippers, and the backpack's material which is actually water-resistant. Even though there's a rain cover inside, I didn't use it as it was just a small shower. Anyway, as soon as I reached the hotel, I opened everything inside to see if they're damaged, but they're intact and in the same state when packed.
Work Mode with the Neweex Travel Backpack
As mentioned previously, the Neweex travel backpack is actually designed by keeping the business/urban travelers in mind. It means, it's very convenient to take out stuff from it, and at the same time, keep it anywhere without hassle. I didn't have a chance to use the safety lock which was inside a pocket on the left, but I was sure it lives up to its name. I just took my laptop which is again, very convenient to take out, and used one of the pockets to keep my phone charging through the powerbank.
Neweex Laptop Case
Along with the travel backpack, I also got the laptop case because of the perk I selected. My office laptop is quite bulky, and so is the adapter. Even the laptop case has a 180-degree opening, and with that, it became quite easy to keep my bulky laptop easily. As you know I commute to work in my bike, so I attached the straps to the laptop case. I felt the weight because of the bulky laptop inside, so I wore it in a way that it just stays over the seat.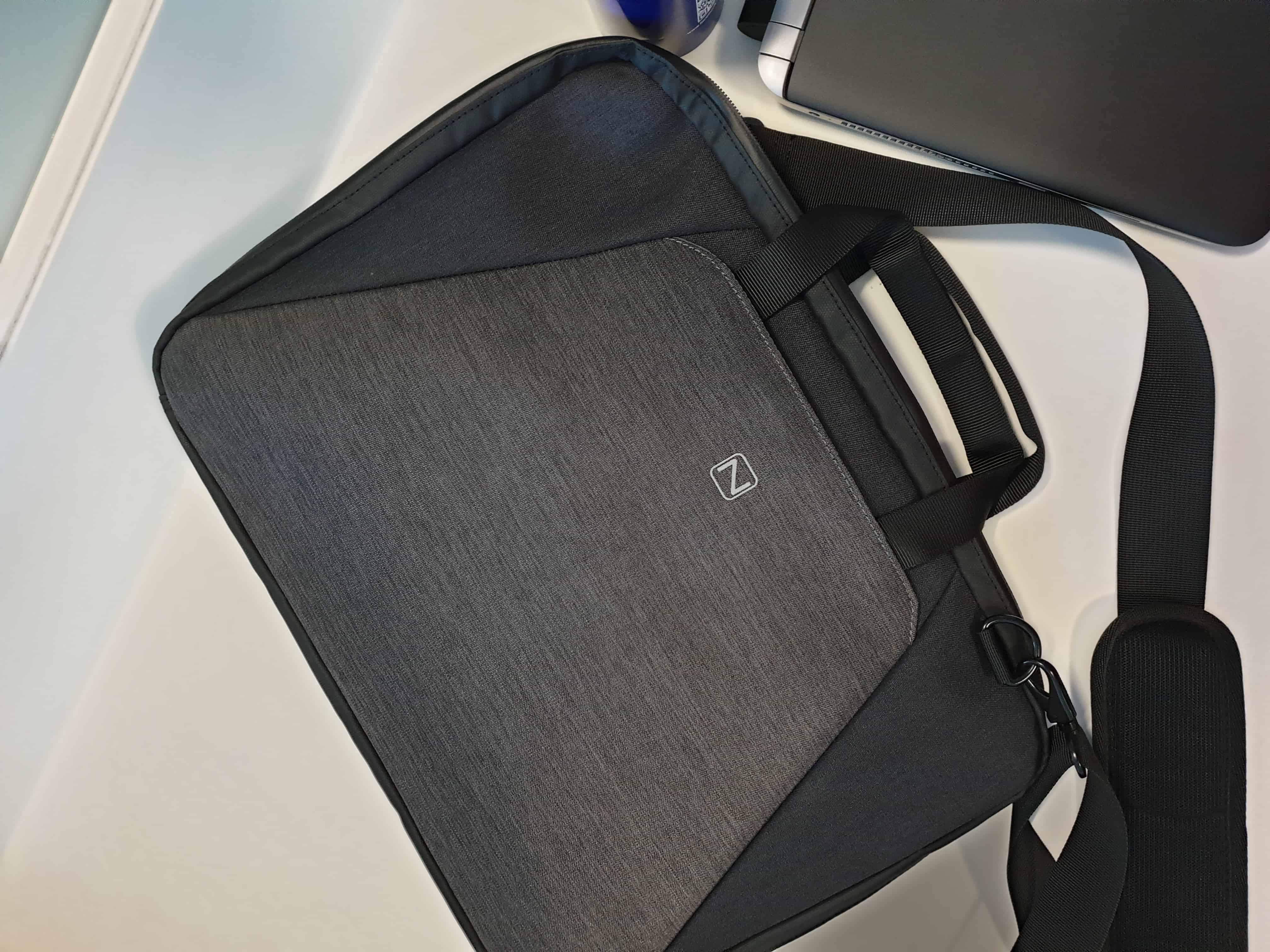 Unlike the Neweex's travel backpack, there's not many compartments, nor the extra pockets. But the one that exists is quite sufficient. The laptop case was made for people who'd be traveling with ultrabooks, a handful of documents, books, pens, flash drives, etc. and in my case, the only disadvantage is the bulky laptop.
Pros & Cons of Neweex Backpack & Laptop Case
Pros
Compartments & Pockets [too many]
Zippers & security Lock
Cushions on the rear which make comfortable wearing
Water Resistant material & rain cover
Cons
No pocket to keep the water bottle
Final Verdict on Neweex Backpack & Laptop Case
I'm not very particular about which travel backpack to use, but I'm very concerned about the luggage I carry in it. In my experience, the Neweex backpack completely lived up to my expectations, and it even withstood in extreme conditions. The team behind Neweex has made a perfect blend of compatibility and the style, and I bet there aren't many showcasing this harmony.
This backpack is for you if you'd like to take short trips without any hassle, and at the same time, be the style icon!
Coming to the laptop case, it was a little extra buck I spent to try out. If the water-resistant case is what you're looking in, then this should be your prime choice.