Gesture control? Maybe you will be surprised to see the next big thing in the world of gesture control which is created by 3 students who are IIT dropouts
If you are a gamer, till now you have at least once felt uncomfortable to play games at a stretch, and for the kids, it's not even too good to sit around and play games because it will affect their health a lot and so, here comes a solution to it. And you may get surprised to see that it is designed by a couple of IIT drop-outs, yes you heard it right drop-outs. Like Steve Jobs, David Hewlett, and others they dropped out their college to work on a project which will enable people to interact with computers and other devices using gestures. Yes, gestures have been in the market for a while but they are either highly-priced or not so accurate. And the worst part about them is that they are not consumer products. So, they thought about a small device called Nimble which will enable people to interact with computers anytime, anywhere in an easy manner and you can just put it on your finger, plug-in the sensor on the PC and go on. This might be quite similar to Harry Potter or some magical adventure, but this is the fact that you can do much more than spelling charms and all that. You can watch movies, control media players, showcase your presentation in a meeting, and the best part, play games.
The idea came when the '3 idiots' Abhishek, Harshit, and Vivek from IIT Kharagpur often passed times playing games and they felt the importance of omitting keyboard press and clicks and instead, use of gestures to interact with computers. They just followed their heart and dropped out of college to work on a project which they named Nimble. Since then, they have made several prototypes, improved them, and have showcased this amazing gadget. They have filed a patent in January 2014. They had some difficulties at first to meet up the requirements to develop the hardware as in a country like India, the components are not available, and mass-producing a product is not so easy. But they launched it on Indiegogo to raise up funds and take this project ahead. Now let's take a look at this amazing gadget and see what it can do.
Gaming:
 Nimble gives you a completely different experience in playing FPS games, you can just play first-person shooter games very easily without any glitches or lag. The team has also made Nimble to work with some popular games like Angry Birds and Fruit Ninja.
Everyday tasks: 
Nimble will work like charm when it comes to controlling your home lighting. You can control the lights at your home, control the volume of music, and also you can connect it with other appliances which you like to control where your PC will work as a workstation to control all your electronic appliances and Nimble makes it possible, with just a flick of your finger.

Presentations: 
Don't get pissed off like Steve Jobs while showcasing a new product or something in a presentation with those bulky remotes. Nimble enables you to control your computer and point out important stuff in your presentation. You don't need to worry about interference in your controller or think about distance, you can operate everything within a distance of up to 15 meters. Look how Harshit is pointing out something in a presentation below.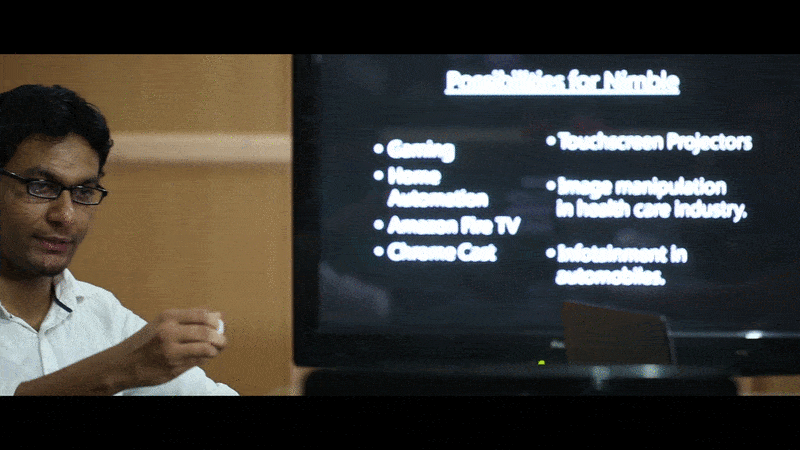 Computer-Aided Design (CAD):
Nimble is good for even CAD, professionals can use it very easy to design and remodel various things. And all these happen due to the high accuracy and a fast response provided by Nimble.
These are the few most important uses of Nimble. Also, it can be used on Virtual Reality headsets and smart TVs to control everything with the flick of a finger. Also, with Nimble you can customize the gestures you use to perform a particular task. Here is a list of the general gestures which you can do with the help of Nimble.
Browse digital photos or change songs with a finger swipe
Pinch to zoom, which is the same as the way you do on smartphones/tablets or touch PCs.
Left/right finger movements to fast forward and rewind video
Up/down finger movement to control volume
Simple tap to pause/play
Trace fingers in "G" to open Google, "F" to open Facebook, and "X" to close applications
Control any cursor and click by moving fingers and tapping
Unique user interfaces include rotating fingers like a virtual knob to change volume and screen brightness
Dashboards can be swiped down and programmed to house favorite apps and files
And I bet you will be surprised to see what Nimble can do right out of the box, even I got surprised to see Counter-Strike and Need for Speed Most Wanted on the list. Check it out.
Games: Angry Birds, Fruit Ninja, Virtual Cop (shooting), Counter-Strike (shooting), Need for Speed (racing), Cut the Rope, Bowling, 2048, Subway Surfer, FIFA Shoot
Apps and sites: YouTube, Google Search, Media Players (VLC, windows media player, win amp and other major players), Google Earth, Netflix, Windows Image Viewer, Paint
Utility: Presentations on Powerpoint and Prez, basic Facebook browsing, and PDF reader.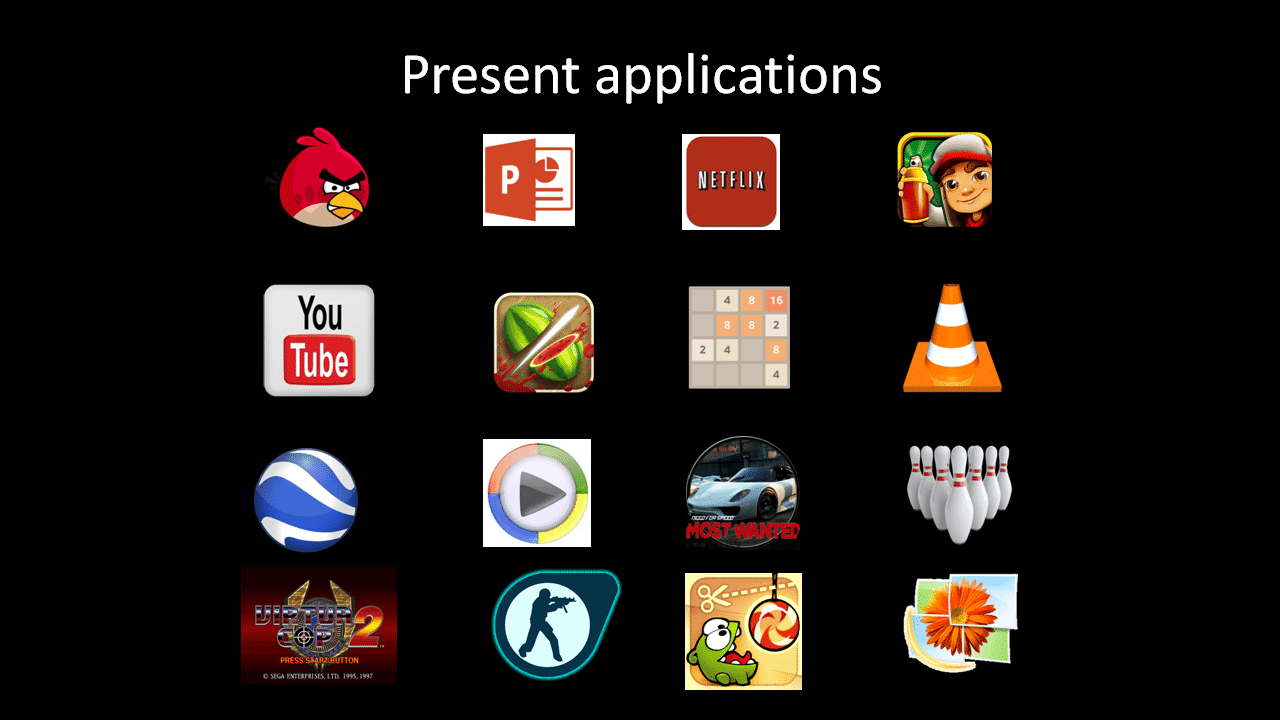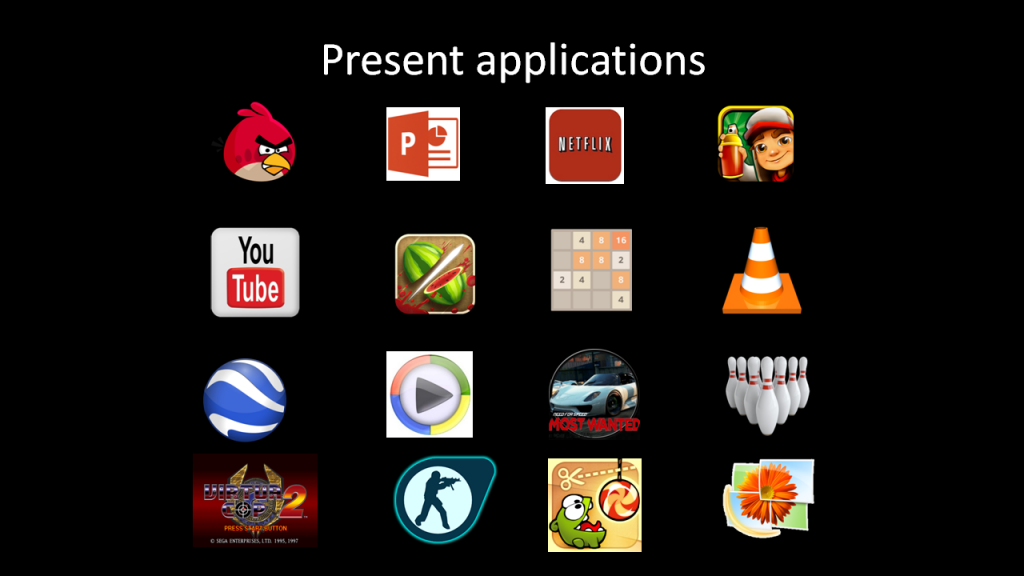 Currently it is fully compatible with Windows, but as the developers told us, at the time of shipping it will start supporting IOS, Android, and Linux. Now let's take a look at Nimble vs its rivals.
| | | | | | |
| --- | --- | --- | --- | --- | --- |
| Parameter | Nimble | Kinect | Myo | Leap Motion | Ring/Fin |
| Range | 15 ft. (25 ft. in presentations) | 17ft | 33 ft. | 2ft | 10 meters |
| Working Environment | Windows, iOS, and Android. | Xbox 360 and limited Windows use | Windows, iOS, and Android | iOS and Windows | iOS, Android, Windows |
| Price | $80 | $ 183(minimum) | $ 149 | $ 80 | $180,$120 |
| Multiple Users |          6-8 |           up to 6 |          one |       one | one |
| Field of View | >90 degrees | Approx. 45 degrees | independent | area covered by a cone formed over the sensor | independent |
| Accuracy | Sub millimeters | Very Low accuracy | Very Low accuracy | Sub millimeters | Very Low accuracy |
| Latency | 10 ms | 60-90ms | High latency | 10ms | High latency |
Tech specifications of Nimble: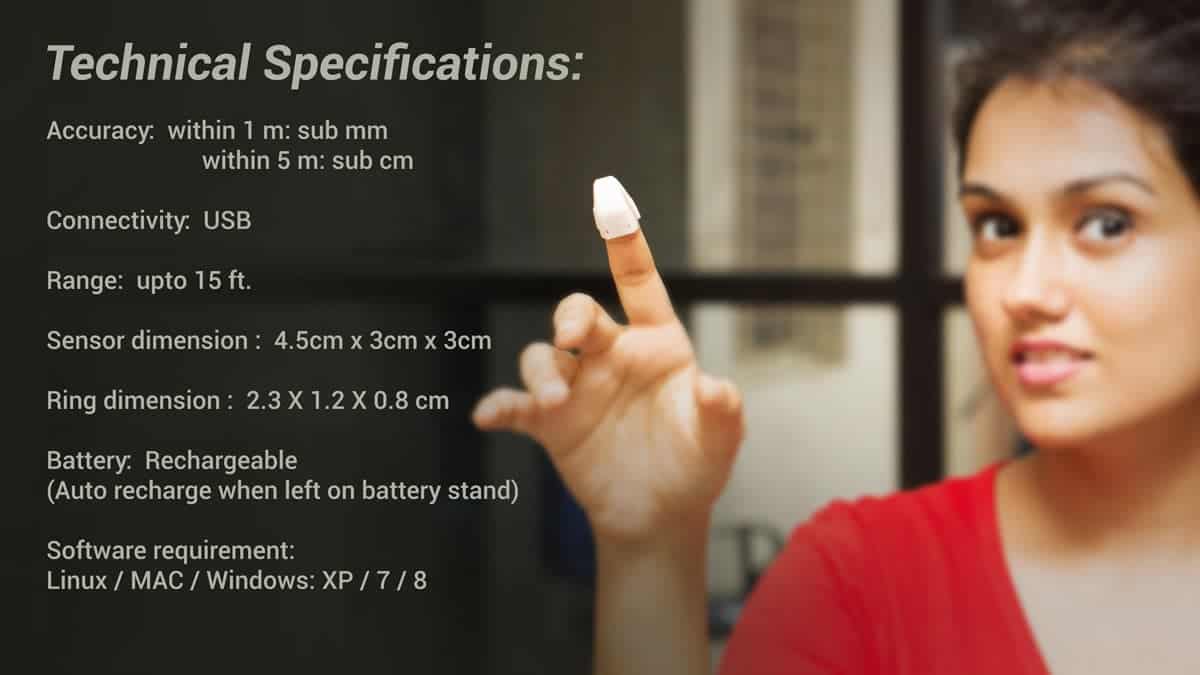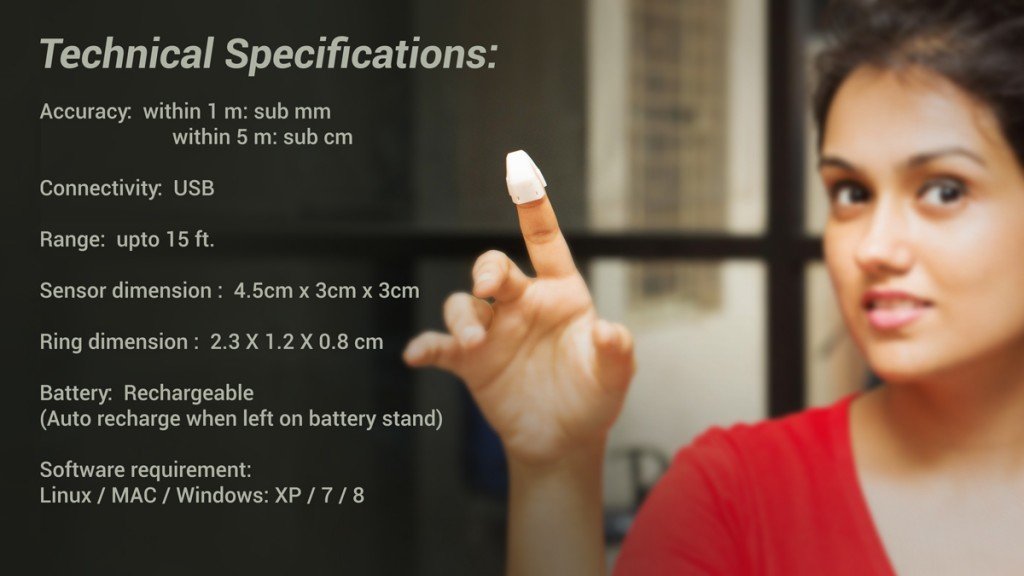 IndieGoGo campaign:
As they are startups with this innovative gadget, they definitely needed some funds and sponsors, they started a campaign for this Nimble product and you can readily contribute to the campaign and get this product to your doorstep soon