Philips, the brand known for its innovation in consumer electronics has always been introducing the latest technological advancements in their products. Now they've entered into mobile accessories segment in India which is already dominated by several Indian & Chinese OEMs. The Dutch technology company has partnered with ATI Electronics to launch its high-grade mobile accessories in India. To meet the consumer demands, and to give a head-on-head competition to other OEMs, all these Philips mobile accessories were disruptively priced.
I had a chance to test a couple of mobile accessories and this is my brief review of it. So, let's get started!
Philips Mobile Accessories Review:
As mentioned already, from 1 week, I've been testing out a couple of Philips mobile accessories which were a Portable powerbank with 13000mAh capacity and an Apple lightning cable [1.2m long]. These two distinct accessories have become a part of our tech life, as every now and then, we carry them around to charge our phones, and to sync the data on the go. But first, let's talk about the portable powerbank from Philips.
Philips DLP13006 13000mAh Portable Powerbank: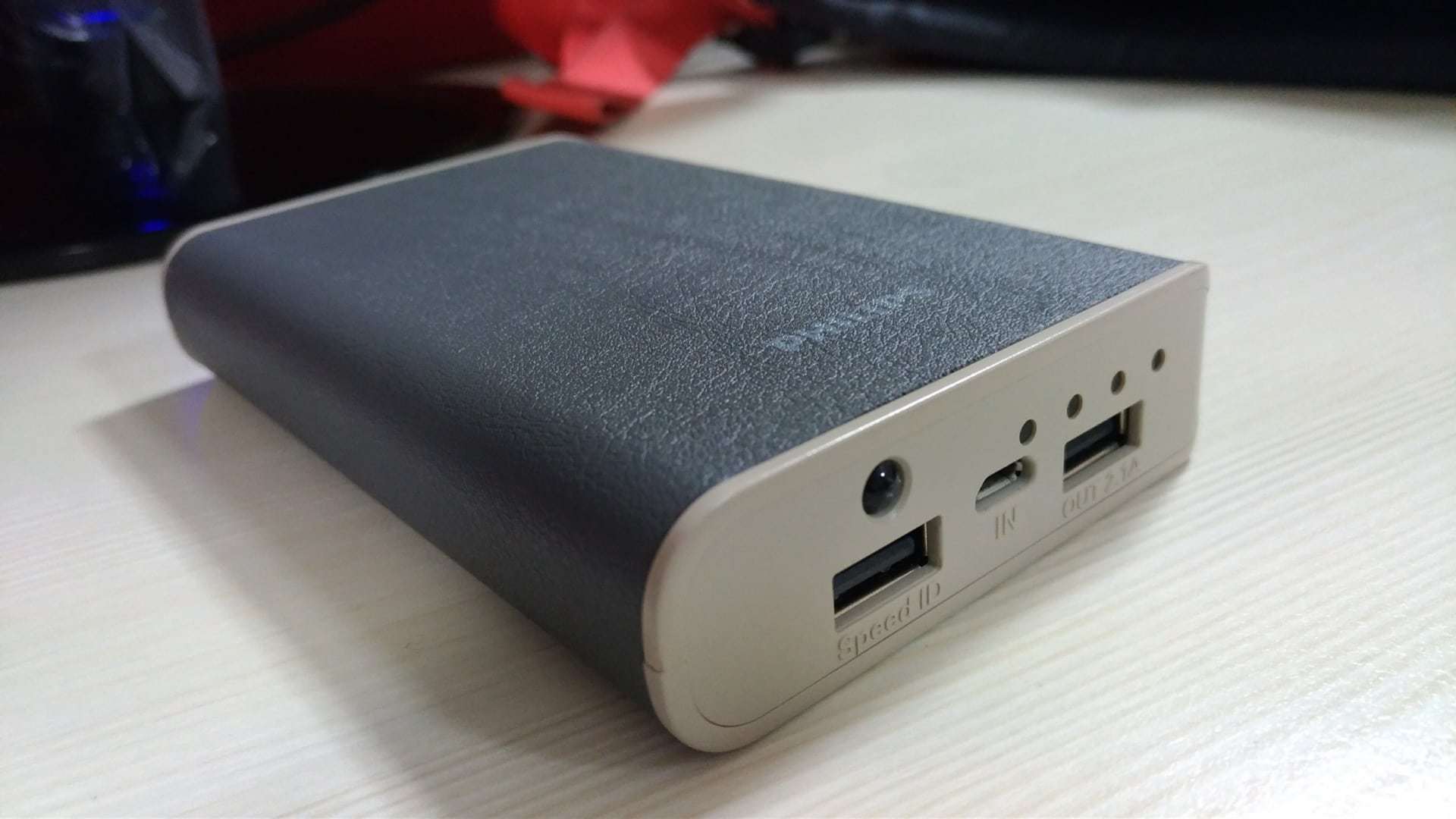 Along with wearables like headphones or earphones, we are carrying a portable powerbank now to juice up our laptops, iPads and mobile phones. So, we usually chose a high capacity range powerbank which could powerup our entire range of gadgets. The Philips DLP13006 falls under this category as it has a capacity of 13000mAh.
Philips followed a minimalistic approach for its portable powerbank design. The hard plastic case is housed by a leather-grade material, and the curved edges on every corner make me think of it as a normal pocketbook. There's only one button which has a couple of functionalities like turning on the powerbank and LED flash. At the bottom, there are two USB 2.0 ports [a 2.1A and a 1A] to charge the devices and a micro USB port to charge the powerbank. Along with that, there's a power indicator with 4 white LEDs and a LED flash. That's exactly what you can find in this powerbank and there's nothing much extra on it.
Now the real deal!
How many devices can it charge?
Does it support fast charging?
How much time will it take to charge my phone?
What's the time the powerbank takes to completely powered up? etc.
Well, these are a few questions which normal users would think of when they're about to purchase a powerbank. So, I'm going to address all this in this review.
Now every new powerbank comes with two USB ports where one supports a 2.1A and the other port supports 1A. The former one could juice up your mobile phones, tablets, and laptops while the later is for low-range mobile phones, iPods, and digital cameras. So, at any point in time, the Philips portable powerbank could charge two devices simultaneously.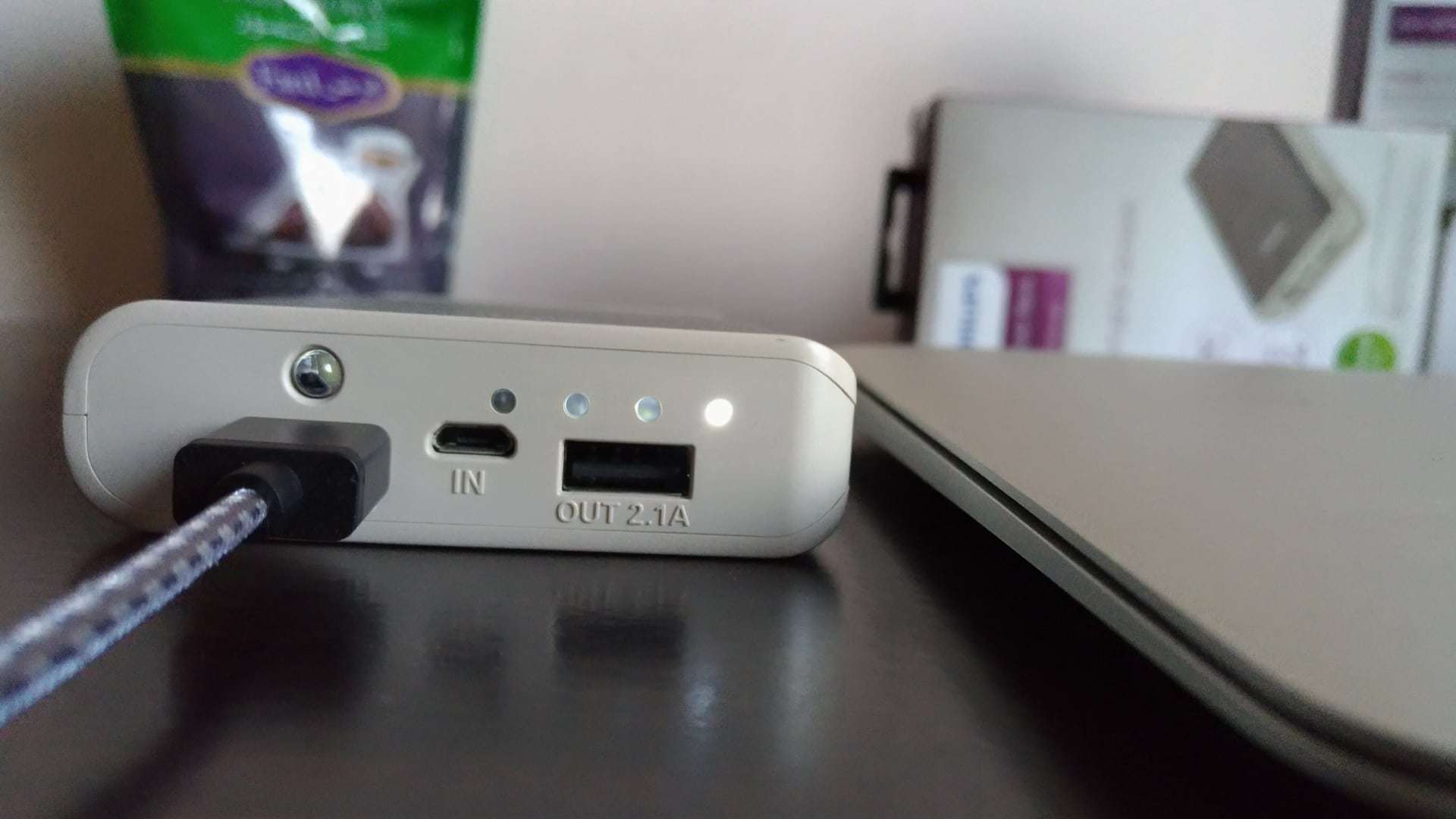 To know how much time it usually takes to charge a device, I followed a traditional way. Yes! I manually recorded the time and the percentage of battery in a Google Keep Notes. So, here are the test results –
Iteration – 1:
I used my Asus Zenfone 3 which has 3000mAh capacity and used the second USB port of powerbank which supports 5v/2.1A. I used the USB Type-C cable that came with the phone.
Initial Spike: I started charging it when my device was at 14%. As soon as I connected, there was an initial spike of 3%
Till 50%: Till my phone reached 50% there was a constant increase of 4-5% for every 8-12 minutes
Beyond 50%: This is when the charging speed is relatively lower compared to the speed when it was below 50%. At this point, it's taking 10-12 minutes to give 3% of charge
Overall Timing: Overall, to charge a 3000mAh Zenfone 3, the powerbank took 3 hours 70 minutes
Iteration – 2:
This time I used the dual ports to see how it charges two devices with 3.1A. Again, I used Zenfone 3 which has 3000mAh capacity and connected it to 2.1A port and a Redmi 3S Prime which has 4100mAh to 1A port. It is evident that Redmi 3S Prime would take a much significant time than the Zenfone 3 as the later is connected 2.1A port. So, this is how the test went –
As like before, I noticed an initial spike of 3% in both devices. Zenfone 3 was at 15% which spiked to 18% while the Redmi 3S Prime was at 32% to 35
After 30 minutes, the 2.1A port powered 15% while the 1A port juiced the device just 5%
The same trend continued, so I wanted to check how much time it will take if I connect Redmi 3S Prime alone to 2.1A and this is how it went –

For 38 minutes of time, the powerbank gave a charge of 11% for Redmi 3S Prime which is significantly lower compared to Zenfone 3 [but it's to be noted that it has 1100mAh more]
The same trend continued and the charge differed in the range of 9-12% for 35-45 minutes

Overall Timing: As mentioned already, the Zenfone 3 took 4 hours 10 minutes if it was connected alone, but when two devices connected and charged up simultaneously, the device connected to 2.1A will take extra 50% of the time to completely charge while the device connected to 1A will significantly take much more and I don't want to drag the number here. [no pun intended]
So, from these two tests, it is found that an average of 75 minutes is required to charge a 1000mAh and it's possible only when the device is connected alone. If there are two devices running simultaneously, then it'll take even more time. This also confirms that the powerbank will take a maximum of 4 hours to completely charge a 3000mAh phone. When we see it from a competitor perspective, it's the same as other brands like Protronics, Ambrane, Asus, and Lenovo but the powerbanks from Mi and OnePlus are significantly faster.
Now Comes the Real Question –
So, it's taking around 4 – 5 hours to charge a phone, how much time it will take to charge the powerbank itself? Well, it's actually a big question :p [pun intended] as the powerbank has a battery capacity of 13000mAh range but it comes with a traditional micro-USB port. Again, it depends on the power adapter we use. I used a 5v/2A power adapter to juice up the powerbank and it literally took more than 11 hours. I know that's quite a lot of time, but I feel it's required as it's of 13,000mAh range.
Now let me conclude it like this – Philips is a major brand and is known for secure, compact and high-quality devices. I felt the same when using the powerbank. When it comes to pricing, there are other powerbanks which are priced lower than 3,000 INR and has 10000mAh capacity, but again, the charging cycles matter and the Philips DLP13006 would relatively last longer than other OEM's powerbanks. So, I would recommend all to go with Philips if you're looking for a long-lasting powerbank with high battery capacity.
It's time to check out the Apple lightning cable –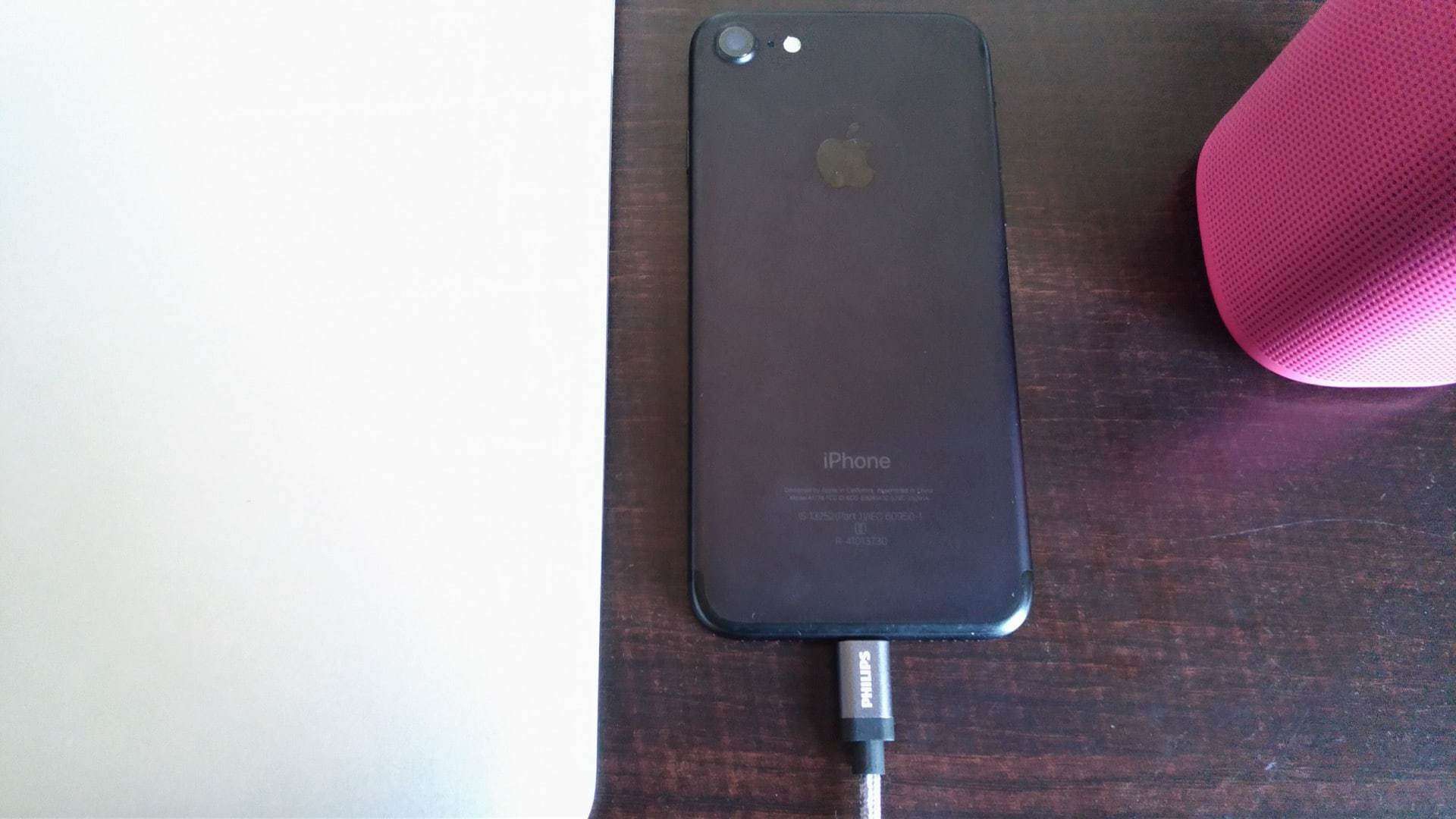 Well, the Apple lightning cable from Philips does the same charge & sync function like a traditional Apple lightning cable, but the difference is the material it's made of. The Philips DLC250BN is a Nylon braided cable with a metal case. This could be a perfect alternative for a traditional iPhone cable which is known for tearing-off after a year as the cable is rubberized plastic.
The Nylon braided cable lasts relatively long as it can be twisted, and can't be wear-off easily. Also, the metal case comes handy as it can stick to the magnetic docks on the cabins, or in the car's dashboard.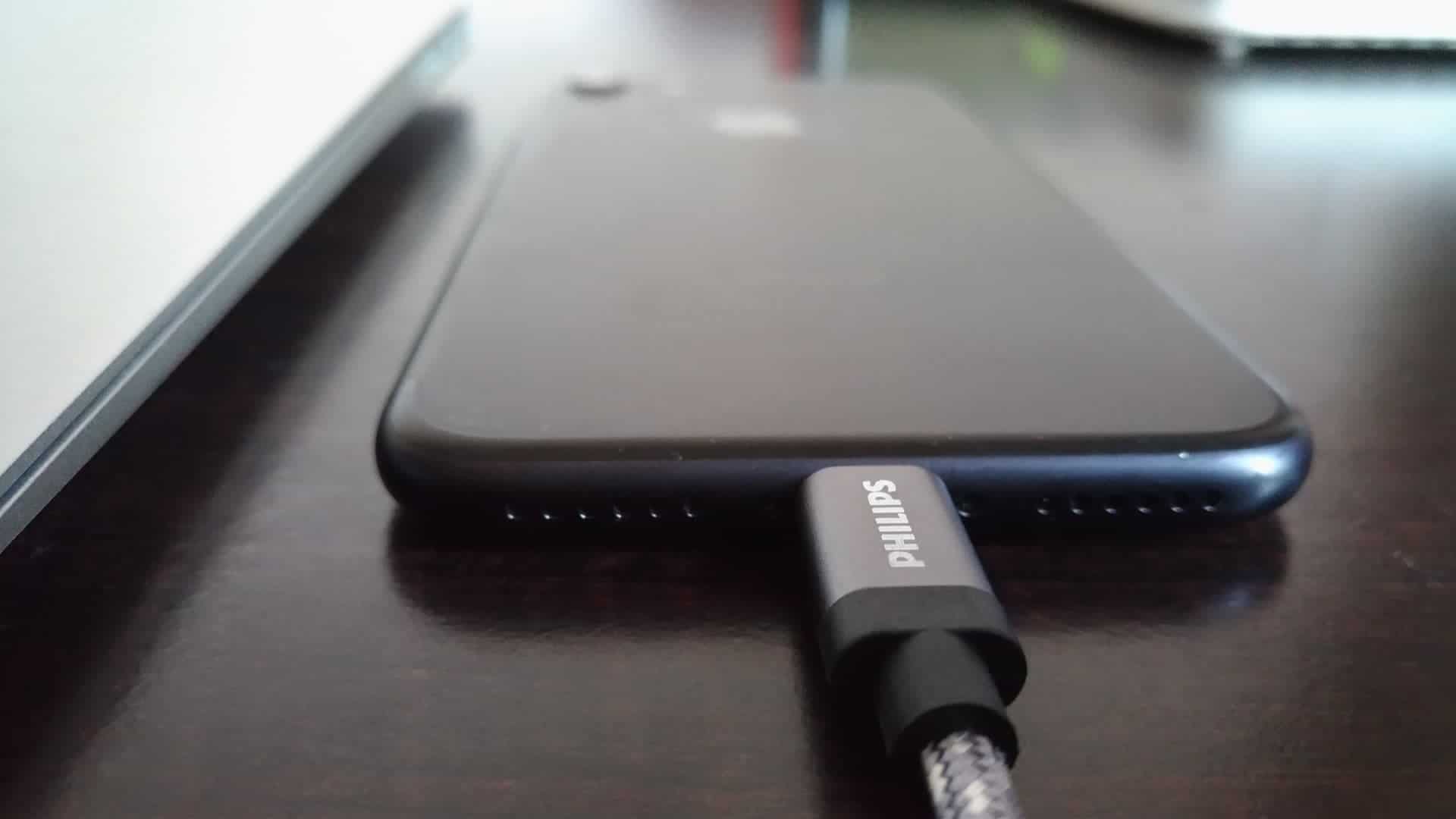 I've tested the charging time and data transfer and it's almost the same as of normal iPhone lightning cable. So, there's nothing much to talk about other than the material-grade. Honestly speaking, I've seen many people crying as their lightning cables cut-off. So, the Philips DLC2508N could be a perfect alternative for iPhone users.