How much storage do you have on your smartphone? 64GB internal? 128GB? Or may be a 32GB and 64GB internal plus external combo storage? But what about 464GB of storage on your smartphone? yes, that will be possible soon, introducing Saygus V SQUARED.
Saygus has claimed that they have developed a new smartphone called Saygus V SQUARED, which can have memory upto 464GB, well it will be split up into two parts- 64GB internal storage and 400GB of external storage. So, ultimately you are going to get 464GB of storage on your Saygus V SQUARED smartphone and feel like you are carrying a external hard drive.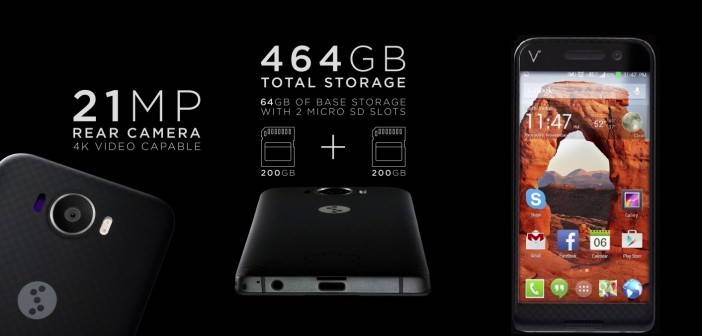 Saygus V SQUARED  is a water-proof smartphone that is way smarter than some others, at least in case of camera. Not just in terms of memory, it can easily beat some tough smartphones in the market with other specs. It features a 21-megapixel optical image stabilized snapper that can record 4K videos. There is an adequate 13-megapixel selfie camera which can record at minimum 2K videos as well.
Also be sure to check out their ultra cool video, in which you can see the Saygus V SQUARED in action.
https://www.youtube.com/watch?t=118&v=UBqYWCEVOIc
Saygus V SQUARED has 64GB of internal storage. And the extra storage is added via microSD cards, two microSD card slots would give up 200GB of extra storage space each, which makes it over 400GB in total. The latest PlayStation and XBox consoles come with 500GB memory, but also they are huge compared to Saygus V SQUARED smartphone.
For some HD quality sound time, the V SQUARED has Harman/Kardon audio tech inside. According to firm, the battery capacity is more than sufficient but they have not published the detailed specs yet. But here's what we know about Saygus V SQUARE so far.
• World Phone: GSM/CDMA/LTE
• 3100 mAh Amprius Removable Battery
• Side Fingerprint Scanner Technology
• Sunlight Viewable Arctic Link lll
• Edge-to-Edge Borderless Screen Lens – 5" 1080p FHD Display
• Advanced Power Saving Chipset for 50% Improved Battery Life
• Wireless Inductive Power Charging (Qi)
• Noise Canceling Cypher Sound Technology
• Fractal Antenna Technology
• Armored Online Mobile SecurityUnfortunately, the Saygus V SQUARED is right now not available commercially because Saygus are trying to obtain it for $1 million on Indiegogo to start with the mass production of the device. However, there is also a good news, they have already received $1,120,900 from 1,854 people in the last 18 days, for the project. So, we can hope it to be into the market soon. And if you also wanna make it a reality, then head over to their project on Indiegogo and donate.