SoundBot, a California-based tech company has been producing quality audio products for over 4 years now. The company has recently entered the Indian market with a wide range of products, and one of them that attracted my eyes is the SoundBot SB574 wireless Bluetooth speaker. In the past, I've reviewed several Bluetooth speakers, and the SoundBot SB574 is a little unique in terms of design as well as quality sound. Before I explain more about it, let's take a look at the key specifications first –
SoundBot SB574 Key Specifications:
Connectivity: Bluetooth v4.2
Range: up to 10 meters
Frequency Response: 150 – 18KHz
Play Time: 6 Hours+ [at 75% volume]
Battery Capacity: 2000mAh
Charging Time: 4-4.5 Hours+
Driver Size: 52mm
Impedance:

 4 Ohms
Now, let's head on to the review.
SoundBot SB574 Review: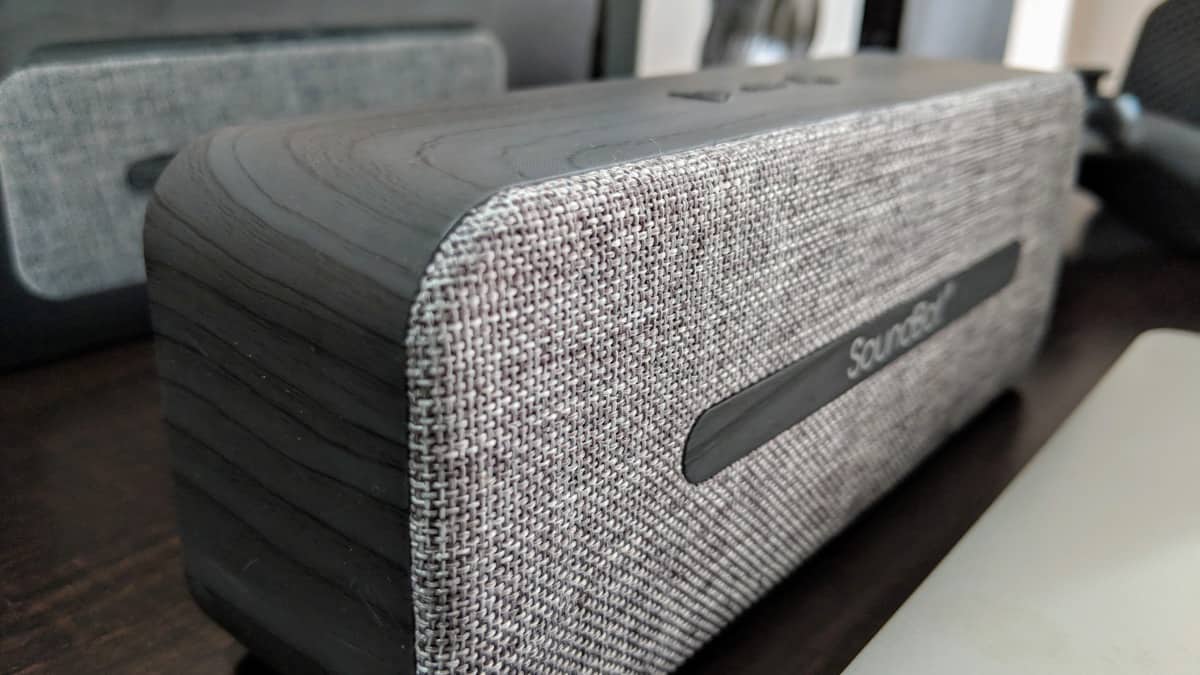 In terms of specifications, the wireless Bluetooth speakers may not impress many, but as I mentioned in the title, it's a budget-end speaker that doesn't put a hole in your pocket. As for me, the first thing I got attracted to it is because of its design. Although it comes only in one color i.e., gray there's a unique texture at the front. It has a fabric design that gives a big-time style quotient. Besides the fiber texture, the rest of the sides has a unique wooden texture. Overall, this goes where ever you want to keep it like besides your MacBook, or a TV or any other device.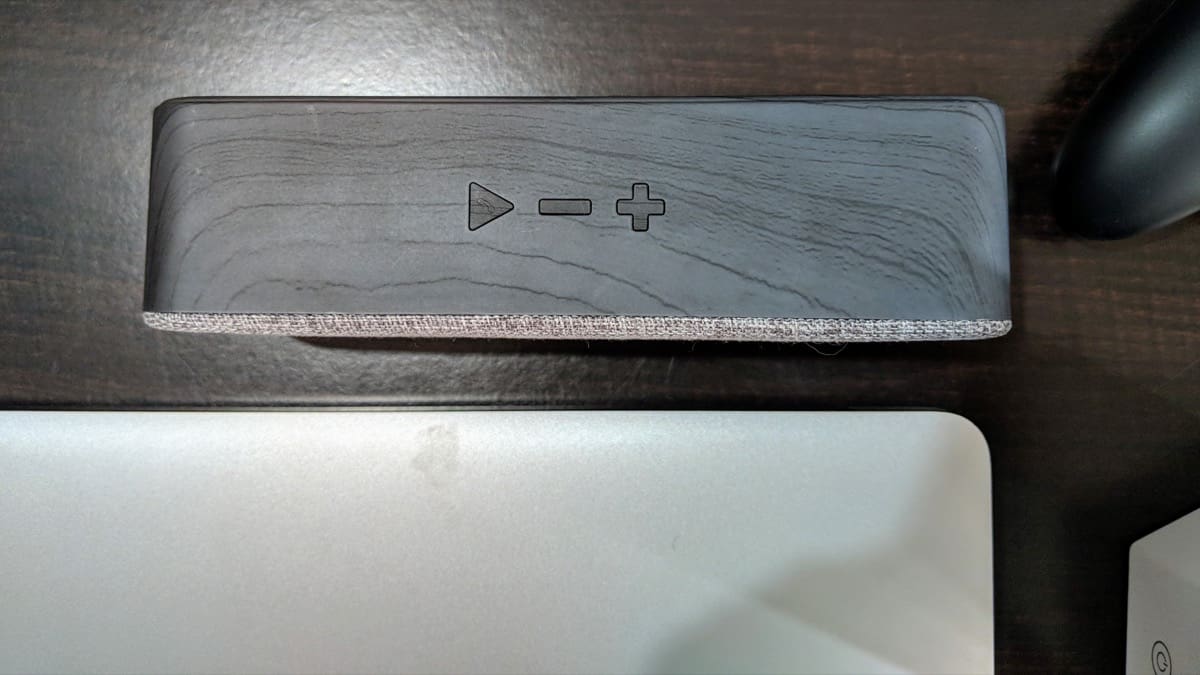 I really like the minimalistic approach they followed in terms of buttons as well as ports. At the top you can find 3 buttons – 'Play' button, Minus [-] button, and Plus [+] button which look quite vintage. Each button performs several functions like attending calls, skipping tracks, increasing or decreasing volumes, etc.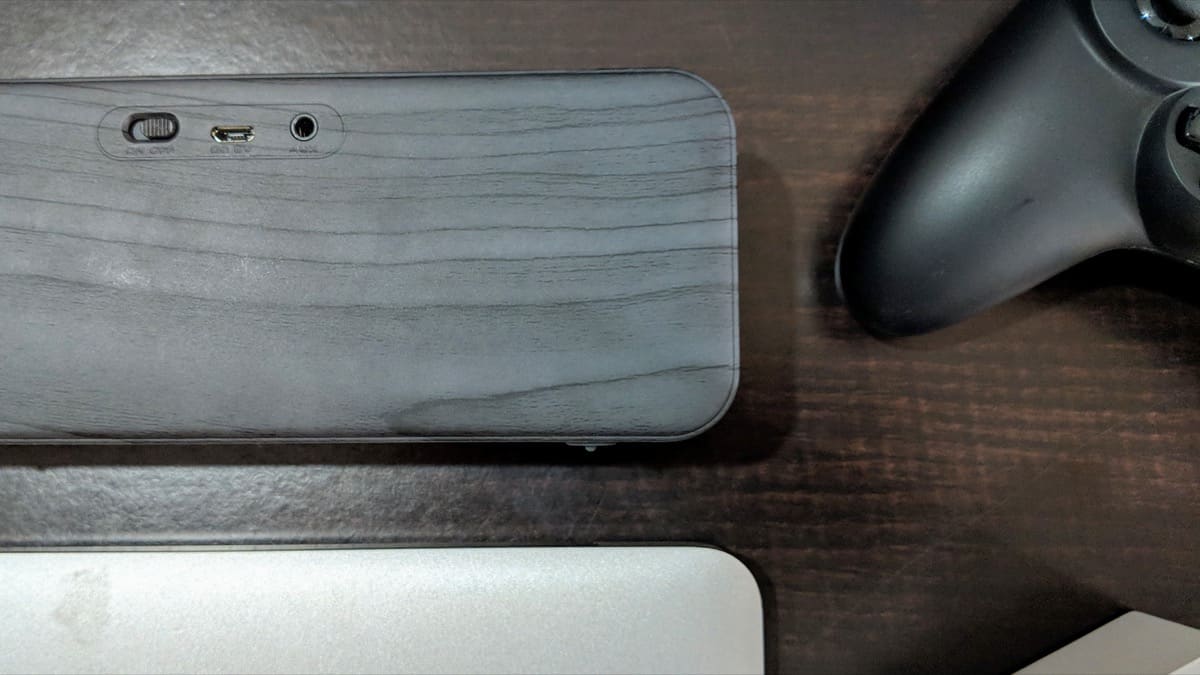 On the rear side, you can find the ON/OFF toggle-type button [again a vintage approach], a micro-USB port and a 3.5mm aux port.
Its PLAY TIME, Baby!!
Coming to the connectivity, it gets connected in seconds as it uses the not-so-latest Bluetooth v4.2. I used both my MacBook Air as well as Pixel 2 XL to test the audio output from the SoundBot SB574. From the manual, I understood that to make it power-efficient, I should listen to the speaker at 75% volume. Well, I didn't mind making it go 100%. I played a couple of Daft Punk tracks [big fan of electronic music], David Guetta tracks, and other DJs to feel the bass and treble. To my surprise, the 6W speaker was able to produce crystal clear output.
Truly, there was no distortion, and the volume was loud enough to surround a big closed room. To listen to true-voice [vocals], I've played Dido, Regina Spektor, Jain tracks and I thoroughly enjoyed the sound quality. There were no drops, and highs, lows are perfect. The next thing I did was listening to Hans Zimmer music, watched a couple of movies like Ready Player One, Deadpool 2, etc.
During the voice calls, as well as speaking to Google Assistant, there was a little trouble [interms of distortion/cracking] and it was a few times I've faced it, but not every time.
Moving to its battery backup, it's true that at maximum volume, the SoundBot SB574 could last only for 4 hours, but on a minimum volume i.e., 50-70%, it lasted for more than 6 hours. It's evident that the more the volume, the higher the power consumption. The Bluetooth speaker only got 2,000mAh which literally takes more than 4 hours to fully charged. But again, thanks to the 3.5mm aux port, I quickly turned it into a wired speaker. I want to emphasize a little feature [might not be a feature] that it gets connected even when it's charging and goes in play mode.
Things I didn't Like
There are a couple of things I didn't like and one of them is there's no battery indicator and on low battery, it just alerts using the sound. It is true that none of the Bluetooth speakers come with a battery indicator but a few of them do show on the connected device i.e., either on your phone or laptop's Bluetooth connection. I didn't notice this on SoundBot SB574.
Battery backup is a big thing when it comes to Bluetooth speakers. Although the speaker comes equipped with a 2,000mAh battery, it only lives for a maximum of 6 hour play time. I was just hoping it could be a little better.
Things I Like
Firstly, the high-grade fabric design as well as the unique wooden texture
Buttons at the top which gives a vintage look
Sound quality
portable and weighs just 480gms
Design aesthetics
Verdict:
With a budget of around Rs. 1,600, this is one of the best budget Bluetooth speakers you can buy. I strongly recommend if you want to use it in your room for watching movies, listening to music, etc. Just go with it.