Earlier we used to look on features and camera of phones, but now we search for a good battery backup while buying a new phone. Running out of battery on your phone is perhaps the most annoying thing ever. Now, as a hardcore user I face the same most of the times, however a fast charger or powerbank usually saves me, but yes, "Who likes to carry  powerbank always with him?" And basically on Android phones, battery drains out like a flash if you're playing a lot of games, use social media a lot and do heavy multitasking. I usually rely on some tweaks after rooting my device, but what about anyone who has not rooted his phone yet? Yes, for that I have the Top 10 tips, which you can try to improve your phone's battery backup upto an extent. Also, for rooted phone users I will be coming up with another similar guide.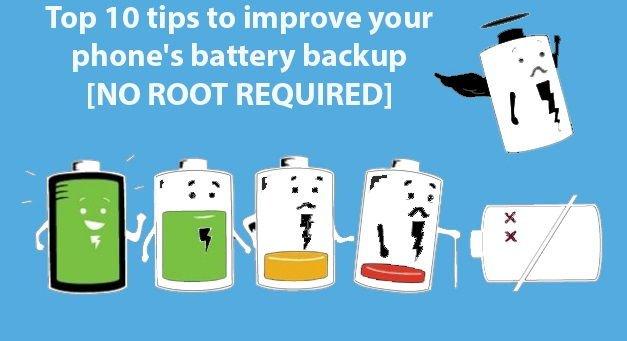 1. Don't just exit apps, Close them properly
You think that you closed an app but the truth is you haven't really. All those apps that you think you have closed are in reality still running in the background and are actually using the processing power of your phone and you will be running out of juice much faster than you expect. Not just the processing power drains your battery, so does the network connectivity as well, as some apps use background data which will drain your battery much faster. Just kill those apps, tap the multitasking button on your Android device and close the ones you don't want to run, also you can close them all with one tap. On some old Samsung phones, you will have to press and hold the home button to open task manager and you can kill apps there.
2. Keep your OS updated
Sometimes, some poor app management leads to higher battery drainage and also heating issues, most of the times the manufacturers try to patch it through OTA updates, so it's the best idea to keep your phone updated
3. Things which you are not using
This tip is one of the most important among the Top 10 tips to improve phones battery backup.When you are not in a wifi zone, why keep the function running? No one to share stuff with? Why keep the Bluetooth turned on? All these functions take up a lot of your battery power so make sure to always turn off functions like GPS, Wi-Fi, Bluetooth, NFC etc. Functions like these keep searching for nearby networks and devices, thus using your phone battery. Make sure to always turn these off when not in use. Also turn on the power saving mode in your device if your device has that feature. You can just swipe down from the top of the screen and you will be able to see the options to turn these functions on and off in your android. If you are unable to find any of these function, you can go in to the settings and adjust as per your needs.Apps like Email, messaging apps
4. Apps like Email, messaging apps
Email and contacts you can just tweak. You can change the number of times these apps sync with your services. Make it sync every 30 minutes instead of every 5 minutes. It will still be efficient but help you save energy. You can even change what should be synced.
Locate the 'Settings' on your home screen and click on it. Click on 'Accounts' option. Select that account that you want to adjust. There some apps that you do not even use so it makes no sense to sync them, so for them you can just turn of synchronization.
5. All that light
Decrease the brightness level of your phone. It consumes a lot of energy and do you really need your screen to be very bright? Swipe down from the top of the screen and you will be able to see the option to decrease you brightness. Some phones have auto brightness to match the brightness level automatically, but while in indoor lighting conditions you can put the brightness even lower and conserve power.
6. Turn vibration off
Vibration consumes a lot of your battery, and who needs a mini earthquake always? While you're in silence zone or in theatres, it makes sense otherwise there is absolutely no need, as ringtone and alert tones are enough, so just turn vibrations off
7. Extra apps
There are certain apps that can help you to save your battery life.  Apps like Du Battery Saver can help you to customize your settings even more and you can do a lot of things to save your battery life without even rooting your phone. Most people actually use this particular app, there are some other apps as well on Google Play, but I feel like most of them are same, I have used DU Battery Saver and actually it worked fine for me.
8. Advertisement free apps
We all hate advertisements popping out when we are just trying to get our work done and use some apps. These advertisements not only annoy us but also consumes data and eventually that affects phone battery. Try switching from these apps to better apps which do not have advertisements.Animation scale
9. Animation scale
Now, to help save even more battery, go to your developer options. It is important to unlock the developer options. To do that, just locate the settings option in your phone and click on it. Next, click on the 'About' option. After this click multiple times on the 'Build number' option continuously. You will get a notification which will say that you now have been promoted to the Developer status. Now go back to settings and just above the 'About' option you will see a new option has been created called 'Developer options'. Tap on this new option. Now, please make sure to only touch those options that you actually know about properly. Scroll downwards you will see the option of 'Window animation scale'. Here, turn each of these settings to 'Animation off' and this will help increase your android's battery life.Use your device wisely
10. Use your device wisely
That's the last thing I would like to mention, some people actually use apps and services unnecessarily no matter whether they need them or not, the same thing also applies for data usage. As Data usage and battery life is directly proportion, be conscious about data usage as well if you need to save more battery power, also I have seen many users using multiple battery saver apps and eventually ending up with nothing. Try a few apps one by one, pick the one you think is the best and suitable for you and enjoy.
So, this was our Top 10 tips to improve your phone's battery backup without rooting, also you can drop you suggestions or tips below in the comments section. We are always available on Facebook to help you out so join us there. Also, just like our Top 10 Tips to save battery life without root, we wil be coming up another such guide for root users, stay tuned.