Facebook ads are pretty annoying sometimes, stupid websites, app suggestions, and blah blah blah. In fact, sometimes they are so irrelevant that I die out of laughter or want to smash my laptop. Well, I don't wanna hurt anyone's feelings, but I don't know why I just keep looking at ads related to some astrologers and godmen, pretty funny for me, who wants to take the most out of the social media and uses it for just connecting with professionals, colleagues, friends and family.
And also, on the right side of the news feed there are my pages stats in brief, which is fine, below that I will find some stupid event invites that has nothing to do with me. In fact, that's not the fault of Facebook, it's the fault of those arrogant and idiot people who will invite you to some event being held tomorrow at New York when they already know that you're in Vegas!! That's the height of stupidity of people on Facebook.
That's not the end while  scrolling down, well between updates and pictures I will see those irrelevant ads and bad luck, AdBlock Plus doesn't work on Facebook so that I can block those ads. And, also the Facebook ads have revolutionized the industry but they have some shitty tracking stuff. Let me give you an example.
On August 6th, I attended Asus Zenfestival in Delhi. But prior to that, a few days before the event I was keeping an eye on airfare via different routes on MakeMyTrip, it's popular both in the US and India. But, yes I don't often bok online, rather any ticketing agent does that job for me. Well, the ticket was booked and I selected my seat and meal preference online (On Air India). And then I visited Delhi, attended the Zenfest and returned back home. But, even after I had returned I had been gettings ads of MakeMyTrip via different routes (the routes I checked) on my Facebook, which is annoying.
Okay, Facebook tracks every single website we visit while using Facebook and shows relevant ads, then why not Air India? When they already know what I'm doing then I think they should show ads related to those contents.
So, I switched to Flat Styled Facebook and here's how Flat Style Facebook looks like.Here's the list of features it has
Astonishing new design and interface
Removing all Facebook ads (similar to Adblock)
Facebook works much faster than before
Very useful left panel that allow quick access to main sections
Increased readability of the content
And yes, it has many advantages leaving ads aside. Flat Style Facebook, as the name suggests is styled flat which makes it load faster because of the absence of complex elements present on the conventional page. Facebook has been making the design of itself complex throughout the years, and new elements are being added with lots of changes and addition in the interface.
But do the users really need it? No!! Flat Style Facebook doesn't have the 'trending' section which is I think quite not a needed element as it keeps showing some of the old stuff throughout the day and not so good like Twitter in showing trends. Guess, Facebook couldn't copy that kinds of stuff from Twitter well like they did the hashtag. But the Flat Style Facebook maintains some consistency in design and here's how it maintain some basic rules, right from 2004 to 2015.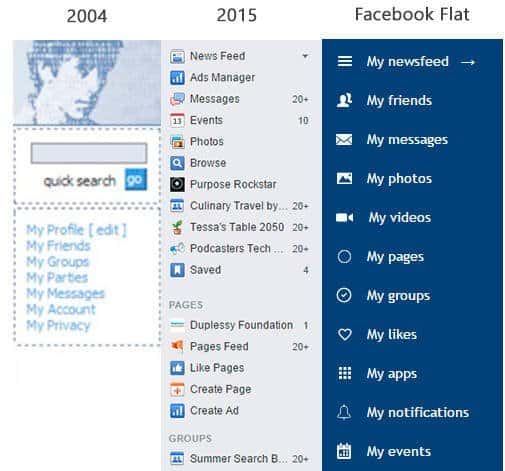 It is actually good enough because it follows the same old rule and lets you navigate easily. Also, the menu doesn't disappear when you're navigating across pages like it happens on the current Facebook. And now, the dealbreaker- ads. Got rid of stupid ads and sponsored posts, some stories are actually so horrible that I can't believe in what Mark Zuckerberg claimed. He once mentioned that Facebook is a perfect ad platform because they know what a person like, what's his age, gender and etc and has the best ad experience, but I will say that it doesn't apply in every case, sometimes ads go wrong and what does a user get? Articles, news or any other digital content which has almost nothing to do with his life. So, now maybe most of you are wondering how to use the Flat Style Facebook?
Actually,  it's pretty simple and trust me it's completely safe and you need to make a few clicks for that. Just head over to the extension page on Chrome Web Store and click on 'Add to Chrome' and within seconds, you are ready to rock!! The developer has also mentioned some of his future plans and they seem to be promising enough.
Integration with Google services: Gmail, Drive, Translator, Hangouts, Tone, Search, Images, Analytics, Voice, YouTube, Maps etc.
Integration with Twitter, Evernote, Dropbox, Box, Slack, VK, Instagram, Reddit, Wunderlist, Pinterest, Whatsapp, Snapchat, Vine.
Secure and free VPN Access to Facebook from any country that blocked Facebook for its people. It's working like Hola, Hide my ass, TunnelBear, Hotspot Shield, StrongVPN, Unblock Us, ZenMate, Spotflux, Unblock Youku and other VPN apps.
Speed dial with services.
New tab.
Change colors, block hierarchy, fonts.
So, head over to the chrome store – Install the app & waste live your life happily with an ad-free Facebook :)