Asus, the brand known for launching
the world's first 4GB smartphone
and the
world's first 8GB smartphone
has recently announced the next-iteration of Zenfone series i.e., Zenfone 5/5Z at MWC 2018. Zenfone 5 is one of the first Android notch smartphone announced this year. It's not only the
notch android smartphone
but also comes with AI capabilities. A few days back, I got a chance to explore the pre-production sample unit for a while, and here are my first impressions and hands-on experience of it.
Zenfone 5 – Hands-On & First Impressions:
When compared to
Zenfone 4
and the previous smartphones in Zenfone series, there are a lot of changes I noticed on Zenfone 5. The first thing I noticed is the notch at the top. We are in 2018, and
the notch phones are too mainstream now
, and the Zenfone 5 is not an exception here. In fact, it is also the first android notch phone announced by a leading smartphone manufacturer. Just like the recently launched
Vivo V9
, the notch at the top is relatively smaller than the iPhone X.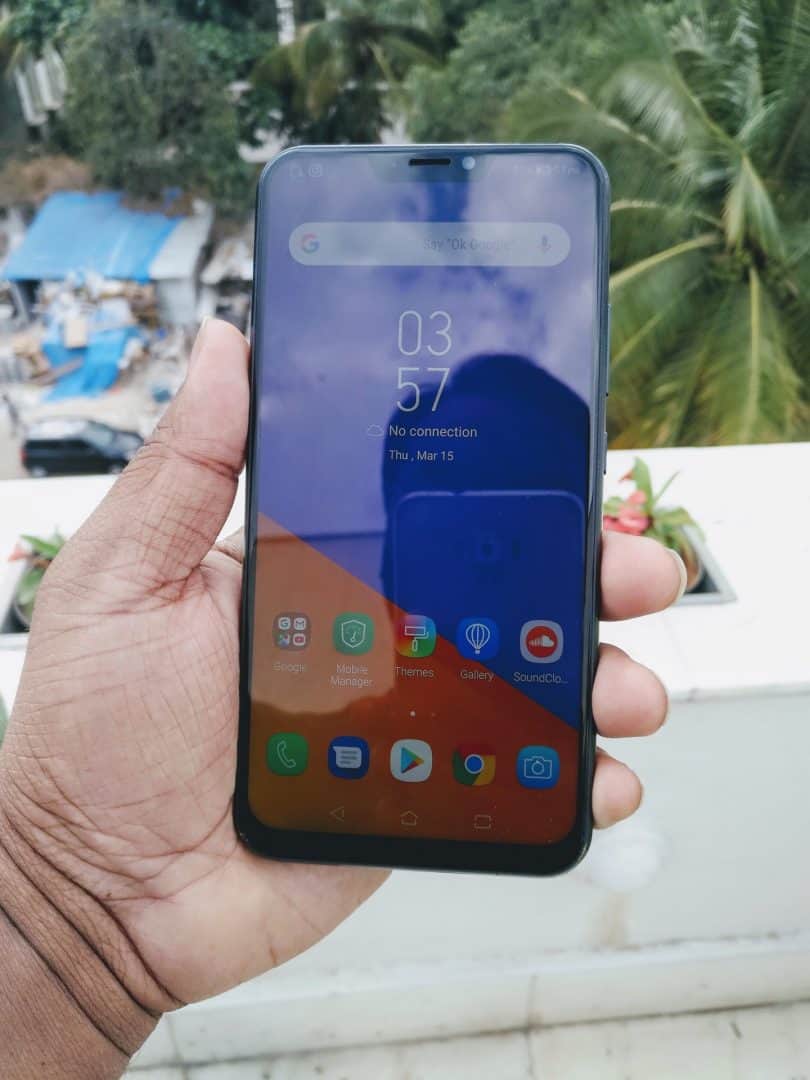 Unlike several fullview display smartphones launched last year, Zenfone 5 comes with a 19:9 display thereby giving a real 18:9 fullview experience. The screen-to-body ratio is 90% which is as same as what other brands are offering in their smartphones now. Coming to the rear side, there's a fingerprint sensor in the middle and the dual camera module is at the extreme left. [Psst…very much similar to iPhone X]. To make it briefer, let me just giveaway the full specifications, so you'll have a better understanding.
Zenfone 5 Key Specifications:
6.2′ [19:9] Full HD Super IPS display with a 90% screen-to-body ratio
4GB/6GB RAM | 64GB ROM, expandable up to 2TB
Powered by Qualcomm Snapdragon 636 Octa-core processor with AI capabilities
Adreno 509 GPU
ZenUI 5.0 on top of Android v8.0 Oreo
A 12MP Dual camera on the rear side with f/1.8 aperture, and an 8MP f/2.0 front-facing camera
3,300mAh Li-Ion battery
3.5mm Headphone Jack
It's 2018, and the Zenfone 5 comes with a headphone jack, Yay!! Anyhow, as the phone hasn't been announced yet, so I'll just share my opinion on the main features. Some of the latest trends in 2018 are 18:9 display, AI capabilities, Face Unlock and of course, the new 'NOTCH'. I'd say, Zenfone 5 inherited all these features in the right way. But most of the smartphones launching in 2018 will have all these features. So, what difference does 'Zenfone 5′ makes with others' in the market? Well, that I can say only when I get to test & review it. So now, let's take a look at the main features –
18: 9 display – This has become quite a mandatory feature now. As mentioned already, the Zenfone 5 has a 19:9 display that provides a true 18:9 display experience and it's a deal breaker here. The display is vivid and compared to previous zenfones, I've noticed a good color saturation in the display. Though it's a super LCD display, the colors on the screen are just as brighter as an OLED display
AI Capabilities – Most of the brands concentrate on incorporating the AI on their cameras, but Asus went a little further and offered some special features. There are many optimizations can be done using the AI on the phone. There's an AI-charging, AI performance mode, and many more, but the main feature is obviously the AI-powered camera. Just like the Honor view 10, the AI-camera can recognize different scenes and optimizes the ISO, white balance, etc. automatically. The results are brilliant! I badly want to show you the camera samples I took, but I will wait for the full review. Till then, you can see the camera samples on Instagram by Marcel.
Face Unlock – I can't make a comment on this just now as I've not tried personally. I had an experience with one of the leading competitors to Zenfone 5, which didn't work as promised. So, I'll test it soon, and update here. I can guarantee that, the Zenfone 5 face unlock works as similar to the OnePlus 5T, but again, they don't have many sensors that 3d maps your face and updates it like the iPhone X. So, proper testing is needed.
Notch – I don't want to call it as a special feature, but I feel it's much needed. Most of the brands haven't reached a position where they could offer a truly bezel-less experience like the Vivo concept phone. So, customers would really love to purchase a phone that merely resembles the iPhone 'X'. Unlike other notch phones recently released, the Zenfone 5 comes with notch-gestures. So, that's the main advantage here.
Well, that's my hands-on & first impressions on the Zenfone 5. I know, this looks like an incomplete article, but I'll try to update it as soon as I get to test a few other features for a few more hours/days.