Google in an official blog post has said that the Android 5.0 (Lollipop) update has been released, and yes without releasing android into open source, there is no completion, and we have seen the Android 5.0 Lollipop to be released in AOSP this morning
So far the following phones and tablets are in the list of devices that will be getting the Android Lollipop:
Google Nexus 6: This is the launch device for the Lollipop. This means it will come with the Android Lollipop installed on it. For now it is not available in India.
Google Nexus 9: This tablet is also a launch device for the Lollipop. It will be available in India in the coming weeks.
All the android one smartphones released this year in India will surely get android lollipop update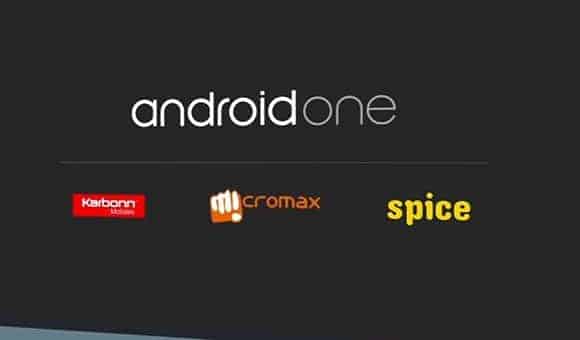 However, there were no statements about which models and regions will get the latest version of Android first. Google Play Edition smartphones and tablets will get the update in the initial wave.There have been no reports of Nexus 4, 5, 7 and 10 getting the update till now, but they are reports suggesting that these devices will surely get updates in the forthcoming weeks.
Android 5.0, which Google has called its most ambitious release ever, brings a host of new features, such as a total design revamp, better battery life, improved security and support for multiple user profiles on same device.
Read more : Top 5 features of Android Lollipop that you must know about
Motorola has said that Moto E as well as the first- and second-generation Moto G and X smartphones will get Android 5.0.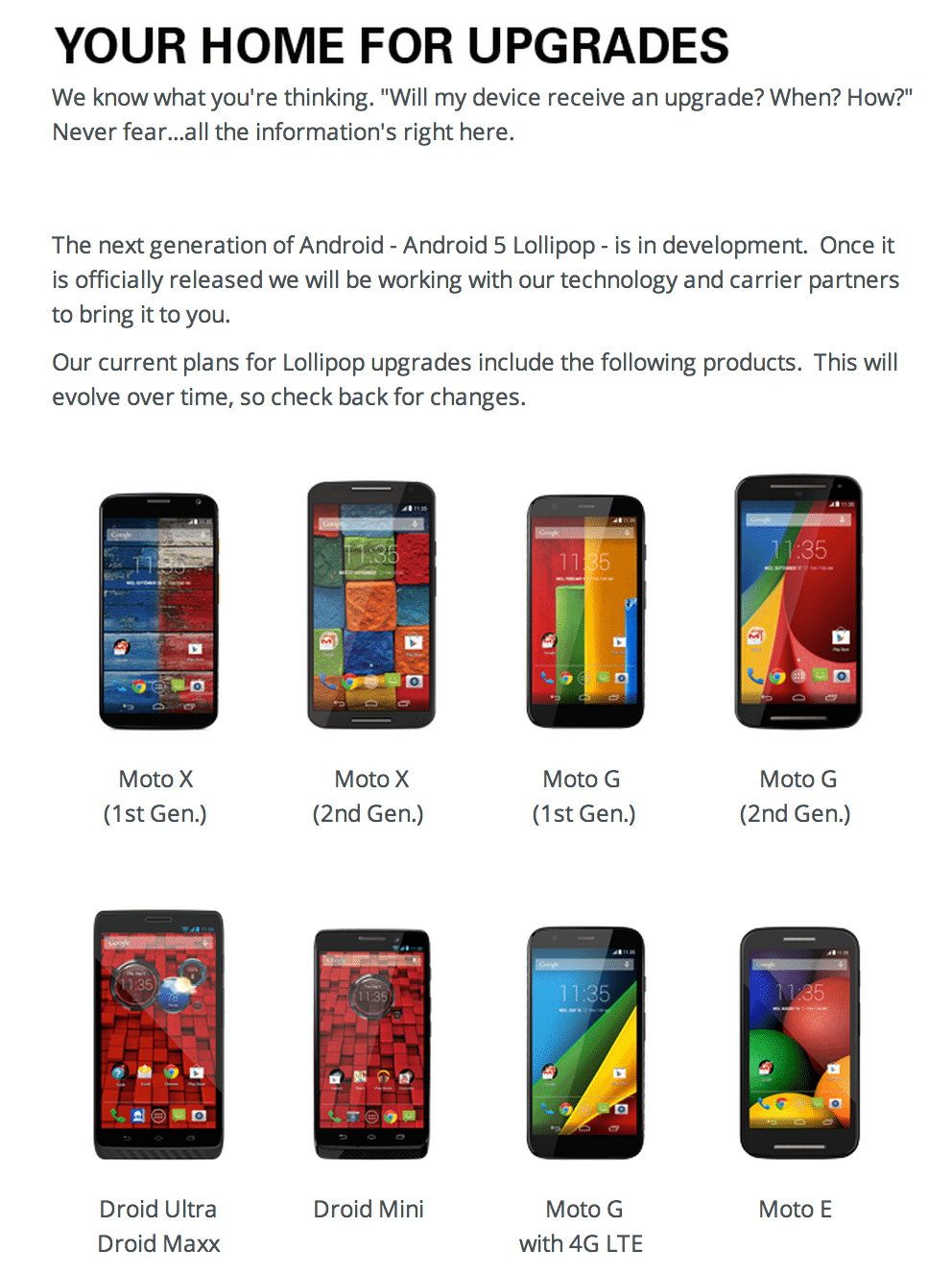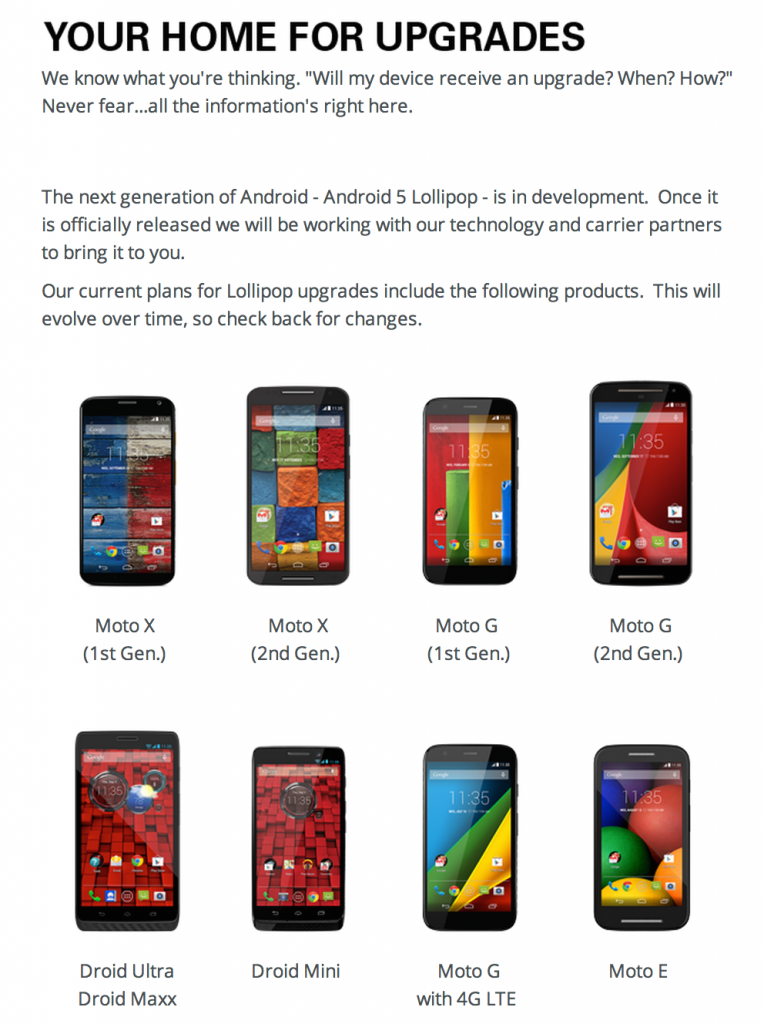 Likewise, Sony will release the update for all Xperia Z series models, among the other smartphones.
HTC has said that its One and One (M8) smartphones will get Android 5.0 update within 90 days of its release via twitter today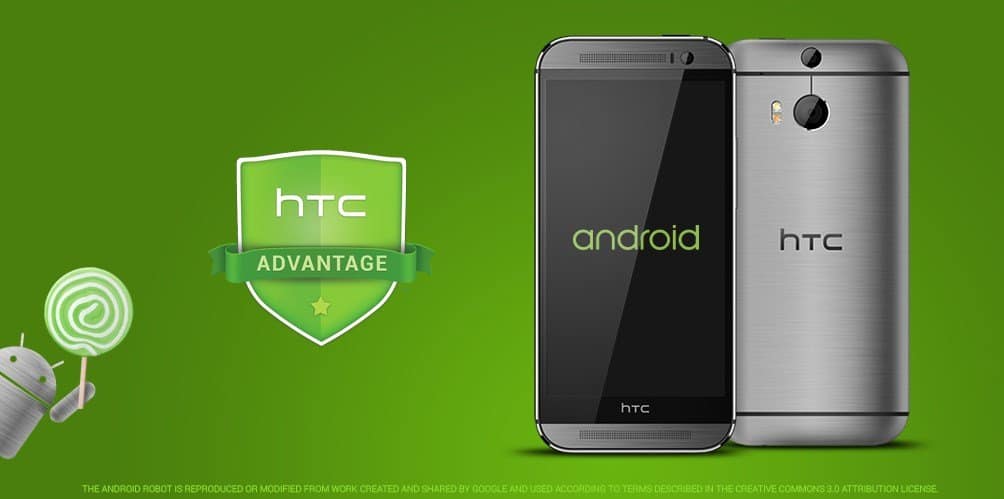 OnePlus One –the flagship killer smartphone in 2014, is also confirmed to get android 5.0, we can see the update after the 90 days of official roll out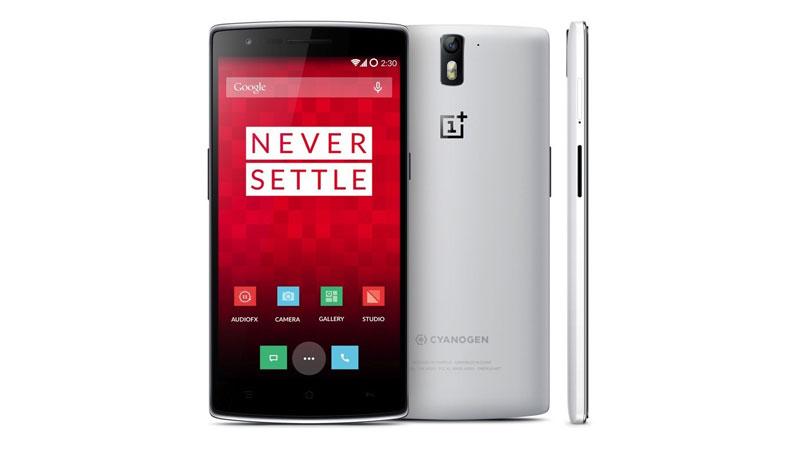 Just now confirmed that Nvidia shield tablet is getting the Android 5.0 Lollipop this month ( source: androidpolice.com) and you can find the sneak-peek video below
Asus zenfone series smartphones are also confirmed to get Android 5.0 Lollipop next year, and here is the list of smartphones and their dates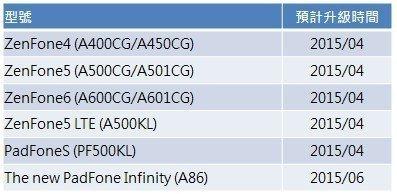 Unconfirmed devices getting Android 5.0 Lollipop:
Apart from above there is no official statement regarding availability of Android 5.0 on their major manufacturers, such as Samsung and LG. we have seen some reports suggesting that Samsung Galaxy s5, Galaxy Note 4, Note 3 and Galaxy Alpha will get an update and from LG it will be G3. Rightnow there was a leak yesterday showing Galaxy s5 running on Android 5.0 and you can find the video below
http://www.youtube.com/watch?v=2yBLqnokjPM
And we have seen a tweet from Samsung earlier in october too, don't you think samsung getting android 5.0 ?
https://twitter.com/SamsungMobile/status/524530552976994304/
Want to download the Android 5.0 Lollipop source file ? head over here