Wherever we go, we modern people tend to take our digital tools with us. The innovation of science and technology makes it very easy for us to memorize our beautiful life moment. One of the coolest way is to make videos and share them with our special ones. But here comes questions, before you share your videos, do you ever think about the safety problem? How could we protect them from being stolen for bad use?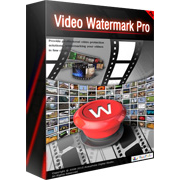 Aoao Video Watermark Pro Focuses on Protecting Video Copyright by adding identity signature, ownership text, company logo and even geometry graphics on video files. This video watermarking software offers 100+ free image watermark materials. With a user-friendly interface, it is absolutely an excellent solution to stamp personalized watermark on any video file.
Besides, this Video Watermark Software can be used as a professional video converter to convert video into different formats, and it also can capture snapshot from video.
For People Who Are:
YouTube users who upload original video files
Video website webmasters who offers different video files in public
Video studios that makes video tutorials only for education
Movie websites which need to protect original movie copyright
Family DV users who want to do some simple designs
All video recorders who want to protect their video copyright and do simple designs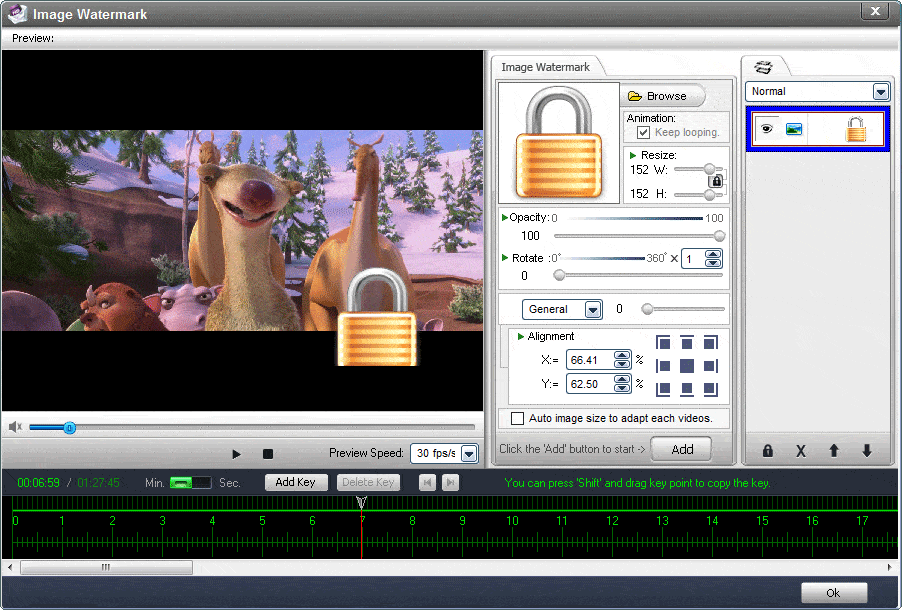 Aoao Video Watermark Pro Main Features:
Text Watermark
Add text watermark to video with rich settings like opacity, rotate, scroll, font options, etc.
Insert copyright symbols C, R and TM to video.
Image Watermark
Add image watermark to video with various settings
200+ Free Watermark Templates
Support animated image watermark
Geometry Graphics
Add arrow, line segment, curve, rectangle and round shape to video.
Common settings – color, width, opacity, rotate, etc.
Timeline
Freely control the time watermark appears or disappears.
Video Effects
Enables to add special effects to video, including Brightness, Contrast, Mosaic, Old Film and so on. You can give video clips a high-contrast appearance, an aged or old-fashioned look, a dreamy look, etc.
Video Formats Conversion
Support converting popular video files like AVI, MPG, MKV, MP4, WMV, FLV, etc. with a very fast speed and high performance.
Batch Mode
Adding watermark to hundreds of videos at once.
Save you much time.
Layer Concept
All of the watermarks are based on one layer, just like Adobe Photoshop. Create new layers, in which you can set different styles.
Like Adobe Photoshop's layer.
---
System Requirements
CPU – 1GHz or higher Intel or AMD processor
RAM – 256 MB or higher
Graphic card – DirectX compatible graphic card or higher
Monitor – XGA (800×600) or higher resolution monitor
Operating system – Windows 2000, 2003, XP, Vista (32 & 64 bit), Windows 7 (32 & 64 bit)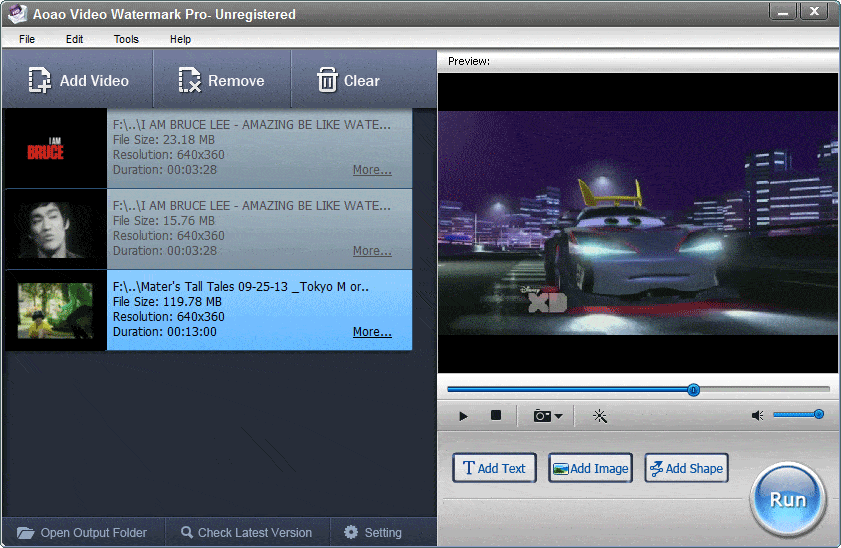 If you want to get full product experience, or if you want to get more detailed information about this software, just follow the link