I've received the Asus ROG G751J gaming laptop a few days back to review. I started testing the performance of this ultra-high-end & the expensive gaming laptop as soon as it arrived. ASUS has been always a pioneer in case of both low-end and high-end gaming laptops. They have brought both ultra slim laptops like ASUS ZenBook UX305 and also, some very good budget gaming laptops.
But this time I've made hands-on this pure gaming beast meant for hardcore gamers who will do anything to get the extreme performance and power long with style. The Asus ROG G751J gaming laptop which is an extremely powerful gaming laptop with the latest Nvidia GTX 860M GPU in the market. So, I will just do a detailed review of Asus ROG G751J Gaming Laptop.
Build & Design:
The moment I take out this beast out of its cage, I saw how extremely well-built it is with rock solid looks. In this fast-moving world, everything seems to get smaller, but not gaming laptops like this. The Asus ROG G751J is enormous in size with a 17.57-inch display and heavy chassis. It holds almost everything you need. Opening up the lid powers up the backlit keyboard (Dark Red color) and the ROG Logo on the back side of the screen. The device looks like a beast filled with blood on a dark room. Thus making it a perfect partner for any hardcore gamer. The beast weighs around 4.3KG which is really uncomfortable to place it on lap and play the games. Instead, you can set the device on a table (a dedicated one as its screen size is quite big) and can play your favorite games without any hassle.
The matte-black finish gives a premium look for the laptop. Although care should be taken as dust will get settle down on the laptop. On the rear side, you can see two air vents (exhaust) which will help to cool the processor and GPU.
Looking for connectors to connect the other devices?
The laptop has got everything- Two USB 3.0 ports, a VGA connector, three audio jacks, Ethernet, HDMI and even a Thunderbolt port can be found on the machine's right edge. Two additional USB 3.0 connectors are arranged on the left side, as are the rig's optical drive (a Blu-ray burner) and SD/MMC card reader. Enough connectors? Well, the Asus ROG G751 measure 16.4 x 12.5 x 1.7 inches which are not at all bad for gamers, but remember if you are not a hardcore gamer, you can't make this beast as your pet :p. I was kidding! Go through the review which will help you out on using this device besides gaming :)
Keyboard & Trackpad:
The keyboard on the Asus ROG G751J resembles a desktop keyboard and at the first sight itself you can tell that it is meant for gaming with some extra red layers of color around the W,A, S and D. Also, the W key is a little bumped up so that you can find it easily without looking away from the screen. There are also, three more programmable keys labeled as m1, m2 and m3 which you can set according to your needs. Other keys like NVIDIA GeForce Experience, Steam & Asus own Gaming Center Menu have special features. The Steam button can be used to directly access the latest games installed in the device while the special Video button opens up the NVIDIA GeForce Experience & the ShadowPlay which helps to record the ongoing gameplay. This feature resembles the Twitch and this will surely come handy for the YouTube Gaming Bloggers.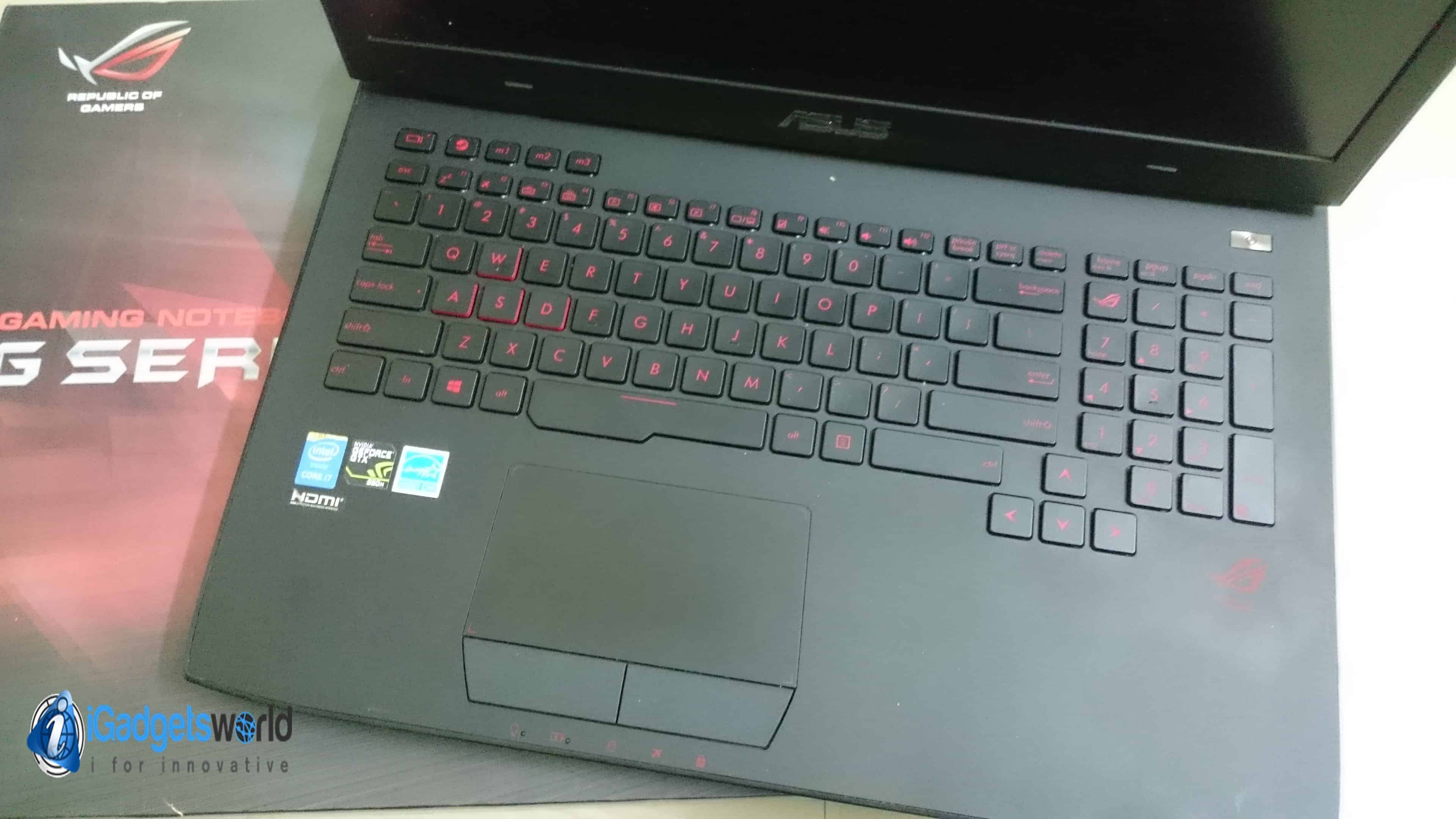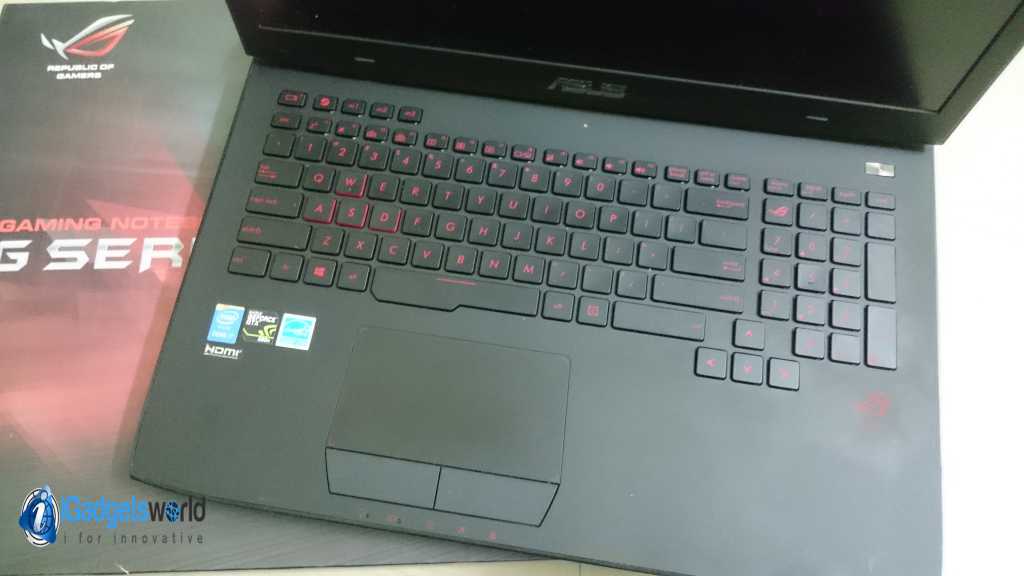 The trackpad is large with distinct button placements and you can easily use multi-finger gestures on it. However, gamers who regularly play with a gaming mouse are likely to stick to the gaming mouse supplied with the laptop. As far as I experienced, I would not recommend using the trackpad for gaming, however, it worked quite good for me while browsing the web or doing some work. Overall, the keyboard and trackpad on the Asus ROG G751J work quite good.
Gaming Mouse:
Inside the box, Gaming Mouse is also given as we're dealing with a beast gaming laptop. Obviously everyone needs a gaming mouse to satisfy their desires (I meant clicking) while dealing with games. You can find some special buttons on the left side of the mouse besides the left, right and scroll button. Those special buttons can be used while browsing ( back/front) and also used while playing the games.
Read more: Top 5 Gaming Laptops under 50K  
As like the backlit keyboard (Red), the mouse features blue label of Asus logo. They could have given the same red color which will suit the laptop instead, they gave blue color for the logo.
Display:
The 17.5-inch display is splendid with vibrant colors. Asus has added the "Splendid Technology" display tool, which offers three default color profiles and a slider for manual adjustments. The anti-glare matte finish is a good reason why I loved the display as it does not distract you in light & it doesn't attract any fingerprints on the screen which you may leave sometimes while cleaning etc.
Testing the Display:
The screen resolution is 1920 x 1080 Pixels which will definitely support the 4K resolution videos, but the question is whether it will support 4K gameplay? Well, as per our test it is very difficult to play the game with ultra-high-end settings. Obviously, by using a 4K external monitor we can play the games in 4K resolution but for the in-house screen, it is not possible.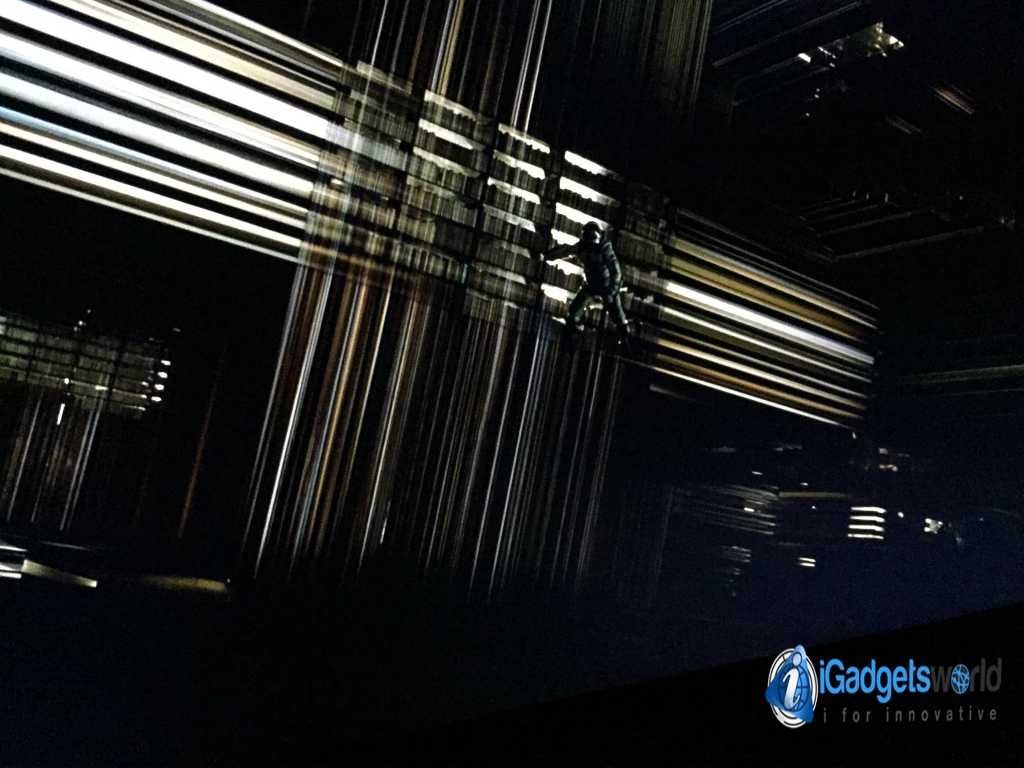 The viewing angle is simply great. I watched Interstellar movie in Original Blu-ray and the viewing was spectacular. One thing worth mentioning is there was no lag while forwarding the scenes. The movie's size is more than 12GB and you know how hard it will become if you go to a certain point in the movie while starting. We'll see some screen blinks, the transition of scenes etc, but there wasn't such thing while playing in G751J.
Playing an 8K resolution video from YouTube:
Recently YouTube started displaying 8K resolution which is quite impossible to play with normal laptops or any devices as most of them supports up to 4K resolution. I want to give a try to see whether the gaming beast is able to play the videos in 8K resolution.
The picture density and the clarity were amazing as it was an 8K resolution, but the serious thing is lagging and hanging. This is the first time I experienced lagging in the laptop. There were several breaks in the video while playing and it was not due to the internet speed as I played with high-speed LAN. Still, the clarity was pretty amazing and you can check the screenshots below ( shot on iPhone 6)
Audio Quality:
Audio is an important part for any gaming or multimedia laptop. The speakers on board of the Asus G751J served pretty well in a small room, but when you're just into some new game among some other people you may need to plug in your gaming headphones for the best experience. The speakers are pretty small and you they are present on the rear side of the screen. Even with custom equalizer settings and all I could not find it to be the best in a little noisy environment.
Gaming Performance:
Finally, We came to the best part in the review- Gaming Performance clearly defines whether this gaming laptop is worth or not. Before actually heading to the gaming performance let's have a look at the benchmarking tests.
For more info: GeekBench 3 Benchmark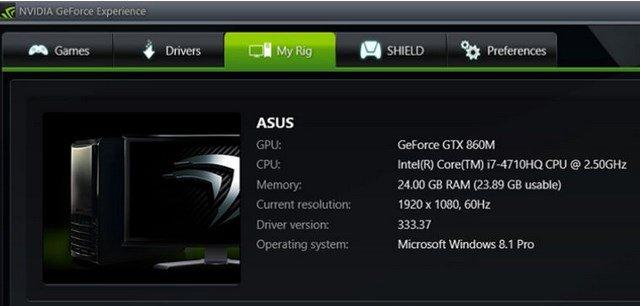 The score is pretty good and I didn't test with 64-bit ( the current device is 64bit) so the score might vary. As already said it has 4GB DDR5 Nvidia GTX 860M along with 24GB of RAM. It is powered by a 2.5GHz Intel Core i7 processor, runs on Microsoft Windows 8.1 Pro.
How to: NVIDIA Graphics driver cannot find compatible graphics hardware
The first thing I tried was testing the display which I already explained before. After that, I tried to test the main part – Gaming performance test. I played some high-end games like GTA V, Call of Duty: Advanced Warfare, Far Cry 4, Assassin's Creed Unity, Watch Dogs. I didn't try the FIFA 15 as the time was very less.
While playing the GTA V, I tried to play with different gaming settings (visual & audio) and the output was outstanding. The feel of the game is really great, the background looks real. There were no glitches, nor any kind of lags while playing it. It is a known fact that a laptop needs high-end specs to run the GTA V and ROG G751J was beyond the specifications. The game transition was also very smooth. I played two games simultaneously & still I don't see any lag.
For now, you can see the gameplay screenshots of COD: Advanced warfare which was one of my favorite game. As already explained about the audio there was full clarity while listening in a closed room but when it was taken to the living room there was some problem with the audio clarity. As advised it's better to use gaming headset while playing the games to completely immerse into the game world or else you will be disturbed by the environment :P
Battery Life:
This is quite hard to tell as it has a 2.5GHz processor, 4GB GPU & 24GB RAM. In order to power all these components, the intake power is more. The battery will live hardly for around 3.40 Hours. Bt the way, there's an advanced power consumption control which will optimize the gaming settings thus pushing the battery life a little more than expected. It is quite hard to expect more battery life in the first place as it is not an ultrabook or notebook :)
Asus tried its best in perfectly designing the cooling system. The laptop won't get heated up easily even with the continuous gameplay.
| | |
| --- | --- |
| Pros | Cons |
| Great Build Design & HD Display | Poor audio quality |
| Extreme high-end specifications | Low Battery Life |
| The best Gaming performance | High price |
Verdict:
You might have seen many other gaming laptops, but this one is the beast of all. The price is bit high, but there's no compromise in the specifications. Once you get your hands on this beautiful beast you won't regret it as a bad choice. There were few cons, but they will be completely hidden by its pros. Once again have a look at the system specifications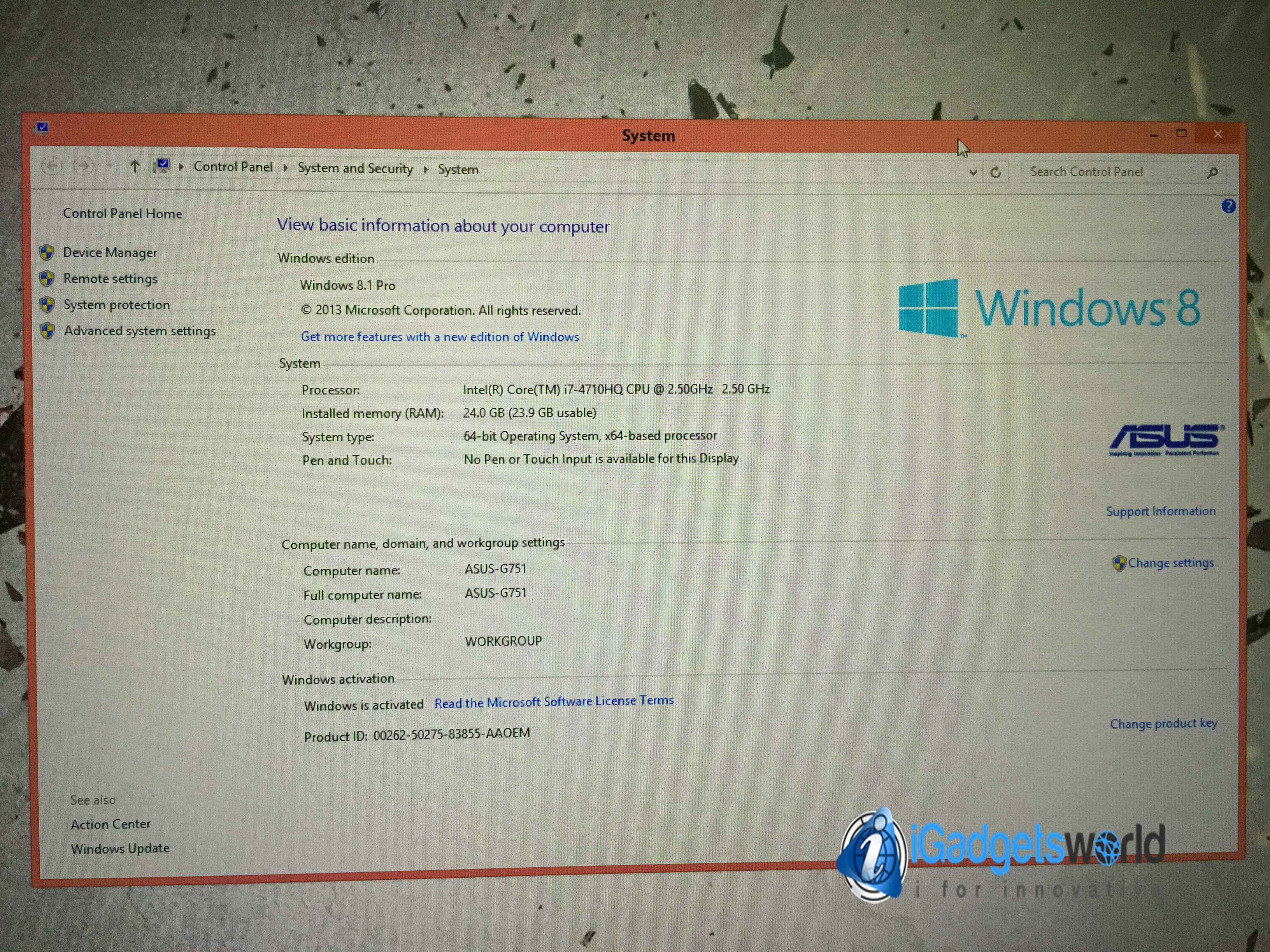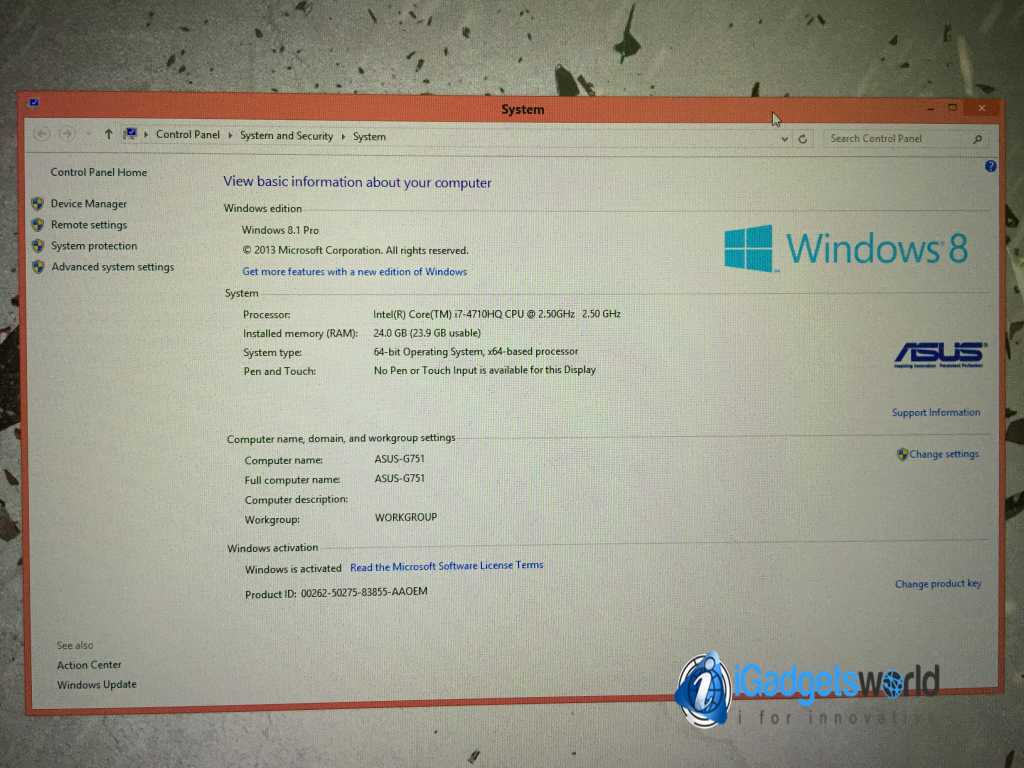 Just set this gaming laptop on your table and fill your ears with a gaming headset and tried to play the specified games above. You'll know how I experienced while playing with it :)
This one costs around Rs. 1.3 lac, however, there are other variants with some lesser specs, you can check them all and buy from Flipkart.